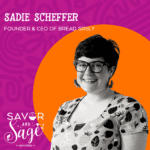 When you think of start-ups in the Bay Area tech companies usually come to mind but Sadie Scheffer's journey is a little different. Sadie is the founder and CEO of Bread Seriously the Bay Area's first gluten-free sourdough bread company. Who would have thought bread would lead her on a journey to love, building a business from scratch, and a quest to dare to lead in a more caring and inclusive way? That's just a glimpse into Sadie's inspirational story. Listen in.
HIGHLIGHTS OF THIS EPISODE:
Learn what led her to start her business Bread Srsly.
"I felt like when I started cooking, I was having the kinds of creative ideas that I wished I had with my artwork, which was a really interesting thing to realize and sort of grieve and celebrate at the same time."
Tips for at-home bread makers
 "I think the best advice is the advice that works for you, not the advice that worked for someone else."
"You don't have to be the best at everything…Let go of the need to be right."
Her love of making paper plants.
Subscribe to the Savor and Sage bi-weekly newsletter: https://savorandsage.com/
Follow the show and guest(s) on Instagram:
More from Sadie Scheffer