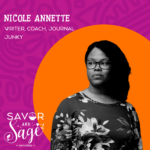 We are continuing our season of journeys and in this week's episode, Nicole Annette shares her journey building an intentional foundation to live a more balanced, yet nuanced, life. Nicole Annette is a writer, coach, and creator, Journal Junky where she makes handcrafted books. Nicole's mission is to teach women to identify, redefine, rewrite & release toxic stories so they can flourish & have a greater impact in their lives, their families, and their businesses. One of the recurring themes during our conversation was our journey to self-care and self-love. When we started on this path, one of my favorite quotes from Audre Lorde came to mind which says,
"Caring for myself is not self-indulgence, it is self-preservation, and that is an act of political warfare."
It's time to bloom….
HIGHLIGHTS OF THIS EPISODE:
Self-care, self-love is community care
Cycles of reciprocal love
Nicole shares how she began to, "write my way to healing; write my way to love."
"All I had was my journal God, and my ink pen."
"Let people be people…We're all living this human existence and none of us have all the answer
"The radical act of writing. The greatest act of activism is to find your own voice for yourself and to speak your truth."
"Balance is not arbitrary…it's based on the foundation that you create for yourself..it's where it needs to be in order for your life to be aligned."
Subscribe to the Savor and Sage bi-weekly newsletter: https://savorandsage.com/
Follow the show and guest(s) on Instagram:
More from Nicole Annette: