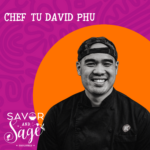 For episode 3 I'm hanging out with Chef Tu David Phu and we're talking about his journey of growing up in the Bay Area, his appreciation and love for food and family, his experience on Bravo's Top Chef and so much more.
As a first-generation, Vietnamese-American, food justice comes naturally to Chef Tu, who finds opportunities to use the medium of food as a vessel for meaningful work from cooking with incarcerated men in San Quentin; to his role as a co-executive producer for First Kitchen Media that involves storytelling, and speaking about diversity and inclusivity; to being a community ambassador in Oakland working with Asian Health Services and the Oakland Asian Cultural Center.
I felt like I was talking to a homie during this conversation and we went well beyond the hour I published. Down to earth, full of wisdom and a bomb chef are only a few of the many things that make Tu such a dope human!
HIGHLIGHTS OF THIS EPISODE:
"The memory of taste" that pulled him back to his roots: the practices, ingredients, techniques, and flavors of Vietnamese cuisines.
The importance of community and mentoring.
Addressing racism and toxic masculinity in food spaces and beyond.
Tu's family has been producing small-batch artisanal Phu Quoc Fish Sauce, considered Champagne of fish sauces, since 1895.
If he could make dinner for someone his top choice would be Tupac and he would make him pho.
Subscribe to the Savor and Sage bi-weekly newsletter: https://savorandsage.com/
Follow the show and guest(s) on Instagram:
More from Chef Tu:
Note: This episode contains minor explicit language