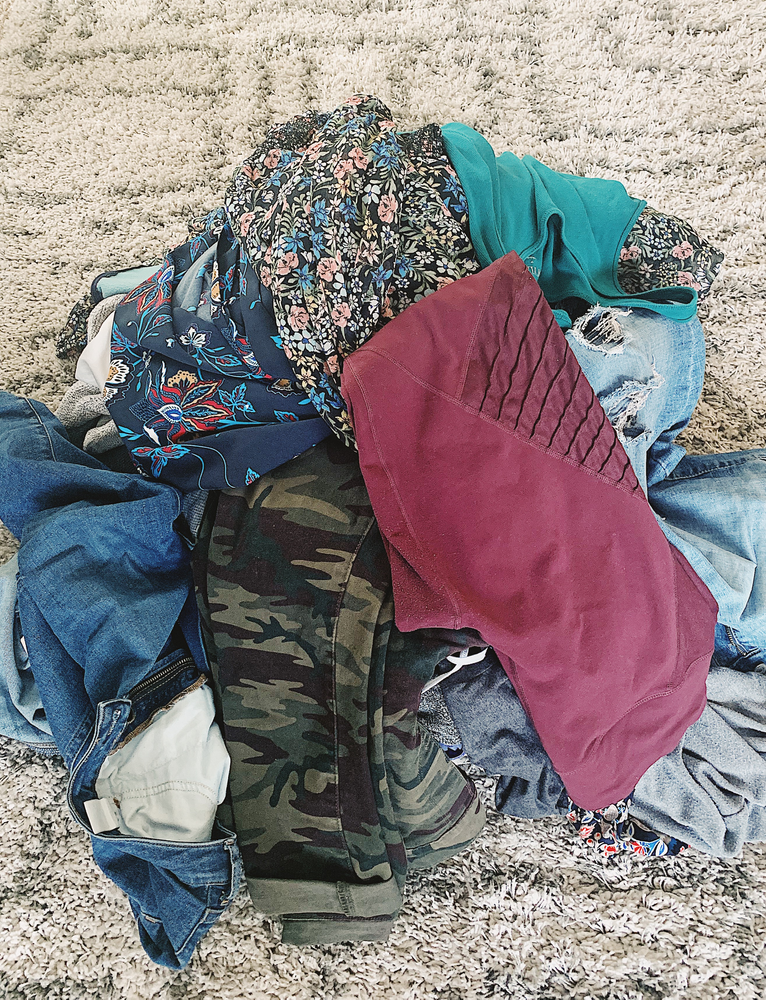 Hey folks! I have to be completely transparent. This post is actually for me but I'm a sharer and thought that some of you may be struggling with this as well. It can happen so suddenly and BOOM, your house, a room, the garage is cluttered with clothes, shoes or other nicknacks you don't even remember when or where they came from. Truth? I have way too many clothes and shoes and need to get rid of the clutter. Since we're stuck in the house, now is the perfect time for a little spring cleaning. All we need is a half day, or whole day, to go through our closets and dressers to give our wardrobes a good spring cleaning. You ready? LET'S GO!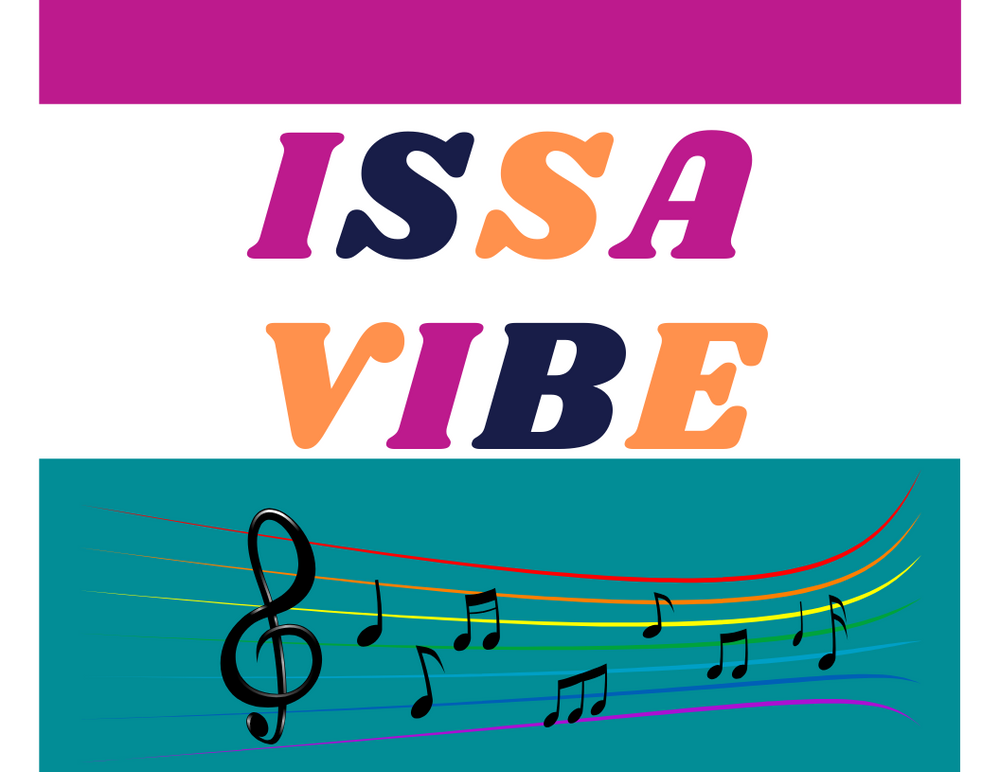 Issa Vibe
I hate cleaning! Raise your hands if you're with me. Once I get going though, it can feel good and be somewhat relaxing but before I get started, I have to hype myself up to get the party started. Issa vibe, so before you tackle your task, set the mood to make cleaning a fun activity. Slide on your "cleanum fit", yes I sang this in my Beyonce voice set to Freakum Dress, bump your fave music, and get to the task at hand. Here's some music to set the atmosphere.
WARDROBE CLEANING PLAYLISTS
,Anderson Paak Mix
,Dance/Pop
,Midnight at the Oasis Mix
,Beyonce
,90's Hip Hop
,Old School R&B
Keep It in the Closet or Bye, Felicia?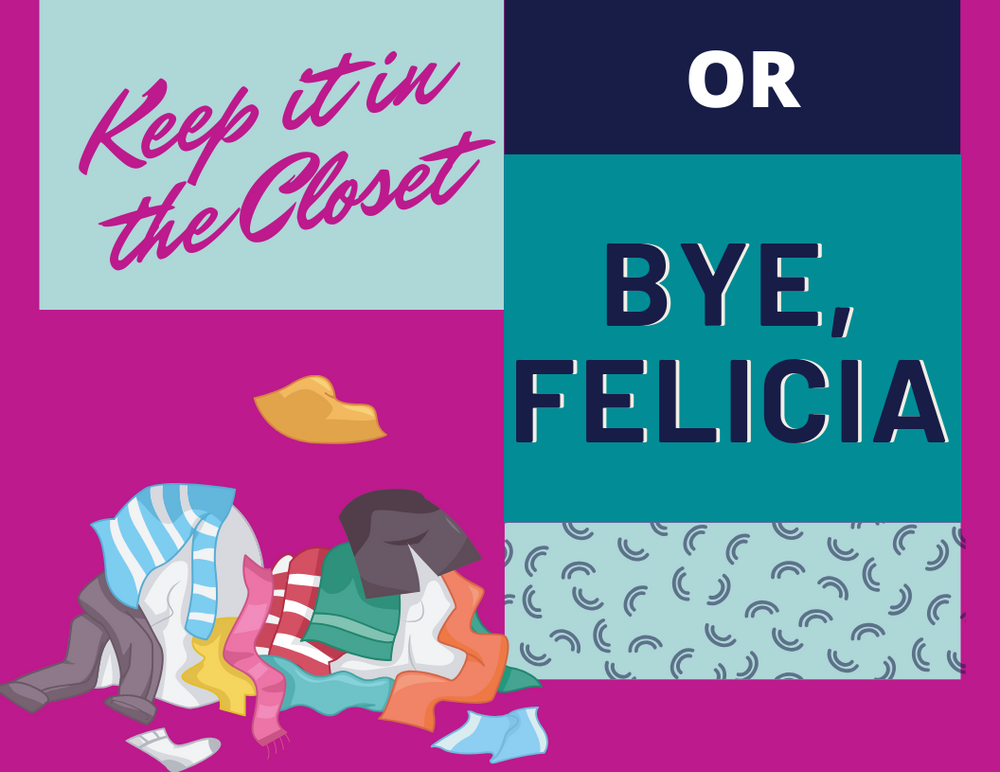 Who's heard of Marie Kondo? A few years ago, I saw a segment about ,Marie's folding method and then learned of her book ,The Life Changing Magic of Tidying Up and was intrigued.
The book is all about decluttering and organizing your home. Now, I have to admit that I was a little skeptical about the KonMari Method because it can feel a little awkward and unnatural but there's a method to the madness. The KonMari Method starts with clothes so let's check out the steps.
Step 1: Pile it up!
Throw all your clothes on your bed or floor. If that feels a little overwhelming take things out of your closet/dresser one by one.
Step 2: Does this spark joy?
Pick up each piece of clothing one by one and ask yourself , "Does this piece of clothing spark joy?" If it sparks joy throw it in the "keep it in the closet" pile, if it doesn't spark joy, hug it, thank it for its service and toss in the "bye, Felicia" pile.
"Did you just say I have to talk to my clothes and hug them Stef?" Yep, I said it. Awkward, right!? I told you. While I didn't necessarily hug my clothes, I had to be honest with myself and say, "We had some good times but I'm just not that in to you anymore so you gotta go."
Even though it seems a little weird, you're really taking a moment to be real with yourself about whether this is an item you really need to keep. Some things you may not even need to ask the question because with just one look you know you're going to wear or not wear it again but I found this questioning particularly helpful with those pieces I was on the fence with.
Step 3: Organize
How are you doing so far? I'm sure you're doing great! Once you're finished sorting, it's time to get your "keep it in the closet" clothes back in your closet and dresser. Don't forget about Marie's folding method. You got this!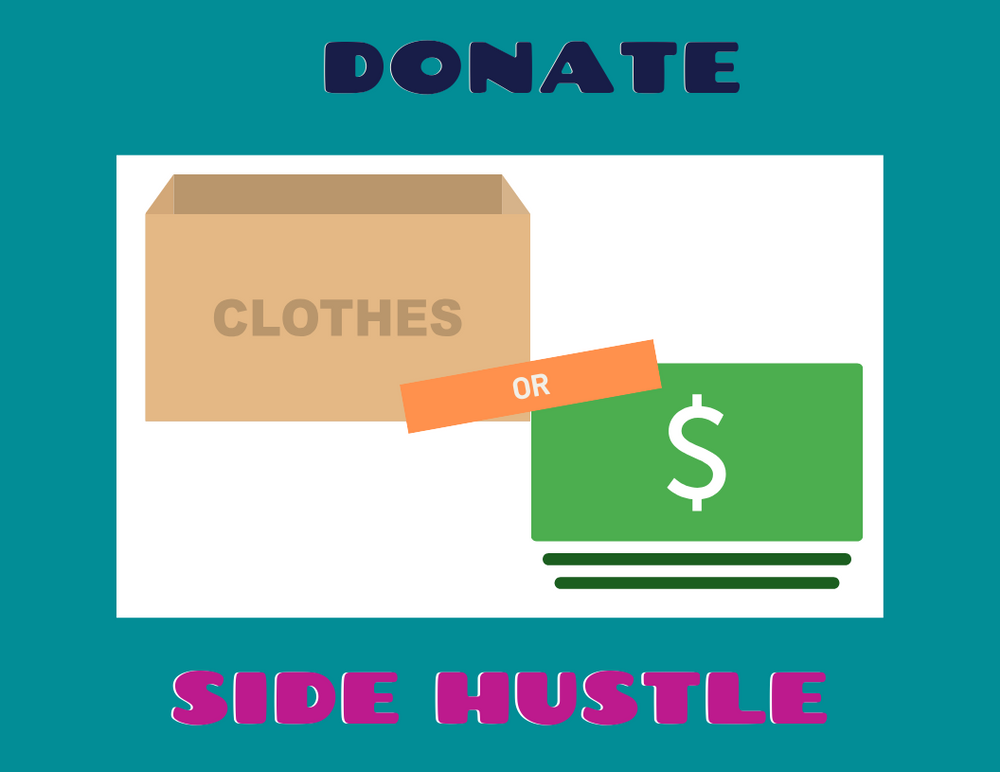 What's Next?
Alright, so you've organized all the clothes your keeping but you still have your "bye, Felicia" pile. What do you do? You have two options.
Option 1: Donate
Pack the clothes in boxes or garbage bags and once we're released from quarantine,
drop them off at your local thrift store or mission/shelter.
Option 2: Side Hustle
If you want to make a little cash from you your clothes there are many online thrift stores where you can sell your clothes to make some extra cash. There are a few options out there but here are a few to check out and see what fits best for you.
,ThreadUP– Sell: To sell, order a Clean Out Kit. They send a giant polka dot bag for you to fill with your clothes and ship back to them for free. Check out their accepted brands list. Once they sell your items, you earn a percentage or store credit. Donate: If you would like to donate your clothes, order a Donation Kit. ThreadUP will donate $5 per kit to one of their listed charities.
,Poshmark– Poshmark is a peer-to-peer thrifting website. Sellers manage their own listings, take photos, upload descriptions and determine their own price. For items with a sale price lower than $15, Poshmark charges a flat fee of $2.95. If an item is on the more expensive side, the item is subject to a 20 percent commission. When an item sells on Poshmark, the company provides a prepaid shipping label that sellers use to mail the purchase directly to the buyer. Poshmark also has a very user-friendly mobile app.
,Tradesy– Take a picture, post it, and wait for a lucky person to buy your item. Once you have a buyer and are ready to ship, you can choose form the following options: Tradesy USPS priority label, a full shipping kit (complete with a box and shipping label), or use your own shipping items. If a buyer decides they actually don't like they're find and returns an item, no worries. Returns are shipped back to Tradesy and you still get to keep the moola you earned on the sale!
Treat Yourself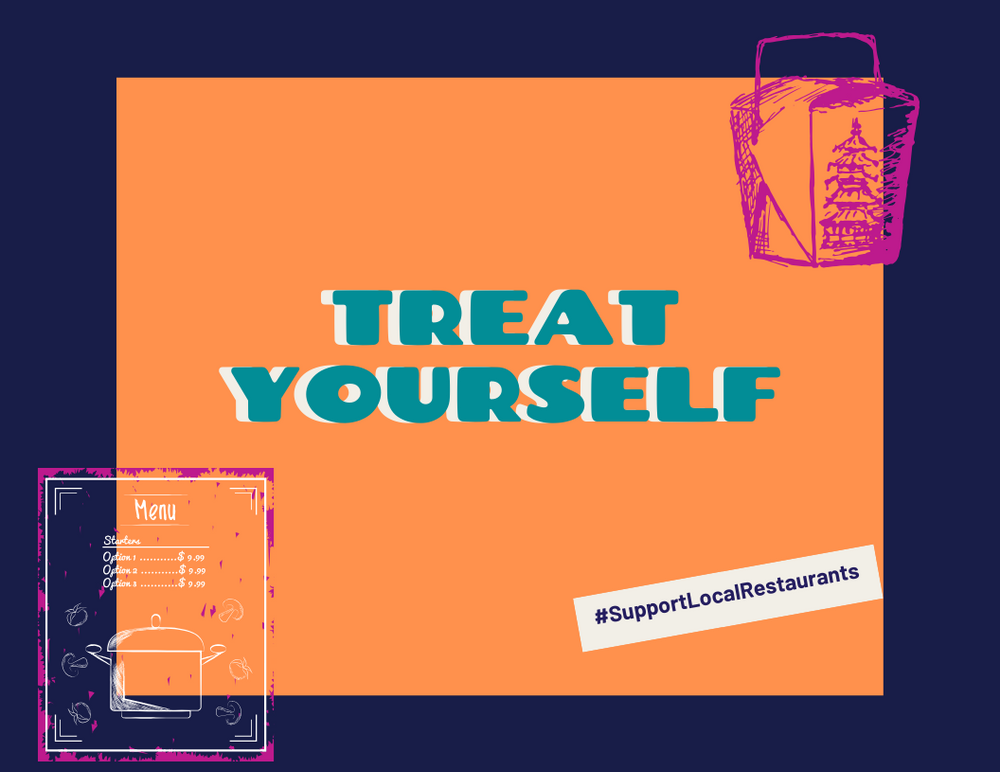 Now that you've sorted and organized your clothes, it's time to treat yourself. Now is a great time to order take out because you've been working hard and probably don't feel like cooking. Local and family owned restaurants are being hit hard during this pandemic so if you can, please support your favorite restaurant. Here are a few tips to keep in mind.
1. It's safe to order from restaurants and I would suggest ordering from those restaurants that you normally frequent.
2. Some third-party apps still charge commission fees so when possible, order directly from the restaurant.
3. Opt for no-contact deliveries if you're having food delivered
4. Tip your food delivery person-it's hard out here in these streets and every little bit helps.
5. Throw out the packing– Don't eat out of the takeout containers and opt to put your food in your own serveware right away.
6. After you throw out the takeout containers, throw them away and wash your hands with soap and warm water for at least 20 seconds.
Alright, alright, alright. Have fun and let me know how it all turns out! Happy spring wardrobe cleaning!