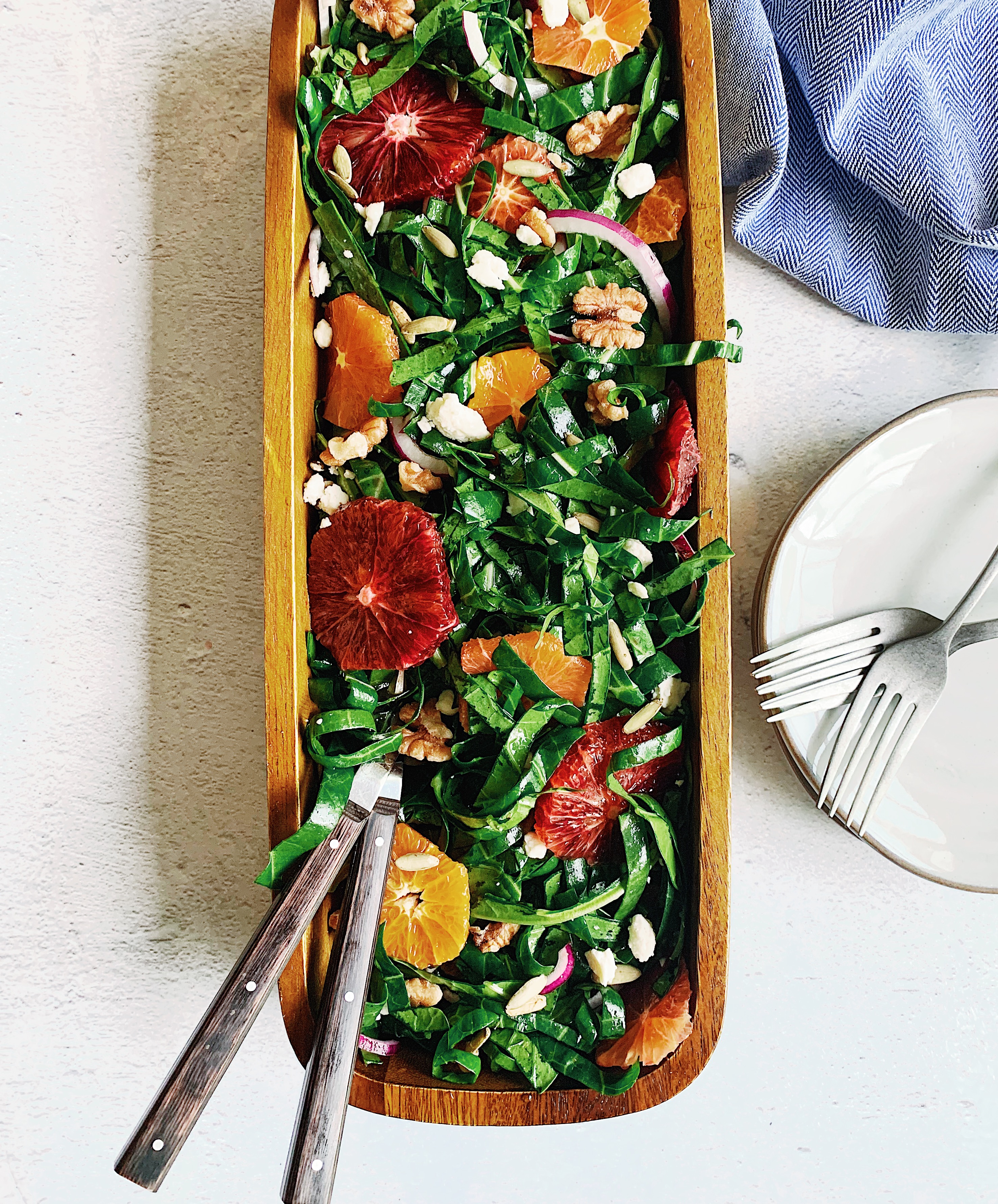 ---
A Little Soul Mixed with Winter Citrus
Collard greens are one of my favorite greens and a soul food staple. I love the way I grew up eating them, which was usually a long braise producing pot liquor and always with some cornbread, and I love exploring different ways to eat them like adding a little coconut cream or in a salad like this one.⁠
⁠
The sweetness of the blood oranges cara caras, and mandarines help to balance the slight bitterness of the collards, and the red onion, walnuts, and pepitas add a little crunch.
Print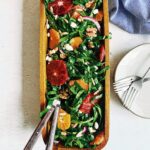 Collard Greens & Citrus Salad
---
Salad
2 bunches collard, washed well and cut into thin ribbons
2 cara cara oranges, peeled and sliced in medallions
2 blood or navel oranges, peeled and sliced in medallions
3 mandarins, peeled and sliced in medallions
½ red onion, sliced thin
¼ cup Feta (optional)
¼ cup pecans, walnuts, or pepitas
Juice of half a blood orange
Dressing
3 tablespoons champagne vinegar
1/4 cup olive oil
1-2 tablespoons honey (or more to taste)
1 tablespoon Dijon mustard
Juice of 1 ½ blood oranges (or navel)
---
Instructions
Place collards in a large bowl and squeeze ½ blood orange and 1 tablespoon of olive oil. Gently massage the greens until the ribbons are coated, 1-2 minutes. The acid will help to break down the collards. Set to the side.
Prepare all of the citruses for the salad. Cut off the ends of the oranges. Lay them on a flat surface so it doesn't tip over. Cut all around the orange, removing the entire peel and white pith. After the peel and pith have been removed, slice into ¼ inch medallions.
To make the vinaigrette, place all of the ingredients for the vinaigrette in a jar, cover with a lid and give a good shake to combine.
Add onion and oranges to the collard and give them a toss to combine. Arrange on a platter, if using. Sprinkle with feta and nuts/seeds. Drizzle with vinaigrette and serve.