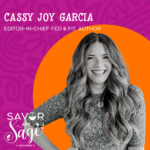 Cassy Joy Garcia is the force behind the wildly popular blog Fed & Fit and now you can add New York Time's Best Seller to her credentials for her new cookbook Cook Once Dinner Fix. Cassy Joy's name is perfect because she's an absolute joy to speak with and I'm so glad we had a chance to connect. She has definitely encouraged me to eat my leftovers with her practical and sensible tips to cook once. Listen in.
HIGHLIGHTS OF THIS EPISODE:
Cassy Joy's journey to starting her media company Fed & Fit
Find out how she defines "eating with purpose."
"I've always tried to approach wellness, nutrition, food from a, 'there's no rules here', in terms of how to get a dinner on the table.
Learn how to curate a Cook Once lifestyle.
Find out who she would cook for if she could and what meal she would choose.
Subscribe to the Savor and Sage bi-weekly newsletter: https://savorandsage.com/
Follow the show and guest(s) on Instagram:
More from Cassy Joy: