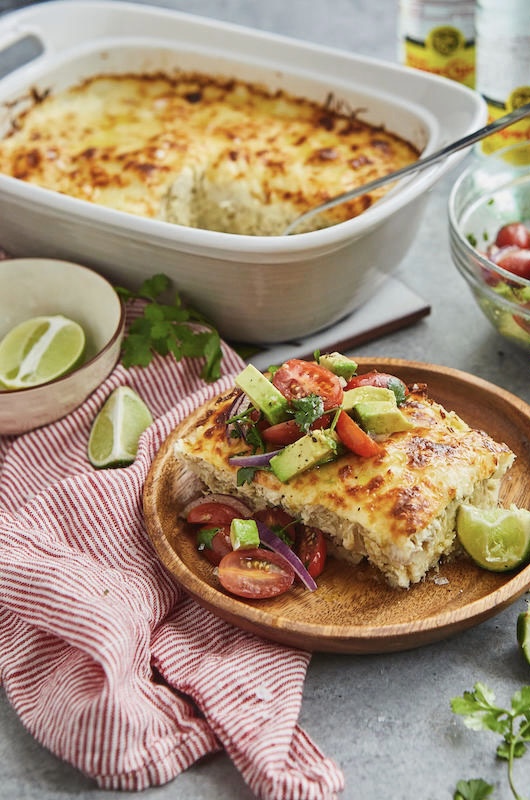 Finding A Path to Never Throw Out Leftovers & Keep Dinner Stress-free
Cassy Joy Garcia, the force behind the wildly popular blog Fed & Fit joined me for an episode of Savor and Sage Unplugged where we discussed her new cookbook, practical and sensible tips on reinventing leftover, and she shared this delicious her White Enchilada Casserole with Tomato Avocado Salad. Check out the podcast here.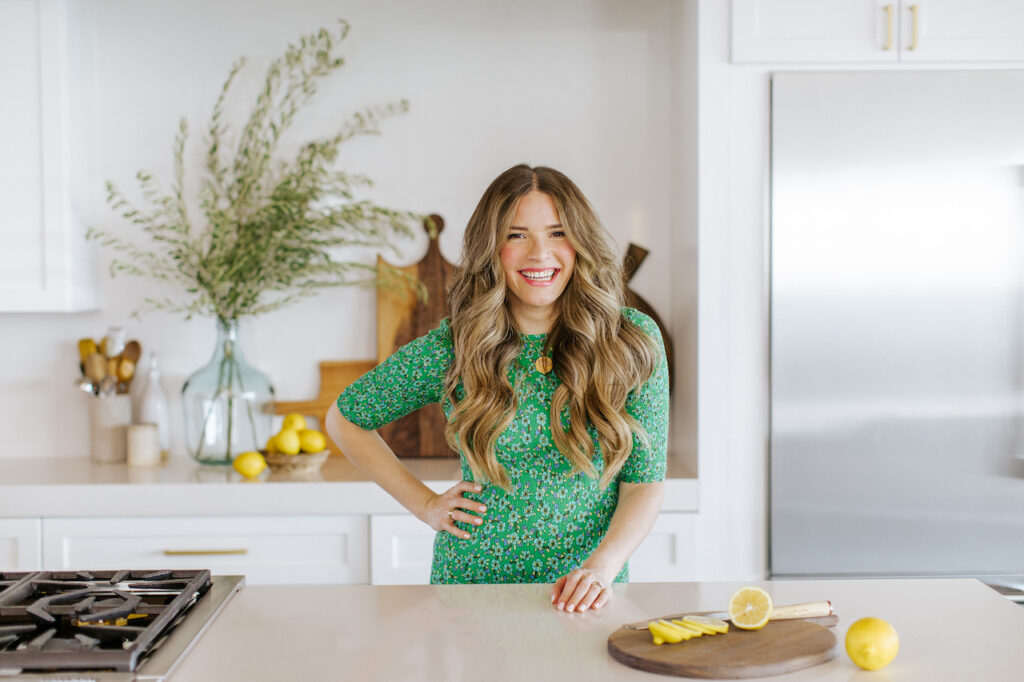 A Little More on Cassy Joy…
Cassy Joy is the bestselling author of Cook Once Dinner Fix, Cook Once Eat All Week, and Fed and Fit as well as the creative force behind the popular food blog Fed + Fit. Eager to share her healthy living secrets with the world, she started Fed + Fit in 2011. Since then, she became a holistic nutrition consultant and transitioned her personal blog into a tremendously supportive and nimble online wellness editorial, backed by a small but mighty team of writers, researchers, and editors. After realizing that her own struggles to get a healthy homemade dinner on the table overlapped with the same struggles experienced by her readers, she decided that there must be a better way. The Cook Once method was born and it has revolutionized how people cook. She lives in San Antonio, TX with her husband and two children.
Print
White Enchilada Casserole with Tomato Avocado Salad
---
Total Time: 45 minutes
Yield: 6
Description
Loaded with flavorful shredded chicken, you will want to make this white enchilada casserole again and again.
Reprinted with permission from Cook Once Dinner Fix by Cassy Joy Garcia, copyright © 2021. Photographs by Kristen Kilpatrick. Published by Simon & Schuster.
---
Enchilada Casserole 
2 tablespoons salted  butter 

1 cup sour cream 

1 cup milk or chicken  broth 

3 cups shredded  

Monterey Jack cheese 1 teaspoon fine sea salt ¼ teaspoon ground black  pepper 

4 cups shredded cooked  chicken (reserved from  Meal 1; see page 34) 

1 (4.5-ounce) can green  chiles, with their liquid 1 teaspoon ground cumin 1 teaspoon garlic powder 2 tablespoons fresh lime  juice (from 1 lime) 

12 corn tortillas 
For the Tomato  Avocado Salad 
1 avocado, cut into 1-inch  chunks 

1 pint cherry tomatoes,  halved 

¼ red onion, thinly sliced ¼ cup chopped fresh  cilantro 

2 tablespoons extra-virgin  olive oil 

½ teaspoon coarse  

sea salt 

¼ cup fresh cilantro
---
Instructions
Make the casserole: Preheat the oven to 350ºF. 

In a large sauté pan or skillet, combine the butter,  sour cream, milk, 1 cup of the cheese, ½ teaspoon  of the salt, and the pepper. Heat over medium  heat, whisking continuously, until the ingredients  are evenly combined and the cheese has melted.  Remove from the heat. 

In a large bowl, stir together the chicken, green  chiles and their liquid, cumin, garlic powder, lime  juice, and remaining ½ teaspoon salt until evenly  combined.

Arrange 3 tortillas over the bottom of a 9-inch square baking dish (breaking the tortillas as needed  to fit). Spoon 1 cup of the seasoned chicken mixture  evenly over the tortilla layer, then sprinkle ½ cup of  the cheese evenly over the top. Repeat these layers  three more times, using the remaining tortillas,  chicken, and cheese. Pour the white sauce over the  top of the casserole.

Bake for 30 minutes, or until the top starts to look  golden brown. 

Meanwhile, make the salad: In a large bowl,  combine the avocado, tomatoes, onion, cilantro, olive  oil, and salt and toss to combine. 

Serve the casserole with the salad alongside,  garnished with the cilantro, if desired.

 
Prep Time: 15
Cook Time: 30
Category: Dinner