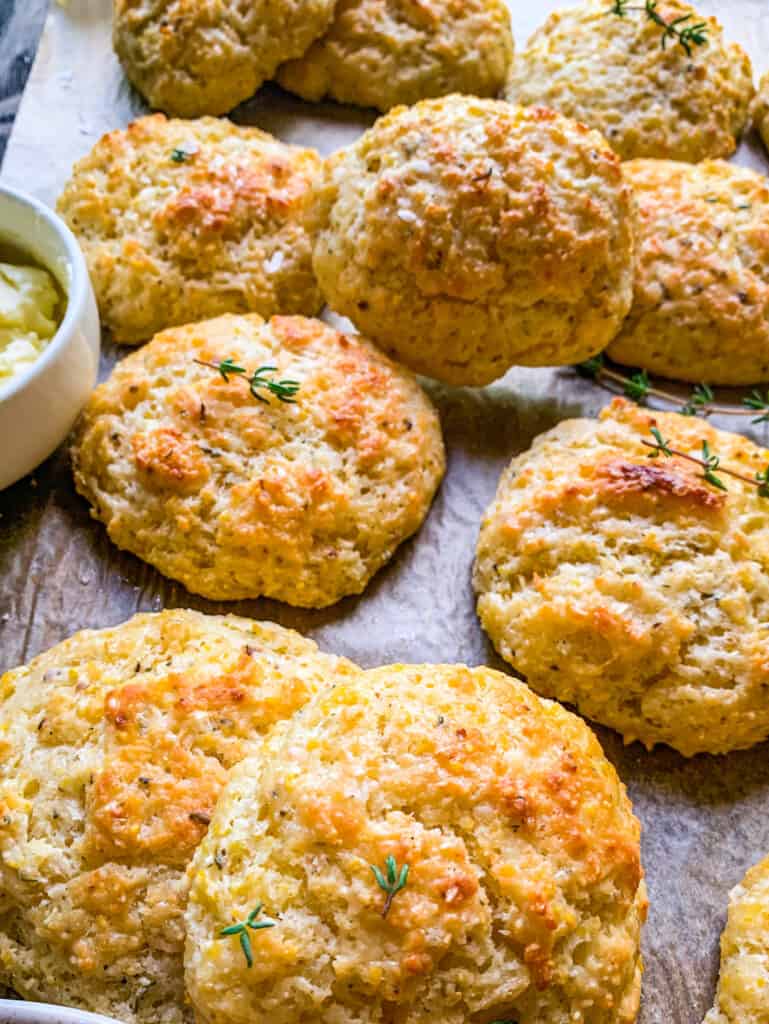 ---
Studded with cracked pepper, thyme, tangy buttermilk, and a hint of cornmeal—these biscuits are easy to whip up and will have everyone asking for more!
---
Easiest Biscuits Ever!
Ok yall I literally dreamt about these biscuits and woke up the next morning and started my journey of testing a recipe. Now, I can't lie, biscuits have been a touch intimidating for me. How about you?  Plus, when I think about the rolling and cutting, whelp, it's a little work.  This recipe though does not require any fancy equipment,  no rolling pin or biscuit cutter, you probably already have the ingredients in your kitchen, you give a few good stirs, spoon drop these babies on your sheet pan or cast-iron skillet and throw them in the oven.  You may be out of the kitchen in less than an hour!
---
Drop It Like It's Hot
Alright, I'm all about keeping it real and I can admit that biscuits can be intimidating.  You don't want to overwork them because that just doesn't make for a good biscuit and you definitely have to have a light touch. But never fear drop biscuits are here.  I know I'm corny. However, whether you're a newbie biscuit maker or you've been doing your biscuit thing for a while, drop biscuits will always be your friend and these pepper & thyme cornmeal biscuits will be the perfect introduction to biscuit making! 
---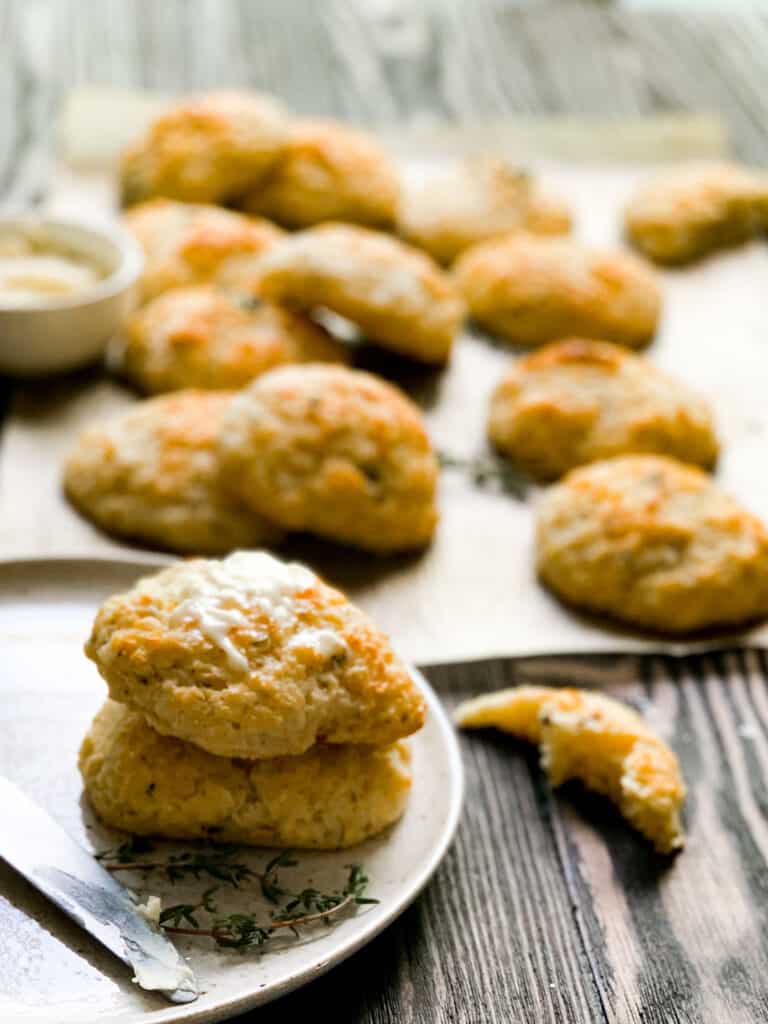 ---
What's the Difference Between Drop Biscuits and Traditional Biscuits?
Drop biscuits dough is much wetter and stickier than traditional biscuit dough and can't be rolled and thus must be dropped. While they use the same ingredients, there are usually some adjustments in the quantity of ingredients used. Traditional biscuits rise higher and have a fluffier flakier texture while drop biscuits have a lower rise and their texture is courser. Both biscuits are DE-LI-CIOUS and you should add both to your repertoire!
---
What Ingredients Do You Need for Drop Biscuits?
Herby, peppery, and just the right amount of corny—you only need a few ingredients to pull this bready goodness together.  Here is what you need:
All-purpose flour
Cornmeal- If you want a finer softer texture use a fine-medium ground cornmeal. I usually use a white fine meal. If you want a little more texture and bite, use a course gound. Fine or couse it's really up to you. 
Cold Unsalted Butter- I freeze mine and grate it.
Baking powder
Salt
Black pepper
Thyme
Sugar- These biscuits are savory but just a lil' sugar brings out the flavors.
Buttermilk
---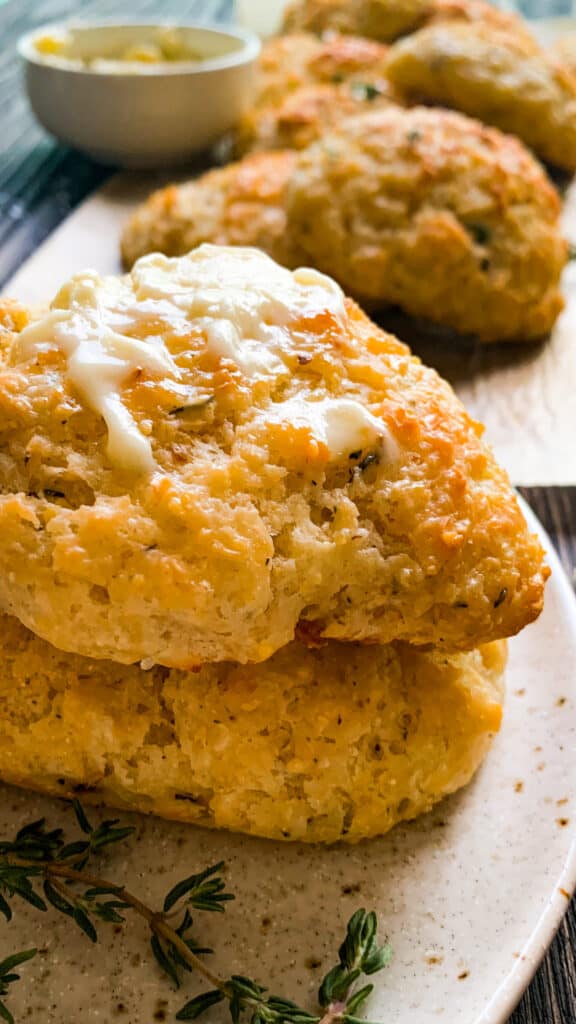 Print
Pepper & Thyme Cornmeal Drop Biscuits
---
1 ½ cups flour
½ cup cornmeal
1 tablespoon baking powder
1 teaspoon of salt
1 teaspoon cracked black pepper
2 tablespoons fresh thyme, rough chop
½ tablespoon sugar
1 stick of cold unsalted butter*, grated (pop in the freezer to keep cold)
1 cup buttermilk* (dairy or unsweetened non-dairy milk)
---
Instructions
Heat oven to 450°F. Cover the baking sheet with parchment paper, if you have.
Combine meal, flour, sugar, baking powder, thyme, pepper, onion powder, and salt in a cold large bowl and stir with a whisk or fork. Add in grated butter and toss to coat the butter with the dry mixture. Add milk and stir 3-4 times until the dough comes together. It should be slightly sticky. Add just a bit more buttermilk if needed.
Use two spoons or a ¼ cup to drop the batter on the cookie sheet. There should be 8 mounds and they should be just slightly larger than a golf ball. Bake for 12-15 minutes or until a toothpick inserted comes out clean and they are golden brown. Serve warm.
Prep Time: 10
Cook Time: 15