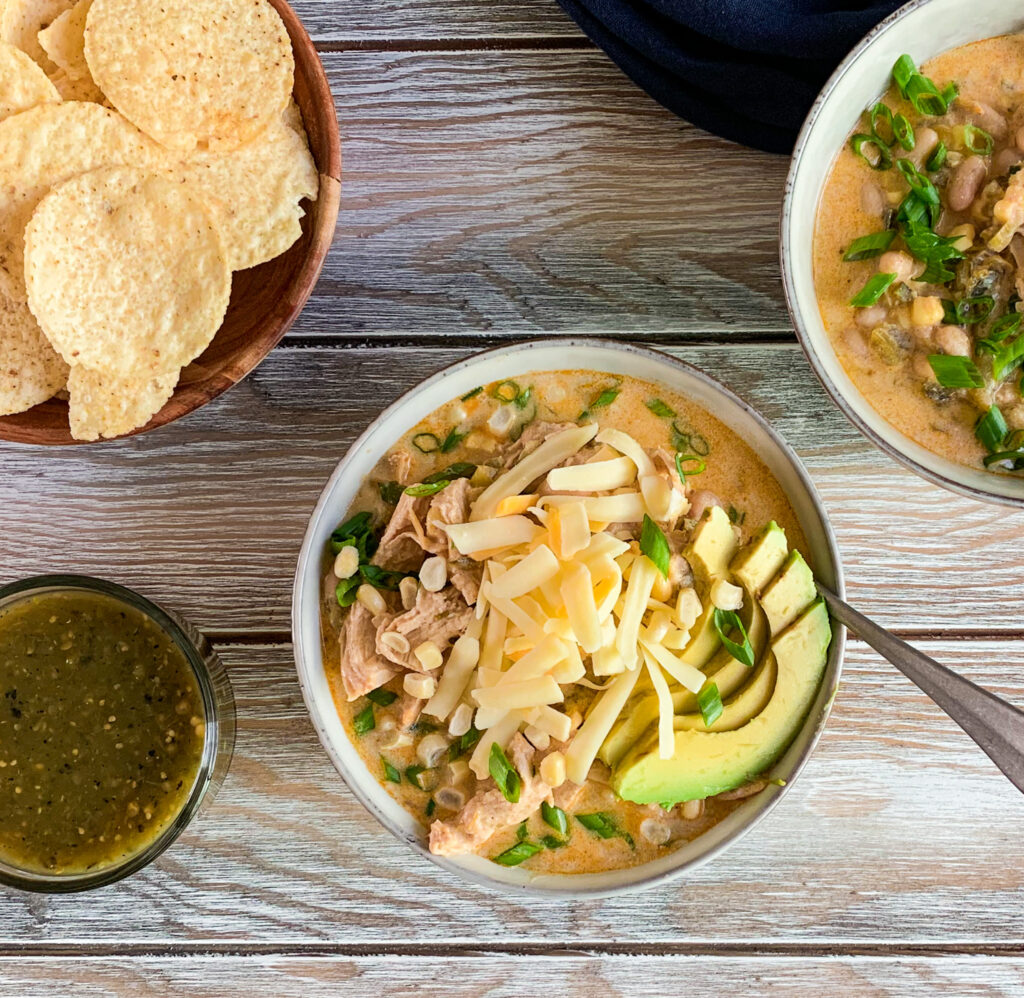 A little chopping and opening up a can or two make this chili a cinch to throw together and super flavorful to boot. Packed with chiles chicken, tomatillos, corn, white beans, and spices, this will be your go-to when you need a little warmth in your life.
Go crazy with toppings! A big warm bowl of this chili is begging for toppings like shredded Monterey or cheddar cheese, crispy tortilla chips, creamy avocado, vibrant green onions, and maybe a little squeeze of lime. Try it with some Southern Hoe Cakes and some Salsa Verde. Alright, alright enough talking already, let's cook!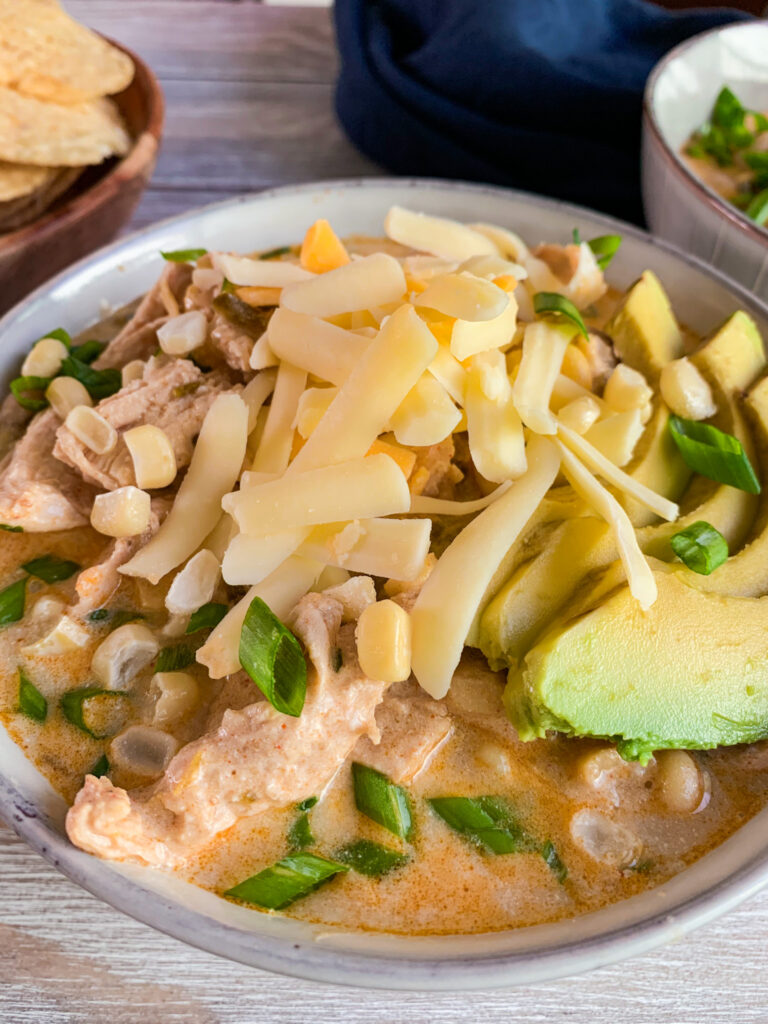 Print
White Chicken Enchilada Chili
---
Description
Packed with chiles chicken, tomatillos, white beans, and spices, this will be your go-to when you need a little warmth in your life.
---
2 tbsp butter or olive oil 
1 White onion, diced
1 Poblano chile, roasted and diced
2 Jalapeño chiles seeded and diced
1 can of diced chiles
2–3 cloves of garlic, finely diced 
3–4 Tomatillos, chopped
1–1 1/2  pounds of boneless skinless chicken breasts, cut in half
2 teaspoons chili powder
1 teaspoon paprika
1 teaspoon cumin
1 teaspoon of adobo seasoning
3 cups of chicken broth
1(15 oz) can cannellini beans, drained, rinsed
2 (15 oz) cans great northern beans, drained, rinsed
1 1/2 cups corn
8 ounces of cream cheese
1/4 cup of cilantro + more for garnish
salt and pepper to taste
Toppings:
Sour Cream
Green onions
Avocado
Monterey Jack or cheddar cheese
Tortilla chips
Lime wedges
Salsa Verde
---
Instructions
Roast the poblano chile. Preheat oven to broil. Drizzle poblano chile with a little oil, place on a baking sheet and broil until it is blackened on all sides about 5-10 minutes, turning every few minutes; chile should be splotchy-black and blistered. Add the charred chile to a plastic baggie and seal, or to a bowl and cover. Allow to steam in the baggie for about 10 minutes to loosen the skin. Remove from bag and use a paper towel to peel off the skin. Dice.

Heat butter or olive oil in a medium-sized pot over medium heat. Add the onions, jalapeno, and sauté until translucent, about 5 minutes. Add in the garlic and cook for 2 more minutes.

Add in chicken, tomatillos, poblano, seasonings, and broth, and simmer.  After 10 minutes, remove the chicken and shred using two forks.

Purée 1 can of the navy beans adding a little broth as needed. Add puréed and whole beans, corn, and shredded chicken to pot and simmer for 15 minutes.

Remove pot from heat and add cilantro, cream cheese, and stir until incorporated. Adjust seasoning as needed and serve with desired toppings.
Prep Time: 15
Cook Time: 30
Category: Main
Keywords: 30-MINUTE, LOW-CARB, FREEZER MEALS, KID FRIENDLY, ONE POT