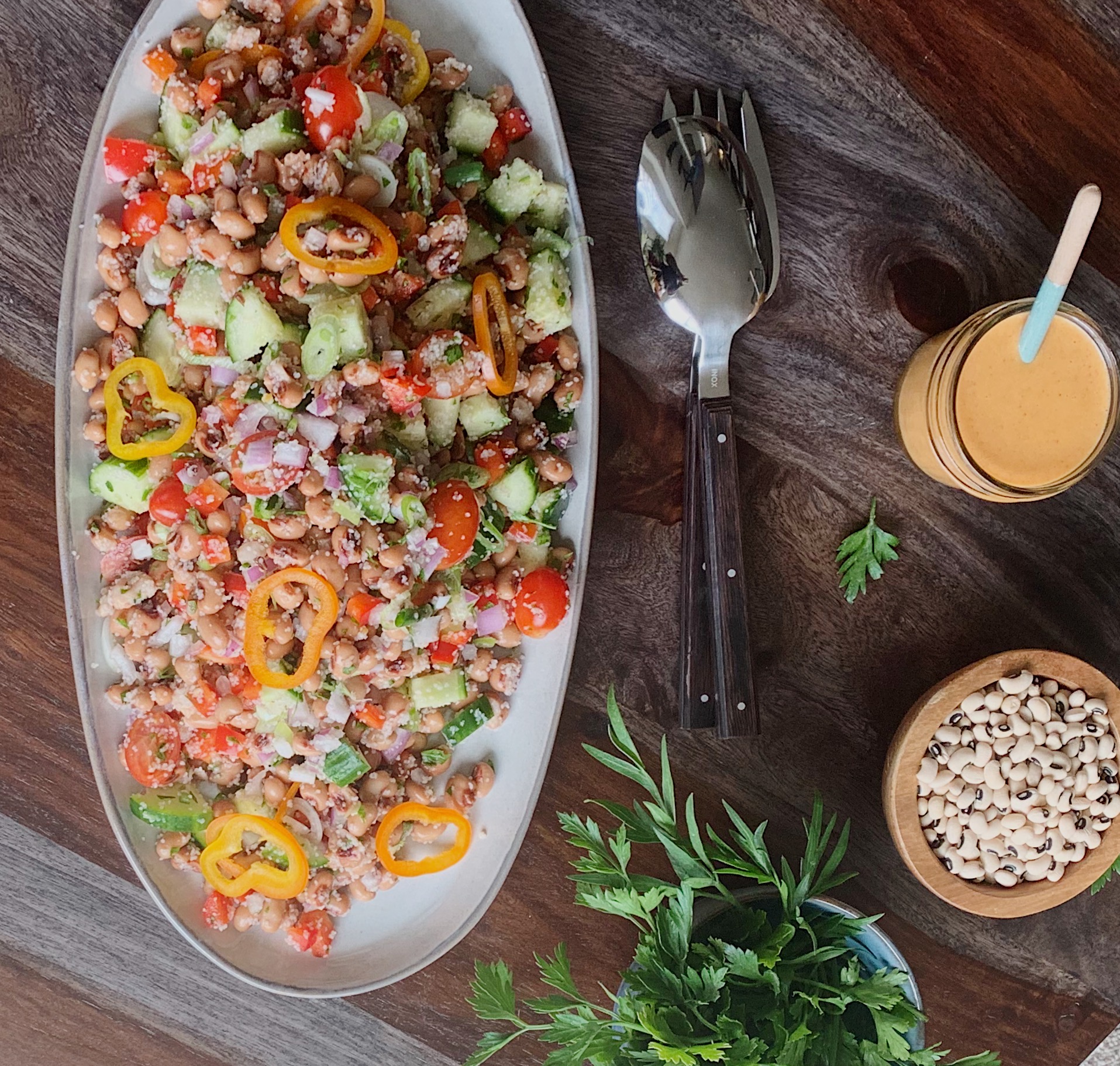 I'm excited to participate in the Juneteenth Cookout Takeover! This initiative was created to celebrate Juneteenth, amplify almost 70 amazing Black culinary creatives, and showcase their unique and innovative recipes. My offering for this celebration is a black-eyed pea salad dressed in a tahini vinaigrette, with crisp cucumbers, the nuttiness of fonio, and filled with vibrant colorful vegetables. For me, this is an edible celebration of Black joy, resilience, resistance, and summertime. But before we jump into this feast for your eyes, let's talk a little about Juneteenth.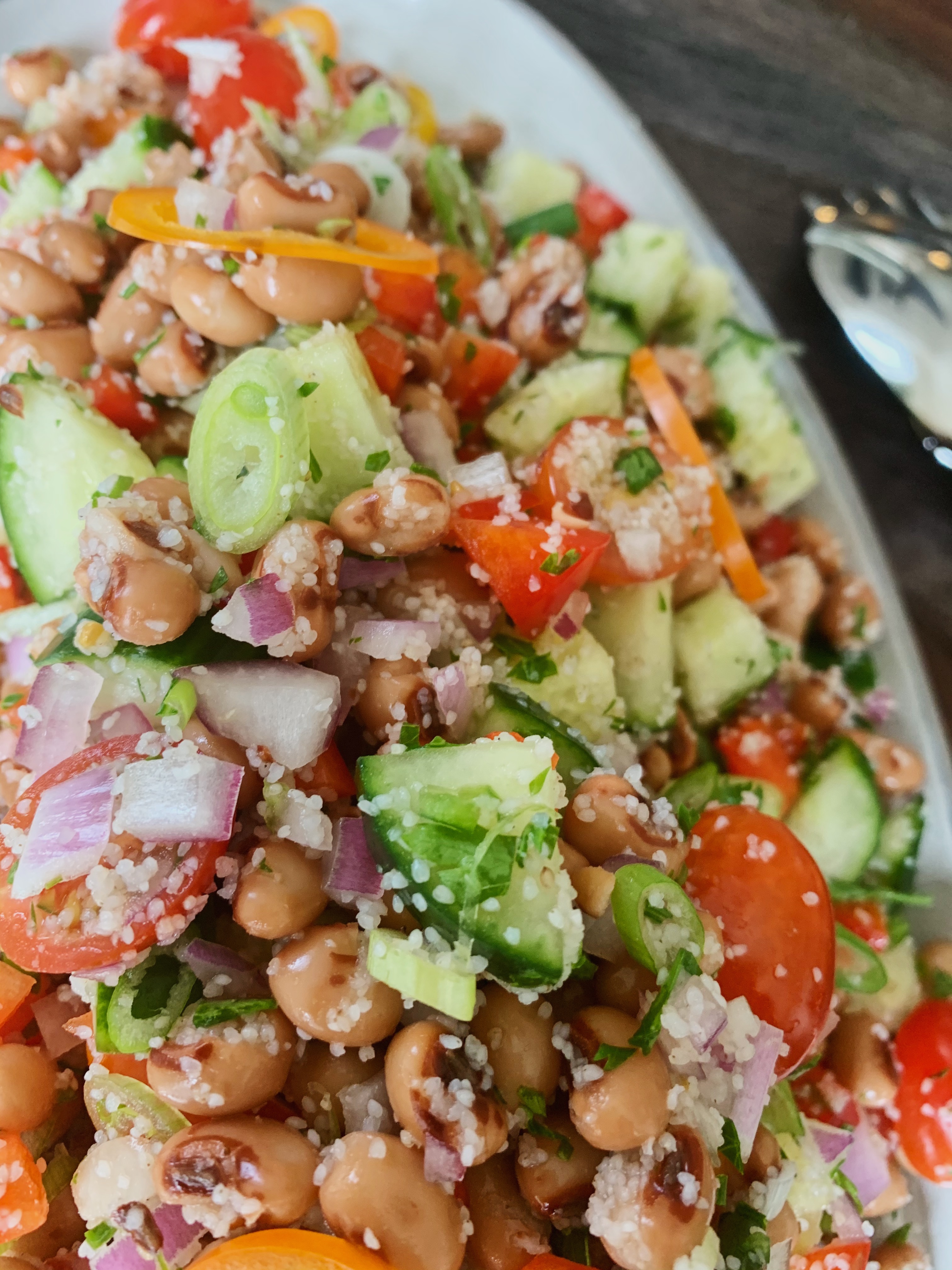 What is Juneteenth?
Juneteenth is a merge of the words/date June Nineteenth which marks the date in 1865 that the last enslaved people learned of their freedom. 
Over 150 years since, Black American families, home-cooks, chefs, and culinarians have commemorated the summer holiday with a wide range of food traditions that tell a story of innovation and perseverance.
While Juneteenth commemorates the last enslaved people learning of their freedom, the movement for racial equity, respect, and dignity for Black lives still continues. Please take a moment to look at these educational resources:
Podcast with Ibram X. Kendi on how to be an anti-racist
White Fragility by Robin Diangelo
The Case for Reparations by Ta-Nehisi Coates
Reports from the Equal Justice Initiative about the history of structural racism in America
Black-Eye Peas: A Staple in Soulful Cooking
Blackeyed peas have been a culinary staple in Black cooking for centuries. Black-eyed peas are native to Africa and an essential ingredient to many dishes across the continent. Enslaved Africans brought the pea over with them and it became a staple in Black American cooking.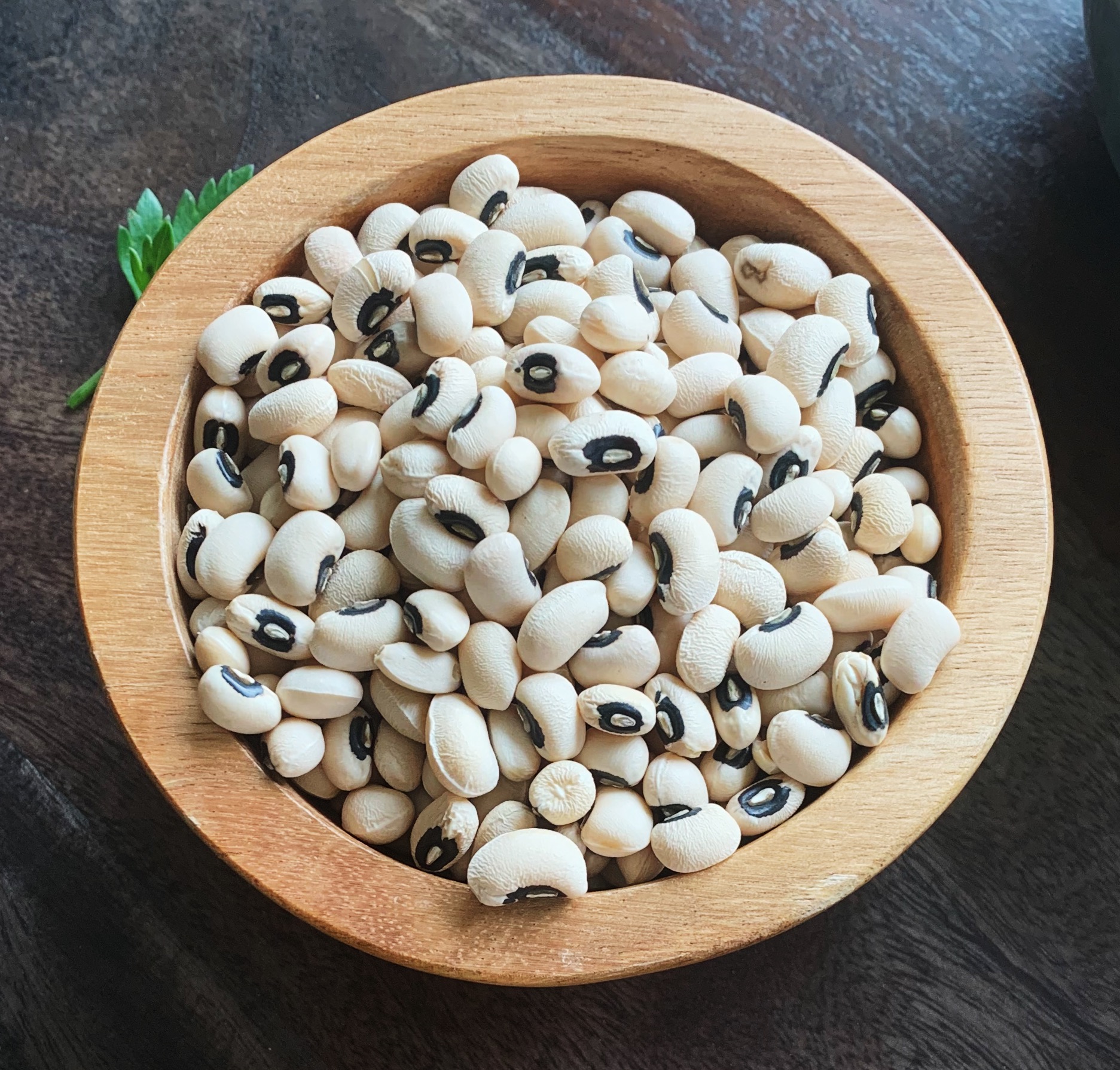 This little legume, sometimes referred to as cowpeas, is rich in potassium, iron, fiber, and protein; it is believed to bring good luck and fortune; and it is very versatile and can be cooked many different ways from my salad to a more traditional southern style like My Fabulous Food's black eye peas with smoked turkey, to That Green Lyfe's Ghania style Red Red Stew with plantains. Whether you're eating black-eyed peas for good luck or a regular weeknight meal, it will always be a soulful addition to your dinner.
Are You Ready To Cook?
Food is a huge component in celebrating Juneteenth which was the premise for this Takeover. After you make my Black-Eyed Pea Salad, be sure to check out these soulful culinary creatives and their flavorful recipes to round out your Juneteenth meal!
BLACK-EYED PEA SALAD with TAHINI VINAIGRETTE
4-6 servings
---
INGREDIENTS
Salad
2 15.5- ounce cans black-eyed peas, rinsed and drained (or 3 cups home-cooked peas)
⅓ cup red bell pepper diced
⅓ cup red onion, diced
¼ cup green onion
1 small jalapeño, seeded and finely chopped
½ cup English cucumber, large diced (about ½ of a medium cucumber)
Cherry tomatoes, halved (about a handful + a little more)
½ cup fonio or quinoa, cooked & cooled-follow directions on the package (optional)
¼ cup flat-leaf parsley, chopped
Tahini Vinaigrette
¼ cup olive oil
½ cup rice vinegar
1 tablespoon tahini
1 clove garlic, minced
1 teaspoon of honey, agave or maple syrup, more to taste
¼ teaspoon paprika
Pinch of salt & pepper
1-2 tablespoons cold water, to thin if needed
---
METHOD
1. Combine black-eyed peas, bell pepper, cucumber, red onion, green onion, jalapeño, tomatoes, half of the parsley, and fonio/quinoa in a large bowl. Gently toss.
2. Combine oil, vinegar, tahini, garlic, honey, paprika, salt, and pepper in a small bowl. Whisk well and add water to thin if needed. Taste and add more honey if needed.
3. Pour vinaigrette over black-eyed pea mixture and stir well. Taste and add more salt or pepper, if needed. Refrigerate at least 1 hour for flavors to meld. Garnish with remaining parsley just before serving.
4. Serve chilled or at room temperature.