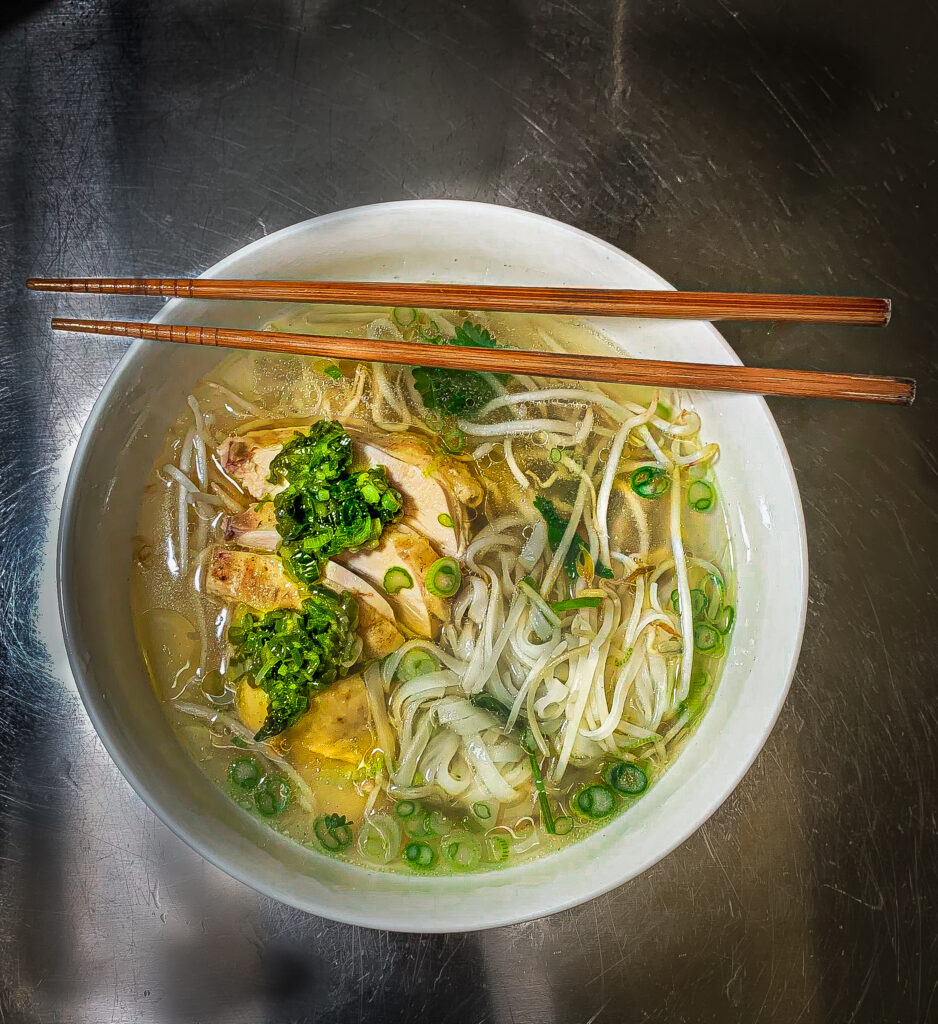 Chef Tu's Vietnamese-California cuisine began garnering press and accolades, first in 2016 with his weekly pop-up dinners "AN – a Vietnamese Dining Experience."; then in 2017 San Francisco Chronicle named him Rising Star Chef. In 2019, he was a featured contestant on Bravo's Top Chef Season 15 and invited to host ABC's Taste Buds: Chefsgiving which was nominated for a James Beard Award. 
As a first-generation, Vietnamese-American, food justice comes naturally to Chef Tu, who finds opportunities to use the medium of food as a vessel for meaningful work from cooking with incarcerated men in San Quentin; to his role as a co-executive producer for First Kitchen Media that involves storytelling, and speaking about diversity and inclusivity;  to being a community ambassador in Oakland working with Asian Health Services and the Oakland Asian Cultural Center. Tu's involvement with food recovery and the Zero-Waste Movement is something else he got from his mother: During the Vietnam War, when supplies were rationed, she learned, out of necessity, that corn silk could be dried and used as a tea or toasted, deep-fried, or sautéed to serve with rice. Chef Tu not only applies these Zero Waste principles in his own kitchen but he is also a James Beard Smart Catch Leader, recognized for promoting the use of sustainable seafood options; and an avid teacher, sharing the riches and lessons of his birthright through food. Chef Tu shares a little history of Pho and his delicious recipe for Pho Gà.
Chef Tu's Inspiration
The dish's origin is from China's largest Island- #Hainan, Southern China. And made popular by its influx of immigrants. Towards the turn of the 20th century, many Hainanese migrated to various Mainland Southeast Asian (Vietnam, Laos, Malaysia, Thailand, Cambodia and Myanmar) nations; one of them being my = grandpa onto Phu Quoc Island, Vietnam. In the latter half of the 20th century, the communist government of North Vietnam imposed food rationing on its citizens. Some called it social restructuring; others called it a purge. I agree with the latter. The suspicion of anything grilled, baked, or roasted would cause extreme animosity amongst neighbors, as they were most likely dining without. And often, enticed neighbors to report each other to local authorities. Naturally, chicken dishes such as Cơm Gà (Chicken Fat Rice) and Pho Gà (Chicken Pho) became staple recipes. Unlike grilling, baking, or roasting; their aromas from being poached (or boiled) were less intrusive.
Pho History
[Pre-Occupation]
Pho was originally made with water buffalo. And it wasn't as popular at the time. It was a regional dish found in Northern Vietnamese provinces. It wasn't the 19th century [In the era of French Occupation] that Water Buffalo in Pho was replaced with the European cow, specifically n Hanoi.
[French Occupation, 1900-1950s]
There are many contributing factors and theories. However, there was on the main fact gave birth to Beef Pho;
Hanoi was the capital of French-Indochina [compiled nations of Vietnam, Laos, Cambodia, and the Chinese territory of Guangzhuowan]. Thus, translating a strong presence of French colonists. The demand from French palates brought the European cow.
Naturally, the European cow (as an ingredient) would find its way to Hanoi's food scene to be utilized as an essential ingredient; beef found its way to be the permanent substitute for water buffalo in pho. Considering these historical contexts and cultural intersections, going into the 20th century, Pho would be an iconic staple in street food in Hanoi. And its popularity was contagious. In the next 50 years, Pho would go from a local Hanoi favorite to a national dish.
[Vietnamese Communism & Food Rationing, 1950s-1975]
In the latter half of the 20th century, food rationing was imposed on the citizens of Vietnam, in particular rice. And left no room for other ingredients (beef) as it was considered a luxury item. This "shift in policy" immediately reflected in the way people cook. Recipes were adapted. And Vietnam's iconic Beef Pho evolved to Chicken Pho. As chicken pho stalls overtook Vietnam's street with popularity, different regions in Vietnam started to form their own styles. Most notably, in the north and south.
[North Vietnam Chicken Pho] embraces the minimalistic approach. It's about the broth, noodles, and meat; garnishes are kept to a minimum; broth seasonings are fatty and salty.
[South Vietnam Chicken Pho] is reflective of the abundance of herbs and spices found in South Vietnam. Pho styles in the south are always seasoned with a medley of warm spices; an abundance of herb garnishes are preferred; broth seasonings highlights are of licorice and alliums.
I love both (north and south Vietnam) iterations of Phở. And in homage to that, my recipe is an amalgamation of both styles. It's a holiday favorite in the Phu house. Hopefully, in yours also.
Print
Description
I love both (north and south Vietnam) iterations of Phở. And in homage to that, my recipe is an amalgamation of both styles. It's a holiday favorite in the Phu house. Hopefully, in yours also.
---
Pho Broth
4 lb., Organic Chicken, Fresh
2 lbs., Chicken Feet or Wings
1 each, Yellow Onion
1 each, Garlic, Head
2 oz., Hawaiin Ginger, Fresh & Unpeeled
1 packet, Tumami Pho Spice Blend [or substitute [2] star anise, [1]cinnamon stick, [½] tsp fennel seeds [¼ ] tsp cloves]
2 tbsp, Organic Sugar
2 tbsp, Kosher Salt
4 tbsp, Son Fish Sauce
2 quarts, Water
6 quarts, Chicken Stock
Pho Noodles
14 oz. Pack,Three Ladies Dried Pho Noodles
Ginger Scallion Sauce
2 bunches, Scallions
2 tbsp, Hawaiin Ginger, minced
½ tsp, Son Fish Sauce
¼ tsp, Rice VInegar
3 tbsp, Avocado Oil
⅛ tsp, Kosher Salt
1 tsp, Angkor Lemongrass Paste [or substitute 2 tsp fresh lemongrass]
Garnishes
16 oz., Bean Sprouts
2 bunches, Scallions
---
Instructions
Cook Noodles
Soak the dried rice noodles in hot tap water for 10 minutes. They will soften just a bit, and become more opaque. Drain the noodles.
Simultaneously. bring a separate pot of water to a boil.
Bring 2 quarts of water to boil
Add noodles, stir occasionally to prevent sticking and burning
Cook until the noodles are done (2-3 minutes)
Once the noodles are done, drain the noodles into a food colander and rinse them thoroughly with cold water until the water runs clear.
Carve the Chicken
To prepare the parboiled chicken, you will need to carve it. Please see [this YouTube] tutorial on how to carve your chicken (start at 1:47 mark)
Make the Ginger Scallion Sauce
Slice 2 bunches of scallion
Mince 2 tbsp worth of Hawaiin Ginger, peeled
In a small saucepan, preheat the pan with 3 tbsp of avocado oil on low heat for 30 seconds
Add minced ginger to the saucepan and cook for 30 seconds
Add sliced scallions to the saucepan and cook for 1 minute
Take the saucepan off heat
Add ½ tsp fish sauce
Add ¼ tsp rice vinegar
Add a soft pinch of kosher salt
Add 1 tsp of lemongrass paste [ or 2 tsp of fresh lemongrass minced]
Mix thoroughly before serving
Prepare the Garnishes
Slice 2 bunches of scallion
Rinse and clean 16 oz. of mung bean sprouts- to get them crispy, soak them in cold water for 5 minutes prior to serving
Cilantro is kept whole
Assembly
In a large soup bowl, first, start with your pho noodles to a bowl
Garnish with parboiled chicken parts
Ladle boiling broth into the bowl.
Garnish bean sprouts, cilantro, and scallion
Garnish chicken parts with ginger-scallion sauce or serve on the side.