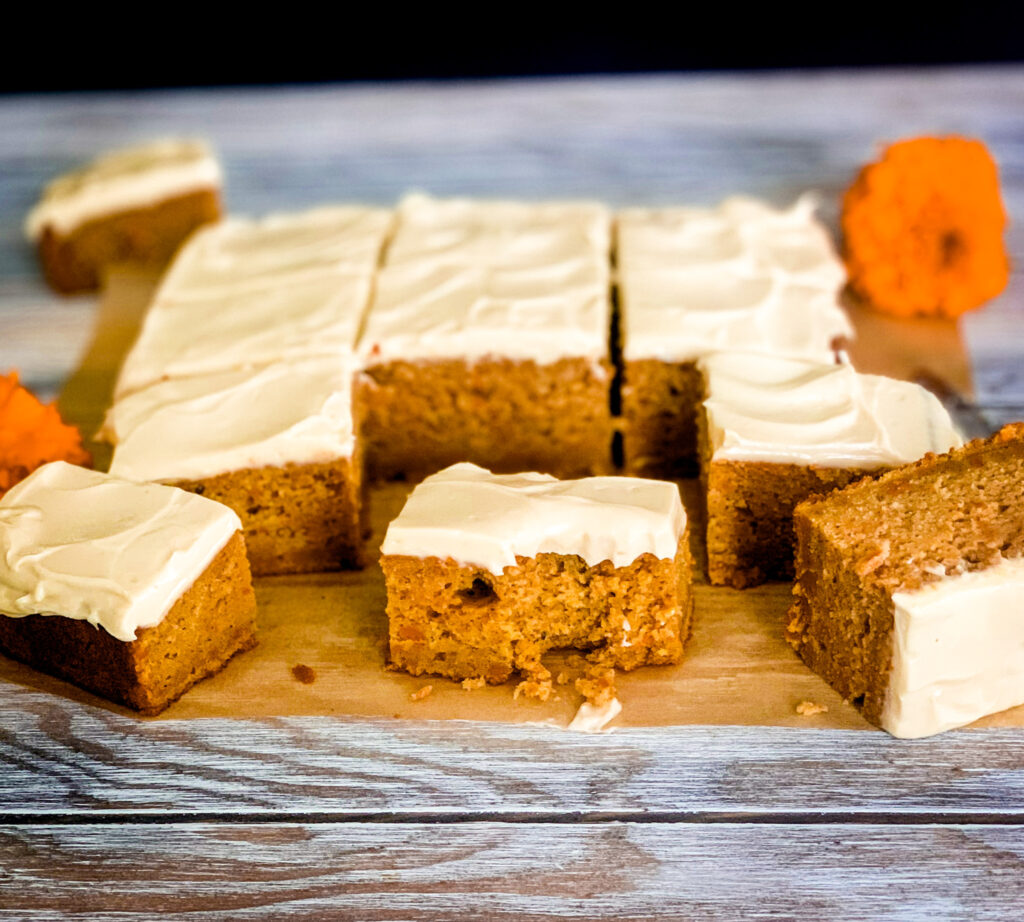 Pumpkin who? Who needs pumpkin when sweet potato is queen especially when it's my Sweet Potato Chai Cake with Maple Cream Cheese Frosting.
I know pumpkin gets all the hype around this time of year but where I'm from the sweet potato is running the show. This Sweet Potato Chai Cake with Maple Cream Cheese Frosting will not disappoint Cake is one of the stars so when Natasha invited me to participate in her Thanksgiving Dinner Must-Haves I had to share this sweet treat.
I love a good cake from scratch but sometimes it can be a little intimidating. I know I get it but let me tell you, this is such an easy cake to make and it's what's called a "snacking" cake because it has one layer and is extremely easy to bake.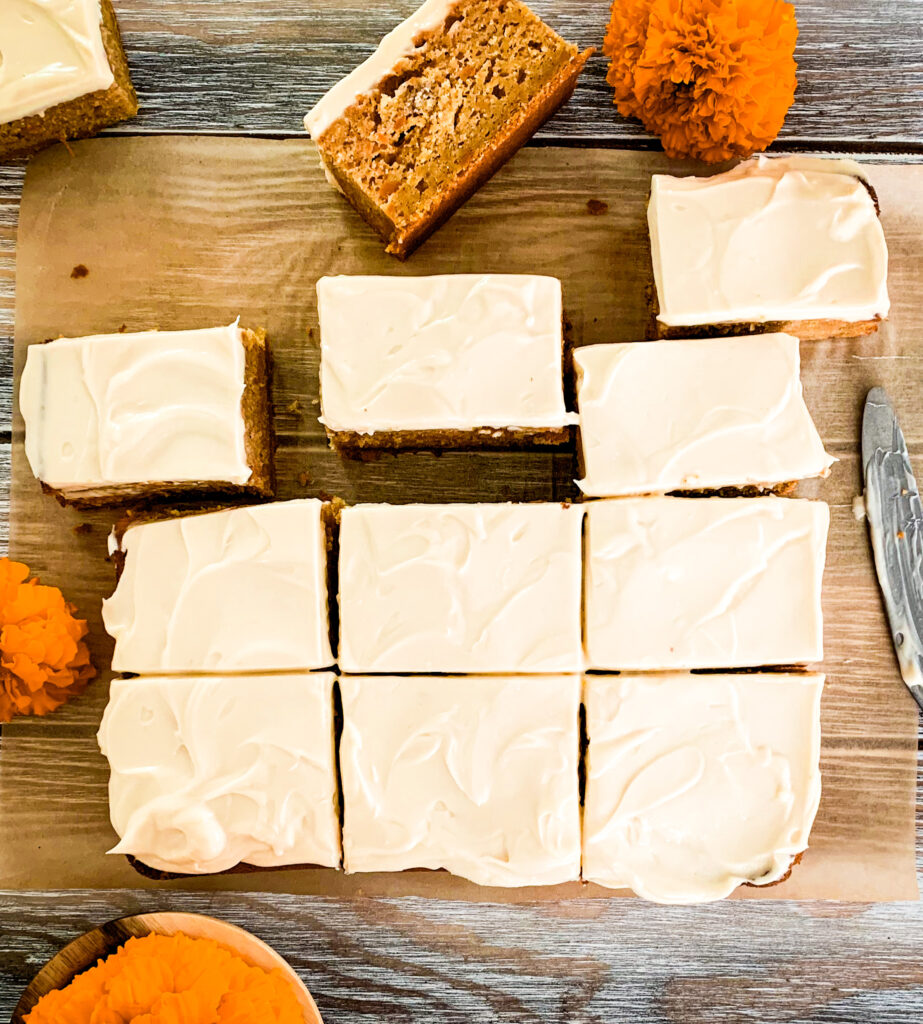 This Sweet Potato Chai Cake with Maple Cream Cheese Frosting is the perfect snackin' cake. One layer of chai spiced cake is perfectly moist and sweet and topped with a smooth cream cheese frosting that's been kissed with maple syrup. Doesn't that sound good? Now go get that coffee brewing, tea steeping, or glass of milk so it will be waiting for when this cake is done.
It keeps well in an airtight container in the fridge for up to one week. If you want to freeze some, no problem, just don't put the frosting on. Slice the cake up, double wrap them, and store them in the freezer for up to three months. When you're ready to eat them, thaw them in the fridge overnight or pop one in the toaster oven to warm it up.
Are you ready to get your bake? Let's Go!
Print
1 large sweet potato (about 1 1/2 cups), cooked and mashed
2 cups of flour, sifted
1 1/2 teaspoon of baking powder
1/2 teaspoon of baking soda
1/2 teaspoon of salt
2 teaspoons of cinnamon
1/2 teaspoon of nutmeg
1/2 teaspoon of ground black pepper
1/4 teaspoon ground ginger
1/4 teaspoon ground cardamom
1/4 teaspoon of ground allspice
1/4 teaspoon of cloves
1 cup of butter (2 sticks), room temperature
1 cup of brown sugar, packed
2/3 cup of granulated sugar
3 large eggs, room temperature, and slightly beaten
3 teaspoons of vanilla
1/2 cup of buttermilk
Maple Cream Cheese Frosting
8 ounces of cream cheese, room temperature
1/4 cup of salted butter, room temperature
1 1/4 cup of powdered sugar, sifted
3 tablespoons of maple syrup
1 teaspoon of vanilla

---
Instructions
Preheat oven to 350°. Coat an 8×8 square pan with baking spray or butter and flour it. 
Sift flour, baking soda & powder, and salt in a large bowl. Add cinnamon, nutmeg, pepper, ginger, cardamom, allspice, and cloves, whisk together, and set aside.

Cut your sweet potato in chunks. Fill a small pot with water and add sweet potatoes. Allow sweet potatoes to cook over medium heat until tender. Mash and set to the side to cool.

Using a handheld mixer, beat butter on low speed for 2 minutes then add both sugars. Cream butter and sugars together on high speed until light and fluffy, about at least 5-7 minutes.

On medium speed, add eggs, one at a time until just incorporated. Egg should be incorporated before adding the next egg. Scrape down the sides as needed. Don't over-mix. Add mashed sweet potatoes, and vanilla, and mix for about 30 seconds.

On low speed, add half the dry ingredients to the butter mixture, mix for a few seconds, add buttermilk, mix for a few seconds add the remaining dry ingredients, and mix for a few seconds. Scrape down the sides and fold the batter a few times by hand to combine completely.

Transfer the batter to the prepared pan, spreading it in an even layer. Bake 35-40 minutes. The cake is done when a toothpick inserted in the middle comes out clean. Let the cake sit for about 10 minutes then invert it onto a cooling rack.

Meanwhile, make the frosting. In a medium bowl, using a handheld mixer,   mix together the cream cheese, butter, powdered sugar, maple syrup, and vanilla until smooth and creamy. Dollop the frosting over the cake and gently spread. Sprinkle with cinnamon if desired.
Prep Time: 20
Cook Time: 35-40
Category: Dessert
Method: Bake
Cuisine: North American