A conversation with The Vegan Hood Chefs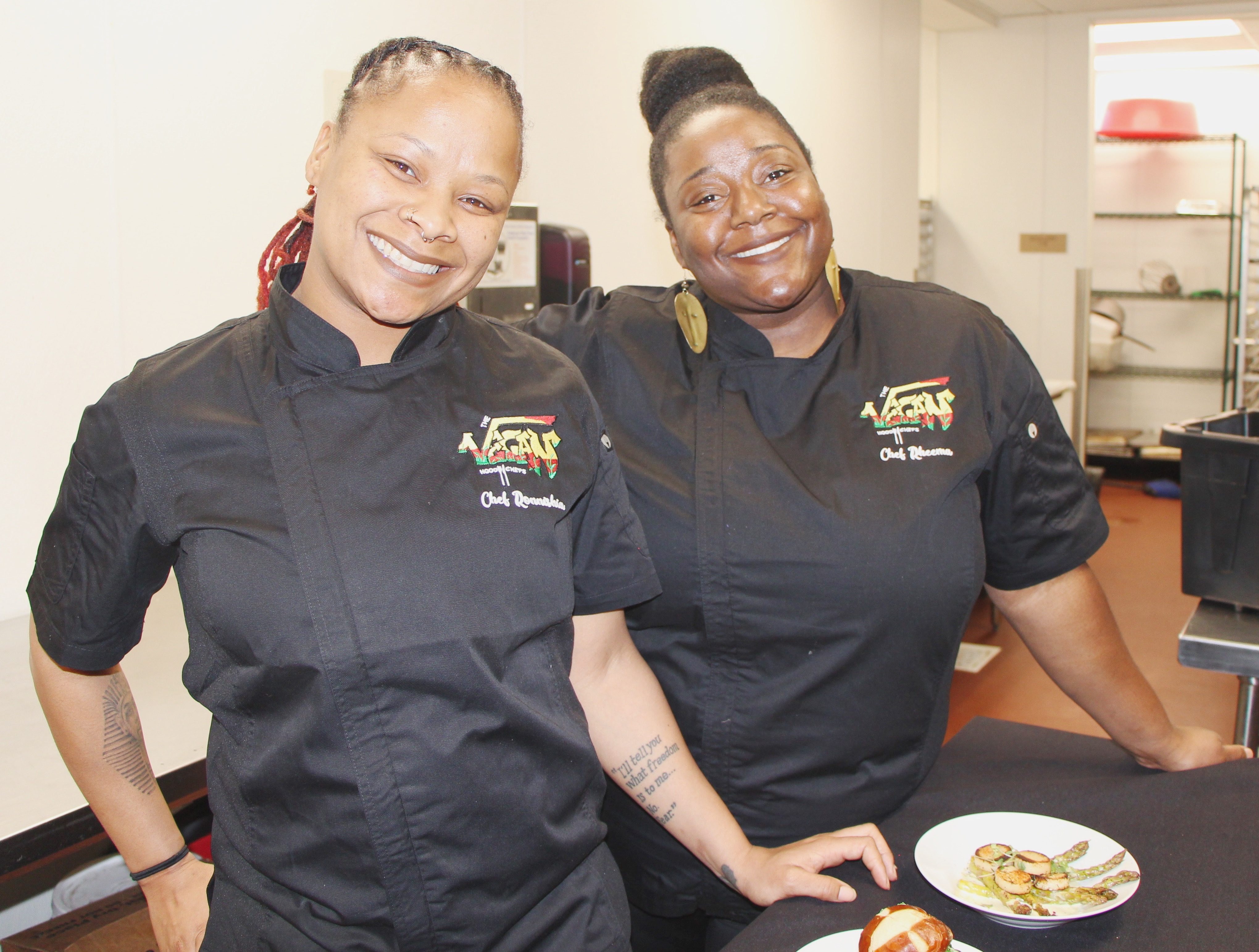 For about a year or so, I had been hearing about two young chefs that were doing pop-ups around the Bay Area showcasing their vegan food. After a little research and checking out their instagram, I decided to reach out to the Vegan Hood Chefs (VHC), Ronnishia Johnson and Rheema Calloway, to see if they would be interested in doing an interview with me. After a few DMs and email exchanges, we set a date to meet at Eclectic Cookery, a commercial kitchen, where these two chefs cook up their signature dishes like Oyster Mushroom Po'boys, Cajun Mac & Cheese, and more. As soon as I met Ronnishia and Rheema, their hyphyness was magnetic and I completely fell in love with their vibe, fierceness, and passion for cultivating community.
Raised in the Lakeview and Bayview-Hunter's Point areas of San Francisco, Ronnishia and Rheema, who are childhood friends, felt that they needed to do something to address San Francisco's disappearing black population and lack of access to healthy food choices. In 2017 VHC was born and while food is their product, it's also the vehicle that carries their message and fight against food injustice and social inequity in the San Francisco community. With a foundation built on the love for their community, a passion for community organizing and educating and empowering communities of color to make healthy lifestyle choices, VHC is spreading the word on what's good in the hood.
Q&A
THE VEGAN HOOD CHEFS
Chefs Rheema Calloway & Ronnishia Johnson
---
When did your food journey begin?
Ronnishia: I guess there's two answers to this question. I think my food journey started as soon as I was born. My grandmother raised me and she was from Baton Rouge, Louisiana and she had me helping her cook from a really young age. But I think in terms of when I think about my independence and embarking on a culinary journey, it was when we went off to college. It was straight survival mode and I think we had to lean on our resources. She [grandmother] taught us to survive and be creative with food as well. Like how do you make ramen noodles gourmet. No what I mean?
Rheema: My grandmother is from Gloster, Louisiana and I grew up as the guinea pig. It wasn't until we went to college that I was like, "I'm by myself. I really have to cook." I would call my mom all the time asking questions. I would be in the kitchen figuring it out and then eventually realized I could really cook. We started a California club at our school in Texas and we decided to feed the students that didn't go home for Thanksgiving. We made a whole bunch of food. It was our first time making Thanksgiving and it was delicious. At that time we weren't vegans and were making bomb chicken!
How long have you known each other?
Ronnishia & Rheema: We've been friends since ninth grade.
When did you decide to go vegan?
Ronnishia: Well I went pescatarian, then vegetarian, and then vegan. I started the journey of eliminating meat out of my diet in college. I had a high blood pressure scare in college. We went to school down South, in Texas, and it seemed like everything we were eating was fried. Fried food along with the stress of school and being away from home was so stressful. They talk about the freshman 15, it was more like a freshman 50 for me.
I remember going to go see the doctor my sophomore year in college and he wanted to put me on high blood pressure medication. The guy I was dating at the time was like, "Oh no we're not going to do that" and he introduced me to a plant based diet. I slowly started eliminating meat out of my diet and I don't have high blood pressure now.
Rheema: She [Ronnishia] was the inspiration. Also, when I came out of college, I started working with the Department of Public Health on a project called Healthy Eating and Active Living in the Bayview-Hunters Point District in San Francisco. That's where I learned exactly how much sugar is in soda and started learning more about lack of access to [healthy] food in our community. For instance at that time, 2013/2014, San Francisco Wholesale Produce Market had a warehouse in the Bayview but wasn't selling food in the Bayview. We started working with people in the community and local stores to work with San Francisco Wholesale Produce to provide more healthy food choices.
That brings me to a question that I thought about as I was driving up here and noticing the changes in the area. Let's talk about gentrification. How is gentrification impacting the community and what does it mean for you and your business?
Ronnishia: From a personal standpoint, I've watched my community change right before my eyes. When we went away to college and came back, it [the community]looked completely different. I remember walking down the street and the corner store was no longer there or my friends who I grew up with no longer lived next door because they'd been displaced out of the community. When we came back [from college], we were heavily fighting against gentrification but also the intersection between police brutality and how that relates to gentrification. [These issues ] really affected us, our friends so it's ingrained in us, coming from this community, to make sure that we talk about these issues. Even through our food ventures we want to make sure that there's a social justice aspect to it. We realize that through our experiences, it's important for us to dedicate our lives and our endeavors to educating people.
Rheema: My community is completely gentrified. One of the goals for me was to go to school so I could come back and bring that education to my people but when I came back, they were all gone. Only about 3% of San Francisco's population are black folks now. We noticed that conversations and solutions were being talked about for the neighborhoods but those conversations were happening without having the community at the table. That's one of the many reasons why, as the Vegan Hood Chefs, we want to make sure that we are the ones being the solutions to the issues in our communities and making sure that we're at the table when these decisions are being made about our people.
We've seen a loss of community in San Francisco. I remember going to my neighbor's house who had an apple tree and getting apples. That's no longer the norm for us anymore. Now, people are policing fruit, you know what I'm saying? We're losing that community aspect of an elder showing how to make things, or garden because people don't have access to that anymore. We've [black people] always been stewards, we've always been people of the land. But when gentrification took over, .the narrative changed and the garden area in the neighborhood was considered social blight and new people would take it over. Now, there's something lost. While they have kids in the garden, they're not connecting it to the roots of who we are. There's a disconnect between gardening and being an African American or a black person.
Why was it important for you to start VHC?
Ronnishia: Our political ideology was shifting. A lot of times when you're in the organizing world, people feel like earning money or owning businesses makes you a capitalist. I think for black folks and the reality of the world that we live in, having ownership in terms of a business or a home is super important. For us to be able to fight against the system and practice group economics we started thinking about how we could create a business that not only would allow us to gain some money, but also create a platform for us to be able to hire the homies or other people in the community. Through our business, we wanted to teach other people how to replicate the same system over and over again.
At the time we were heavily organizing in the community through the Black Lives Matter. We were around all these dope black people from all across the nation and we're talking about all the ways in which there was a war waged against black people, but yet we still eating cheeseburgers and fried foods. We felt like food justice was being left out of the conversation.
As we started to change the way that we ate, the business kind of chose us. We didn't actually intend to make it a business, we just wanted to educate people through our Instagram about what was going on with eating healthy food. One of our friends, Breezy the Twerk Goddess, had an event and her caterer backed out at the last minute. She asked us to cater the event and after that, things just really took off. We felt like there was a need in the community and people really loved our food.
Why the name Vegan Hood Chefs?
Ronnishia: We pride ourselves on being from the hood. Through our work we wanted to make sure we create a space that was a representation of that. We were really directing attention toward making sure that this is for the homies, this is for us, from the 'hood'. I think there's a certain resiliency that comes out of being from the hood. I feel like it's a representation of our cooking, that's a representation of the diaspora. The hood is where we heal ourselves. The hood is where we've experienced community and experience love and I think those are the types of elements that we want our food to represent.
Why do you think food brings people together?
Rheema: I feel like that's the way we heal. There's a lot of trauma that we experience as black women, black people. At the end of the day, people came together to eat and fellowship and talk about different things. Ideas come out around the food we eat. Food is one of the things that's a conversation starter. You can smell something and it makes you nostalgic. You can remember something that your great grandma made, you know what I'm saying? So it's magic. I think food is special magic and it's medicine. When you're eating a wholesome meal, you're healing from the inside out.
What's your go to meal when you're in a crunch?
Rheema: I like spaghetti. Yeah, that's my thing. I mean it's easy. You get the bell peppers, your sauce and sometimes I like to use spaghetti squash. I'm a real pasta person.
Ronnishia: Mine's jambalaya.
What are your 5 must-have ingredients?
Garlic
Quinoa
Jackfruit
Smoked paprika
Mushrooms
What is your perfect meal and who would you share it with?
Rheema: For me my perfect meal would be pasta with garlic bread. We make a Mardi Gras pasta and I would like to have that with my mom. My mom passed 10 years ago and I think she would have really appreciated the flavors and the food that I cook. I would like to share that with her.
Ronnishia: Yeah, I'm going to go with the whole traditional layout. We make some fire black-eyed peas, some Cajun greens, but we throw a little kale in there too, vegan mac and cheese and I would have that with my grandmother. Yes, I love my grandmother. She's been a super support and staple in my life so I would definitely share that with her.
Charleston Red Quinoa
by Chefs Rheema Calloway & Ronnishia Johnson
---
INGREDIENTS
1 tablespoon vegan butter (for greasing pan)
1 medium white onion
2 celery stalks chopped
1/2 green bell pepper
1⁄2 red bell pepper
2 cups uncooked white Quinoa
2 (14.5-ounce) cans tomato puree/ diced tomatoes
2 teaspoons Cajun seasoning salt (or to taste)
1/4 teaspoon freshly ground black pepper
1 teaspoon sugar
3 or 4 drops vegan Worcestershire sauce
Vegetable stock (optional)
Fresh thyme
---
METHOD
1. Use a large pot. Add 4 cups of cold water or vegetable stock
2. into the pot. Pour in two cups of quinoa. Allow the pot to come to a boil. Turn down the
heat once most of the water has boiled out.
3. Wash your vegetables. Dice your celery, onions, and bell peppers.
4. In a separate pot. Put it on medium heat. Cook your vegetables on high heat until they have a slight brown color. Add your spices to the pot as you cook the vegetables. The goal is to almost over season them so that the flavor can also saturate the quinoa.
5. After quinoa has been thoroughly cooked, add it to the skillet with the vegetables.
6. Add in your diced tomatoes or tomato paste and stir.
7. Once the flavors and paste have evenly cooked throughout the quinoa you are done.