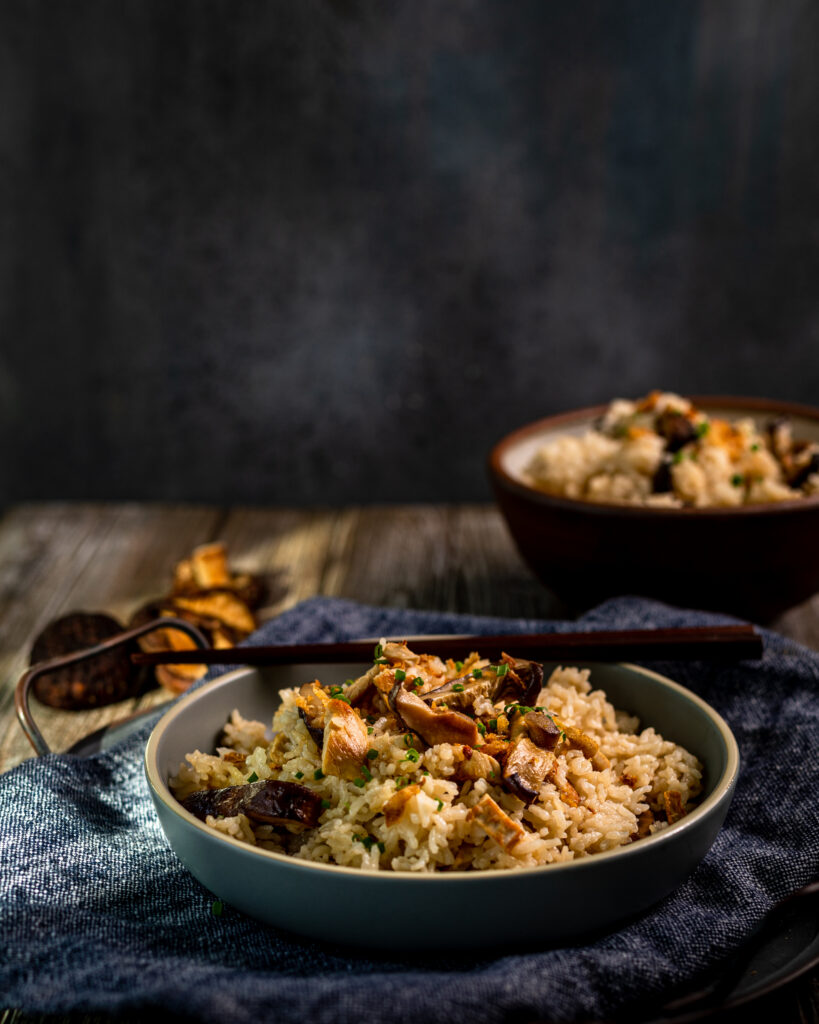 In this wonderful sticky rice dish, it is paired with with with flavorful chicken, aromatics sesame oil, soy, shiitake mushrooms, and spices. This dish would be a welcome addition or stuffing alternative for your holiday table.
Thank you to Dora of M Grace Bake Shop for sharing this wonderful recipe!
My Favorite Thanksgiving Memory
My parents immigrated from Taiwan in the 60s. Their first home was an apartment building in Philadelphia where they befriended another Taiwanese family. I know it was a struggle in those early days but they were so curious about Thanksgiving and decided to celebrate a traditional meal together. My mom told me they never had turkey before and had no idea how to cook it. They ended up cutting it up and boiling the turkey pieces. This makes me laugh so hard because my mom is a wonderful cook and I'm sure they were so confused by this ingredient.
By the time I came along, Thanksgiving dinner included a proper Roast Turkey and sides like mashed potatoes and gravy. Everything was pretty standard except for the stuffing. I have some recollection of Stove Top making an appearance but stuffing to our family meant Sticky Rice. It has a wonderful aroma from the sesame oil and savory rich flavors that fit right into a holiday table. I think every Taiwanese Family has their version of this comforting dish. It's a short-grain rice that is sautéed with aromatics, sesame oil, soy, and shiitake mushrooms then steamed in a rice cooker. My version will never come close to my mom's version but recreating this recipe definitely makes me feel closer to her.
I've had the good fortune of celebrating Thanksgiving with family and sometimes groups of friends or both. I love being able to sample what everyone brings as their favorite dish and hearing the stories behind them. Sticky Rice reminds me of how important those flavors of home are.
Print
3 1/2 cups short-grain glutinous rice
8 dried shiitake mushrooms
1 tablespoon vegetable oil
4 oz. Chicken breast, thinly sliced
I small knob of ginger, peeled and sliced
4 tablespoons soy sauce
1 1/2 tablespoon sesame oil
2 tablespoons oyster sauce
1 teaspoon sugar
Salt and pepper
2 tablespoons fried onions or shallots
Chopped chives or green onions, garnish
Chili crisp, garnish
---
Instructions
Cover the rice with water and soak for 1 hour. In a separate bowl, cover the mushrooms with 1 cup water and soak for 1 hour.
Drain the rice and mushrooms, reserving the mushroom liquid. Add enough water to the mushroom liquid to measure 4 cups total. Slice the mushrooms and set them aside.
Heat the vegetable oil in a large saucepan and add the chicken and ginger. Season with salt and pepper and saute until the chicken is cooked through. Add the mushrooms and cook for 2-3 minutes. Add the sesame oil, oyster sauce, soy sauce, and sugar. Add the rice and continue stirring until the rice is thoroughly coated.
Transfer to a rice cooker and pour the mushroom liquid over the rice. Stir the mixture then cover and steam the rice according to the cooker's directions. Fluff the rice and top with the fried onion, chives and chili crisp on the side.
Notes
**If you don't have a rice cooker, the rice can be cooked on a stovetop in a large pot for about 25 minutes. Let it stand 5 minutes before fluffing the rice.
**To make it vegetarian, replace the chicken with firm tofu and use vegetarian oyster sauce.