A Conversation with Nafy Flatley of TERANGA Juices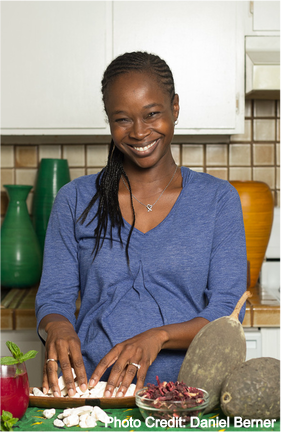 I learned about Nafy Flatley and her company TERANGA when researching a food event and stumbled upon the TERANGA website. TERANGA is a food and beverage company that uses the baobab superfood and other ingredients and spices as the base for most of its prepared meals, snacks, drinks, shots and popsicles. After doing a little research, I decided to send Nafy an email to see if she was game for an interview. Within days, she enthusiastically replied yes.
Nafy and I were set to meet at La Cocina a non-profit business incubator in San Francisco and the headquarters for many up and coming food entrepreneurs in the San Francisco Bay Area. A bit nervous because this was my very first interview for the blog, I really didn't know what to expect and the butterflies were definitely having some fun in my belly.
I arrived a little early and some of the La Cocina folks showed me where I could settle in, get a feel for the area and, do a few videos before Nafy arrived. After waiting a few minutes, a petite woman walked through the door wearing a huge smile and as we made eye contact, she greeted me with the warmest hug like we were cousins who hadn't seen each other in a long time.
Photo Credit: Eric Wolfinger
After Nafy settled in and said her hellos to folks working in the space, she took me on a tour of La Cocina's kitchen. As we navigated through a maze of steel tables, people, and kitchen equipment, I learned that La Cocina primarily focuses on supporting immigrant women and women of color in starting their food ventures and up to eight businesses can work in the kitchen space at any one time. Through the program, chefs receive technical assistance, marketing support, and so much more to be competitive in the food industry. I witnessed chefs and their teams bustle around preparing for catering gigs while others were making and packaging their products. As we neared the end of the tour, we encountered a chef who greeted us in French and promptly handed us a chocolate-dipped French pastry. I was in heaven.
Photo Credit: Eric Wolfinger
Senegal, Nafy's home country, is known as the country of teranga. Nafy described teranga as a beautiful blend of hospitality and friendship, respect and camaraderie, sharing and community. "If someone comes to your house unexpectedly, you do not turn them away you say 'come in and sit at the table'." Teranga is an art form, it is a way of life.
A soul of hospitality and a heart of humanity is a house of love, peace, freedom, liberty and justice." Auliq Ice
As Nafy and the chef chatted in French, I savored my sweet treat and realized that the butterflies were gone. Within the 15 minutes or so of knowing Nafy, I was already experiencing teranga. Warmth, community, food; this was my first introduction to the spirit of teranga and all that Nafy embodies.
Photo Credit: Eric Wolfinger
Q&A
NAFY FLATLEY ~TERANGA JUICES
---
Tell me a little bit about your food journey. What started you on this path?
It all really began back home when I was around 5 or 7. What happened is, in Africa, in a family, the firstborn has a very cute name that they call you [like a nickname]. It's used for firstborn and last born but the middle child doesn't have a name. I'm a middle child so I don't have a name. I asked my mom why I don't have one and why there's none for middle kids. I felt left out. I wanted to show I'm unique and cute, worthy, funny and exceptional???? So I said ok since it doesn't exist, I'm going to make my self unique and different in my own ways. I have to really stand out…so that's when I turned to food. I started following my grandmother everywhere she goes in the kitchen. I was really influenced by four women in my life while I grew up in the capital of Dakar, my grandmother, mother, and two aunts. They all were very great cooks and I would watch them and see how they would cook. At the age of 7, I could already cook for my entire family.
Tell me about the word teranga. Why was it important to name your business TERANGA?
So, all that ties to my background from Senegal. That's the Senegalese culture. From when you are young, they start teaching you about the word teranga. Teranga means hospitality, it means friendship, it means camaraderie. It's like an art. It's a way of life the Senagalese live on a daily basis and so from a young age, they're always integrating the teranga way of life. I didn't see it so much when I moved here [United States]. I felt like I didn't see it so much and I wanted this beautiful culture here. When looking at a name for the company I said, "whoah there's no better name to bring my culture from Senegal here." I can add this [teranga] to my community here and all the places and people I connect with here. Food is a way to bring everybody together and I felt like with naming it TERANGA, would fit very well in bringing people together. I wanted to bring tastes and flavors that maybe are not familiar but once you try and taste you feel comfortable or it reminds you of something…that's teranga.
Why was it important for you to start your business?
I started TERANGA out of survival. I worked as a marketing manager in Silicon Valley and when I had my first son he was a premature, 4lb 10 oz. I found myself trapped and not knowing what to do. My working days were grueling. I was always in the office and my job wasn't that flexible. Having a kid I couldn't live like that. I was stressing, couldn't produce milk for breastfeeding, so I had to do something different…I talked to my mom and she said you don't have to work for people you can work for yourself…
Why does food bring people together?
My grandmother would say, "Food is what brings peace. When you put food, it gathers people." Food will break up fights [laughing]. Food is the vehicle of peace. My grandmother would make food every Friday and all the neighborhood kids would come. This was a way to give food and teach them to be kind and to be respectful. All the kids called her grandma.
What's your favorite meal to cook?
Aaaaah, it would have to be Maafé.
5 must-have ingredients for your kitchen?
1. Peanut butter or peanuts
2. Baobab
3. Moringa leaves. They're kind of like spinach or kale.
4. Hibiscus. I use it in teas, desserts and some savory dishes.
5. Tiger nuts. It's similar to almonds. It's high in iron and you can make milk with it.
Ok, last question. What would be your perfect meal and who would you eat it with?
Really, it would be Maafé and I would eat it with you ???? This [Maafé] was the last meal I ate before I came to the United States and it brings so many memories for me. It makes me think of home. It makes me think of my mom.
MAAFÉ
by Nafy Flatley
As published in the We Are La Cocina:Recipes in Pursuit of the American Dream cookbook
---
INGREDIENTS
6-10 servings
½ cup organic creamy peanut butter (no sugar added)
3 cups broth or water
1 tablespoon vegetable oil
1 red onion, diced, 1-inch pieces
1 bell pepper, diced, 1-inch pieces (stem and seeds removed)
4 garlic cloves, minced
1 orange habañero, whole stem on
1 heaped tablespoon tomato paste
2 cups diced tomatoes
1 tablespoon tamarind paste
1 teaspoon fish sauce (skip if vegetarian/vegan)
1 Bay leaf
2 cups diced sweet potatoes
1 cup diced turnips or potatoes
1 cup diced carrots
1 cup diced cassava
2 teaspoons sea salt, plus more to taste
Cracked black pepper, to taste
1 tablespoon TERANGA baobab powder (optional)
6-10 okra whole okra pods optional
4 cups Spinach or Baobab leaves (optional)
---
METHOD
1. Combine the peanut butter with 1 cup of warm water or vegetable broth and stir to dissolve to a smooth sauce.
2. In a large saucepan, heat up the oil over medium heat and add in the onions and bell peppers. Sauté until soft but not browned, about 3 minutes. Add in the minced garlic and stir until fragrant, about 30 seconds.
3. Add in the tomato paste, stirring to evenly coat the vegetables. Allow to cook until the color turns brick red, about 3-4 minutes. Add in the chopped tomatoes with their liquid. Stir and scrape the bottom of the pan to loosen any stuck bits. Allow the sauce to come up to a simmer.
4. Stir in the peanut butter mixture and the remaining water. Add in the tamarind paste, fish sauce, and bay leaf. Let sauce simmer, covered over low heat till slightly thickened, about 30 minutes. Stir frequently to keep from burning.
5. Add in the sweet potatoes, turnips, habanero, and carrots. Season sauce with salt and black pepper and allow to cook until vegetables are just tender, about 12-15 minutes.
6. Sprinkle in the baobab powder if using and stir in the okra and spinach. Remove from heat, season with more salt if necessary.
Side Notes:
The sauce is thick. Adjust with up to 1 additional cup broth or water according to preference.
Don't forget to skip the fish sauce if you are vegetarian/ vegan
If you Nafy suggests making with any of the following: 1 pound beef stew or chicken drumsticks, thighs or breast or fish fillet and shrimp
For beef or chicken, brown the pieces before sautéing the onions.
For fish/shrimp or any seafood add in the pieces along with the vegetables.
The okras could be sautéed in olive oil and apple cider vinegar or lime or lemon instead of stirring into sauce.
Server over rice, couscous, fonio or fúfú.
Garnish using yellow and orange color bell peppers and cilantro diced in small pieces.
Photo Credit: Eric Wolfinger