This is the prettiest hummus ever and very simple to make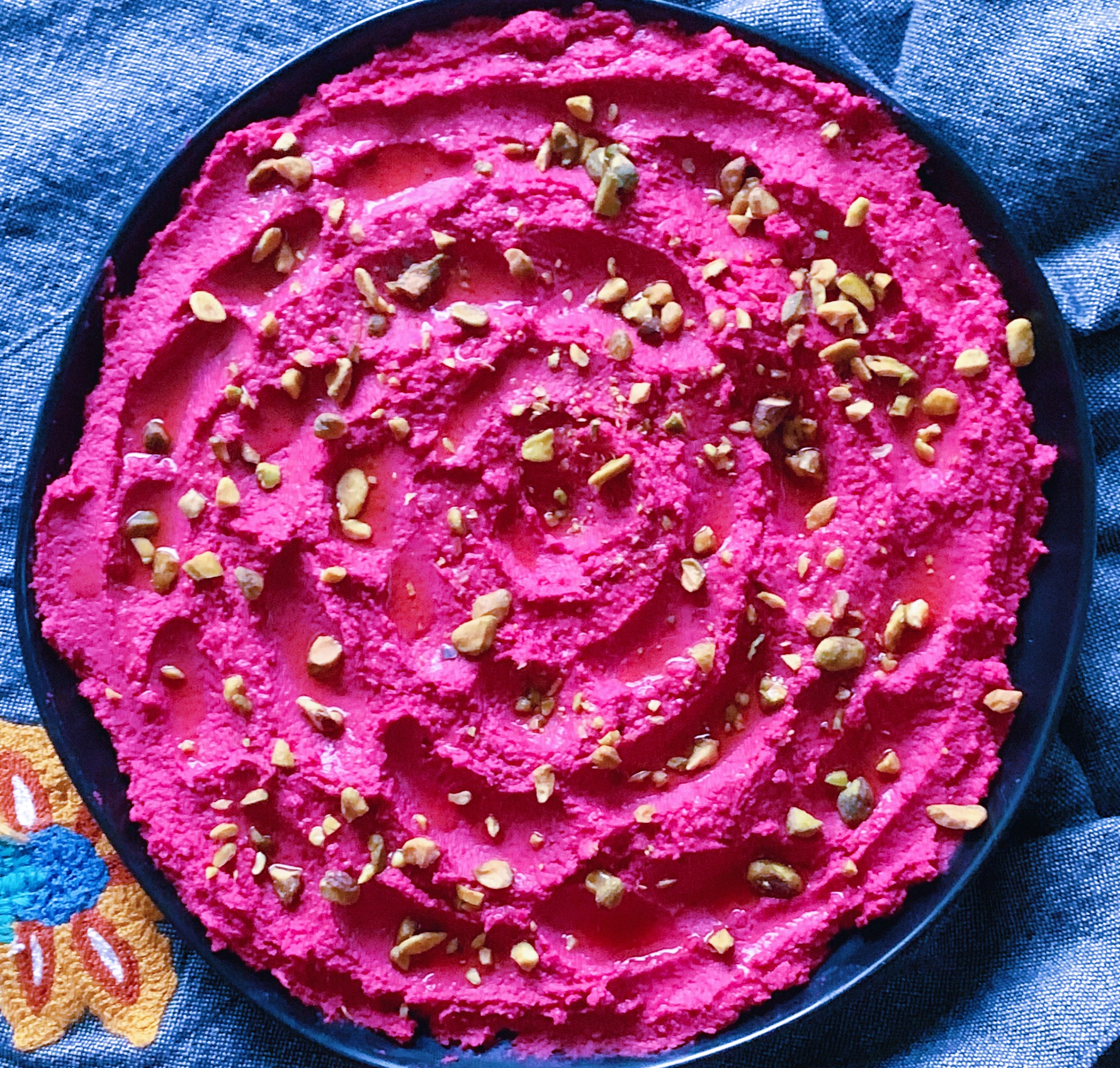 If you love hummus, raise your hand. I am a hummus lover and hummus, like my creamy hummus recipe, is so easy to make. "Stef, why are you talking about hummus when this post is supposed to be about beets?" you ask. Well, I'm taking hummus and the infamous red beet and making this fabulous roasted beet hummus that's sure to wow your guests at your next dinner party or be a great snack to munch with pita chips or veggies while bingeing on your favorite Netflix show.
Roasted Beet Hummus
By Stefani Renee
---
INGREDIENTS
6 Servings
2 cans of chickpeas (15.5oz each) drained and rinsed (you can also use homemade chickpeas if you have the time to make)
2 small red beets
2 cloves of garlic
¼ cup tahini
¼ cup of good olive oil
Juice from 2-2½ lemons (I like mine a little tangy)
2-3 tablespoons cold water
¼ teaspoon cumin
¼ teaspoon paprika
Kosher salt and pepper to taste
A handful of pistachios, chopped (optional)
---
METHOD
Gather the ingredients
Heat oven to 400 degrees.
Scrub beets well. Chop off the green tops and ends. Quarter and drizzle beets with a tablespoon of olive oil. Sprinkle with a little salt.
Place beets on a pan lined with foil and place in the oven. Cook beets for 35-45 minutes or until tender.
While beets are cooking, start preparing chickpeas.
Blend chickpeas and garlic in a food processor or blender. It will look a little gritty.
Once beets are done and cooled, add to the chickpea mixture. Pulse a few minutes.
Add tahini, cumin, paprika, olive oil, lemon juice to the food processor. Pulse for 5-7 minutes.
If the mixture is a little stiff add cold water.
Salt and pepper to taste
Drizzle with olive oil and chopped pistachios, if desired.
Side Notes:
Add some goat cheese for additional flavor
Garnish with chopped mint leaves or basil instead of pistachios