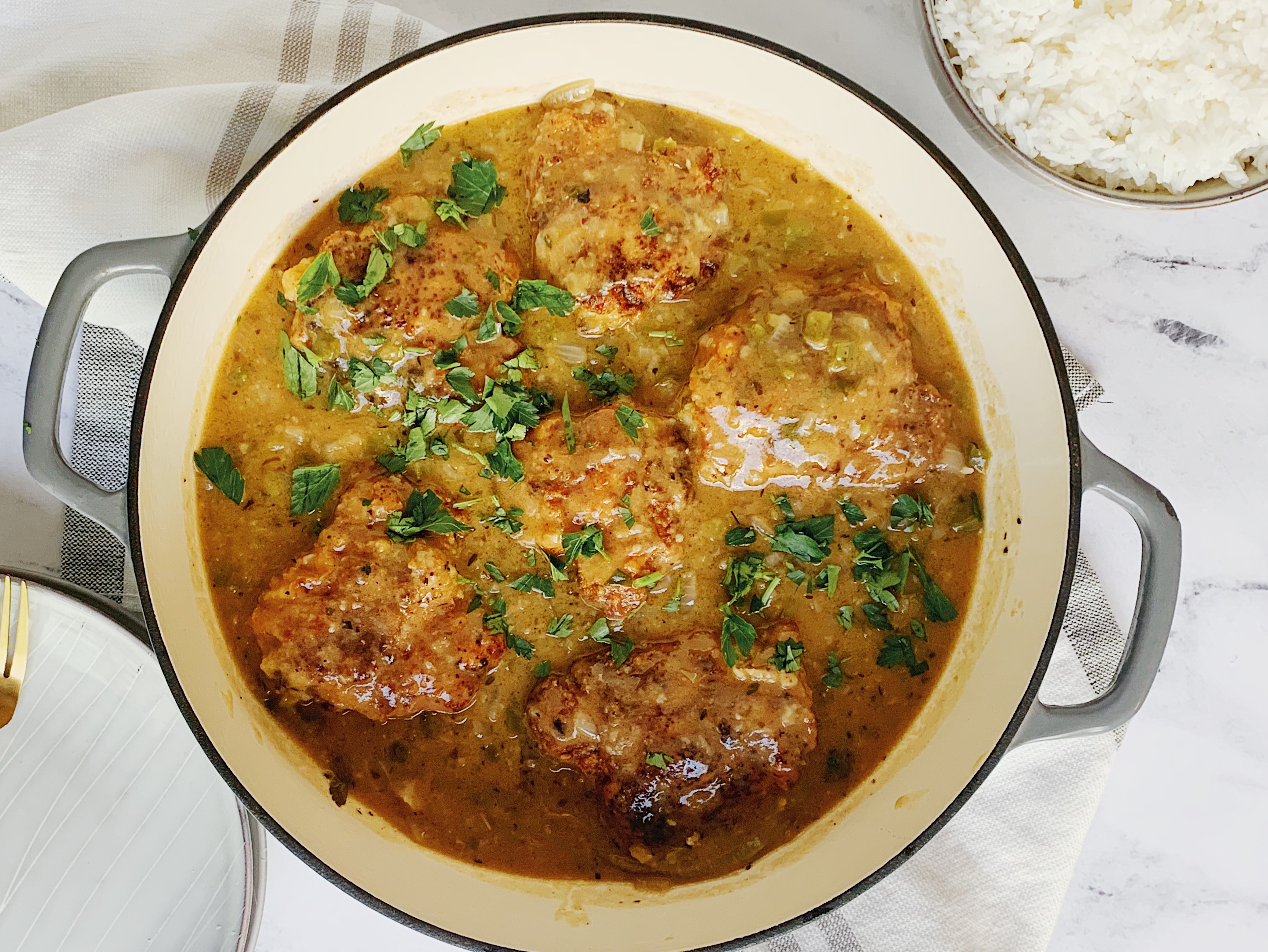 Juicy chicken laying pretty in a rich savory and creamy gravy is the perfect comfort food to warm your belly and soul.
Southern Comfort
Webster's Dictionary defines comfort food as "food prepared in a traditional style having a usually nostalgic or sentimental appeal" and southern food wraps you in comfort in all the best ways. Southern-style smothered chicken is one of those stick-to-your-ribs soul food dishes that's easy to pull together—you'll be in the kitchen less than an hour—drips with flavor, and will have you and your crew going back for seconds.
SMOTHERED CHICKEN
---
INGREDIENTS
5-6 skinless bone-in chicken thighs
½ cup + 2 tablespoons of flour
1 teaspoon salt
1 teaspoon paprika
½ teaspoon onion powder
½ teaspoon garlic powder
½ teaspoon pepper
½ teaspoon dried basil
½ teaspoon poultry seasoning
⅛ teaspoon cayenne
⅓ cup oil (canola, vegetable, or other preferred oil)
1 large yellow or white onion, sliced
½ green bell pepper, diced
2 celery ribs, diced
½ jalapeno, seeded and minced (use whole if you want more heat)
2-3 cloves garlic, minced
3 tablespoons of butter
3 cups of chicken broth + more if needed to thin gravy
¼ cup milk or cream
1 bay leaf
2 sprigs of fresh thyme
---
METHOD
1. Rinse chicken, pat dry, and set to the side. Combine flour and all seasonings in a medium bowl. Take three tablespoons of the flour mixture and set aside.
2. Dredge chicken in the flour-spice mixture, shake off excess flour, and set aside.
3. Heat oil in a large heavy-bottomed skillet on medium heat. Once the oil is hot add chicken. Brown chicken, about 4-5 minutes each side or until golden. Remove from pan and set to the side. Do not discard oil.
4. In the same skillet add onions and saute until softened. Add bell pepper, celery, and continue to cook for about 4-5 minutes, scraping the bits of chicken from the bottom of the skillet. Stir in the garlic, jalapeño and cook for about 30 seconds. Transfer to a bowl and set to the side.
5. Turn heat down to medium. Add butter to the skillet. Once melted add reserved 3 tablespoons of flour-spice mixture. Stir with a wooden spoon until it comes together. The consistency should be like a loose paste or peanut butter. Keep stirring while roux is cooking to prevent burning. Cook roux to the desired color such as a medium brown or peanut butter color.
6. Slowly whisk in the chicken broth, followed by milk if using. Keep whisking until there are no lumps and the mixture is smooth and beginning to thicken — about 5 minutes.
7. Return vegetables back to the skillet and add thyme and bay leaf. Taste the gravy and add a little salt and pepper if needed.
8. Add chicken back to the gravy, bring to a boil, then reduce heat to a simmer. Cover and simmer for about 25- 35 minutes until the chicken is completely done and the gravy is thickened. Stir occasionally to prevent sticking. Adjust seasonings if needed. Remove and discard the bay leaf and thyme sprigs. Serve over steamed rice or mashed potatoes.