If you love french toast but don't want to stand at the stove flipping bread this is the perfect breakfast. It's decadent, easy, and perfect for serving a crowd for the holidays or a weekend brunch.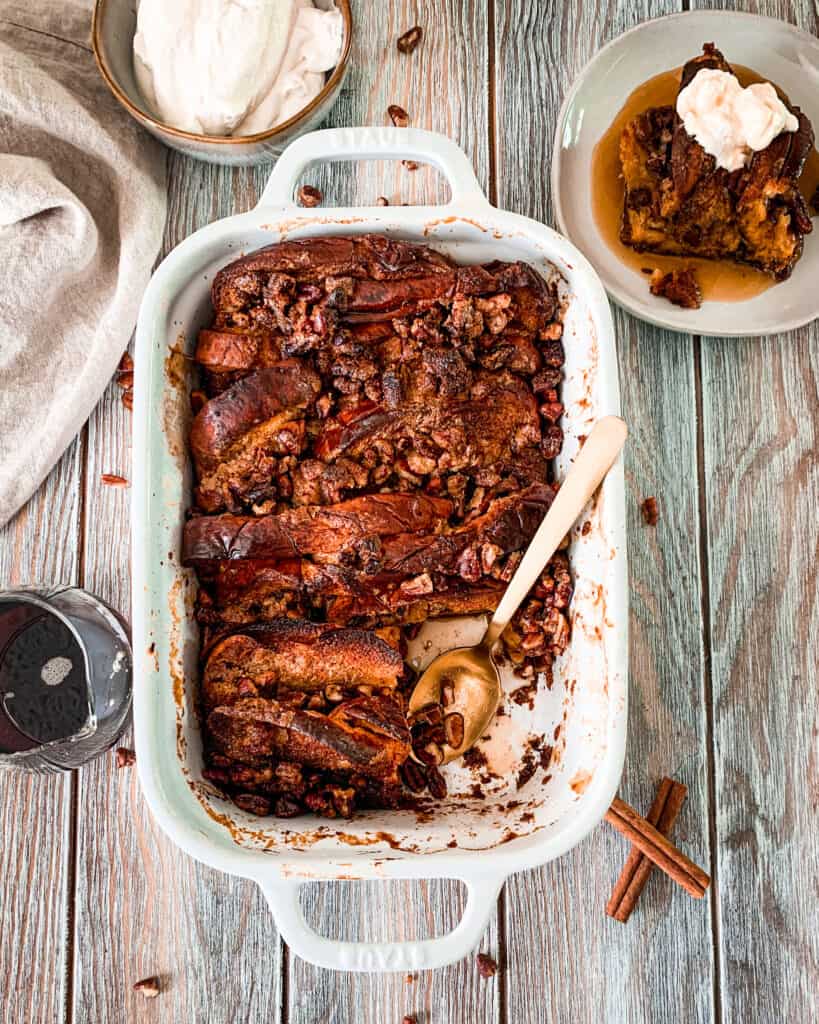 Print
Baked Pecan Praline French Toast
---
1 loaf brioche, 1-inch thick slices lightly toasted
2 tablespoon unsalted butter, room temperature
6 large eggs
2 cups cream ( you can also use any milk)
2 tablespoons maple syrup
1 tablespoon vanilla
2 teaspoons cinnamon
1/2 teaspoon nutmeg
1/4 teaspoon of kosher salt
Praline Topping
1 1/2–2 cups pecans, chopped
3/4 cup brown sugar packed
1/2 cup unsalted butter, room temperature
Maple Whipped Cream
1 cup whipping cream
2 tablespoons maple syrup
1/2 teaspoon vanilla
---
Instructions
Preheat oven to 350°F. Grease a 9×13 baking dish with 2 tablespoons of butter.
Whisk together eggs, 2 cups of cream, maple syrup, vanilla, cinnamon, nutmeg, and salt.
Dip bread in the custard mixture and Arrange  in the prepared baking dish. Pour the remaining custard mixture over the bread. Cover with aluminum foil, and let sit at least 20 minutes for the bread to absorb the mixture. At this point, you can also chill in the refrigerator for 8 hours or overnight.
While bread and custard is resting, combine remaining butter, brown sugar and pecans. Spread the praline mixture over the bread right before putting it in the oven.
Place the baking dish on a large rimmed baking sheet, cover and bake for 30 minutes. After 30 minutes, uncover, return to the oven and bake until golden brown and center is set, about an additional 20-25 minutes.
While the french toast is baking, add remaining cream, maple syrup  and vanilla to a medium -sized bowl. Using a handheld mixer, whip the mixture until fluffy.
Serve the french toast warm, topped with whipped cream.