---
Chocolate Chunk Sweet Potato Bread is moist and loaded with sweet potatoes and chunks of melty chocolate. This sweet potato chocolate chunk bread will be your new favorite sweet treat.
---
I love quick bread! Why? Because they're quick! It doesn't take much to whip a loaf together, there are no fancy ingredients and you likely have all you need right in your kitchen. You can eat quick bread for breakfast (try it with cream cheese or your favorite preserve), as a snack, or if you're feeling a little jazzy, drizzle a little glaze over it or have it with ice cream for dessert.
---
So What Is A Quick Bread?
Quick bread is any bread that is leavened with baking soda or baking powder and not yeast. I bet you've probably already made a quick bread before. The "quick bread" family includes cornbread, muffins, cakes, brownies, and banana bread or SWEET POTATO BREAD…you see where I'm going.
---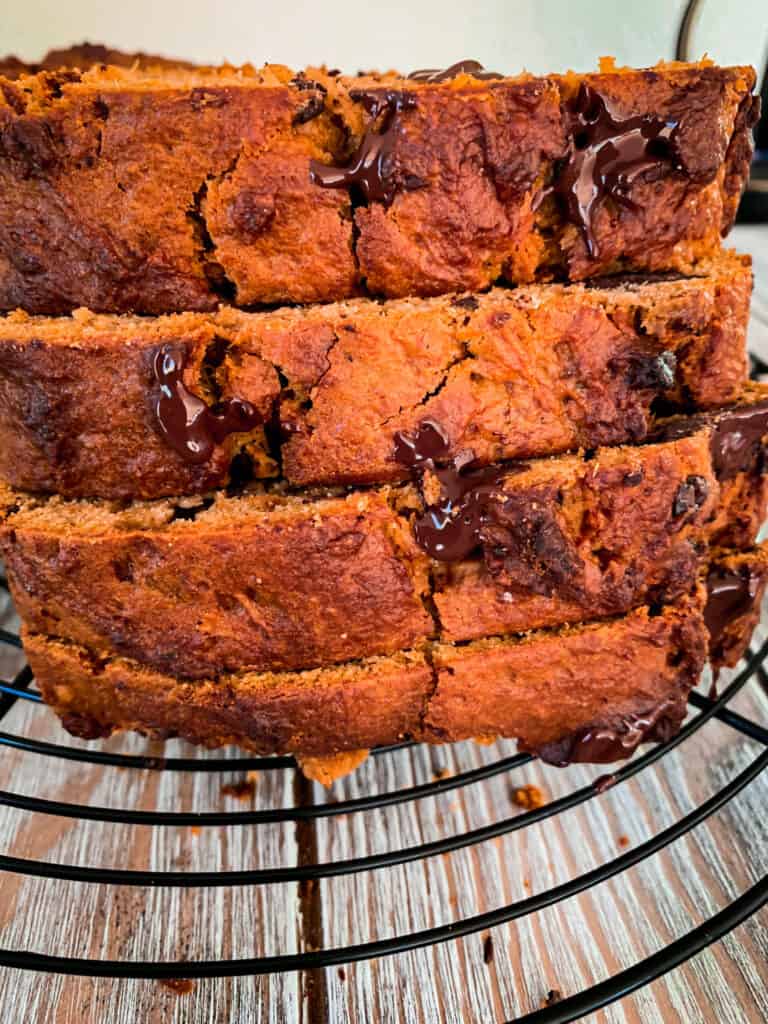 ---
A Few Things…
Remember that once your dry ingredients hit your wet ingredients, the baking powder/baking soda start working their magic so always make sure your oven is preheating while you're preparing your mix and don't forget to grease and flour your pan before you get to work with your other ingredients so it's ready to go once your batter is done. Last, don't over-mix your batter. When a batter is overmixed, the bread will become dense and not so good.
---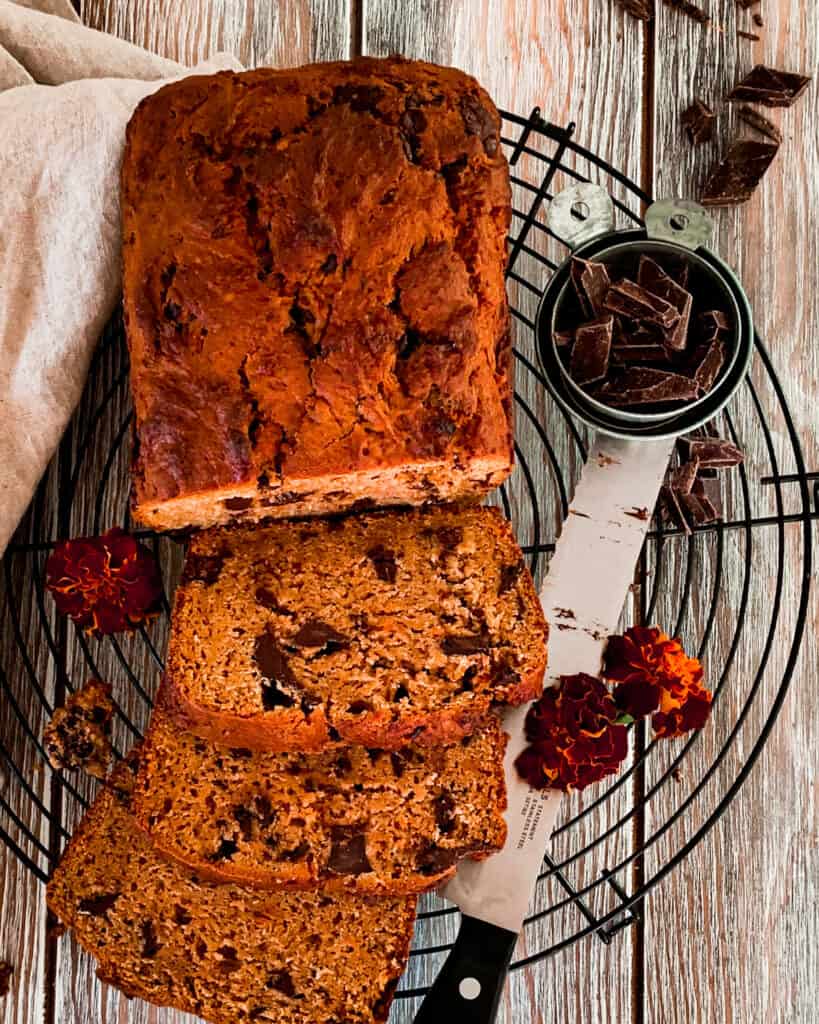 ---
Let's Go!
This is a super easy recipe that's even better once it sits a day. Let's get baking! Enjoy and eat well.
---
Print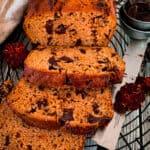 Chocolate Chunk Sweet Potato Bread
---
1 large sweet potato, baked and mashed (about 1 1/2 cups)
2 cups of flour
1/2 cup of granulated sugar
1/2 cup of brown sugar, packed
1 teaspoon of baking powder
1 teaspoon of baking soda
1 teaspoon of ground cinnamon
1/2 teaspoon of ground nutmeg
1/4 teaspoon of ground allspice
1/2 teaspoon of salt
1 stick of unsalted butter, melted and cooled
2 large eggs, room temperature
2 teaspoons of vanilla extract
1/3 cup of sour cream, room temperature
1 cup of semi-sweet or dark chocolate, chopped
---
Instructions
Arrange a rack in the middle of the oven and heat the oven to 425°F. Prick 1 large sweet potato all over with a fork. Wrap in aluminum foil and place on a baking sheet lined with aluminum foil. Bake until tender, 50 to 60 minutes. (Alternatively, microwave on HIGH until tender, about 10 minutes.) Let cool, then scoop out the flesh into a large bowl and mash with a fork.
Reduce the oven temperature to 350°F. Grease and flour—or spray with baking spray— a 9×5-inch loaf pan.
In a medium bowl add flour, baking soda, baking powder, cinnamon, nutmeg, allspice, salt, and whisk to combine. Set aside.
In a large bowl add the mashed sweet potato, white and brown sugars, eggs, vanilla, butter, sour cream, and whisk to combine.
Add dry ingredients to the wet ingredients in two batches until just combined. Fold in the chocolate. Be careful not to overmix.
Bake for 50-60 minutes or until a tester inserted in the center comes out clean. Let bread cool in pan for 10 minutes then remove and place on a wire rack. Slice and eat the bread warm or at room temperature. Enjoy!