Seasoned with fresh ginger, smoked paprika, and a hint of spiciness, this 30-minute red lentil soup is a one-pot wonder loaded with protein, yummy goodness, and it's vegan too!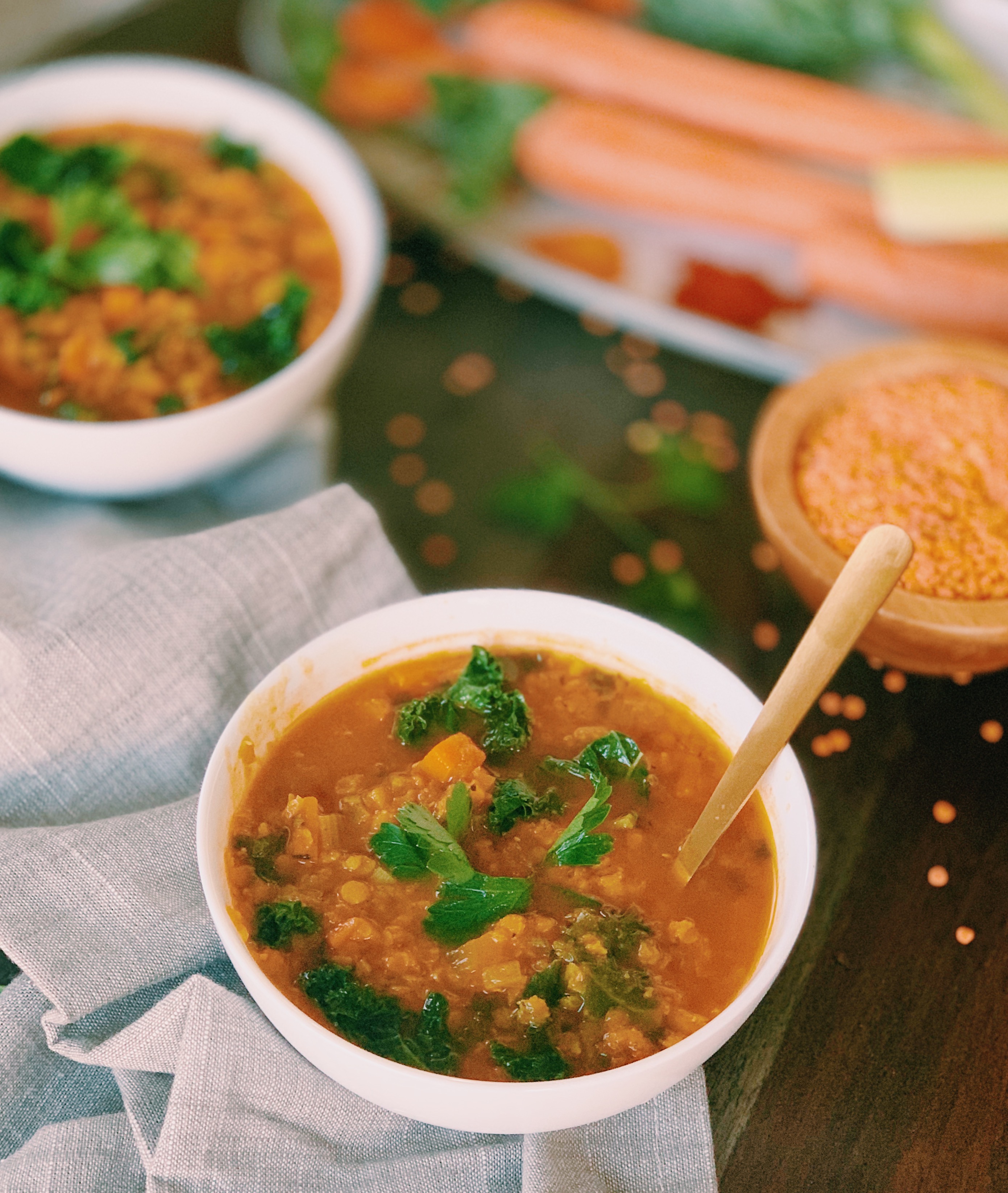 If you love lentils then you will definitely be adding this soup to your cooking rotation. Seasoned with fresh ginger, smoked paprika, and a hint of spiciness, this 30-minute red lentil soup is a one-pot wonder loaded with protein, yummy goodness, and it's vegan too!
Are Lentils Good for You?
Heck yeah! These tiny little legumes are often overlooked but have TONS to offer. The benefits are abounding but let's check out just 3 benefits to eating lentils below:
Packed with Nutrients: Lentils are low in fat and packed with nutrients like B-vitamins, potassium, magnesium, calcium, iron, and MORE!

Protein Powerhouse: One cup of cooked lentils has about 18 grams of protein. That's an amazing amount of protein for these little beauties and a great alternative to animal protein.

Say it with me, "Fiber is sexy!": Ok, maybe that's a reach but I think when you have a happy gut, that is a wonderful thing! Lentils are packed with fiber which is very important for your gut health. One cup of lentils has almost 16 grams of fiber which is about half of your daily intake or 4 times as much as you would get from a cup of kale, but guess what, you're throwing some kale in this baby so you will be dripping in fiber. You're welcome.

How Do You Make Lentil Soup?

If you notice from most of my recipes, I like to K-I-S-S (keep it simple and satisfying????). Ok, maybe that was a little corny but you get what I'm saying. This pot of deliciousness is just that—easy to make, full of flavor, healthy, and bonus points because the leftovers freeze well. Here's how to get the party started:

All About That Base (Mirepoix): If you've been following my recipes for a while you know that my ace is usually the holy trinity (onion, bell pepper, and celery) but ya girl likes to switch it up. For this soup, we'll be using a mirepoix which consists of onion, carrots, and celery. We'll cook these aromatics over medium heat in olive oil laying a nice flavor foundation for your soup.

Who Got Next? Throw those spices in your mirepoix, give it a stir; toss in your red lentils, give it a stir; add your tomatoes and broth, give it a stir and bring to a boil.

Let it Simmer: Once you have a rolling boil reduce the heat and let your soup simmer for 15-20 minutes, or until the lentils are tender.

Have It Your Way! Ladle this into your favorite soup bowl and go to town or you can squeeze a wedge of lemon, or add a dollop of yogurt.

Let's eat!

RED LENTIL SOUP

---

INGREDIENTS

4 servings

3 tablespoons olive oil

1 medium yellow onion, chopped

1 large carrot, diced

2 celery stalks, diced

2 cloves of garlic, minced

1 teaspoon fresh ginger, minced

1 teaspoon turmeric

1 teaspoon smoked paprika

½ teaspoon dried thyme

¼ teaspoon cumin

¼ teaspoon red pepper flakes (optional)

1 large bay leaf

2 cups of red lentils, rinsed and picked

1 can diced tomatoes (15 ounces)

6-7 cups of broth (vegetable or chicken)

1 bunch of greens, coarsely chopped (kale or spinach)

salt & black pepper to taste if needed

---

METHOD

1. Combine turmeric, paprika, thyme, cumin, and red pepper flakes in a small bowl and set to the side.

2. Heat a large heavy-bottomed pot, such as a Dutch oven, on medium heat. Once the pot is hot, add oil. Add the onion and sauté until they start to soften, about 3-4 minutes. Stir in carrots and celery and sauté another 2 minutes. Add the garlic and cook for about 30 seconds.

3. Stir in the bowl of seasonings then add lentils. Add tomatoes, broth, and bay leaf. Increase heat and bring to a rolling boil. Give it a stir, reduce heat, and let simmer covered for 15-20 minutes or until lentils are tender. Remove and discard the bay leaf.

4. Add your greens to the pot and cook for another 5-7 minutes or until the greens are tender. Then taste and adjust flavor as needed, adding more salt and pepper for overall flavor, or broth/ water if it's become too thick.

5. Squeeze half a lemon to brighten soup if you like, add a little flat-leaf parsley or cilantro or put a dollop of yogurt.