Disclaimer: This post may contain affiliate links. Any purchases made through these links will result in a small commission for me (at no extra cost for you), but all opinions are my own. You can find my full affiliate disclaimer here. Thank you for your support!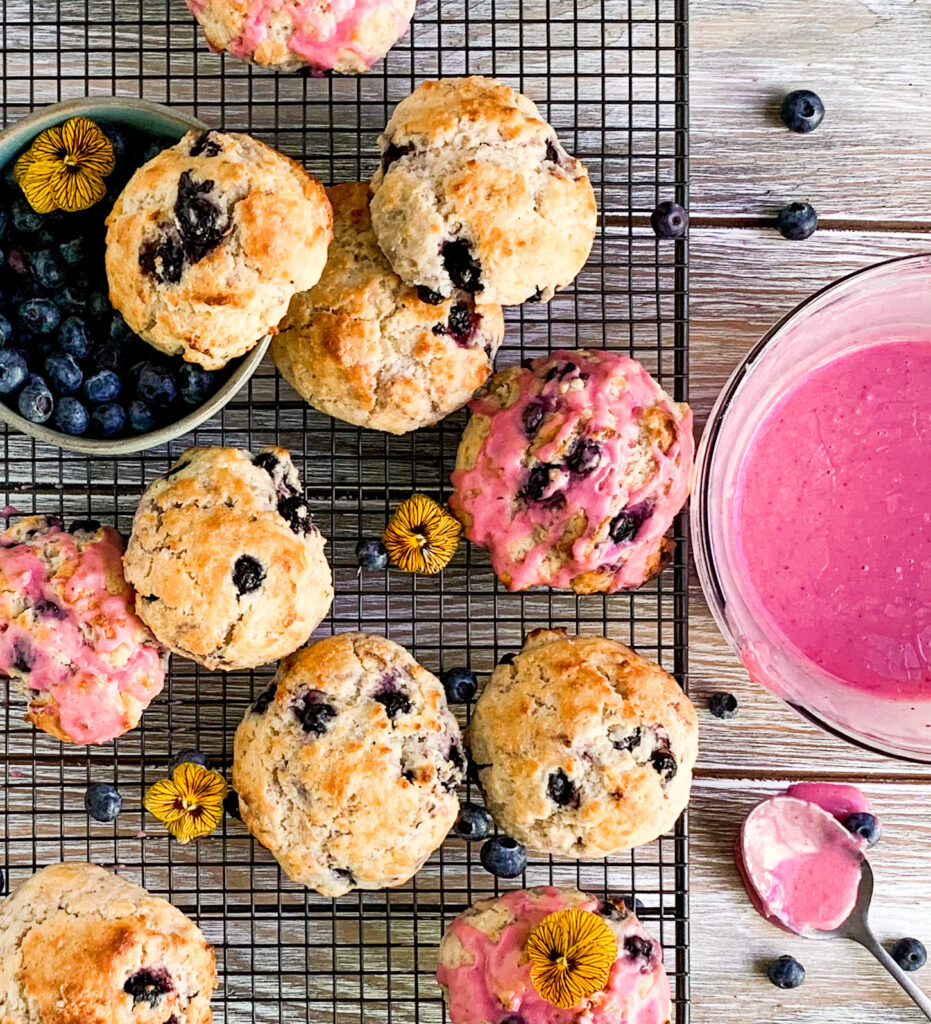 Tools Needed
Print
2 cups flour
1 tablespoon baking powder
1/4  teaspoon of salt
1/2 cup sugar + 2 tablespoons
1 cup blueberries (fresh or frozen)
1 teaspoon lemon zest 
1 teaspoon vanilla extract
1 teaspoon lemon juice
1 stick of unsalted butter, melted 
1 cup buttermilk + 3 tablespoons buttermilk, divided  
Blueberry Lemon Glaze
1/3 cup fresh blueberries 
Juice of 1 lemon
1 cup confectioner's sugar
---
Instructions
Heat oven to 450°F. Cover the baking sheet with parchment paper.Combine flour, baking powder, salt, sugar, and lemon zest in a large bowl and stir with a whisk or fork.  Add blueberries.
Make a well in the center of the dry ingredients and add in butter, vanilla, lemon juice, and cup+1 tablespoon of buttermilk. Stir 3-4 times until dough comes together. It should be slightly sticky.  Add just a bit more buttermilk if needed.
Grab an ice cream scoop, two spoons, or a ¼ cup to drop the batter on the cookie sheet.  There should be 8 mounds. Pop in the freezer for about 15 minutes. Remove then brush on remaining buttermilk. Bake for 12-15 minutes or until a golden brown. Serve warm and drizzle with glaze if desire.
Make the Glaze
Muddle the blueberries and lemon juice in a small bowl.  If you want a smooth glaze without flecks of blueberry, strain through a small sieve. Add the blueberry-lemon mixture to sugar and mix until there are no lumps. The glaze should be thick but pourable. Adjust consistency as needed by adding more or less sugar or lemon juice. Drizzle the glaze over the warm/cooled biscuits.
Prep Time: 20
Cook Time: 15
Category: Sweets