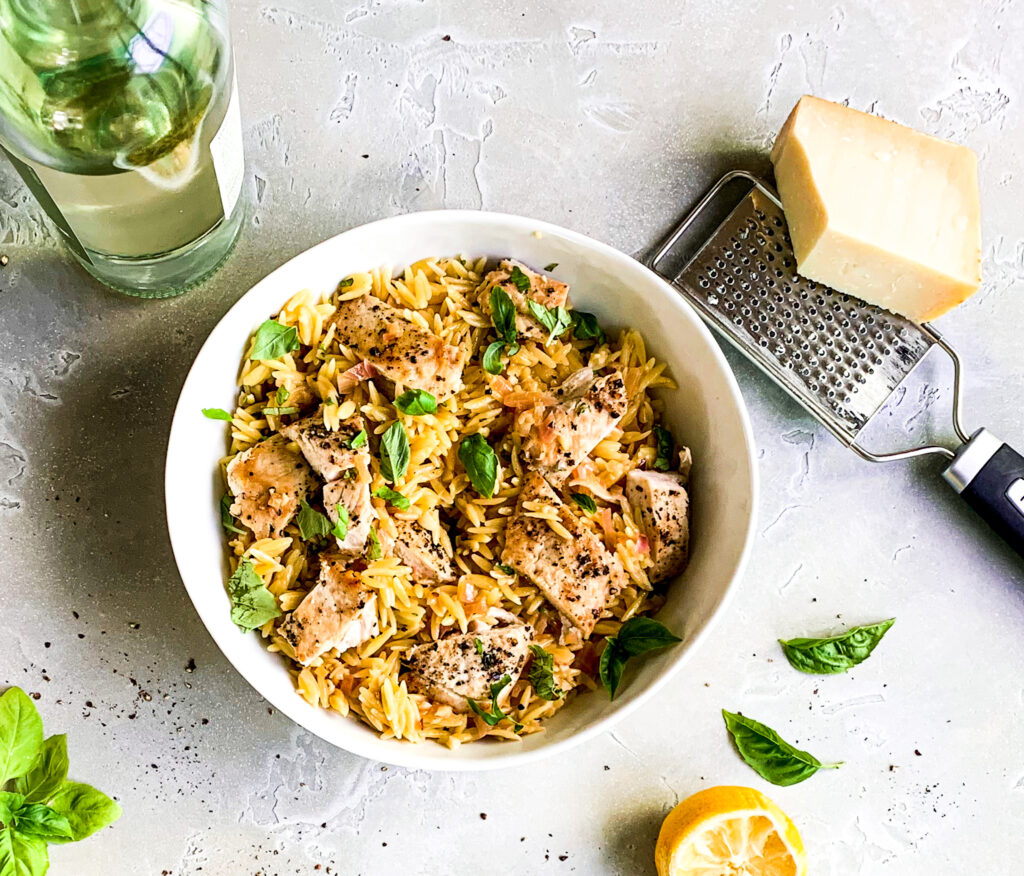 This lemony basil orzo with chicken hits all the right notes and you'll be out of the kitchen and eating in about 30 minutes!
Print
Lemon Basil Orzo & Chicken
---
1 pound orzo pasta
3 ½ cups of chicken broth
2 tablespoons olive oil
1-1 1/2  pound boneless skinless chicken tenders or thin cut breasts
1 teaspoon salt
1/2 teaspoon pepper
½ teaspoon of dried basil
 1 shallot, chopped
3-4 cloves of garlic, minced
½ cup of dry white wine
1 tablespoon of salted butter
¼ teaspoon red pepper flakes (optional)
Juice of one lemon 
Parmigiano Reggiano, grated
3 tablespoons fresh basil, chopped
---
Instructions
In a medium-sized pot, bring broth to a boil; stir in orzo. Return to a boil. Reduce heat; simmer, covered, 8-10 minutes or until tender. If orzo finishes cooking before other ingredients are done, drizzle with a touch of olive oil and fluff so it doesn't stick.
While orzo is cooking season chicken with salt, pepper, and dried basil. In a large skillet, heat oil over medium heat. Add chicken; cook 3-4 minutes on each side or until golden brown and chicken is no longer pink. Remove from pan; keep warm. 
In the same skillet that the chicken is cooking in, saute shallots until they begin to soften. Add garlic and cook for another 1-2 minutes. Add wine and butter simmer for about 5 minutes. Add butter. 
Stir in orzo, lemon juice, red pepper, and fresh basil; remove from heat. Grate in desire amount of Parmigiano Reggiano. Return chicken to the pan. If desired, chicken can be chopped into cubes. Salt and pepper to taste.