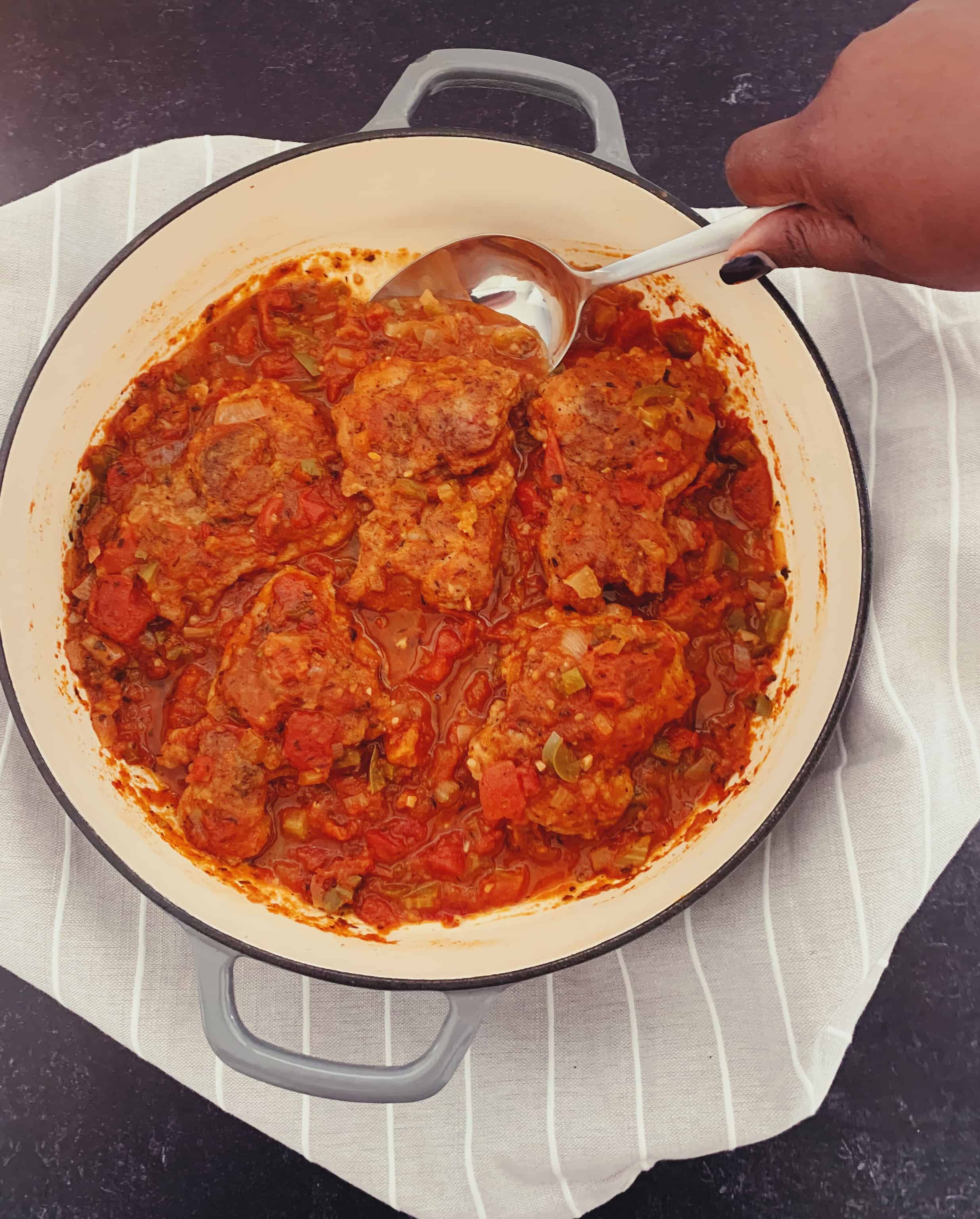 One of my favorite dishes is Chicken Creole. Why is it one of my favorites? Well it's a combination of fresh tomatoes seasoned with the Holy Trinity (onion, bell pepper, celery), it's not too heavy, and it's just really good comfort food.
Chicken Creole starts with browning the meat followed by a handful of aromatics and spices. I do not use a roux for this sauce but because I dredge my chicken in flour before browning, it helps to thicken the sauce a bit.
"You don't need a silver fork to eat good food"– Paul Prudhomme
Chicken Creole is not fussy but tastes like you spent some time in the kitchen. This dish has a small kick, thanks to the cayenne pepper and jalapeño, but feel free to add or lessen the pepper content if you wish. This dish tastes even better the next day, freezes well, and is a super-convenient weeknight meal. I like mine with rice but this is fantastic over pasta as well!
Print
1 pound of skinless/boneless chicken thighs (4–5 thighs)
1 medium white onion chopped
½ green bell pepper seeded and chopped
1 celery stalk chopped
2–3 cloves of garlic chopped
1 small jalapeño seeded and chopped (leave seeds if you want a little more spice)
2 cups chopped tomatoes or 1 can of good quality whole tomatoes in juice (16oz)
2 cups of homemade or good quality chicken broth
½ teaspoon dried basil
½ teaspoon dried thyme
¼ teaspoon dried oregano
¼ teaspoon cayenne pepper
1 teaspoon paprika
1 teaspoon kosher or sea salt plus more to taste if needed
1 large or 2 small bay leaves
2 teaspoons of Worcestershire sauce
1 teaspoon black pepper plus more or less to taste if needed
1 teaspoon salt plus more or less to taste if needed
2 tablespoons of flour for dredging
1 tablespoon olive oil
2 tablespoons butter
---
Instructions
Combine basil, thyme, cayenne, oregano, and ½ teaspoon each of salt and pepper in a small bowl and set to the side.
Put flour on a plate and set to the side. Season chicken thighs with ½ teaspoon each of salt and pepper. Once the chicken is seasoned, dredge in flour and set to the side.
Heat a large heavy-bottomed skillet on medium heat. Once the skillet is hot, add oil and 1 tablespoon of butter. When butter is melted add chicken. Brown chicken, about 4-5 minutes each side or until golden. Remove from pan and set to the side.
In the same skillet, add the other tablespoon of butter. Add the bell pepper, celery, onion, and sauté until they start to soften, about 4-5 minutes, scraping the bits of chicken from the bottom of the skillet. Stir in the garlic, jalapeño, and cook for about 30 seconds. stir in the bowl of seasonings, tomatoes, chicken broth, and bay leaf. Cook until vegetables are tender and the tomatoes are saucy, about 20 minutes. Remove and discard the bay leaf.
Add chicken back to the sauce and cook another 5-7 minutes to heat through. Sprinkle with green onions and serve spooned over rice.
Notes
This dish is even better the next day. Leftovers can be stored in an airtight container and refrigerated for up to 3 days. You can also keep this frozen for up to 1 month.