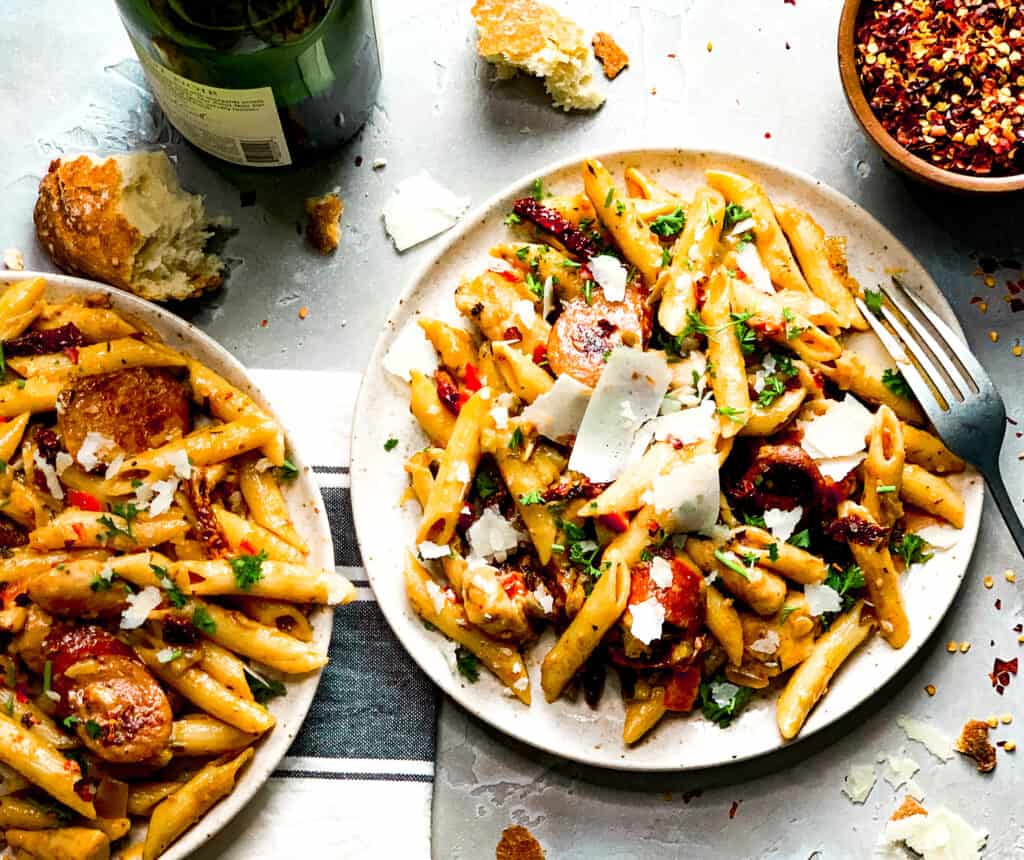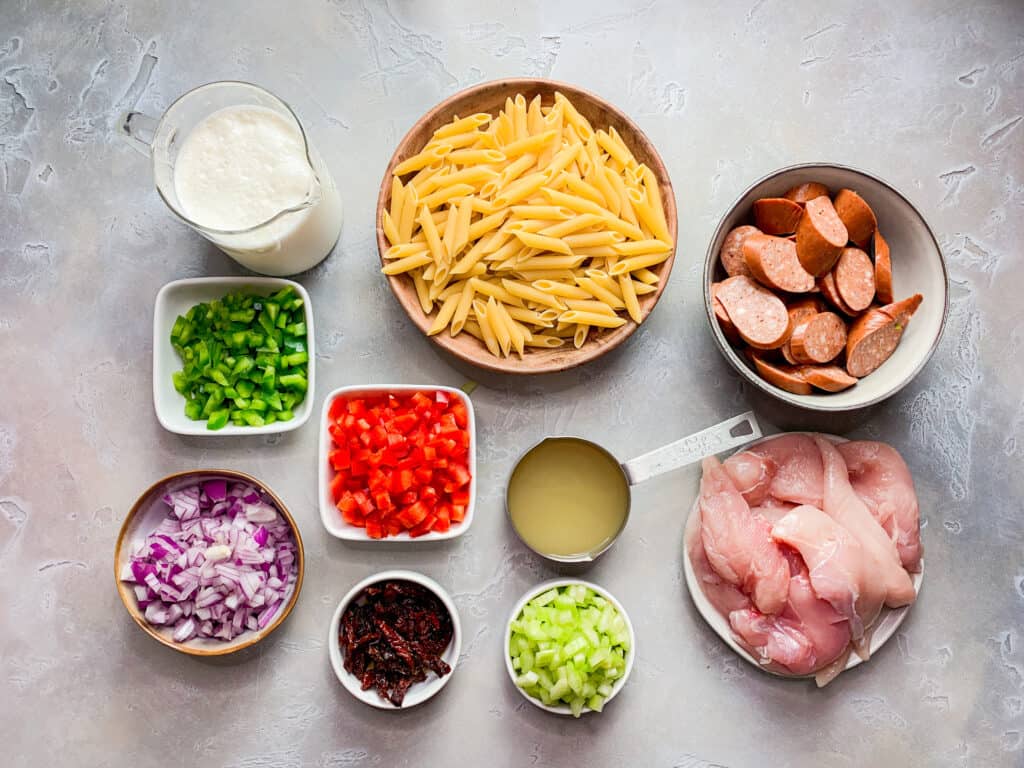 Print
Creamy Chicken & Andouille Creole Pasta
---
1 pound of penne pasta, cooked according to package
3 tablespoons of butter, divided
1/2 pound andouille sausage, sliced
1 pound of boneless skinless chicken breasts, cubed
A quarter of a white onion
1/2 green bell pepper, diced
1/2 red bell pepper, diced
1 celery stalk, chopped
 3 garlic cloves, chopped
1/3 cup sundried tomatoes, chopped
1 cup cream
3/4  cup chicken broth
1 teaspoon paprika
1 teaspoon dried thyme
1/2 teaspoon seasoned salt
1/2 teaspoon dried basil
1/2 teaspoon dried oregano
1/2 teaspoon garlic powder
1/4–1/2  teaspoon red pepper flakes (depending on how spicy you like it)
1/2 cup fresh parmesan, grated
Salt and pepper to taste
More parmesan!
---
Instructions
Boil pasta in salty water according to the package instructions. Drain and 
 Slice sausage into 1/4 inch and brown in a large skillet over medium heat. Remove from the skillet onto a plate. 
Season chicken chunks with salt and pepper. Add 1 tablespoon of butter and melt in the skillet that the sausage was cooked in. Add chicken. Cook for about 6-8 minutes until browned. Add chicken to plate with sausage.
Add remaining butter to the skillet.  Add the bell pepper, celery, onion, and sauté until they start to soften, about 4-5 minutes, scraping the bits of chicken from the bottom of the skillet. Stir in the garlic and cook for about 30 seconds. Add all of the seasonings, chicken broth, cream, sundried tomatoes, and bay leaf. Cook until vegetables are tender and the sauce begins to reduce and thicken slightly, about 10-15 minutes. Remove and discard the bay leaf. Stir in parmesan. Taste and add more salt and pepper if needed.
 
Add cooked pasta into the sauce and mix in well. Next, add the chicken and sausage back into the pan and allow them to reheat for 2-3 minutes. Close the lid to help the heat stay in. Serve immediately!