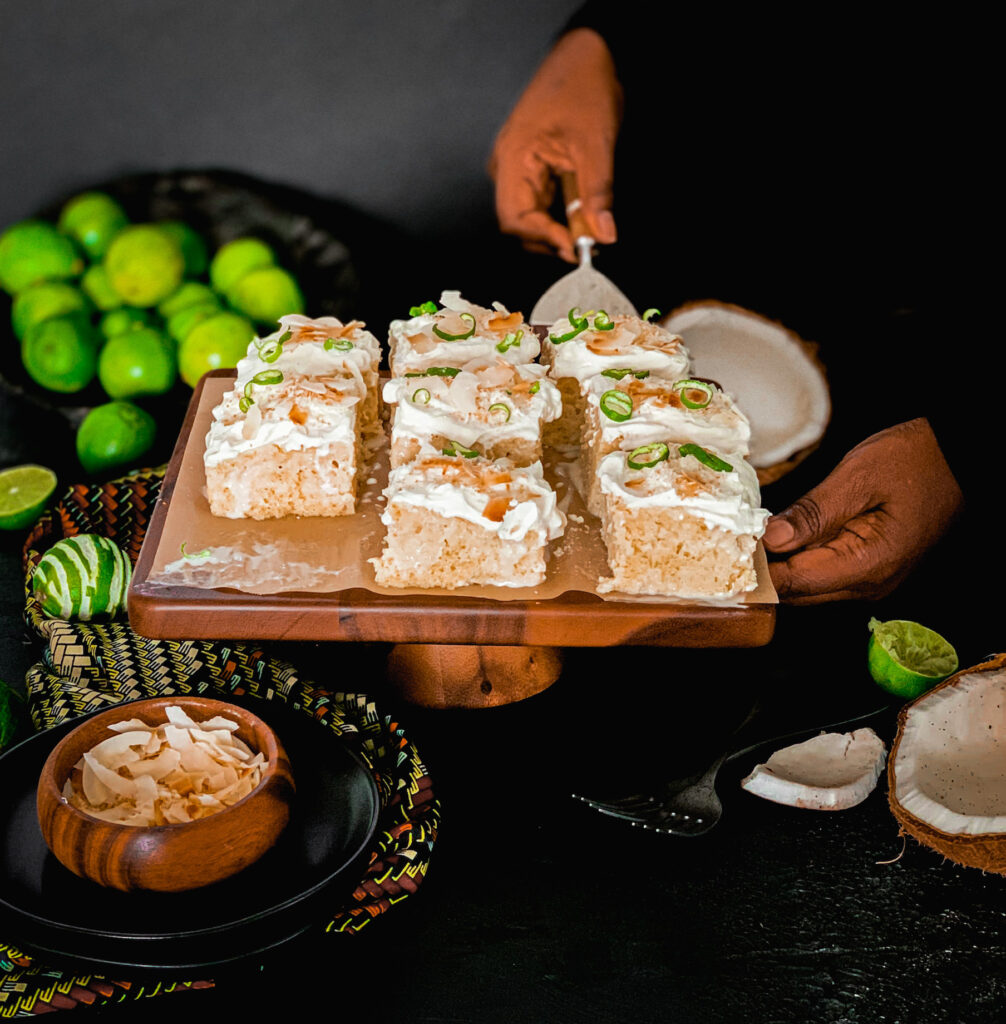 ---
The southern comfort food of buttery cornbread soaked in buttermilk is combined with the Latin American/Caribbean technique of soaking the cake in 3 types of milk (tres leches) to create a uniquely delicious coconut and lime infused dessert.
---
---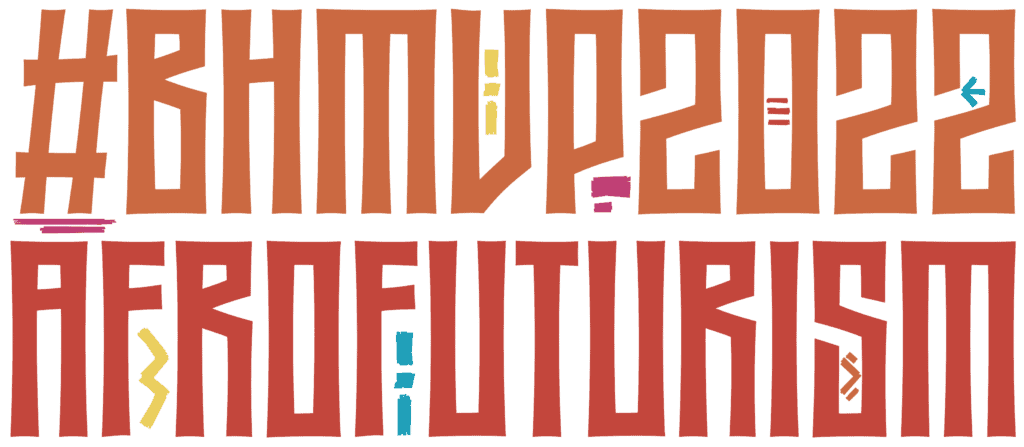 ---
Black History Month Virtual Potluck
While Black history should be acknowledged year-round, for over 52 years February has been the designated month to observe and honor the history, present, and future of African American contributions to American history that are rich with innovation, resilience, and brilliance.
I'm proud to collaborate with more than 30 Black recipe developers as we celebrate Black History Month 2022. This Virtual Potluck explores Black food through the lens of Afrofuturism. Our collaboration of recipes explores the intersection of the Black diaspora via culture, future, geopolitics, imagination, liberation, culture, and technology.
From Spicy Berbere Lentil Chili to Collard Green Hand Pies to Warm Zobo Drink, these recipes will take you on a culinary journey. Cook and share the inspiring recipes by checking out the list of participants below. Follow each participant and continue the discussion with us on social media using the hashtag #BHMVP2022! Can't wait? CLICK HERE FOR THE FULL BHMVP 2022 Participant List
---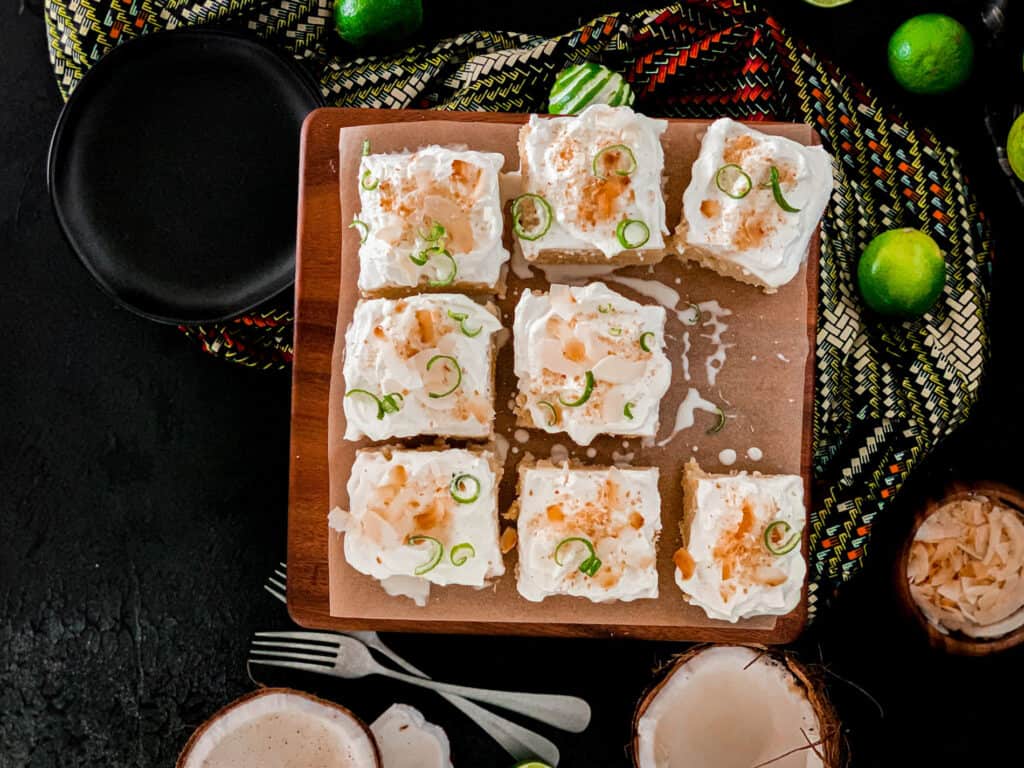 ---
The Inspiration
There were always two things in my Granny's kitchen, buttermilk, and cornbread. The cornbread wasn't just for eating with dinner, sometimes it was eaten at breakfast or sometimes for a snack. Often my Granny would crumble cornbread into a bowl and pour a good helping of buttermilk over it and go to town. This very humble dish is called Crumblin' (Crumble-In), a southern comfort food. Sometimes buttermilk was the choice of milk soak or sometimes sweet milk (whole milk).
For this Coconut-Lime Cornmeal Tres Leches Cake, I'm reimagining a dish from the past and combining it with Pastel de Tres Leches a very popular dessert in Latin America/Caribbean/Southern Europe, which is a sponge cake that is soaked in a three milk glaze.
---
Exploring Afrofuturism Through Food
The concept of Afro Afrofuturism looks at the intersection of imagination, technology, art, culture, politics, the future, and liberation through a Black cultural lens. With that framework as inspiration for this recipe, my goal was to honor the past, acknowledge that there is still work to be done as far as the liberation of all Black people, and give way for the hope of a better future.
This recipe fits within the context of Afrofuturism because it's a fusion of two very distinct cultures. I wanted to pay homage to a dish with a Southern past—often forgotten—and reimagine it by fusing it with tres leches to bring awareness about Mexicans of African descent and their fight for recognition. Afro-Mexicans make up nearly 2 million of the population in Mexico – mostly in the states of Guerrero, Oaxaca, and Veracruz states— however, they have been largely ignored and unrecognized. It was only in 2020 that they were recognized by Mexico's census. If you would like to learn more check out these articles:
---
"To be free is not merely to cast off one's chains, but to live in a way that respects and enhances the freedom of others."

Neslon Mandela
---
What Ingredients Do You Need For Coconut-Lime Tres Leches Cornbread Cake?
Here's everything you'll need to make our easy cornbread recipe:
Fine ground cornmeal
All-purpose flour
Baking powder
Salt
Unsalted butter
Sugar
Eggs
Lime
Buttermilk
Coconut Milk
Sweetened Condensed Milk
Coconut
---
How to make Coconut Lime Tres Leches Cornbread Cake
This is a very simple cake. When I first started testing the cake I tried to use the same techniques as a sponge cake and I never really liked the texture so I decided to keep it simple and do like good ole cornbread. You don't need to bring out the stand mixer; you can mix everything by hand. The only time you really need to bring the hand mixer out is to whip the cream topping. And yes, I know you can whip cream by hand but for me, that's a no. Here's how to make this flavor-rich cake:
Butter a baking pan or use a baking spray.
Sift the dry ingredients! The cornmeal, flour, baking powder, and salt.
Mix the wet ingredients! Melted butter, sugar, egg, coconut milk, lime zest and juice.
Make a well in the center of your dry ingredients and pour in the wet ingredients into the dry ingredients. This is your one moment of focus—remember not to overmix the cornbread batter. Once you see a relatively cohesive batter, STOP stirring.
Spread the batter in the pan and bake!
Let it cool a bit then poke holes all around the top of the cake. Need these holes so the cake can soak up all that wonderful milk glaze.
Once it's soaked overnight, top it with the whipped cream, toasted coconut, and a little zest!
---
A Few Recipe Tips
Use room temperature eggs. Room temperature eggs mix much easier. This makes it hard to overmix your batter which results in a softer, fluffier, more tender cake.
To quickly bring eggs to room temperature: add warm (not hot) tap water to a bowl then add eggs (still in their shells) for at least 20 minutes.
Don't overmix. For the lightest, most tender, best cake do not overmix. Take care not to overmix the flour mixture, mix just until combined. You never want to overmix a flour mixture once combined with eggs as this will overdevelop the gluten and result in a tough cake.
Don't poke holes to the bottom. Poke the holes into the cake about ¾ of the way down so you aren't breaking the bottom of the cake.
Clean fork. Wipe your fork occasionally for a clean piercing because the warm crumbs will want to stick to it.
Let tres leches cool. After you have combined the tres leches, refrigerate it until completely cold before pouring over the cake.
Add tres leches to warm cornmeal cake. I found that pouring cold tres leches over a slightly warm cornmeal produced a better texture and absorbed the liquid better.
Don't shortcut the soaking. While you can soak the Cornmeal Tres Leches Cake for three hours, I found that overnight is best to get the fullness of the flavor and make sure everything has absorbed.
Toasted coconut. I feel the toasted coconut takes this cake to another level and is a must!
---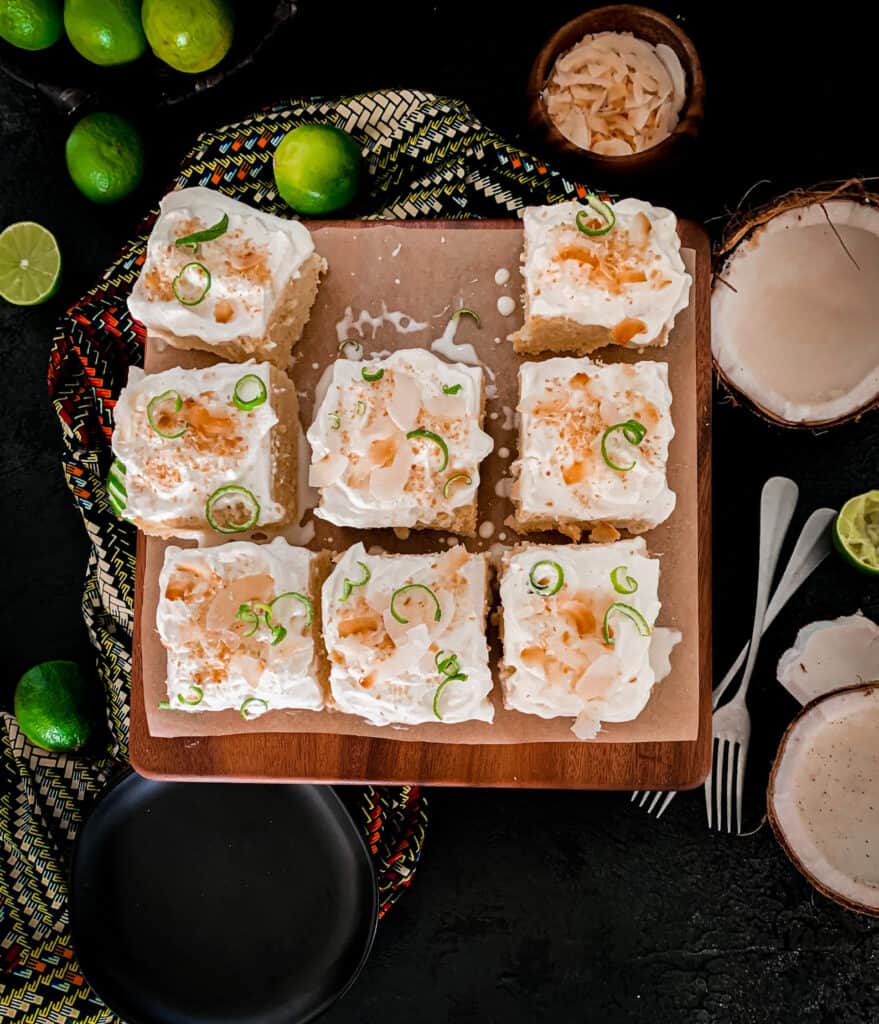 ---
Tools Needed
Print
Coconut-Lime Cornmeal Tres Leches Cake
---
Description
The southern comfort food of buttery cornbread soaked in buttermilk is combined with the Latin American/Caribbean technique of soaking the cake in 3 types of milk (tres leches) to create a uniquely delicious coconut and lime infused dessert.
---
Cake:
1 1/2  cups of all purpose flour
1/2 cup fine ground cornmeal
1/3  cup granulated sugar
1 tablespoon baking powder
1 teaspoon of salt
1 cup of coconut milk, canned full fat  
1/2 stick of butter, melted and cooled
2 eggs, room temperature and beaten
Zest of 1 lime, grated
3 tablespoons of fresh lime juice
1 teaspoon vanilla extract
Tres Leches (3 Milk Glaze)
2/3 cups of buttermilk
1 can of sweetened condensed milk
1/2  cup of coconut milk
Whipped cream Topping
1 1/2  cups heavy whipping cream
3 tablespoons confectioner's sugar (or more to taste)
1 teaspoon of vanilla extract
Garnish
1/2 cup toasted coconut, shredded or chips
Lime zest for garnish, optional
---
Instructions
Preheat oven to 350 degrees F. Prepare an 8×8 inch square baking pan with butter or baking spray. 
In a large bowl, sift together flour, cornmeal, sugar, baking powder, and the salt. Set to the side
In a separate medium-sized bowl, whisk together the eggs, melted butter, coconut milk, vanilla lime zest and juice. Make a well in center of the flour/cornmeal mixture and pour in the egg mixture. Stir until just combined. The batter will be somewhat thick.
Transfer the batter to the prepared pan, spreading it in an even layer. Bake 20-25 minutes or until a toothpick inserted in center comes out clean. Let cake cool at least 20 minutes in pan.
While cake is cooling, make the glaze. In a medium bowl, whisk together the buttermilk, coconut milk,and sweetened condensed milk.
Use a fork or toothpick to poke holes all over the top of the cake. Pour the milk mixture evenly over the cake. Cover and chill cake for at least 3 hours or overnight. It's better to let the cake sit overnight
2-3 hours before serving, whip the cream and vanilla extract together using an electric mixer on medium-high speed for about a minute, or until the mixture begins to thicken. Slowly add in the powdered sugar and continue to mix until soft peaks form, about 2 minutes.
Dollop the whipped cream over the cake and gently spread. Sprinkle with toasted coconut and lime zest. Serve and enjoy!
Prep Time: 15
Cook Time: 25
Category: Dessert
BHMVP 2022 Participant List
Fonio Bundt Cake with Hibiscus Glaze by A Classic Twist
Collard Green Hand Pies by A Girl Called Adri
Sweet Potato Wedges with Peanut Dipping Sauce by Big Delicious Life
Sweet Potato Biscuits by Black Girls Who Brunch
Chicken Plantains and Vegetables by Black Peoples Recipes
Bobo de Camarao (Brazilian Shrimp Stew) by Brazilian Kitchen Abroad
Salted Caramel Chocolate Tart with Candied Peanuts by Britney Breaks Bread
Vegan Coconut Cake with Lime Glaze by Chenée Today
Fried Green Tomato BLT by Coined Cuisine
Shrimp Po' Boy Salad by Collards Are The Old Kale
Warm Brewed Zobo Drink by Dash of Jazz
Sorrel Martini Popsicles by Dish It With Tisha
Fish Patties with Pontchartrain Sauce by Dude That Cookz
Stuffed Shrimp & Grit Collard Green Rolls by Fior
Spicy Berbere Lentil Chili by Flights and Foods
Sankofa Bowl w/ Suya Duck Breast by Food Fidelity
Brown Stew Pineapple Chicken with Roasted Groundnuts by Geo's Table
Champurrado Custard by Global Kitchen Travels
Caribbean Fish and Chips with Tamarind Sauce by Heal Me Delicious
Curry crab stuffed dumplings by Home Made Zagat
Nigerian Chapman Cocktail by Immaculate Ruému
Dragon Fruit Pineapple Rum Punch by Jamieson Diaries
Smothered Okra & Tomatoes by Kenneth Temple
Brown Butter Sombi – Coconut Rice Pudding Brulee by Meiko And The Dish
Coffee and Bourbon Braised Short Ribs by My Pretty Brown Fit + Eats
Fig Cake with Tamarind Glaze by My Sweet Precision
Coconut-Lime Cornmeal Tres Leches Cake by Savor and Sage
Salmorejo (Stewed Crab) over Garlic Grits by Sense & Edibility®
Mango Cake and Coconut Cream by Sims Home Kitchen
Sous Vide Ox Tail with Coconut Rice by Sweet Tea + Thyme
Yam Gnocchi served with Oxtail Peppersoup by The Food Disciple
Brown Butter Brulé Bean Pie by The Queen of Yum
Black-Eyed Pea And Cornbread by The Vgn Way