Inspired by West African peanut soup, this comforting Southern Peanut Soup is rich and velvety. Smooth creamy peanut butter is simmered with aromatics, a flavorful broth, and then topped with bright and fresh peanut & green onion gremolata to make this a simply unique and flavorful dinner.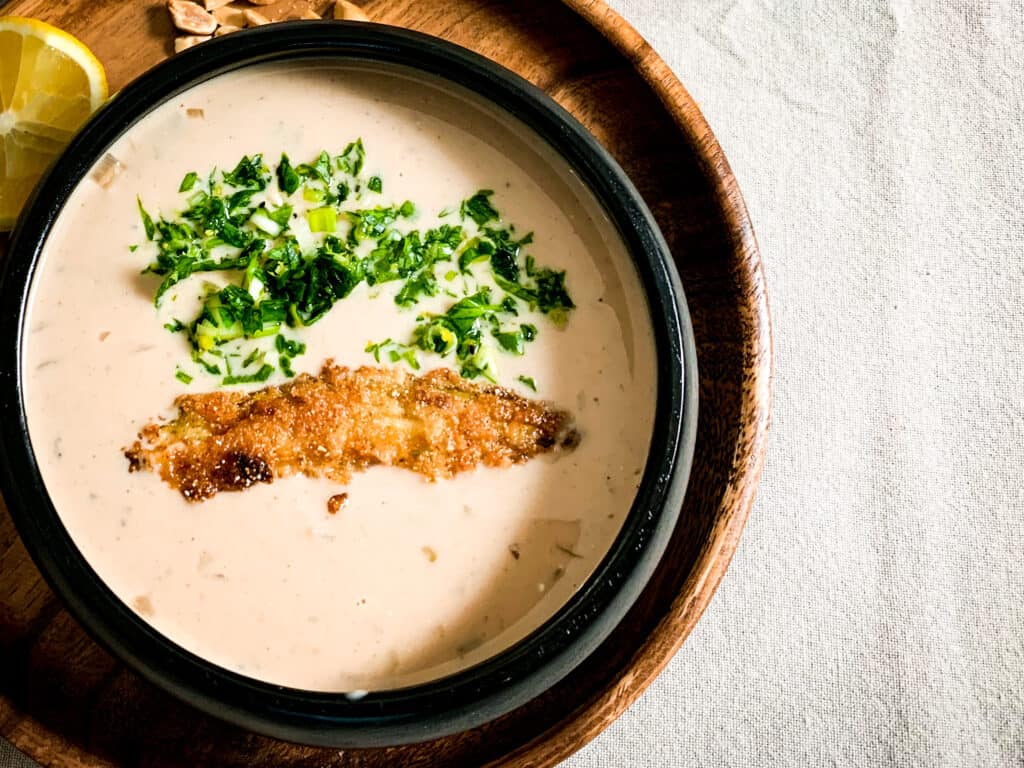 Black History Virtual Potluck 2023
The story of Black History Month began around 1915 when Dr. Carter G. Woodson and other African American scholars launched efforts to encourage the coordinated teaching of the history of Black Americans in the nation's public schools. A week of observance expanded into a month and for over 53 years, February has been the designated month to observe and honor the history, present, and future of Black American contributions to American history rich with innovation and brilliance.
In 2023, the theme of Black History Month is Black Resistance and Eat the Culture is recognizing the remarkable and, frankly, underrated resistance of our ancestors in bringing culinary traditions across the Atlantic to shape the vibrance of Black cuisine that we know and love today. They physically and mentally carried African foodways across the deadly Middle Passage to pass down through generations. This year's Black History Month Virtual Potluck traces popular dishes of the Diaspora from their West African roots to North America and beyond. You can grab the full list of recipes from this year's collaboration on the Eat the Culture website.Share these recipes with yo.ur friends and loved ones and follow each participant by using the hashtag #BHMVP2023 on Instagram
The Inspiration
The peanut, also known as the groundnut, is a staple food that has a rich and fascinating history of global distribution and cultural significance. Native to South America, the peanut was first cultivated in West Africa, where it was widely grown and used in traditional cuisine. In the late 1700s, peanuts were brought to North America by enslaved Africans who brought their food traditions with them.
When enslaved Africans arrived in North America, they were forced to work on plantations, and they often had limited access to their traditional foods. Peanuts were a readily available and affordable food that could be easily grown in the South. Enslaved Africans used peanuts in various dishes, including stews and soups, and ground peanuts were often used as a substitute for other ingredients, such as butter and flour.
The peanut became a crucial part of Southern cuisine and played an important role in nourishing enslaved Africans and their families. Over time, peanut-based dishes became a staple of African American cuisine, and peanuts were often used in dishes served during special occasions, such as weddings and family gatherings.
While I'll be teaching you how to make Southern Peanut Soup, I encourage you to follow the story and variations of this staple ingredient through Senegalese Maafe from West Africa and Jamaican Pinda Stew from the Caribbean.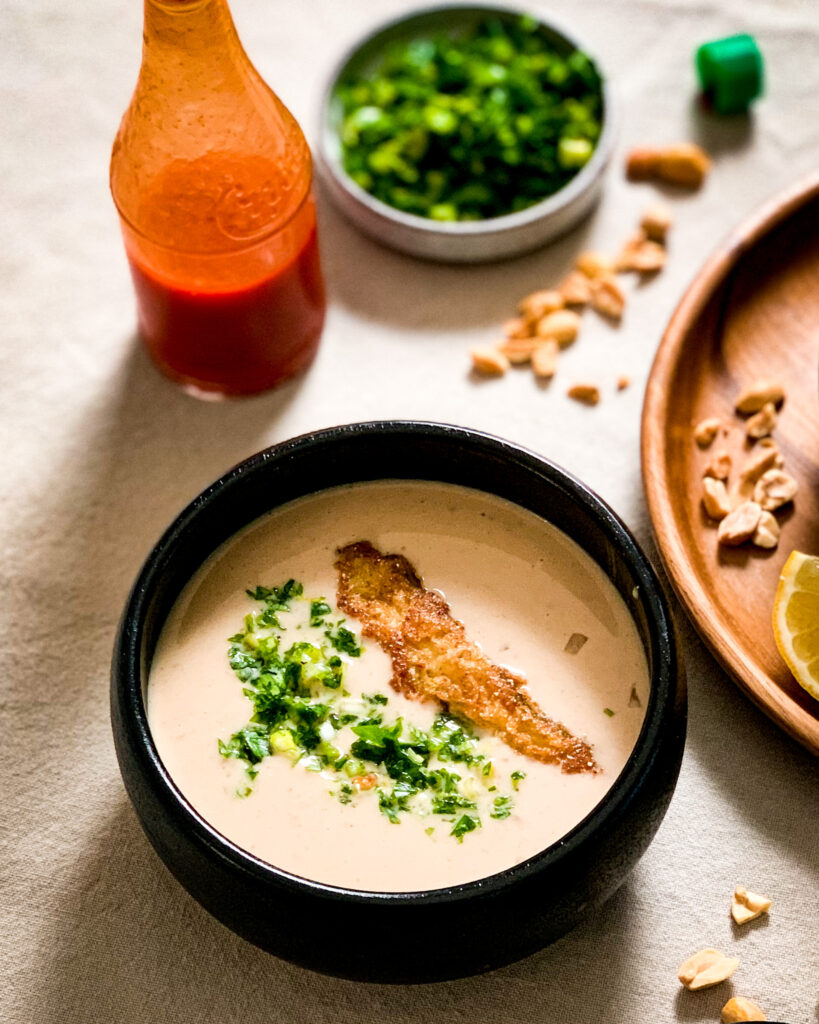 99 Problems but a Peanut Ain't One
I have a confession. When I was assigned to the groundnut stew crew for this collaboration I was nervous. "Why were you nervous Stef?," you ask. Well…I like peanuts, I like peanut butter but it's usually in a PBnJ. I can't help it Imma kid! Knowing that I was going to have to use peanuts and peanut butter for this soup scared me a little because I didn't know if I was going to like it but whew! This is some good soup if I do say so myself and the more I researched this soup and experimented with the flavor profile, the more I fell in love with it.
Southern Peanut Soup is an evolution of West African traditional peanut stew but it is much thinner than a traditional maafe and the Caribbean version. Southern Peanut Soup is sometimes called Virginia Peanut Soup or Tuskegee Soup, named for Dr. George Washington Carver, who was famous for his experiments with peanuts. I grew up knowing that Dr. Carver did a lot with peanuts but I don't think I truly understood the breadth and depth of his work.
Dr. Carver was a renowned American scientist, educator, and inventor best known for his work in the field of agriculture. Born into slavery in Missouri in the mid-19th century, Carver went on to become one of the most influential figures in American agriculture, developing numerous innovative techniques for improving crop yields and soil health. Despite facing many challenges in his life, Dr. Carver's unwavering dedication to his people, his work and his belief in the power of science and education to improve the lives of farmers and rural communities helped him to achieve great success in his field.
One of the lesser-known aspects of Dr. Carver's life was his passion for cooking and his contributions to the culinary arts. Throughout his life, Dr. Carver was a dedicated chef and avid gardener, using his knowledge of agriculture and food science to create innovative and nutritious recipes. Using Tuskegee Institute bulletins, Dr. Carver shared his recipes with farmers and housewives. Part of the inspiration for my version of peanut soup is Dr. Carver's peanut soup which he published in his Bulletin 31:How to Grow the Peanut and 105 Ways of Preparing it for Human Consumption.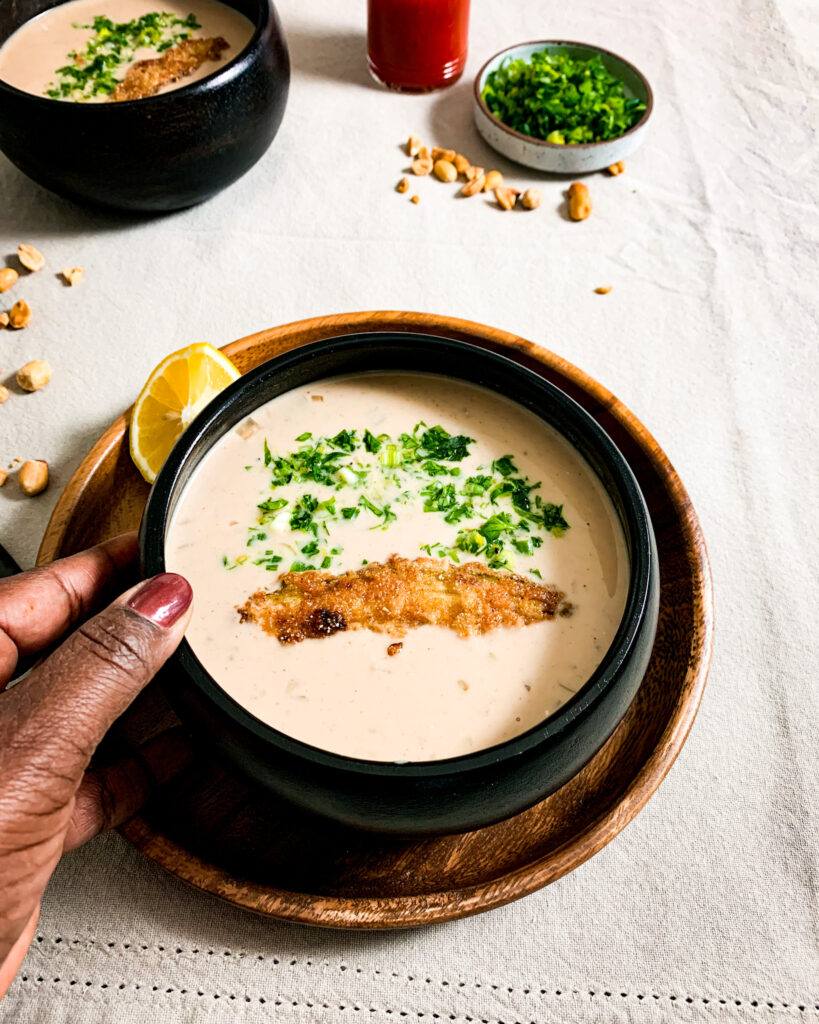 Ingredients for Southern Peanut Soup
This is one of the easiest soups Ive every made, only has a few ingredients and is ready within 30 minutes. Here are the ingredients for southern Peanut Soup:
Butter
Aromatics– Onions, celery, garlic
Flour
Peanut butter- I know putting peanut butter in soup sounds a little sus but trust me, IT WORKS! The peanut butter adds a rich peanut flavor that helps to define the flavor profile of the soup. It's important that you use natural, unsweetened peanut butter and don't use sweetened peanut butters like the kind that rhymes with P. Diddy. You want the pure unadulterated peanut flavor
Broth (chicken or vegetable)- Since this is such a simple soup, make sure you use a home-made or quality broth because it will be more flavorful. Additionally, you can decide on whether you want to use chicken broth or make the soup vegetarian or vegan by using vegetable broth..
Bay leaf, kosher salt & black pepper
Heavy whipping cream– Heavy cream adds richness, creaminess, and depth of flavor to the soup and helps to thicken the soup. If you want to make this soup vegan, full fat coconut cream is a perfect alternative and adds an additional depth of flavor.
Hot pepper sauce – Hot pepper sauce adds another layer of flavor to this soup. There are many types of hot pepper sauce and each has its own unique flavor and heat level. For this soup I like using a Louisiana-style hot sauce, like Crystals, which is vinegar-based and made from cayenne peppers. You can also experiment with other sauces like tabasco, sriracha, or even harissa.
Lemon– This is a RICH soup! Lemon adds a bright, acidic flavor to help balance out the other flavors in the soup.
Peanut & Green Onion Gremolata– Making the gremolata is totally optional but the parsley, green onions, lemon zest and peanuts it just adds a certain freshness and vibrance to the dish.
How long does peanut soup last?
Leftovers will last about 4-5 days in the refrigerator. You can also freeze peanut soup in the freezer for up to 3 months. Store in an air-tight container or freezer bag.
Tools You'll Need
Medium Dutch oven or soup pot
Sharp knife
Soup ladle
More Soup Recipes
We are definitely in soup season. It's easy, you can make in one pot, and you can pack some in the freezer and pull it out whenever a craving for soups moves you. Here are a few other soups that are SOUPER:
Where's My Souper Soup?!
Just channeling my inner Frozone, lol. I know this soup will satisfy your soup cravings and add a little sumthin' special without all the fuss. After you make this Southern Peanut Soup, let me know how you like it! Share a photo and tag me on Instagram using @savorandsage and #savorandsage so I can see your stuff! Don't forget to rate and leave a comment below. Eat well!
Print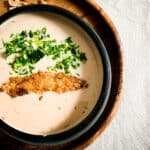 Southern Peanut Soup
---
Description
Rich, hearty and comforting, this peanut soup quickly comes together with a few ingredients in about 30 minutes. Its unique and nutty flavor is decadent and warming.
---
Peanut Soup
5 tablespoons of butter
1/2 cup onions, minced
1/2 cup celery, minced
1 clove of garlic minced
2 tablespoons of flour
1/2 cup +2 tablespoons of natural unsweetened peanut butter
5 cups of broth (chicken or vegetable)
1/2 teaspoon black pepper
1 large (or 2 small) bay leaf
1/2 cup +2 tablespoons of heavy whipping cream
2 teaspoons of hot pepper sauce (like Crystals), plus more to taste
Juice from half a lemon
Peanut & Green Onion Gremolata
1/2 cup parsley, finely chopped (flat leaf or curly)
1/2 cup green onion
1 clove of garlic, grated
1/4 cup roasted peanuts, chopped (unsalted or lightly salted)
1 teaspoon of lemon zest
1/8 teaspoon each of salt and pepper
---
Instructions
Peanut & Green Onion Gremolata
In a small bowl, combine the parsley, green onions, garlic, zest, salt and pepper. Add in the chopped peanuts.  Set the gremolata to the side while the soup is being made.
Soup
In a medium-size pot over medium heat, melt the butter over medium heat.
Add the onion and celery and sauté until soft and translucent, about 3 minutes. Add the garlic and cook until fragrant. Add the flour to the pot and whisk until smooth.Whisk in the peanut butter until smooth.
Gradually whisk in the chicken or vegetable broth. Add black pepper and bay leaf. Stir to combine. Reduce the heat to low and let the soup gently simmer for about 20 minutes, stirring occasionally to prevent sticking.
Add the lemon juice, hot sauce, and stir to combine. Stir in the cream and let it gently heat up. Taste and add more salt, pepper or hot sauce if needed. Serve with a spoonful of the gremolata, crushed peanuts, fried okra, or croutons. 
Prep Time: 10
Cook Time: 25
Category: Dinner
Method: Stovetop
Cuisine: Southern
Keywords: Soup, Peanut butter, Side Dish, Southern