In my conversation with Nafy Flatley, owner of TERANGA Juices. She reminisced about home [Senegal], her family and her last meal before coming to the United States, Maafé. Maafé is a West African peanut stew with a blend of spicy tomatoes, your favorite fresh vegetables and you can add meat if you like.
Nafy's grandmother made her peanut butter from scratch when making this meal but if you're not up for that, be sure to buy organic peanut butter without sugar added. And even though you can eat Maafé on its own, try it with rice, fonio, quinoa, a salad or your favorite bread (I'm thinking johnny/hoe cakes-form of cornbread or crusty French bread).
Try Nafy's version of Maafé below–which is vegan sans the fish sauce–or throw in some of your favorite veggies, chicken, or beef for an equally good variation. This is a one-pot meal that doesn't break the bank and when you eat it you'll happy. Enjoy and eat well!
Click to read the entire interview w/Nafy
All photos by Eric Wolfinger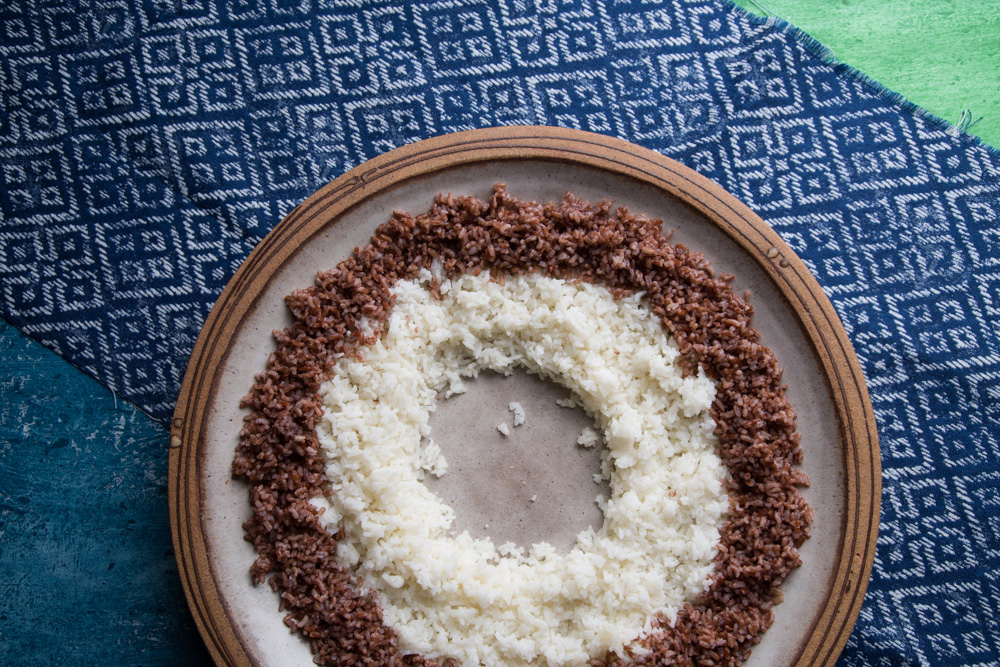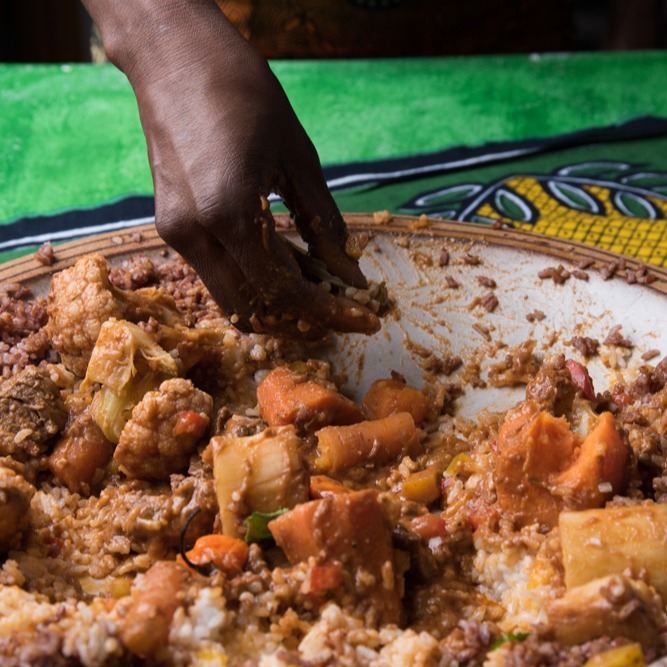 MAAFÉ
by Nafy FlatleyAs published in the We Are La Cocina: Recipes in Pursuit of the American Dream cookbook
---
INGREDIENTS
6-10 servings
½ cup organic creamy peanut butter (no sugar added)
3 cups broth or water
1 tablespoon vegetable oil
1 red onion, diced, 1-inch pieces
1 bell pepper, diced, 1-inch pieces (stem and seeds removed)
4 garlic cloves, minced
1 orange habañero, whole stem on
1 heaped tablespoon tomato paste
2 cups diced tomatoes
1 tablespoon tamarind paste
1 teaspoon fish sauce (skip if vegetarian/vegan)
1 Bay leaf
2 cups diced sweet potatoes
1 cup diced turnips or potatoes
1 cup diced carrots
1 cup diced cassava (yuca)
2 teaspoons sea salt, plus more to taste
Cracked black pepper, to taste
1 tablespoon TERANGA baobab powder (optional)
6-10 okra whole okra pods optional
4 cups Spinach or Baobab leaves (optional)
---
METHOD
1. Combine the peanut butter with 1 cup of warm water or vegetable broth and stir to dissolve to a smooth sauce.
2. In a large saucepan, heat up the oil over medium heat and add in the onions and bell peppers. Sauté until soft but not browned, about 3 minutes. Add in the minced garlic and stir until fragrant, about 30 seconds.
3. Add in the tomato paste, stirring to evenly coat the vegetables. Allow to cook until the color turns brick red, about 3-4 minutes. Add in the chopped tomatoes with their liquid. Stir and scrape the bottom of the pan to loosen any stuck bits. Allow the sauce to come up to a simmer.
4. Stir in the peanut butter mixture and the remaining water. Add in the tamarind paste, fish sauce, and bay leaf. Let sauce simmer, covered over low heat till slightly thickened, about 30 minutes. Stir frequently to keep from burning.
5. Add in the sweet potatoes, turnips, habanero, and carrots. Season sauce with salt and black pepper and allow to cook until vegetables are just tender, about 12-15 minutes.
6. Sprinkle in the baobab powder if using and stir in the okra and spinach. Remove from heat, season with more salt if necessary.
Side Notes:
The sauce is thick. Adjust with up to 1 additional cup broth or water according to preference.
Don't forget to skip the fish sauce if you are vegetarian/ vegan
If you Nafy suggests making with any of the following: 1 pound beef stew or chicken drumsticks, thighs or breast or fish fillet and shrimp
For beef or chicken, brown the pieces before sautéing the onions.
For fish/shrimp or any seafood add in the pieces along with the vegetables.
The okras could be sautéed in olive oil and apple cider vinegar or lime or lemon instead of stirring into sauce.
Server over rice, couscous, fonio or fúfú.
Garnish using yellow and orange color bell peppers and cilantro diced in small pieces.