Southern Hoe Cakes are my favorite way to eat cornbread. Slightly sweet and crispy around the edges, these little cornmeal cakes will be the perfect accompaniment to your holiday dinner. Serve them warm and top them with butter.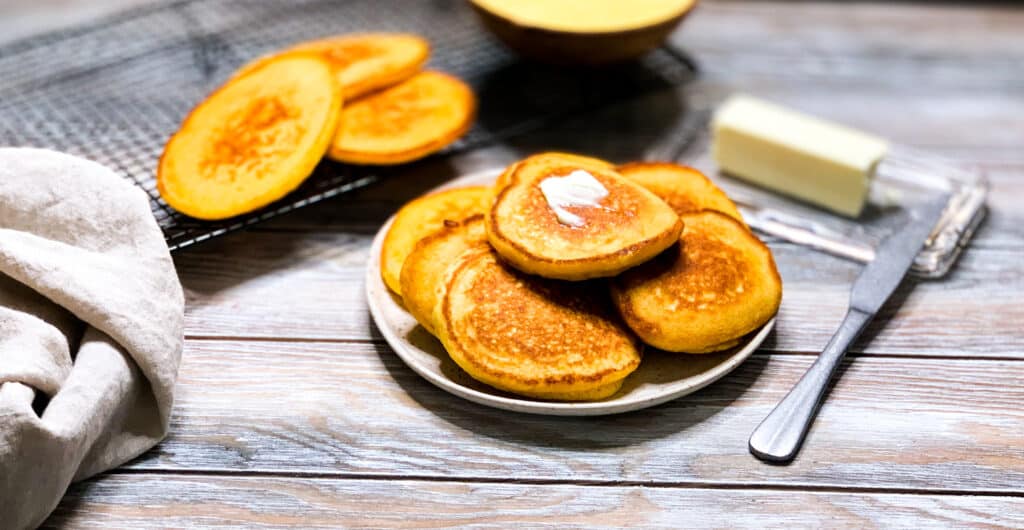 Print
1 cup flour
1 cup cornmeal 
2–4 tablespoons of sugar (depending on sweetness desired)
1 tablespoon baking powder
1/4 teaspoon salt
3/4 cup buttermilk (full fat)
2 large eggs
4 tablespoons melted butter or bacon drippings
Butter or oil for frying
---
Instructions
Combine flour, cornmeal, sugar, baking powder, and salt in a medium bowl.
In  a separate bowl add buttermilk, eggs, and whisk together. Pour into a bowl with flour mixture. Add butter or drippings and mix until combined.
Heat a cast iron skillet or nonstick skillet. Add butter or oil.
Using a 1/4 measuring cup, pour batter into the skillet.
Cook until bubbles form on top, flip over, and cook until the bottom is golden.
Serve with butter.