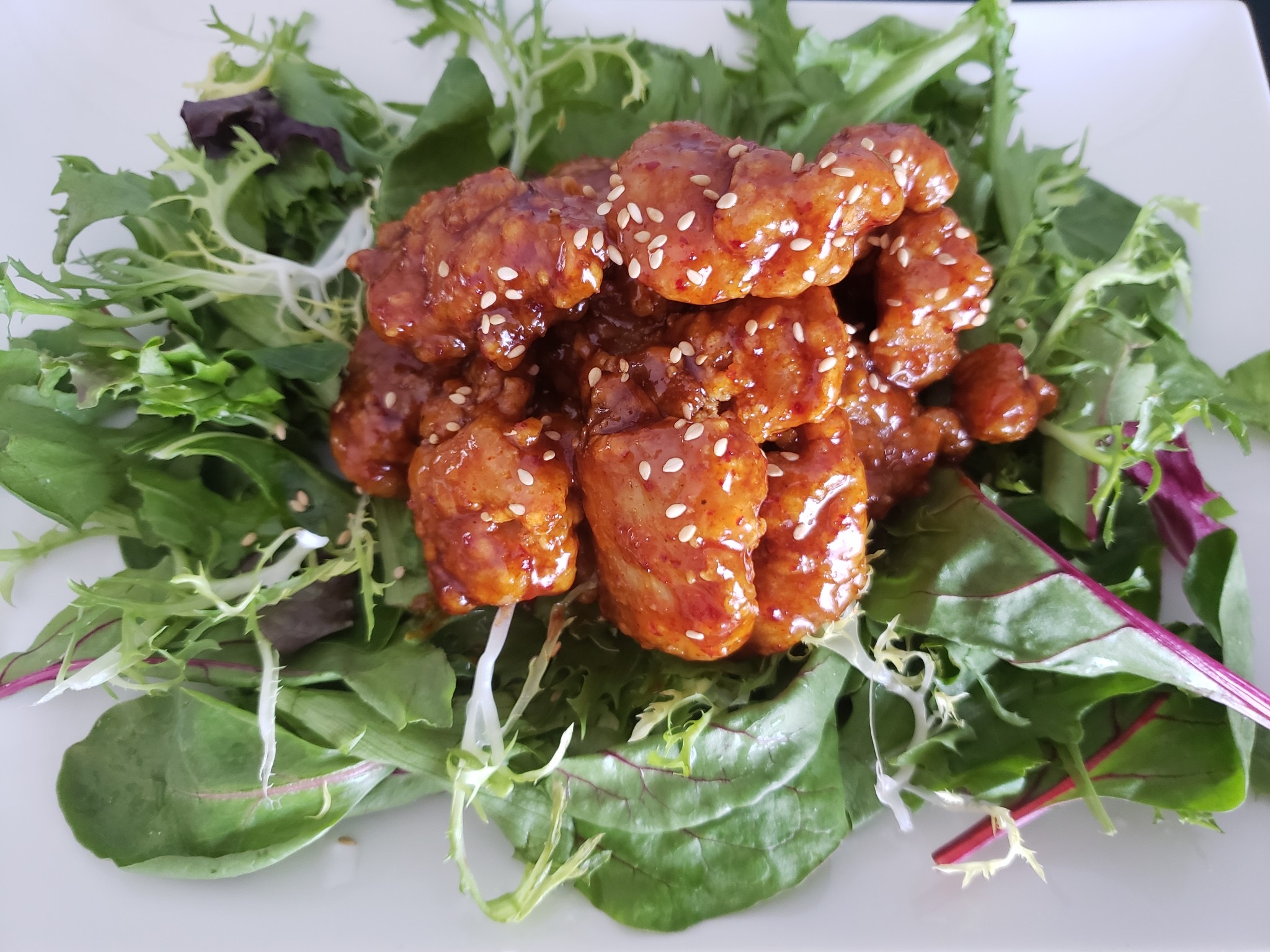 Wrapped in a spicy-sweet chili sauce, this chicken is equal parts crisp, crunchy, sweet, savory, and umm– umm good. Can you say, "Winner, winner chicken dinner!"?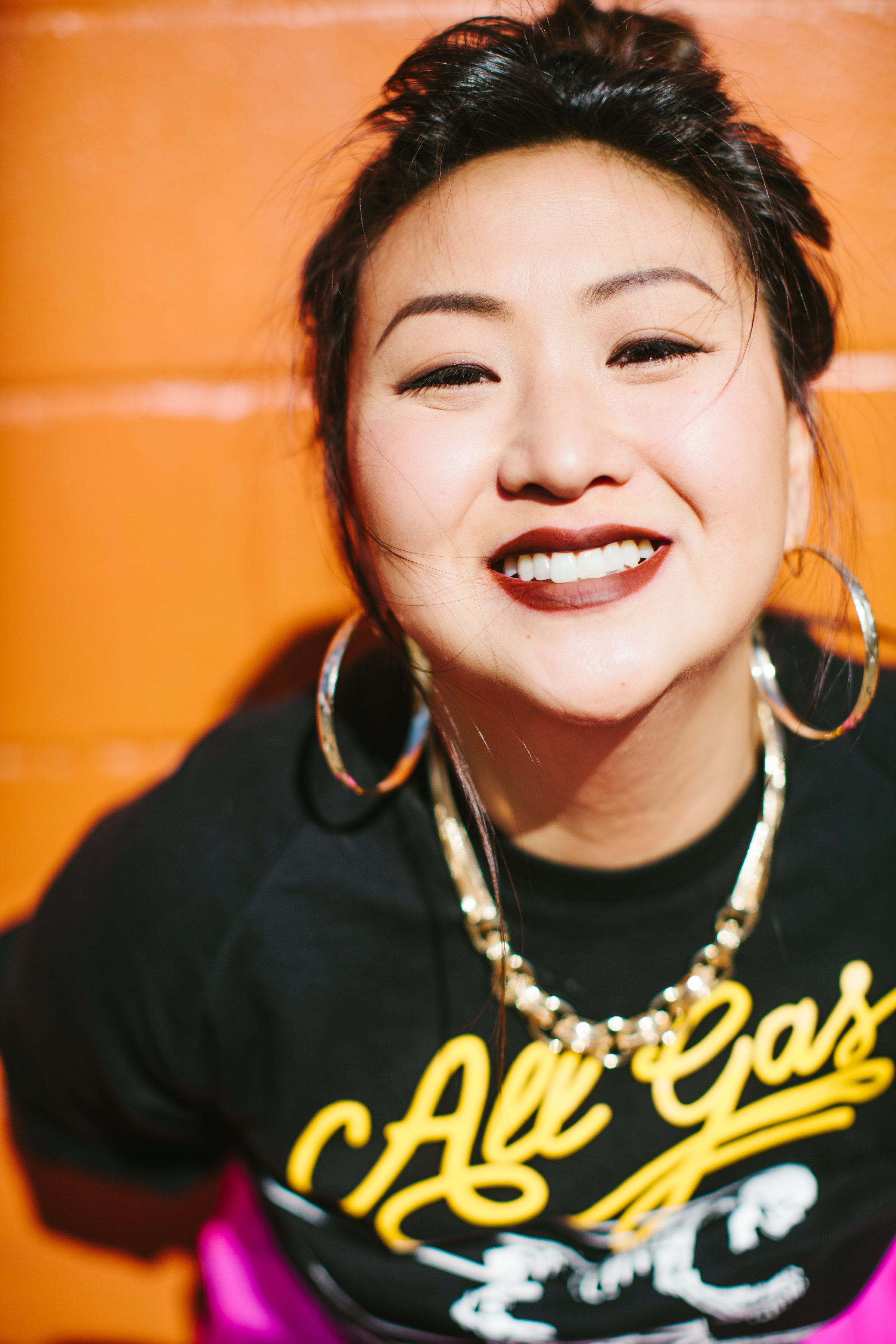 This recipe was shared by my friend Michelle "Mush" Lee's omma (mom). Mush is a poet, narrative strategist, and founder of Whole Story Group. Mush is a Harvard University Project Zero Fellow, a featured poet on HBO's Def Poetry Jam and a Cultural Affairs Commissioner for the City of Oakland. At her core, she is an artist of color and a child of voluntary immigrants, who has thrived by telling, and retelling, her own story. Mush joined me on my Instagram live show, Breaking Bread Live, to share her work as a storyteller and her mom's fried chicken recipe. You can check our the LIVE here and the recipe below.
Omma's Korean Fried Chicken
by Michelle "Mush" Lee & her Omma (mom)
---
INGREDIENTS
4-6 servings
3 pounds of chicken (skinless boneless thighs or breasts or wings)
½ tablespoon of salt
⅓ tablespoon of pepper
1 tablespoon of garlic powder
Breading
1 cup of corn starch
2 tablespoon of Curry powder
1 tablespoon of paprika
Sauce
½ cup of agave or honey
⅓ cup of ketchup
¼ cup of soy sauce
¼ cup of garlic, minced
¼ cup of brown sugar
1-2 tablespoons of gochujang (red chili paste) or chili powder
Peanut or vegetable oil, for frying
Sesame seeds or nuts, garnish
---
METHOD
1. Season chicken with salt, garlic powder, pepper, and set aside about 20 minutes.
2. Add all the ingredients for the sauce to a small saucepan and cook over medium heat until thickened. Keep stirring.
3. Add the cornstarch, curry powder, and paprika to a plastic bag or bowl. Give a shake or stir to combine seasonings then add the chicken to the mixture. Coat chicken well with the cornstarch mixture.
4. Place oil to a large heavy-bottomed pan such as a cast-iron skillet or dutch oven. Attach a candy or deep-fry thermometer and heat over medium-high heat until the oil is 350°F-375°F, about 15 minutes. Prepare a baking sheet by lining with paper towels and a wire cooling rack (if you have). This will be your cooling station.
5. Once the oil is heated, Working in batches, cook several chicken pieces at a time making sure not to overcrowd your skillet. Cook for 5-7 minutes, turning often until golden brown. You may need to cook longer if your pieces are big. Chicken should have an internal temperature of 165°F. Thermometers are helpful kitchen tools to have to ensure the doneness of your meat.
6. Toss chicken with sauce. You may reserve some of the sauce to place on rice. Garnish with toasted sesame seeds or nuts.