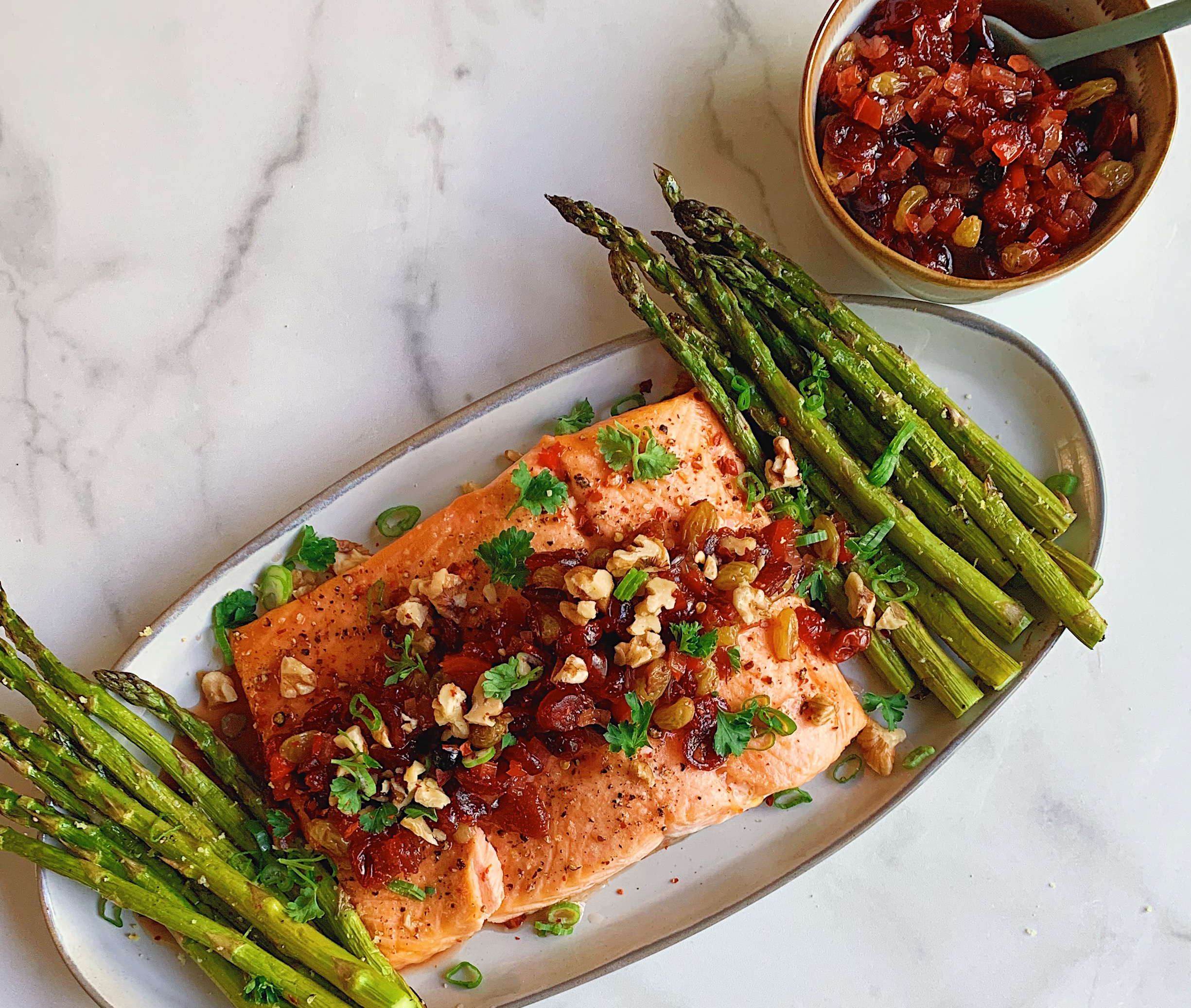 Moist and flaky salmon topped with a sweet and sour sauce with a side of asparagus is the sheet pan dinner you need in your life! Are you ready for this goodness?
Is salmon Good for You?
Heck yeah! Salmon has tons of health benefits but here's 5:
Omega-3 Fatty Acids: Omega 3 fatty acids are food fats and they're essential. "Essential" means that our bodies don't make these fatty acids so it's important to get them through diet. Salmon is one of the best sources of omega-3 fatty acids.
Packed with protein
Super high in B vitamins
Great source of potassium
Filled with anti-inflammatory benefits that can help prevent cell damage, may reduce the risk of depression and anxiety, and aid in preventing auto-immune disease
How To Bake Salmon
The first thing to remember is that salmon cooks very quickly. If you don't keep an eye out, it will get dry. Dry your salmon fillet with paper towels before cooking it. Drizzle the salmon with a little oil and sprinkle it with your seasonings. Bake salmon at 375 for 16-20 minutes. Check it at the 16-minute mark and if your salmon is slightly opaque in color and you can flake it with a fork, your salmon is done! If it needs to cook longer, continue to cook it in 5-minute increments until it gets to your desire doneness. Done in a snap and healthy? Salmon for the win!
What is Agrodolce?
Alright enough with the salmon, I know the burning question is what in the world is agrodolce? The short and sweet? This is one of the easiest and most delicious sauces/condiments ever created.
Agro=sour and dolce=sweet. Agrodolce is an Italian condiment that's perfect with fish, chicken, or pork; you can add it to your charcuterie board; it's the perfect spread for a sandwich. There are many variations of this condiment and it's really a no-recipe, recipe. It can be chunky and packed with various veggies and fruits, runny and saucy, or thick and syrupy. The basics of the sauce are vinegar, a sweetener, and shallots or red onions. Here's what you need for this agrodolce:
Sherry vinegar- you can also use apple cider red or white wine vinegar or balsamic
Sherry or Red Wine
Honey- subbing in maple syrup or sugar works too
Shallots or red onion
Fresno chili
Golden Raisins
Dried Cranberries
Almonds
SALMON AGRODOLCE
---
INGREDIENTS
1 large bunch asparagus, trimmed
1 – 1 ¼ lb salmon filet (or 4 smaller filets)
1–2 tablespoons olive oil
salt and pepper to taste
Agrodolce
1 cup sherry vinegar
½ cup sherry or red wine
2 tablespoons honey + more to taste
1 shallot, chopped
½ Fresno chili, seeded and chopped
¼ teaspoon red pepper flakes, optional
½ cup golden raisins
½ cup dried cranberries
¼ cup nuts (such as almonds, pecans, pine nuts, or walnuts), chopped
⅓ cup spring onions, sliced thin on the bias
Zest of one lemon
METHOD
Heat oven to 375° F. Line a rimmed sheet pan with aluminum foil. Pat salmon dry with a paper towel and let get to temperature. Drizzle asparagus with a tablespoon of olive oil and sprinkle with salt and pepper. Place the fish fillet skin side down on the sheet pan. Brush salmon with olive oil and season generously with salt and pepper. Nestle asparagus in one layer around fish.
Bake in a preheated oven for 16-20 minutes, or until salmon flakes easily with a fork.
While salmon is cooking, start on agrodolce. Drizzle a bit of olive oil in a small saucepan and saute shallots and chili until soft. Add in remaining ingredients—except dried fruit, nuts, spring onions, and zest—and bring to a boil. Reduce the heat, add dried fruit and simmer until the mixture is syrupy, 8 to 10 minutes.
Before serving, spoon the agrodolce over the fish. Garnish with the nuts, onions, and lemon zest.
Agrodolce can be stored in the refrigerator for up to 5 days.