An easy quick pickled take on a classic southern condiment—you'll want to put this relish on everything.
Print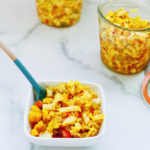 Quick Pickled Cha Cha (Chow Chow)
---
A quarter wedge of green cabbage, small chopped
2 green tomatoes or 6 tomatillos, chopped
¼ cup each green, red, and yellow bell pepper, diced
Half jalapeno seeded and diced (add more or less depending on the heat level you want. optional if you don't want the heat)
3 cloves of garlic, crushed
¼ teaspoon red pepper flakes (optional if you don't want the heat)
½ cup apple cider vinegar
¼ cup sugar plus more to taste if you want your relish a little sweeter
---
Instructions
Toss cabbage, green tomatoes, onion, bell peppers, and all seasonings in a large bowl until all of the vegetables are coated
Add both vinegars, water, and sugar to a pot and heat until sugar is dissolved.
Divide cha cha mixture in glass jars of choice and spoon liquid over until cha cha is submerged. Let cool at least an hour. Cover and chill in the refrigerator.
Cha cha can be eaten the "day of" after it has chilled. For best flavor, let the cha cha sit in the refrigerator for 24 to 48 hours so flavors can marry.
This is a refrigerator quick pickle relish and not shelf-stable. This quick pickle cha cha can last in the refrigerator for 3-4 weeks.
Add to your salads, greens, beans, hot dogs, and hummus.