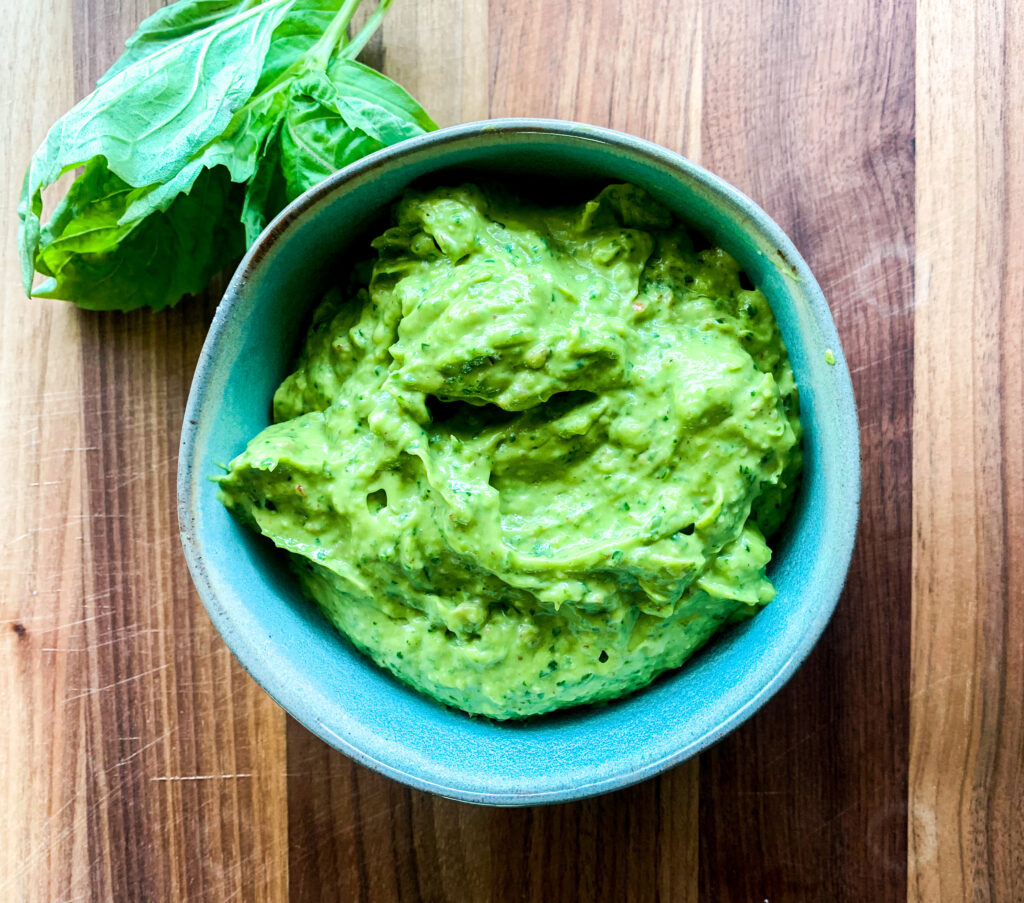 Creamy, buttery avocado is blended with fresh basil, garlic, pine nuts, Parmesan cheese, and extra virgin olive oil will have you making this versatile creamy deliciousness for the rest of the summer.
The Inspiration
Last year, I was working on a heart-healthy collab with another blogger and we decided that avocados would be our secret ingredient to focus on. I wanted to come up with a different way to use avocados and this avocado pesto was born. I realized that while the recipe was on the freebie we were giving away at the time I had neglected to post it on the website. So here we are and right on time for some good summer eats!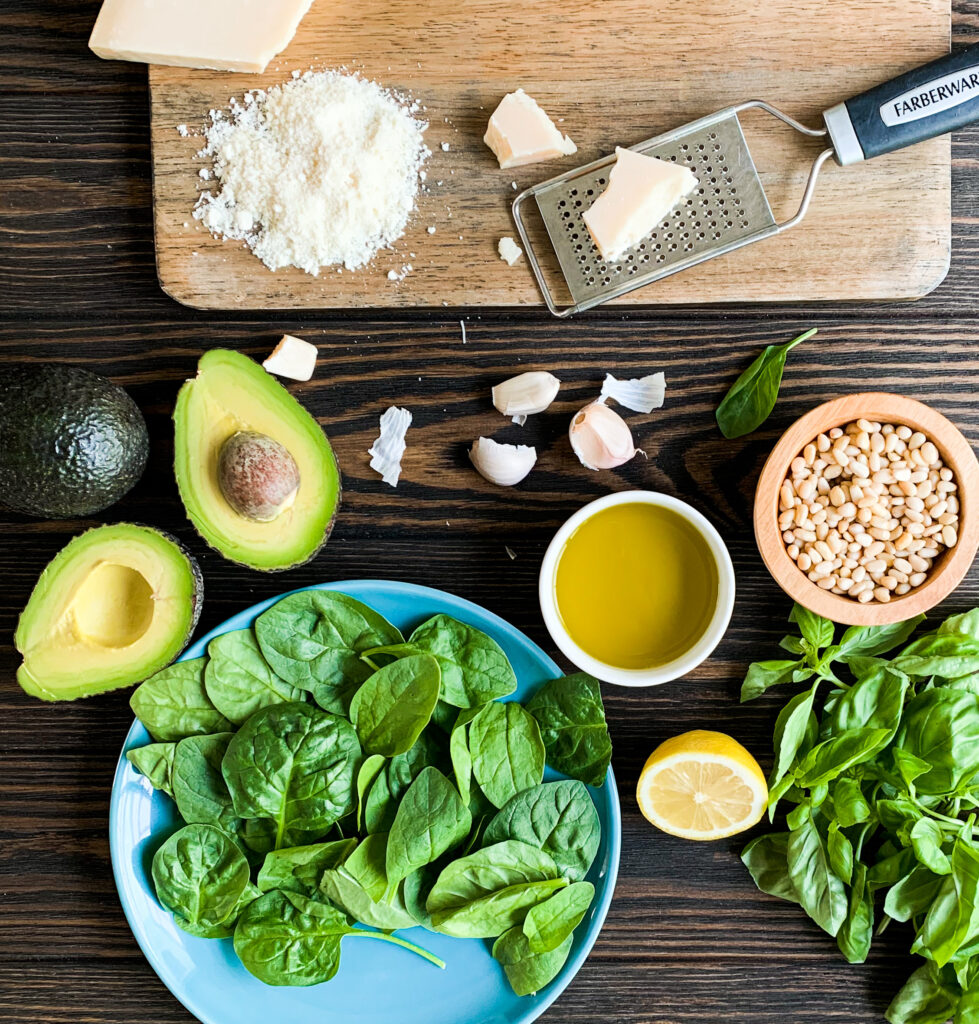 Avocado Pesto is Creamy & Bold Deliciousness!
Pesto screams summer and when you add avocado to the mix you'll be so hyped up to eat this all summer long Here's what you'll need to make this avocado pesto recipe:
Avocado
Garlic
Fresh basil
Spinach
Parmigiano-Reggiano cheese
Lemon juice
Extra virgin olive oil
How To Make Avocado Pesto
This avocado pesto is a breeze to make. Are you ready? Here we go!
Purée the avocado, Parmigiano-Reggiano cheese, olive oil, spinach, lemon juice, basil and garlic in a food processor or blender until it's creamy and smooth.
That's it. See how simple that was? Almost hard to believe. Let's get cookin' (well blendin')!t's Eat! We love to eat roasted broccoli pesto with bucatini pasta and chicken meatballs, but you can also use it anywhere you'd use regular pesto sauce!
3 Ways To Use Your Avocado Pesto
Now that your avocado pesto is made, what the heck are you going to do with it? No worries boo. I have some suggestions below.
Rigatoni with Chicken, Mushrooms & Avocado Pesto
Avocado Pesto Toast- Take your avocado toast to a whole new level and top it with an egg.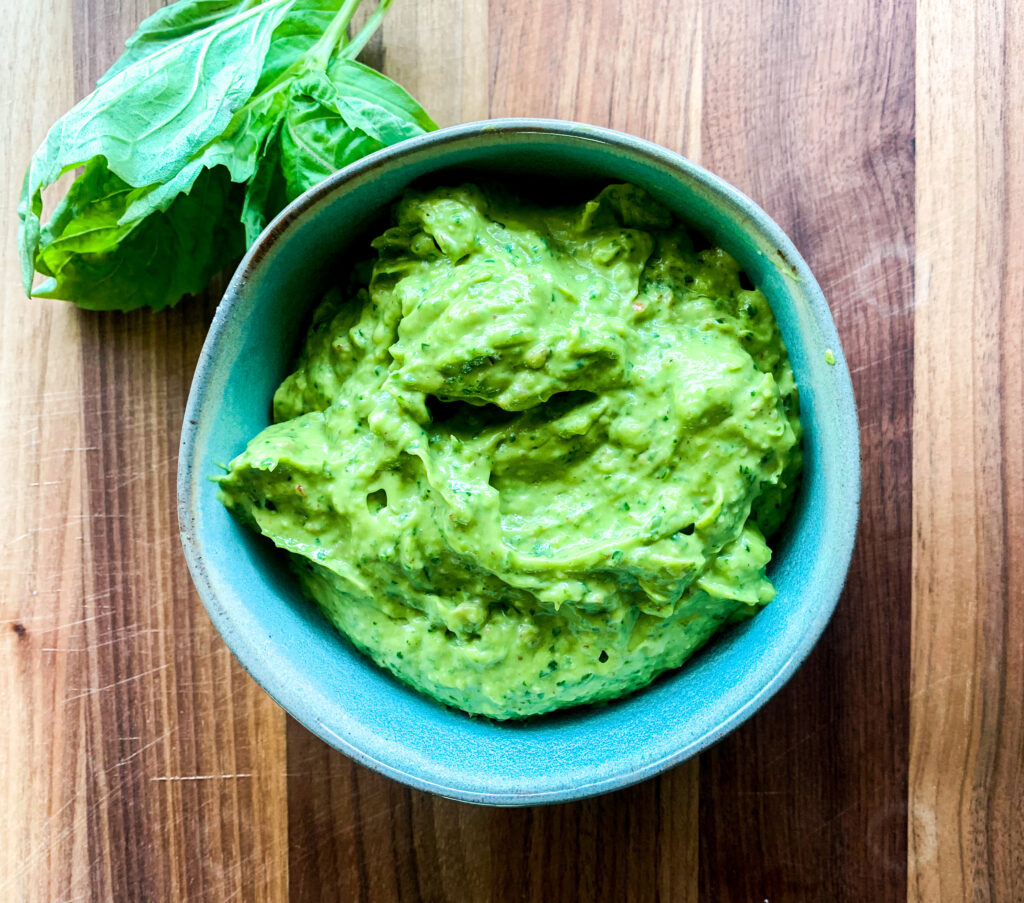 Tools You'll Need:
A food processor. countertop blender, or  immersion blender.
Sharp knife.
Citrus juicer
Abracadabra, Pesto!
I know you'll love my little twist on classic pesto and I would love to hear about all the deliciousness you're cooking up. After you make this avocado pesto, let me know how you like it! Share a photo and tag me on Instagram using @savorandsage and #savorandsage so I can see your stuff! Eat well, friend!
Print
2 ripe avocados
1 cup fresh basil (optional)
1 cup fresh spinach
3 cloves garlic
1/2 cup pine nuts or walnuts (optional)
1/4 cup parmesan or pecorino cheese (optional)
1/3–1/2 cup olive oil
Juice of half a lemon
1/4 teaspoon red pepper flakes
Salt & pepper to taste
---
Instructions
In a food processor blend together avocado, basil, spinach, garlic, nuts, Parmesan, and lemon. Drizzle in olive oil as you begin to process the mixture. Process until smooth Season with salt and pepper to taste.