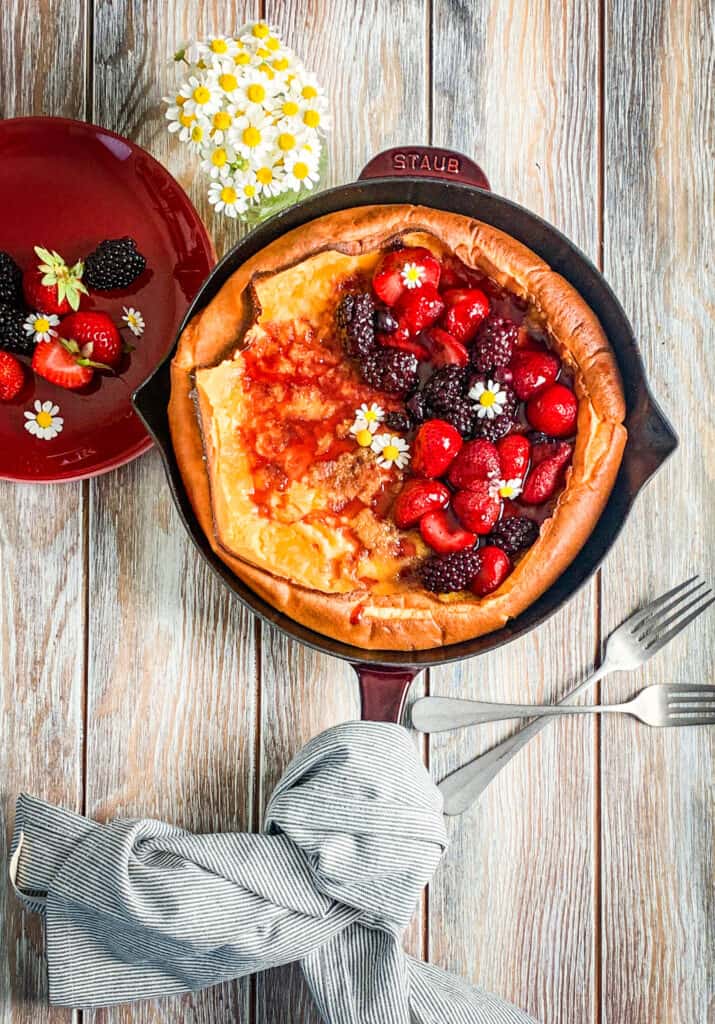 ---
A Dutch baby is a delicious cross between a pancake, popover, and crepe and here we're topping it with citrusy sumac roasted summer berries. You'll be in and out of the kitchen in less than 30 minutes.
Pouf! You Have A Dutch Baby Pancake! 
A pancake, popover, and crepe walked into a kitchen….kind of sounds like a bad joke, huh? But literally, that's exactly what a Dutch baby pancake is. It's a delicious cross between a pancake, popover, and crepe and you'll be in and out of the kitchen in less than 30 minutes.
Although it's sometimes called a German pancake, this is an all-American brunch favorite that couldn't possibly be easier to make at home. The recipe is nearly foolproof, despite its grandiose appearance. All right let's talk a little about this baby!
---
What Is a Dutch Baby?
A Dutch baby pancake is a puffy oven-baked pancake with crispy edges and a custard-like center. Dutch baby pancakes can be sweet or savory and you can top them with whatever your taste buds are in the mood for but the most traditional preparation is with a little dusting of confectioner's sugar.
---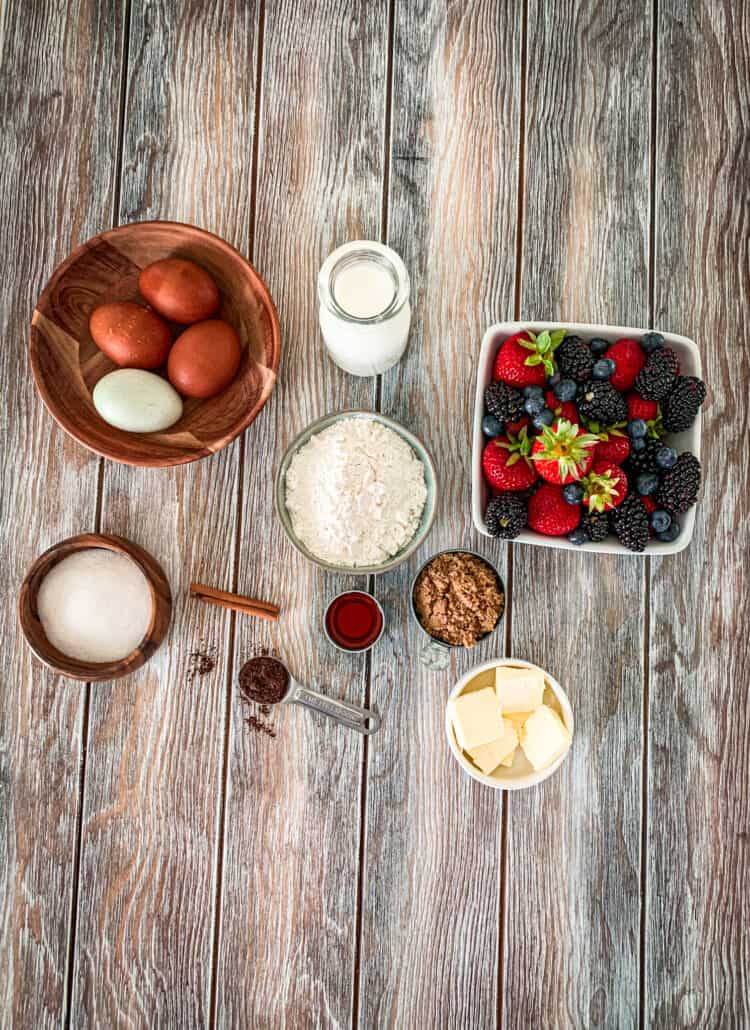 ---
Dutch Baby Ingredients
The basic ingredients for a Dutch baby are flour, eggs, milk, and a little sugar and salt. Yep, that's it! Just those simple ingredients and easy preparation make this super-soft, puffy, grandiose dish that will "WOW" whoever you're sharing this with. Here's what you need:
Eggs
All-Purpose flour
Whole milk
Sugar
Vanilla
Assorted berries; I'm using Strawberries, blackberries, and blueberries
Butter
Sumac
Maple syrup
Cinnamon stick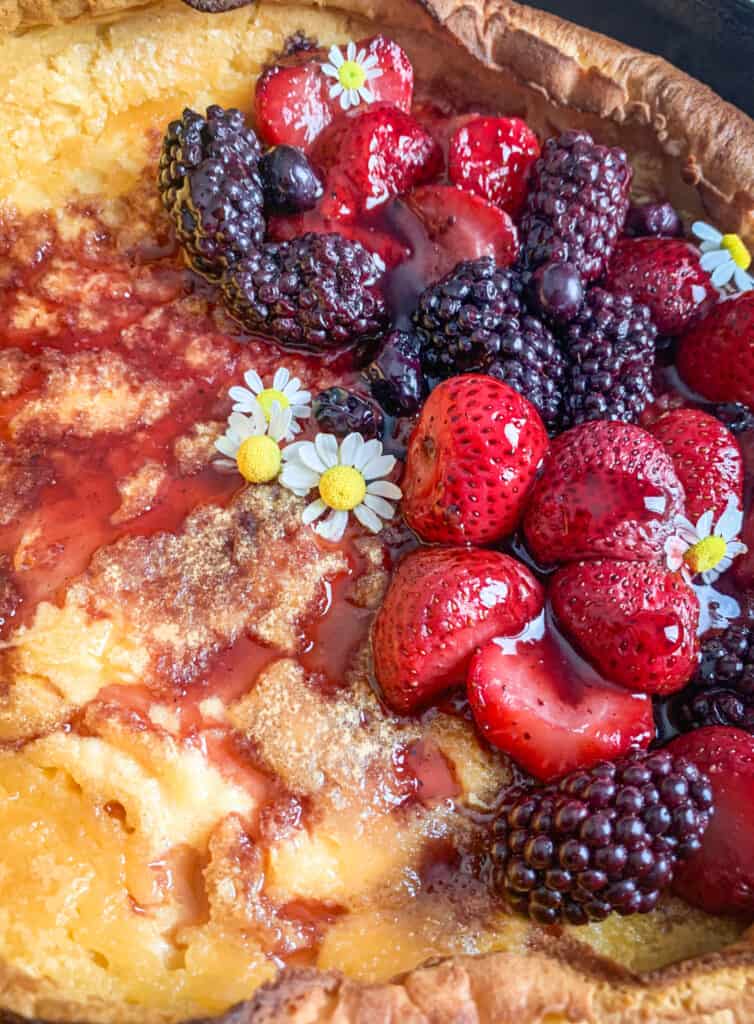 ---
How to Make Sumac Roasted Berries Dutch Baby Pancake
You can whip this simple breakfast up in no time but the technique is key. Here are a few tips for the perfect Dutch baby:
Throw your berries, maple syrup, sumac, and cinnamon in a baking dish and set to the side.
Use a blender or food processor to blend all your ingredients
Eggs and milk should be at room temperature
Don't use a shallow skillet. Your skillet sides should be at least 2-inches tall. Put a baking sheet underneath the skillet for extra precaution.
Use a piping-hot skillet. Pour the batter into the center of the pan and DO NOT swirl.
Don't peek! You shouldn't need to open the oven but if you can't resist, don't open the oven for at least the first 10-15 minutes of cooking or you risk having a flat Dutch baby.
Serve your Dutch Baby quickly once it's out of the oven. The middle collapse so make sure all your toppings are prepared
---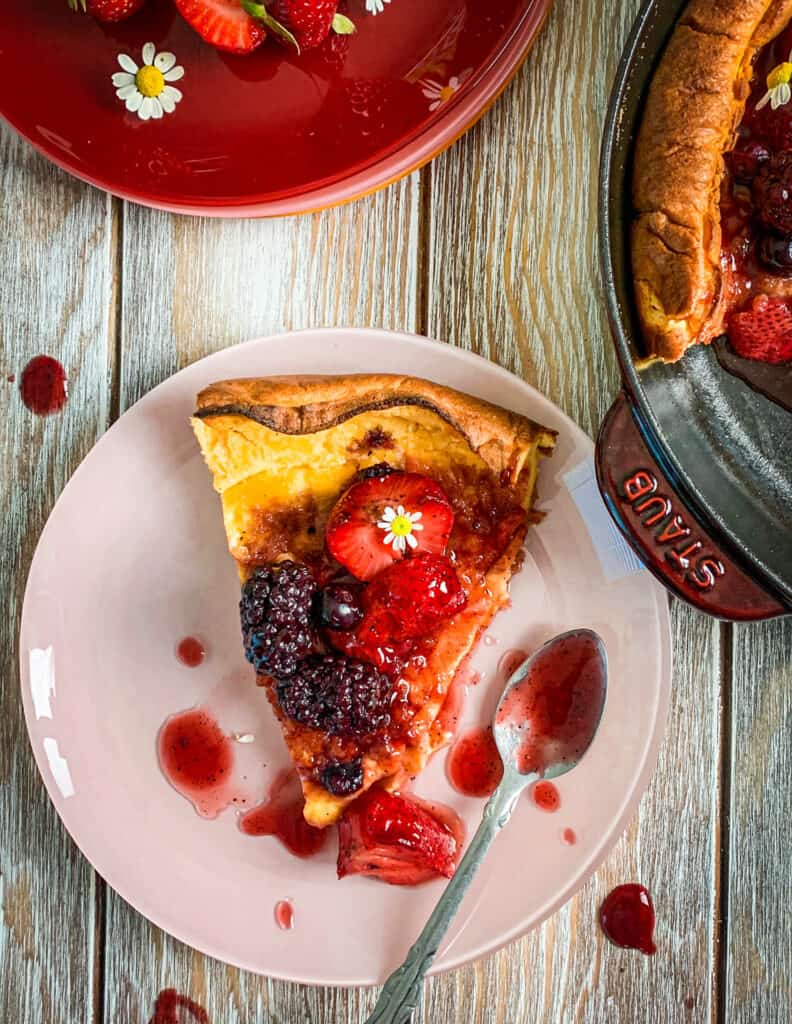 ---
More Breakfast Recipes
Looking for more easy breakfast recipes? Check these out!
---
Pouf There It Is!
Ok, are you ready to make this showstopper? I know this will be your new fave breakfast twist when you want a little sumthin' special without all the fuss. After you make this Dutch baby, let me know how you like it! Share a photo and tag me on Instagram using @savorandsage and #savorandsage so I can see your stuff! Eat well!
Print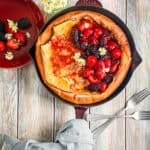 Sumac Roasted Berry Dutch Baby Pancake
---
Dutch Baby
3 large eggs, at room temperature
1 1/4 cup whole milk, at room temperature
1 cup all-purpose flour
2 tablespoon sugar
1 teaspoon of vanilla extract
Pinch salt
4 tablespoons butter
Sumac Roasted Berries
2 cups strawberries, sliced in half (keep whole if they're on the small side)
2 cups blackberries
2 cups blueberries
1/2 cup maple syrup
1 1/2 teaspoon sumac
---
Instructions
Preheat the oven to 425°. Place a 10-12-inch cast-iron skillet in the oven to preheat.
Combine strawberries, blackberries, blueberries, maple syrup, and sumac in a baking dish and set to the side.
In a blender or food processor, blend together eggs, milk, flour, vanilla sugar and salt for 1 minute.
Remove the hot skillet from the oven and add butter to the skillet. Once butter has melted, pour batter into a hot skillet. Return the skillet and the berries to the oven Bake until the Dutch baby is puffy and golden brown and the berries are jammy. This will take about 15 to 20 minutes. Don't open your oven while cooking because the Dutch baby will deflate. If you need to take a peak, wait until the Dutch baby has cooked for 15 minutes.
Pour the sumac roasted berries over the Dutch baby and serve. Top with yogurt or whip cream.
Notes
If you want more of a custardy pancake, cook for 15 minutes
Prep Time: 10
Cook Time: 20
Category: breakfast and brunch
Cuisine: German
Keywords: Dutch Baby Breakfast & Brunch Pancakes, Waffles & French Toast, Vegetarian, American, German, All Seasons, Easter, Mother's Day, german pancake