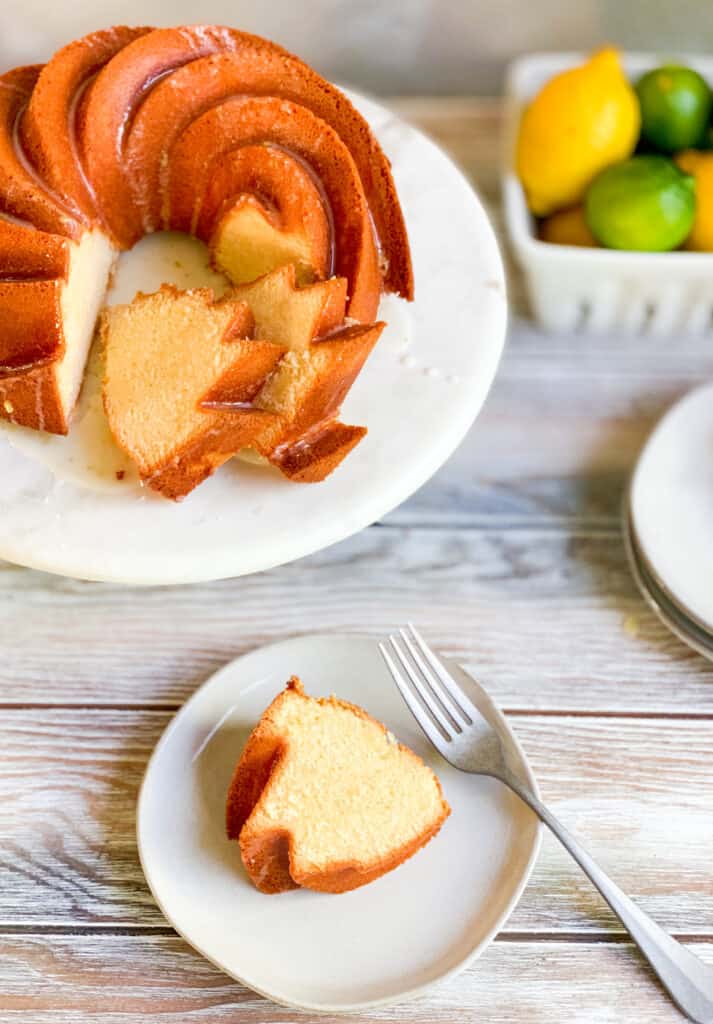 Spiked with lemon-lime soda, butter, and lemon this moist classic 7UP pound cake will have you shouting for joy and going back for seconds.
---
Comfort Cake!
Is comfort cake a thing? I think it should be because this classic 7UP pound cake is comfort. Moist, light and nostalgic, 7Up cake transports me back to my Granny's kitchen with her black and white linoleum and red table and bench in the little breakfast nook. 7UP was always my favorite soda when I had a chance to have soda and 7UP cake was one of my favorite desserts my Granny would make.
---
What's in a Classic 7UP Pound Cake?
This cake is filled with nothing but goodness and only takes a few ingredients. Here's what you need.
Granulated Sugar- I know you're thinking, "Stef 3 cups of sugar seems like a lot." I get it. I'm not that much of a sweet person so I tend not to like things too sweet but for me, this cake doesn't send me into sugar overload. If 3 cups is too much, try 2 ½ cups instead.
Butter- Need I say more?
Flour- I've used both all-purpose and cake flour and both turned out great.
Eggs
Lemon+Lime- We're using the zest from the lemon and the lime and juice from the lemon to help bring in more of that lemon-lime flavor.
Vanilla- This is my addition because I just love vanilla
7UP- Do I have to use 7UP? Look if you were asking my Granny Octavia she would say, "ABSOLUTELY." Using any other soda is sacrilege. So, for me and my house, we're all about 7-Up but ultimately you can use another lemon-lime beverage you have on hand, ginger ale, or even sparkling water if that's what you have.
---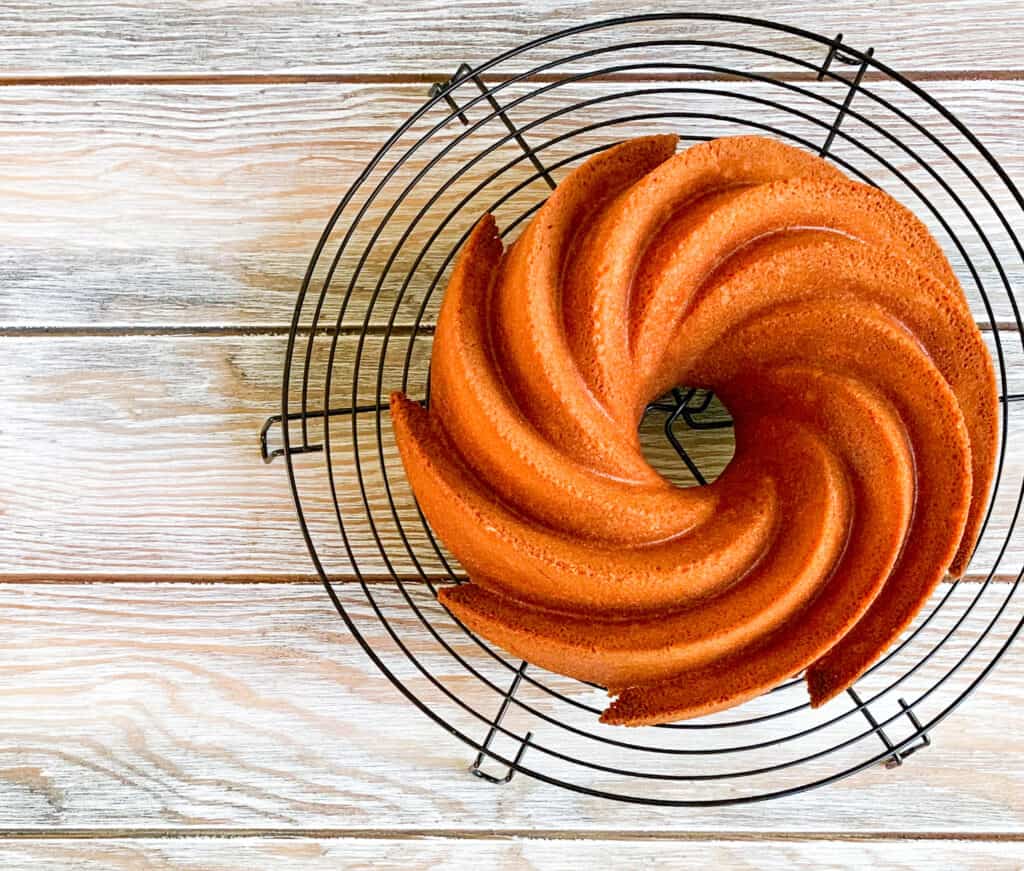 ---
How Do You Make Classic 7Up Pound Cake?
This cake is actually pretty simple to pull off just remember a few things…
Room Temperature- Your butter, eggs, and 7 up should be at room temperature. Having these ingredients at room temperature helps them to incorporate much better
Whip it good- So Granny's recipe calls for creaming the butter and sugar for 20 minutes. You can also cream on high speed for at least 5-7 minutes. I have done it both ways. Pound cakes are dense cakes so the main thing you want is to keep things light and fluffy. You want to cream the butter and sugar enough so that the sugar crystals cut through the butter making it fluffier. You'll start to see the mixture change from very yellow to a pale yellow to white color.
Don't Overmix- For this recipe I do everything at low speed and take my time but don't over mix. Because most of the ingredients are at room temperature it doesn't take a lot of mixing for them to get incorporated into the batter.
Low & Slow- This baby takes time and is cooked on somewhat low heat. This is going to cook for about an hour and 15 minutes but be sure to check it at the hour mark since all ovens are different.
---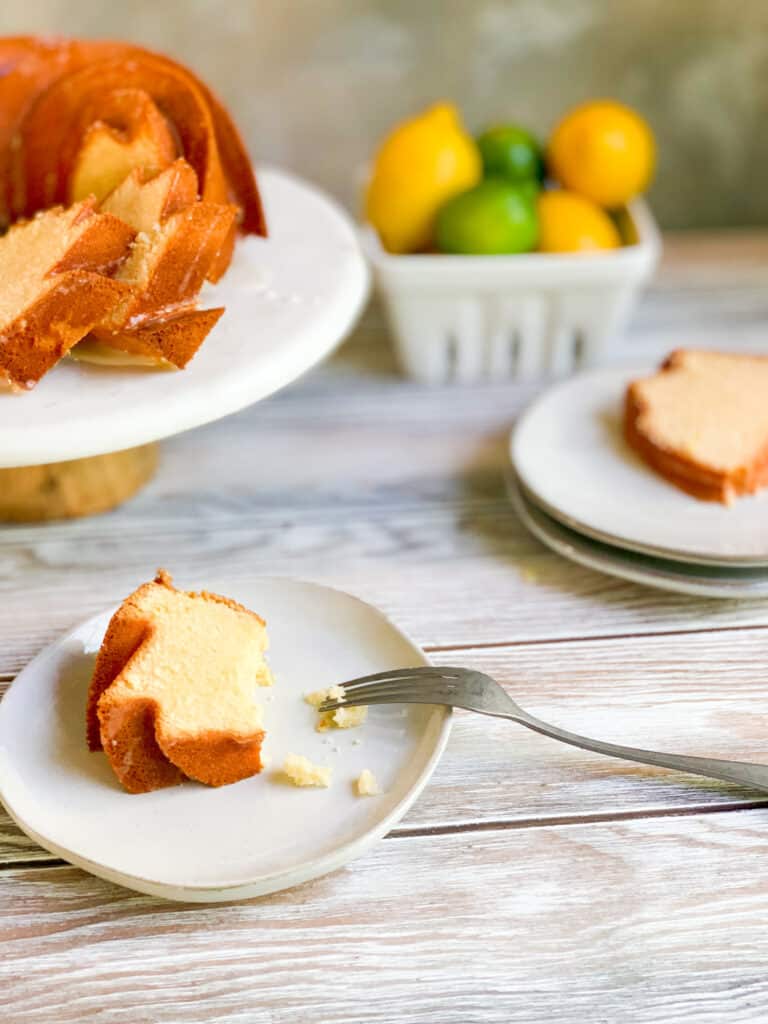 ---
Tools Needed
Standing mixer or hand mixer
Zester
Bundt pan or tube pan
---
More Dessert Recipes to Try
Print
1 ½ cups of unsalted butter (3 sticks), room temperature
3 cups sugar
5 eggs, room temperature
1 teaspoon vanilla
1 teaspoon lemon zest
Juice of 1 lemon
3 cups flour (all-purpose or cake), spooned and leveled
½ teaspoon salt
¾ cups of 7UP soda, room temperature is best
Glaze:
1 ½ cups confectioners' sugar
1 tablespoon lemon juice
1 teaspoon lime juice
1 to 2 tablespoons 7UP soda
¼ teaspoon each of lemon & lime zest, optional
---
Instructions
Preheat oven to 325. Grease and lightly flour a 10-12 cup bundt pan or tube pan (without the removable bottom).
In a stand mixer fitted with a paddle attachment, or using a handheld mixer, beat butter on low speed for 2 minutes then add sugar. Cream butter and sugar together until light and fluffy, about 20 minutes. While Butter and sugar are creaming zest and juice lemon and lime and gather dry ingredients.
Add eggs, one at a time until just incorporated at low speed. The egg should be incorporated before adding the next egg. Scrape down the sides as needed. Don't over mix. Add vanilla, zest, and lemon juice and mix for about 30 seconds. The mixture will look a little curdled but this will leave once the flour is combined. At low speed, add flour to the butter mixture and mix until just combined. Fold in 7Up.
Pour batter into a well-greased and lightly floured bundt pan or tube pan. Bake 1 hour to 1 hour & 10-15 minutes. Check at the hour mark. The cake is done when the toothpick inserted in the middle comes out clean.
Glaze: Combine all ingredients and whisk until there are no clumps.
Let cake sit in about 10 minutes, remove from pan, and place on a cooling rack until completely cooled. Eat plain, top with berries, or drizzle with glaze.