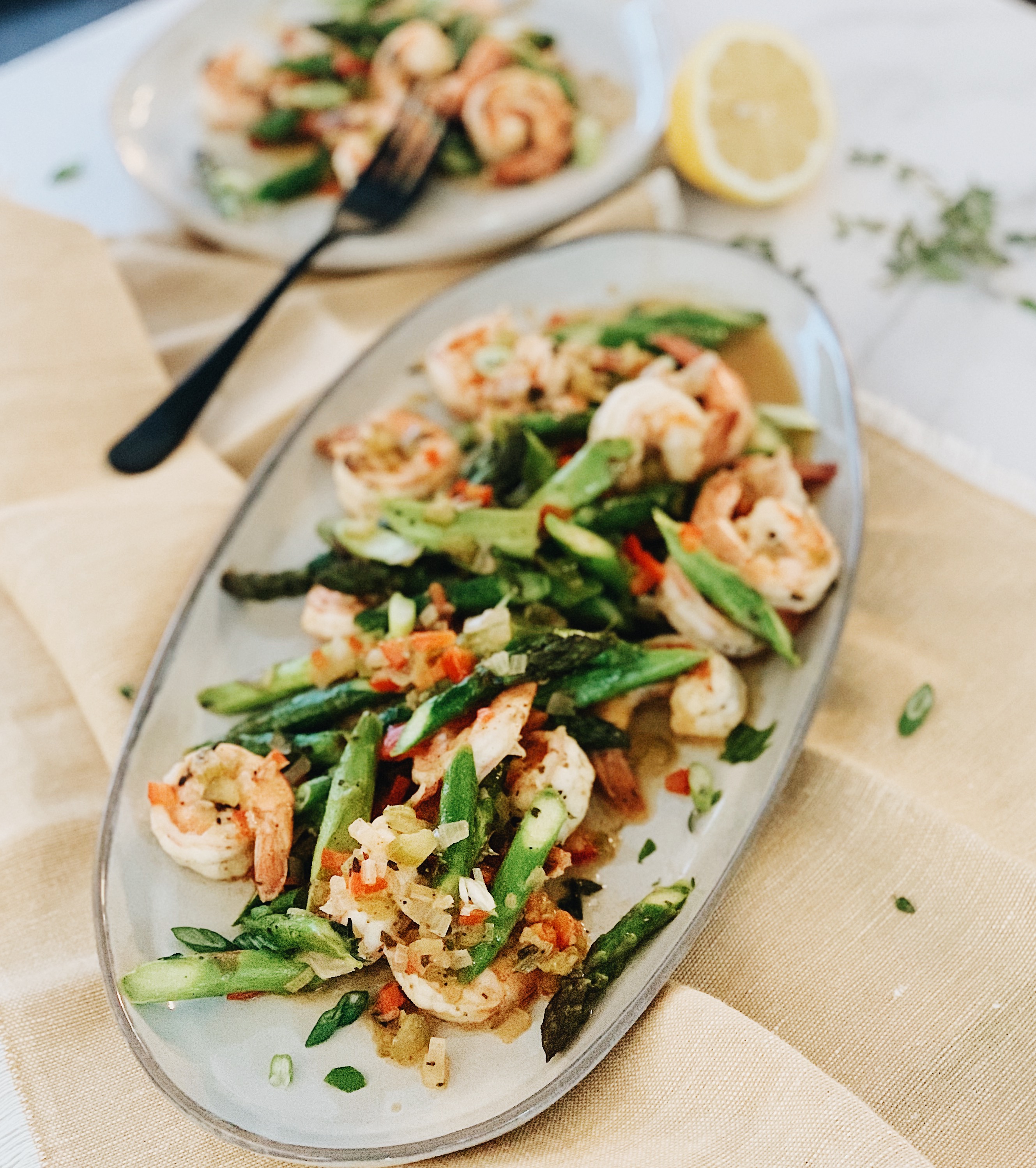 My husband and I fell in love by our mutual love for cooking and eating good food. Cooking together has been an intimate affair of getting to know one another, bond, have fun, and create some amazing memories. With Valentine's Day a few days away, ditch the crowded restaurants, stay in, cook together, watch a romantic film, and indulge in my shrimp and asparagus wrapped in a buttery wine sauce.
You will literally be eating something sexy when you eat this dish because asparagus is an aphrodisiac. Not only is asparagus healthy but because it is rich in folate, a B6 vitamin that helps increase the production of histamine, it boosts desire. See where I'm going?
"Sharing food with another human being is an intimate act that should not be indulged in lightly." ― M.F.K. Fisher
This recipe calls for "dry white wine" and although it may be tempting to grab a "cooking" wine, DON'T DO IT! "Cooking" wines contain salt and other additives so it's better to get a good inexpensive "drinking" wine. A dry white wine is simply a wine that is not sweet. For cooking, you want a "crisp" wine which means that it has high acidity. Dry white wines that are crisp include Pinot Grigio, Pinot Gris, Sauvignon Blanc, Pinot Blanc, and dry sparkling wines. Chardonay is good for drinking but a bit too oak-y for cooking and can get bitter when cooked. Be sure not to grab it. For this dish, I like using a Savignon Blanc but feel free to choose any of the the crisp wines I mentioned above.
Are you ready to get cooking? The tender asparagus accompanied by succulent shrimp, white wine, and chili pepper (also a desire booster) all mingle together to make this a luscious dish to remember and hopefully a Valentine's Day you and your boo don't forget. Pair this with herb roasted red potatoes or serve over some linguine with shaved parmigiano reggiano. Enjoy and eat well!
Print
Shrimp & Asparagus in Buttered Wine Sauce
---
1 pound of shrimp shelled (shells reserved)
1 pound of asparagus, trimmed
1 shallot chopped
⅓ cup of red bell pepper seeded and chopped
1 celery stalk chopped
½ teaspoon dried basil
1 large bay leaf crushed or ground into small pieces
1 teaspoon fresh thyme
¼ teaspoon red pepper flakes
½ teaspoon paprika
1 ½ teaspoons of Worcestershire sauce
2 tablespoons of fresh lemon juice
½ cup dry white wine
½ cup shrimp stock or chicken broth
1 teaspoon kosher or sea salt plus more to taste if needed
½ stick + 1 tablespoon of butter
1 tablespoon of olive oil
Kosher salt and pepper to taste
---
Instructions
Combine basil, thyme, pepper flakes, bay leaf, and paprika to a small bowl and set to the side.
Season shrimp with kosher salt and pepper about teaspoon each and 1 tablespoon of olive oil. Toss and set to the side.
Slice the asparagus on a sharp diagonal about 1-1 1/2 inch thick, leaving the tips whole. Heat a large skillet on medium heat. Once the skillet is hot, add 3 tablespoons of butter. When butter is melted add asparagus and sprinkle with salt and pepper. Sauté for about 3-4 minutes. Remove and set to the side.
In the same skillet add shrimp and sauté until the shrimp just turns pink, about 4-5 minutes. Remove and set to the side with asparagus.
Add 2 tablespoons of butter to the skillet. Add bell pepper, celery, shallot and sauté until they start to soften, about 4-5 minutes. Stir in seasonings, shrimp broth, and wine . Simmer for about 7-10 minutes.
Add shrimp and asparagus back to sauce, salt and pepper to taste, and heat through, about 5-7 minutes.