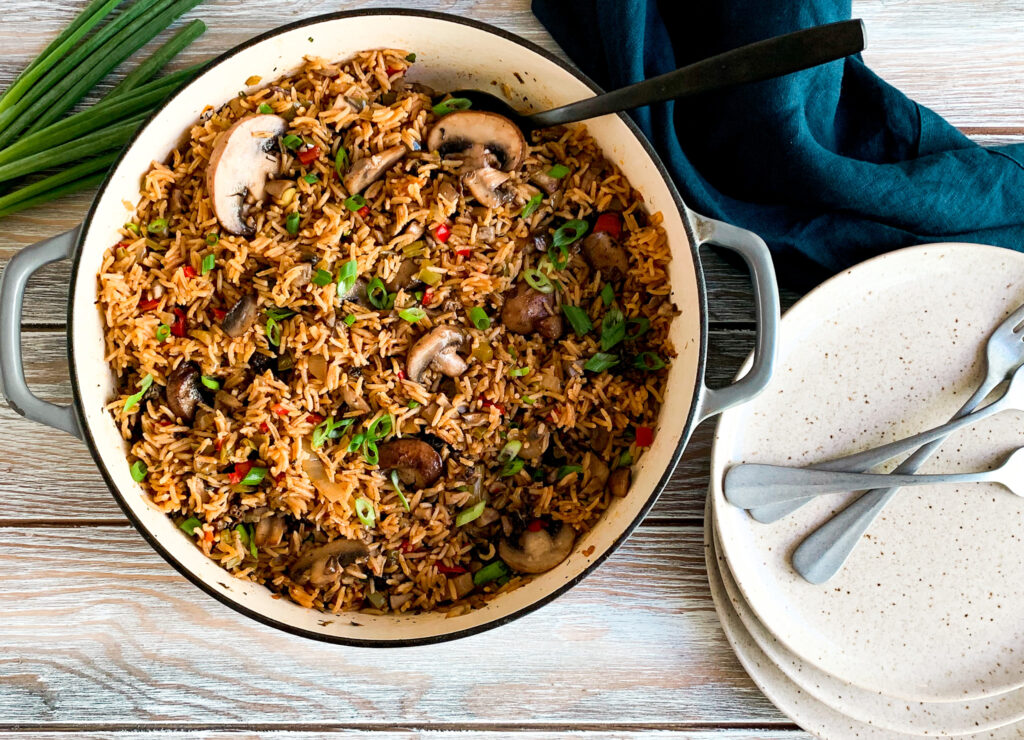 Packed with Meaty mushrooms, basmati rice, and miso, this flavorful dirty rice will fill your belly and give you life!
What is Dirty Rice?
Dirty rice is a Creole rice and meat one-pot powerhouse, packed with flavor and can be eaten as a main dish or side. Wondering why they call it "dirty"? The rice is considered "dirty" because of the color the rice gets from being cooked with different meats such as chicken livers and ground beef or pork. It has the usual suspects of the holy trinity (onion, bell pepper, and celery) and gets a kick from Creole seasonings. Now traditionally, this dish is filled with flavorful meat but I'm a rebel so we're switching out the meat for a trio of meaty mushrooms and some other surprise flavors which level up this dish's umami and makes it oh so yummy. Keep on reading!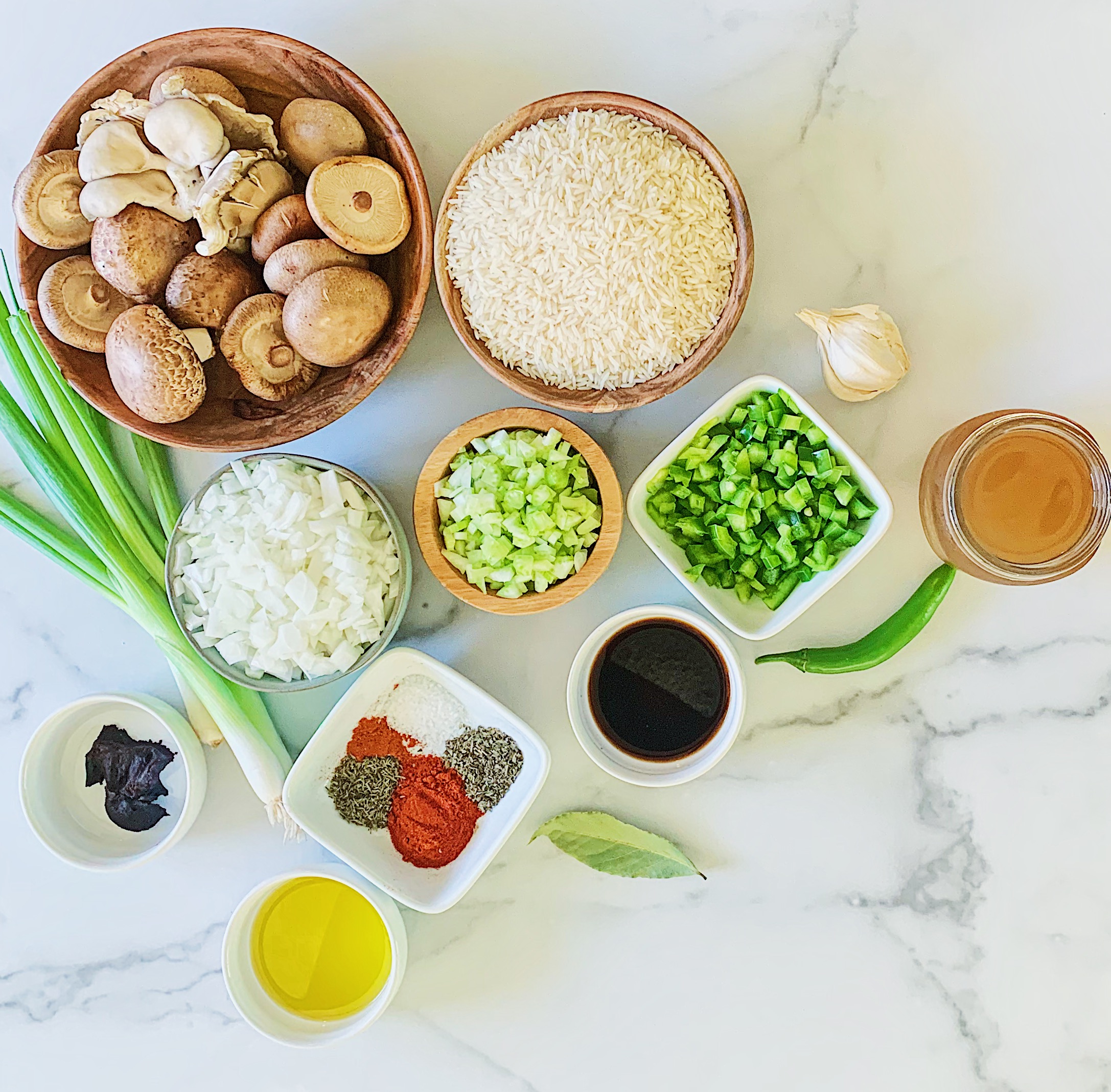 Southern Comfort From A Few Ingredients
Really good dirty rice, whether with meat or without, is all about creating POPPIN' flavor from a few ingredients. Here's what you'll need to make this easy mushroom dirty rice.
Long Grain Rice-Any long grain rice will work with this recipe but I like using basmati rice. Basmati rice gives a nutty, unique and slightly floral flavor and its texture is softer than most other long-grain varieties which make for a lighter, fluffier result. You can also substitute brown rice—I suggest getting brown basmati rice—or you can give quinoa a go as well. Note that cooking times will need to be adjusted.
Mushrooms- You can definitely use just one type of mushroom but why not get a variety? For this recipe, I'll be using cremini, shitake, and oyster mushrooms. If you can't find any of these button mushrooms—white mushrooms—work just fine.
Vegetable or chicken broth. You can keep this vegan by using veggie broth or water as your cooking liquid but if chicken is your thing, go for it!
Seasonings- Dried basil, dried thyme, cayenne pepper, paprika (smoked or sweet), and bay leaf.
Worcestershire & Miso- Are you saying to yourself, "I know Worcestershire sauce but what the heck is Miso?" I gotchu! Learn more about miso below.
Green Onion
Hold up, What Is Miso (Mē-sō)?
I know you're thinking, " Stef, you keep talking about miso so what the heck is it already and why is it in this dish?" Okay okay, so I have to admit that miso is not a traditional southern staple. I like playing around with flavor and trust me this little surprise addition will have you saying, "Oh miso hungry!" Get it? Y'all know I can be corny sometimes.
The quick and dirty on miso is that it is a fermented soybean paste (sometimes it can be combined with rice ) that is a key ingredient in Japanese cooking. It's a little bit earthy, salty, funky; it can be dark or light; it's deep flavors get better with time.
How To Make Mushroom Dirty Rice
Alright, now let's put this thang together! Now is the time for a little technique to ensure your rice is flavorful and fluffy. Here are the easy-peasy steps to make mushroom dirty rice:
Rinse the rice. Don't skip the rinse! Taking a little time to rinse these grains will help ensure your rice is fluffy and separated. Nobody likes gummy rice, right!?
Warm some oil/butter in a large skillet or dutch oven, add your trio of mushrooms, and sauté and until tender and slightly browned. Remove and set to the side.
In the same large skillet or dutch oven, warm a little more oil/butter. Add in the trinity and sauté until translucent. Add in garlic and serrano pepper.
Add seasonings, Worcestershire, and miso; stir to combine. Add rice and stir to combine. Last, add in broth and bring the whole thing to a boil.
Simmer! Lower the heat so that it is just simmering, cover and simmer for about 15-20 minutes.
When the rice is cooked, add the mushrooms, green onions and give it a fluff with a fork. After you've given the rice a quick fluff, cover with the lid and let sit for 10 minutes.
Eat this as your main or as a side piece. Hey, this would be perfect with my easy-peasy Drop Biscuits!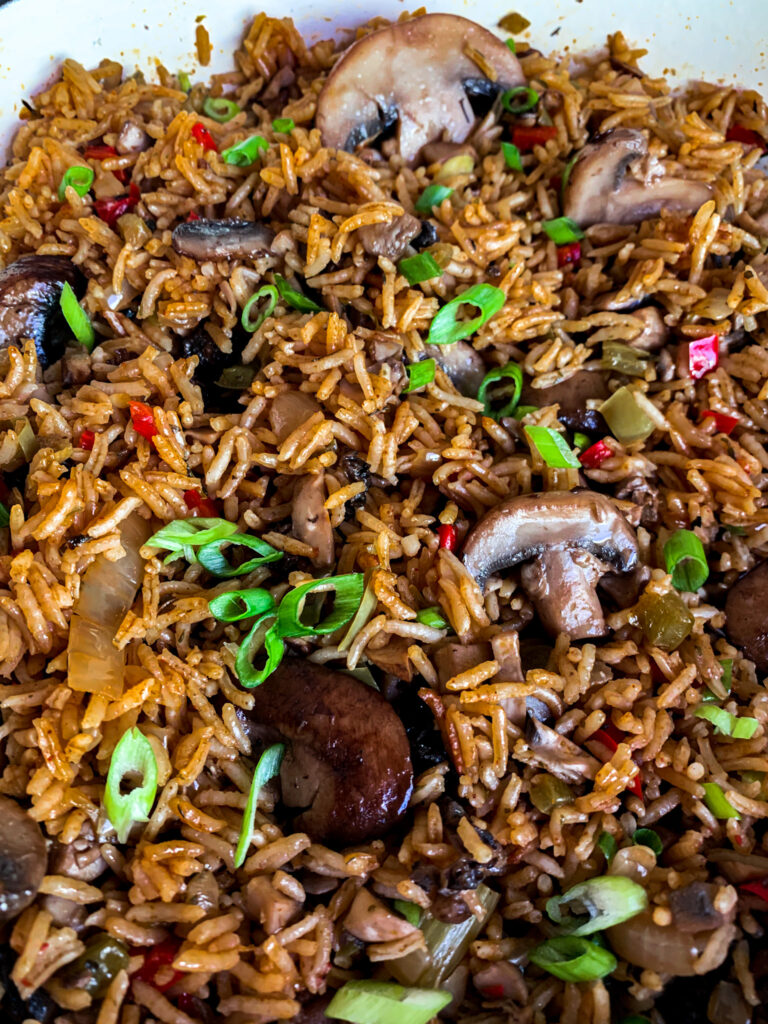 Tools Needed:
Love My Flavor Rich Mushroom Dirty Rice?
Did you think my umami-packed dirty rice is BOMB!? Show me what you're working with and tag @savorandsage and #savorandsage so I can see all your dirty rice goodness.
Print
4 tablespoons dairy/vegan butter or grapeseed or olive oil
1 pound of assorted mushrooms, rough chopped (such as cremini, shiitake, button, oyster, porcini)
½ large white onion chopped
½ green bell pepper seeded and
chopped
1 celery stalk chopped
½ serrano pepper seeded and chopped
3 cloves of garlic chopped
½ teaspoon dried basil
½ teaspoon dried thyme
¼ teaspoon cayenne pepper
2 teaspoon smoked paprika
1 large bay leaf
2 teaspoons of miso paste (white or red)
2 teaspoons of Worcestershire sauce
1 ½ cups long-grain rice, such as basmati
2 ½ cups of broth (vegetable or chicken)
salt & black pepper to taste
2 green onions, sliced thin
---
Instructions
1. Rinse rice and set it to the side. Combine basil, thyme, cayenne, paprika in a small bowl and set to the side.
2. Heat a large heavy-bottomed skillet on medium heat. Once the skillet is hot, add 2 tablespoons of butter/oil. Add in mushrooms and sprinkle with ½ teaspoon of salt. Sauté for 8 to 10 minutes until they are golden brown. Remove from the pan and set to the side.
3. Add 2 tablespoon oil/ butter to pan then add bell pepper, celery, onion and sauté until they start to soften about 4-5 minutes. Stir in the garlic, serrano chile, and cook for about 30 seconds. Stir in the bowl of seasonings, miso, Worcestershire, and rice. Make sure rice is coated with seasonings. Add in broth and bay leaf.
4. Bring to a boil. Reduce heat, cover, and simmer for 15-20, or until liquid is absorbed and rice is tender. If the rice is still too firm, add a few more tablespoons of water and continue cooking for a few minutes more.
5. Remove from stove, remove the lid, and toss in mushrooms and green onions and fluff. Put the lid back on and let sit for 5-10 minutes.
6. Enjoy!
Prep Time: 15
Cook Time: 20
Category: Main