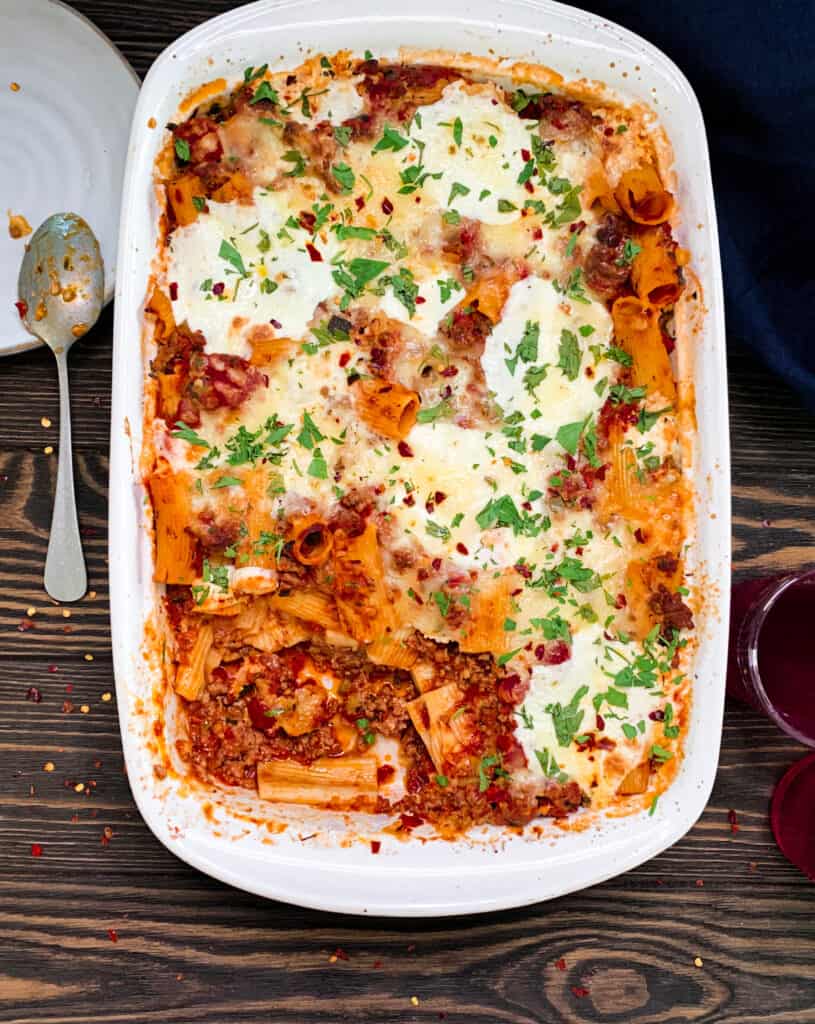 This baked rigatoni gives lasagna vibes but it's much easier! Have company coming over? Make this dish. Want leftovers you can freeze and eat whenever you want? This is the dish for you! Packed with a meaty spicy tomato sauce, pasta, and oozing with three kinds of cheese. Are you ready for the best cheesy creamy goodness ever?! Let's eat!
Print
Spicy Baked Rigatoni
Author: Stefani Renée
Prep Time: 30
Cook Time: 37
Total Time: 1 hour 7 minutes
Yield: 8 1x
Category: Main
12 oz of rigatoni
1 pound ground beef
½ pound, hot Italian sausage, casings removed
1 24 oz Tomato purée
1 15 oz can diced tomatoes
½ cup cream 
2 teaspoons dried oregano
1 teaspoon dried thyme
1 teaspoon dried basil
1 teaspoon garlic powder
1 teaspoon paprika
1 teaspoon sugar
½ teaspoon of red pepper flakes
½ teaspoon salt
8 oz mascarpone cheese
8 oz fresh mozzarella sliced
2  cups pepper jack cheese, shredded
Pepper to taste
Instructions
Preheat oven to 400°F
Cook the pasta right before it's al dente in salted water. 1 pound of pasta = 1 tablespoon salt: 4 quarts (16 cups) water.
In a large dutch oven or soup pot set over medium-high heat. Brown the ground beef, sausage, onion, bell peppers, and garlic. Drain the fat if there is an excess of it.
Add the tomato purée, diced tomatoes all seasoning, sugar, and heavy cream, stir until combined. Simmer for 15 minutes. Reserve about a cup of sauce.
Drain the pasta, rinse it if it gets stuck together. Combine pasta and sauce. Transfer half of the pasta and sauce mixture to a 9×13 baking dish for your first layer.. Dollop half of the mascarpone throughout the dish. Add some of your mozzarella slices and sprinkled pepper jack. Add remaining pasta and sauce mixture and top with reserved sauce. Cover with foil and bake for 20 minutes. 
Remove from oven and remove foil. Add remaining cheeses and place bake in the oven, uncovered, for 15-17 minutes until lightly browned and bubbly. 
Remove from oven. Let set 5-10 minutes before serving.