All you need are 5 ingredients, 30 minutes, and an appetite for this yummy, healthy, and pantry friendly dish!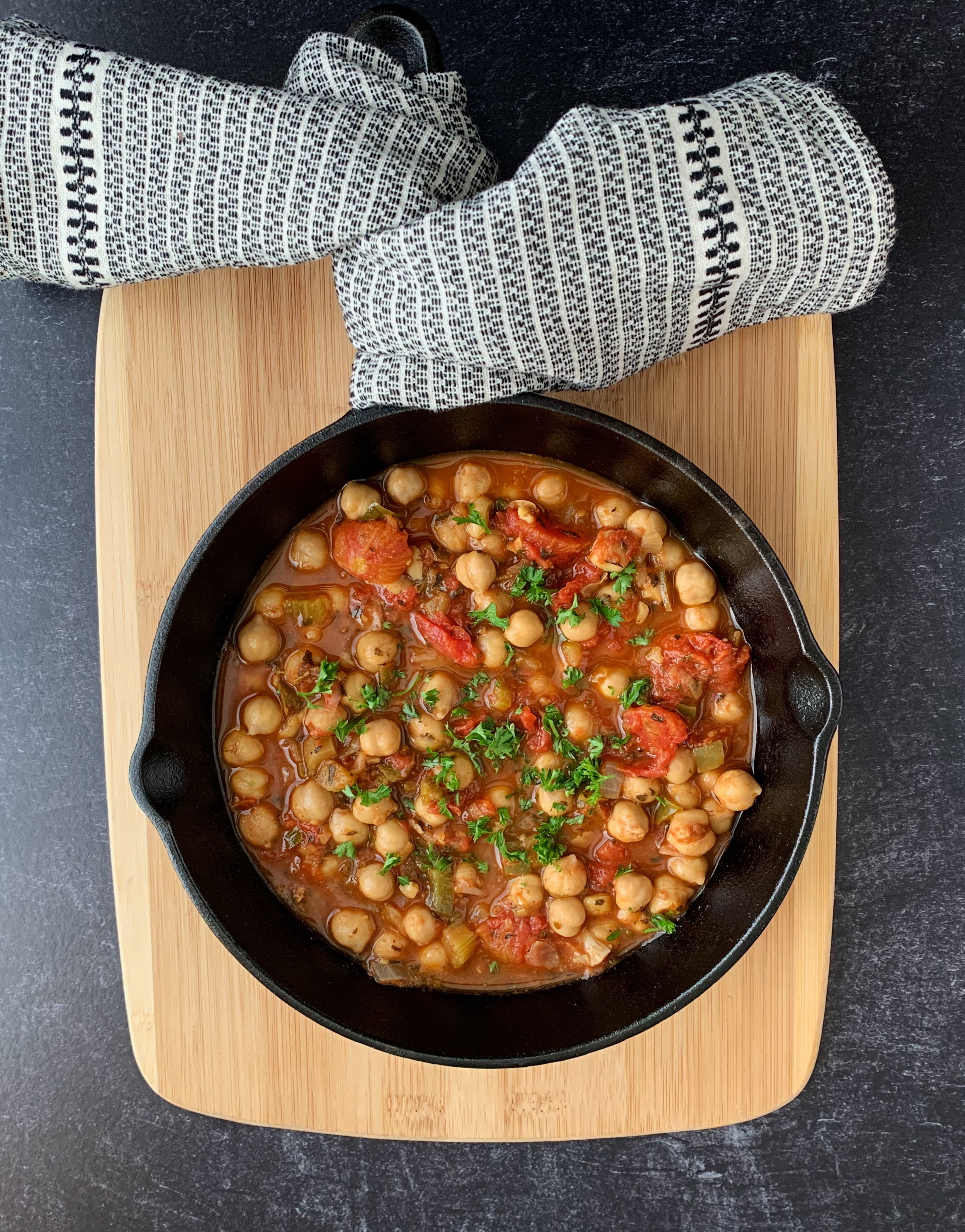 A 5 INGREDIENT DISH?
That's right! All you really need for this super quick and tasty dish are five key ingredients that you probably already have in your pantry. I've zhuzh'd it up a bit with a few extras, but all you really need are these five ingredients:
Oil (choose your fave or you can use butter too! )
Onion (if you want the holy trinity, add bell pepper, and celery)
Chickpeas
Tomatoes (I used diced but whatever you have on hand works)
Broth (sub in some dry white wine to add a little something extra!)
Really, when I think about it, the broth can be optional but if you have some broth readily available, it's going to add another depth of flavor. So, if you have these 4 or 5 ingredients, throw in some smoked paprika, thyme, and of course salt and pepper—YOU'RE ALL GOOD! This recipe is a template that you can riff on based on whatever you have in your pantry so have fun with it and make it yours!
HOW DO YOU MAKE BRAISED CHICKPEAS?
Don't let the "B" word scare you! Braising chickpeas or any other bean is super easy. All it means is that you're searing/sauteing (dry heat) then cooking slowly in a liquid (moist heat). See, easy peasy, right? The beans soak up all that tomato-y goodness and this dish is very reminiscent of my Chicken Creole recipe. Here's how you cook it:
Warm your oil/butter over medium heat and cook your aromatics and spices
Add your chickpeas
Add the tomatoes
Add your broth, wine, or skip them both
Let all that goodness simmer about 15 minutes and viola! TIME TO EAT!
WHAT TO SERVE WITH BRAISED CHICKPEAS?
If you have some other veggies lying around like kale, chard, or zucchini—throw those in. Eat your braised chickpeas solo or with roasted chicken, and grab your favorite bread—I'm thinking johnny/hoe cakes-form of cornbread or crusty French bread—serve over rice or try it with some cheesy grits as I did.
SPICY BRAISED CHICKPEAS
by Stefani Renee
---
INGREDIENTS
4 servings
3 tablespoons oil (olive, grape seed) or butter
1 medium yellow onion chopped ( if you want to make the holy trinity add ½ green bell pepper + 1 celery stalk chopped)
3 cloves of garlic chopped
2 cans of chickpeas (15.5 oz each), drained and rinsed
1 can diced tomatoes in juice
1 cup of water or homemade or good quality vegetable or chicken broth
1 teaspoon dried thyme
½ teaspoon red pepper flakes (optional but add more if you really want a kick)
1 teaspoon smoked paprika
1 large or 2 small bay leaves (optional)
salt & black pepper plus more or less to taste if needed
---
METHOD
1. Combine all sour spices in a small bowl and set to the side.
2. Heat a large heavy-bottomed skillet on medium heat. Once the skillet is hot, add oil/butter. Add your onion and sauté until they start to soften, about 4-5 minutes. If you're using bell pepper and celery you can toss those in with the onion.
3. Stir in the garlic and cook about 30 seconds. Add in the bowl of seasonings and chickpeas. Add tomatoes, broth, and bay leaf. Cook until vegetables are tender and the tomatoes start to thicken and get saucy, about 15-20 minutes. Remove and discard the bay leaf.
4. If you want to add greens (kale, chard, collard) or zucchini, add them toward the end of the cooking time, the 15-minute mark, cook another 5-7 minutes, or until they are tender.