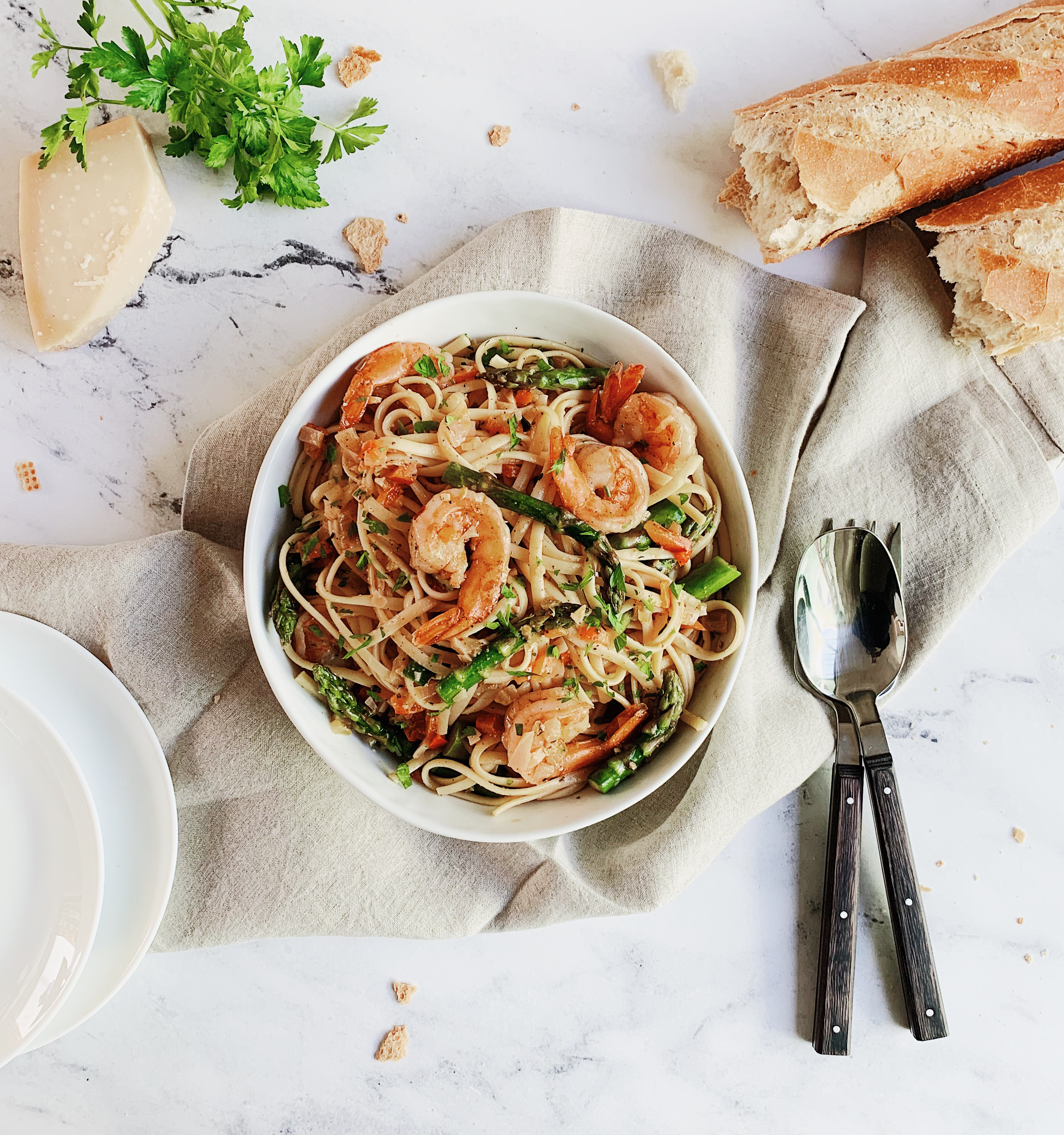 Have you been looking for a yummy seafood pasta dish? Look no further because this shrimp and asparagus pasta is going to hit the spot. TRUST!
Shrimp+ Asparagus+ Pasta+= A Party in Your Mouth
This shrimp pasta recipe is BANGIN' with flavor—it's a little spicy, a little creamy, and has a rich shrimp-y flavor. You don't need to spend a ton of time in the kitchen but it looks like you did —great for company, date night, or just dinner with the family.
What Type of Wine Should I Use?
This recipe calls for "dry white wine" and although it may be tempting to grab a "cooking" wine, DON'T DO IT! "Cooking" wines contain salt and other additives so it's better to get a good inexpensive "drinking" wine. A dry white wine is simply a wine that is not sweet. For cooking, you want a "crisp" wine which means that it has high acidity. Dry white wines that are crisp include Pinot Grigio, Pinot Gris, Sauvignon Blanc, Pinot Blanc, and dry sparkling wines. Chardonnay is good for drinking but a bit too oak-y for cooking and can get bitter when cooked. Be sure not to grab it. For this dish, I like using a Savignon Blanc but feel free to choose any of the crisp wines I mentioned above.
Let's Talk Ingredients
This is one of the quickest and easiest pasta recipes you'll ever make and it's OH SO GOOD! You only need a few ingredients so let's take a look at what you need to make this delicious meal:
Linguine
Olive oil
Butter
Shrimp
Asparagus
Trinity: Subbing in a shallot for an onion, red bell pepper, celery.
Garlic
Fresh thyme
Worcestershire sauce
Lemon
White wine: Try a Sauvignon Blanc, Pinot Grigio, Pinot Gris, or Pinot Blanc
Shrimp stock or chicken broth
Heavy cream
Parmesan Reggiano
Tools You'll Need:
Large skillet.
Sharp knife.
You'll need a paring knife to devein the shrimp.
Cutting board.
Coffee grinder or mortar & pestle
Print
Shrimp & Asparagus Pasta
Author: Stefani Renee
Prep Time: 10
Cook Time: 30
Total Time: 40 minutes
Yield: 4-6 1x
Category: Pasta
Cuisine: American
1 pound of linguine, cooked according to the package
2 tablespoons of olive oil
1 ½–2 pounds of shrimp, shelled and deveined (shells reserved)
1 pound of asparagus, trimmed
1 shallot chopped
1 red bell pepper seeded and chopped
1 celery stalk chopped
2 cloves of garlic, minced
2 teaspoons of fresh thyme, chopped
1 ½ teaspoon of Worcestershire sauce
2 tablespoons of fresh lemon juice
½ cup dry white wine, such as a Sauvignon Blanc, Pinot Grigio, Pinot Gris, or Pinot Blanc
1 cup shrimp stock or chicken broth
¼ cup of heavy cream
1 teaspoon kosher plus more to taste if needed
Freshly cracked pepper to taste
½ stick + 1 tablespoon of butter
¼ cup of parmesan, grated
Spice Blend
2 teaspoons paprika
1 teaspoon garlic powder
1 teaspoon dried oregano
1 teaspoon dried basil
½ teaspoon celery seed, ground
¼ teaspoon cayenne
Method: Place spices in a coffee grinder, or use a mortar and pestle, and pulse until you get a fine powder.
Instructions
Cook linguine pasta according to packed. Season water with 1 tablespoon salt.
Season shrimp with 2 teaspoons of the spice blend, 1 teaspoon each of salt and pepper, and 1 tablespoon of olive oil. Toss and set to the side.
Slice the asparagus on a sharp diagonal about 1-1 1/2 inch thick, leaving the tips whole. Heat a large skillet on medium heat. Once the skillet is hot, add 3 tablespoons of butter. When butter is melted add asparagus and sprinkle with salt and pepper. Sauté for about 4-5 minutes. Remove and set to the side.
In the same skillet add shrimp and sauté until the shrimp just turns pink about 3-4 minutes. Remove and set to the side with asparagus.
Add 2 tablespoons of butter to the skillet. Add bell pepper, celery, shallot and sauté until they start to soften about 4-5 minutes. Stir in seasonings, shrimp broth, wine, and cream. Simmer and reduce the sauce for about 10-12 minutes. Add parmesan and stir.
Add shrimp, asparagus, and linguine to the sauce and gently toss to combine. Salt and pepper to taste and heat through about 5-7 minutes.