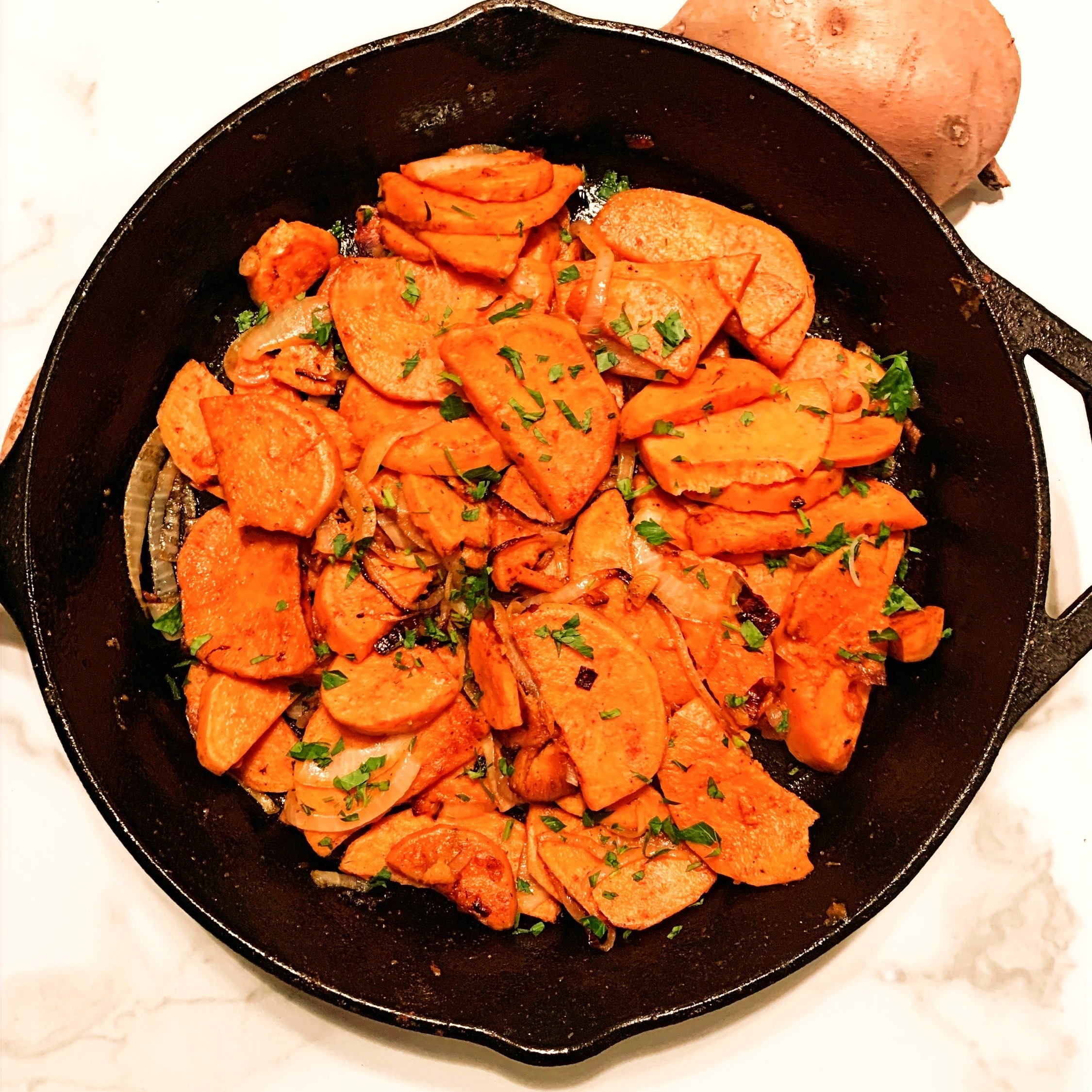 This is a savory sweet potato recipe and the only hint of sugar comes from the orange potato's natural sweetness as the potatoes and onions caramelize. I spice these up with cayenne, cumin, paprika, and sumac (adds a citrus flavor) but you can also add spices like ginger, cinnamon, and garlic. Let's get cooking! Enjoy and eat well.
Spicy Sweet Potatoes & Onions
by Stefani Renee
---
INGREDIENTS
2-4 Servings
2 sweet potato yams, sliced in 1 inch thick half moons
½ yellow onion sliced
½ teaspoon smoked paprika
¼ teaspoon cayenne pepper + more to taste
¼ teaspoon cumin
A sprinkle of sumac (optional)
Kosher salt & pepper (to taste)
Olive oil, butter, or other good quality cooking oil
---
METHOD
1. Gather the ingredients.
2. Slice your sweet potatoes in ½-1 inch thick half-moons.
3. Heat a thin layer of your preferred oil or butter in a large skillet, frying pan or cast-iron skillet. I use a little olive and butter. Medium-medium high heat and adjust as needed.
4. Once hot, place sweet potatoes in your skillet and sprinkle with your seasonings.
5. Allow sweet potatoes to cook until slightly tender, about 7 to 10 minutes, then add your onions and gently combine. Add more oil/butter as needed.
6. Continue cooking your sweet potatoes and onions 10-15 minutes or until tender and caramelized.
Side Notes:
1. Serve as a side dish.
2. You can also try other spices like garlic, cinnamon, curry, or ginger.
3. Garnish with chopped parsley to make it look a little fancy ????