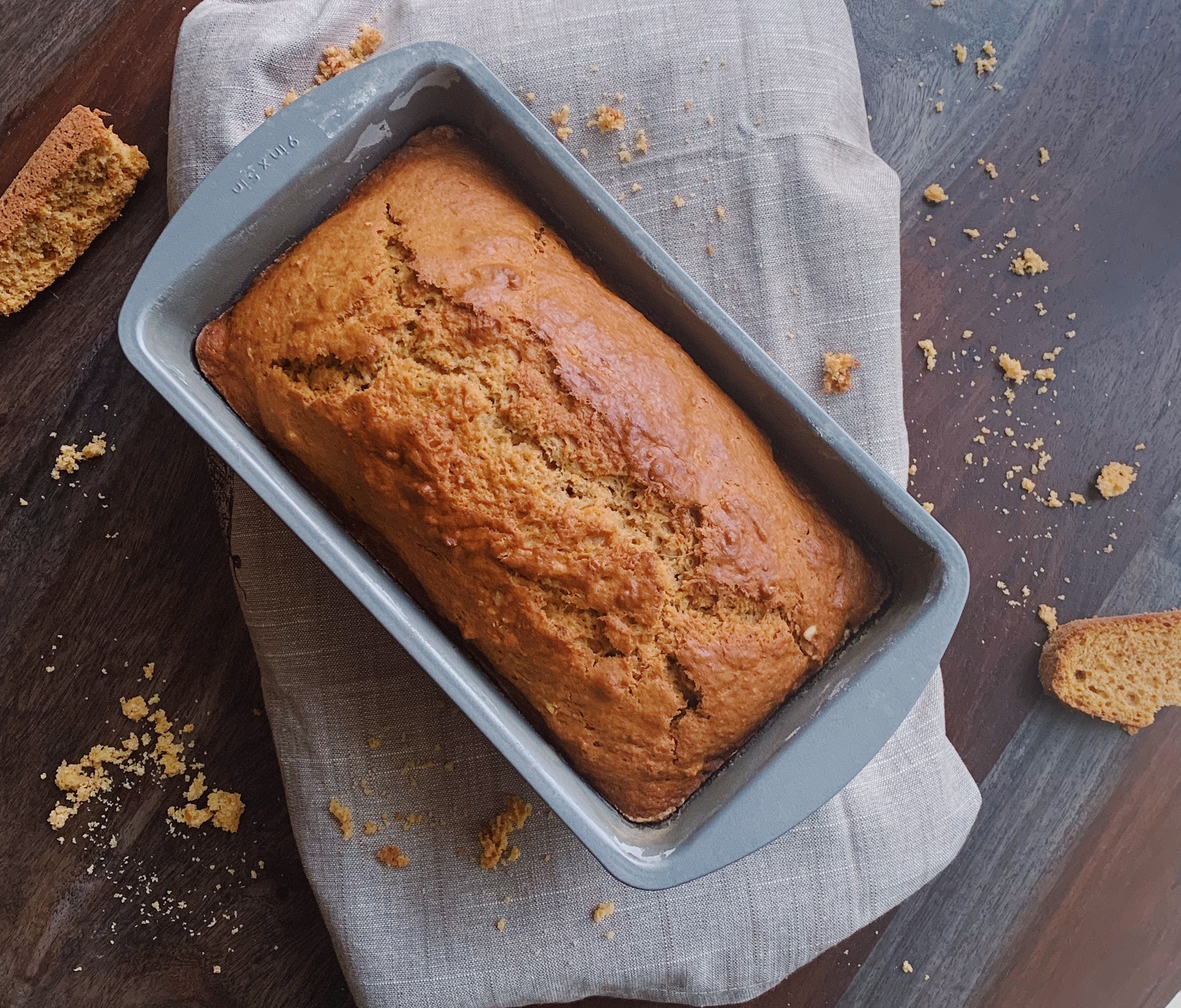 I love quick bread! Why? Because they're quick! It doesn't take much to whip a loaf together, there are no fancy ingredients and you likely have all you need right in your kitchen. You can eat quick bread for breakfast (try it with cream cheese or your favorite preserve), a snack, or if you're feeling a little jazzy, drizzle a little glaze over it or have it with ice cream for dessert.
So What Is A Quick Bread?
Quick bread is any bread that is leavened with baking soda or baking powder and not yeast. I bet you've probably already made a quick bread before. The "quick bread" family includes cornbread, muffins, cakes, brownies, banana bread…you see where I'm going.
A Few Things…
Remember that once your dry ingredients hit your wet ingredients, the baking powder/baking soda start working their magic so always make sure your oven is preheating while you're preparing your mix and don't forget to grease and flour your pan before you get to work with your other ingredients so it's ready to go once your batter is done. Last, don't over mix your batter. When a batter is overmixed, the bread will become dense and not so good.
Let's Go!
I had some sweet potatoes hanging around so I decided to bake some sweet potato bread. This is a super easy recipe that's even better once it sits a day. You can try variations by adding in cranberries, raisins, orange zest, or even a little molasses. Let's get baking! Enjoy and eat well.
Sweet Potato Bread
by Stefani Renee
---
INGREDIENTS
1 Loaf
1 large sweet potato yams, cooked and mashed
2 cups of flour
½ cup of granulated sugar
½ cup of brown sugar, packed
1 teaspoon of baking powder
1 teaspoon of baking soda
½ teaspoon of salt
¼ cup of butter, melted
¼ cup of vegetable oil
½ cup of buttermilk
2 large eggs, beaten
½ teaspoon of cinnamon
¼ teaspoon of nutmeg
4-5 whole allspice
½ cup of pecans, chopped (optional)
Softened butter and flour for the pan
---
METHOD
1. Gather the ingredients.
2. Preheat oven to 350°.
3. Butter 9×5 inch loaf pan. Dust with flour and tap and discard extra flour.
4. Cut your sweet potato in chunks. Fill a small pot with water. Add sweet potato and allspice. Allow sweet potatoes to cook over medium heat until tender. Mash and set to the side.
5. Add flour, baking soda, baking powder, granulated sugar, brown sugar, salt, nutmeg, cinnamon. Mix well with a fork or whisk.
6. Make a well in the center of the above mixture and add the mashed sweet potato, eggs, melted butter, oil, buttermilk, and vanilla. Fold in pecans.
7. Spoon batter into prepared pan. Bake for 50-60 minutes or until a toothpick inserted in the center comes out clean.
8. Cool for 5-10 minutes in the pan. Turn out onto a wire rack to cool completely.
Side Notes:
1. No buttermilk? No worries???? Take your ½ cup of whole milk and add ½ tablespoon of lemon juice or distilled white vinegar. Let stand for 5 minutes.
2. Make it vegan! If you're vegan, here are a few simple substitutes.
Milk substitute: Any non-dairy milk can be used in this recipe. Just remember that the flavor of the bread will change a bit depending on what non-dairy substitute you use. to make it non-dairy buttermilk, follow the directions above.
Egg substitute: You can use whatever your favorite egg substitute you use. One option can be to use chia or flax seeds which are chock full of omega-3 fatty acids and fiber.  When these seeds are ground and combined with water and a hint of baking powder, their fat and fiber thicken and mimic an egg's consistency. Method- 1 large egg replacement: Finely grind 1 tablespoon of chia or flax seed; add to a small bowl with 3 tablespoons of water; let sit 30 minutes before putting in the recipe, the mixture will have a gel-like consistency; right before adding to the recipe, stir in a pinch of baking powder.
Nix the butter: Instead of using ¼ cup of butter+¼ cup of vegetable oil, use ½ cup of vegetable oil or another oil such as coconut, grape seed, canola. The only oil I would probably stay away from is olive oil because it has a strong flavor.
3. You can try variations by adding in cranberries, raisins, orange zest, ginger or even a little molasses.