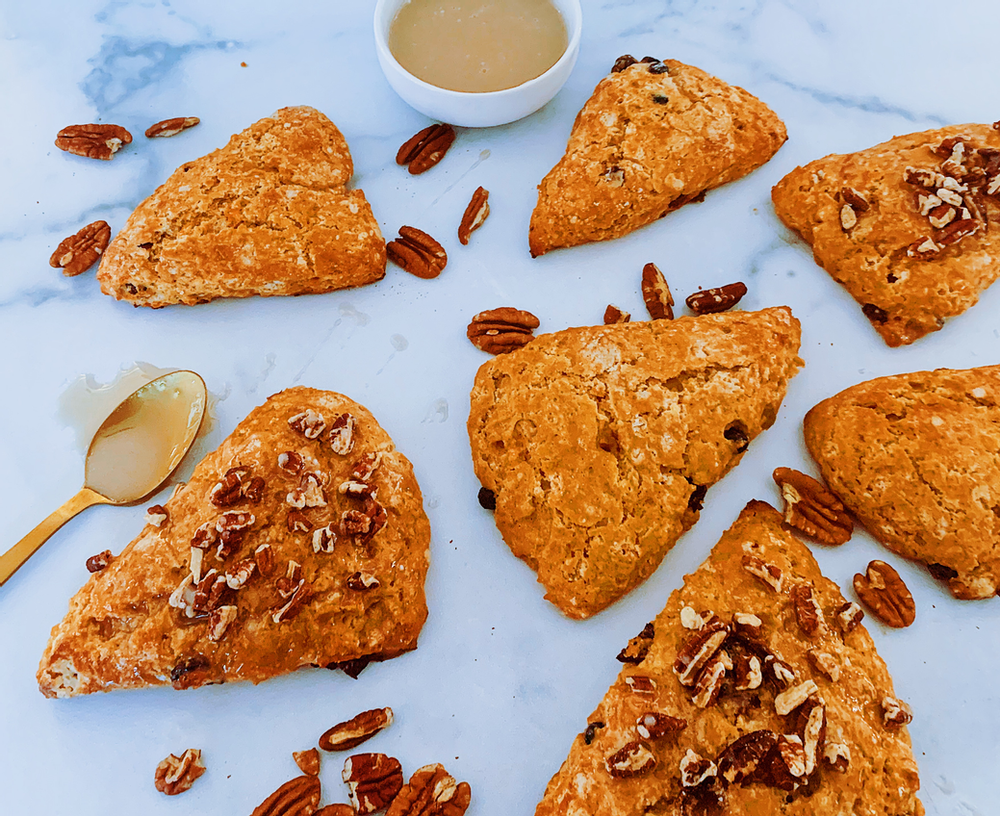 These moist sweet potato scones are spiced with cinnamon & nutmeg, hints of orange and cardamom, studded with cranberries, and topped with a divine maple-pecan glaze making them the perfect holiday, or any day, breakfast treat!
The Best Sweet Potato Scones, EVER!
I have a secret. I'm becoming a scone making queen! I had shied away from making scones because I thought they were super complicated but now, I'm making scones almost every weekend and I love them. The hubby loves them too! When it comes to Thanksgiving, we host a brunch with a twist on traditional Thanksgiving foods. There's always a sweet potato pie at the dinner so for a twist, these sweet potato scones are the perfect addition for your holiday breakfast or brunch. Moist, tender, and fragrant with orange and cardamom, these scones are the best straight from the oven and drizzled with my maple-pecan glaze.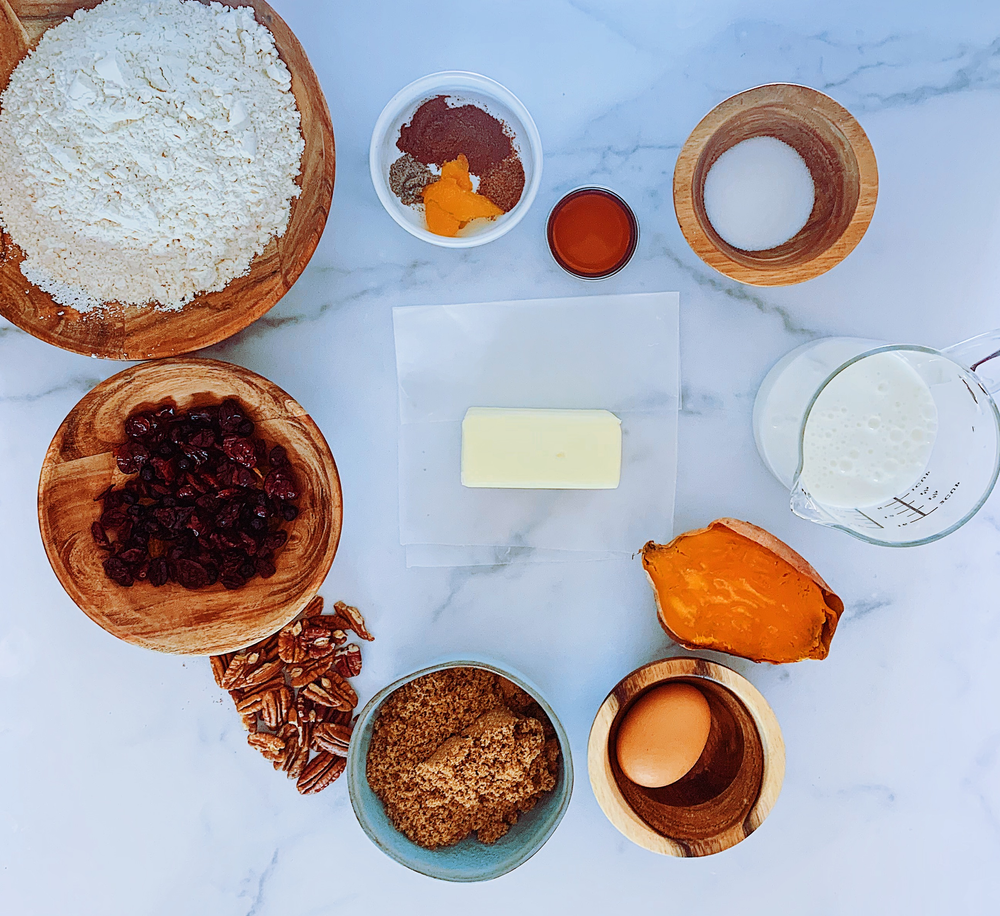 What Are Scones?
What's a scone, Stefi?", you ask. Great question and I did a little research. I gotchu! Scones are a quick bread and can be savory or sweet. There are many ,,regional variations of scones but for now, let's just talk English & American versions. Across the pond, scones are very similar to the American biscuit, tend to only have a slight sweetness, and can be paired with butter, jam, or clotted cream. American scones are a tad sweeter than English scones, contain more butter, and generally have extra goodies added in like dried fruits, nuts, or even chocolate chips! Ultimately, whether it's an English version, an American version, or something in between, a scone is a type of biscuit, and who doesn't like a biscuit?! So let's make these babies!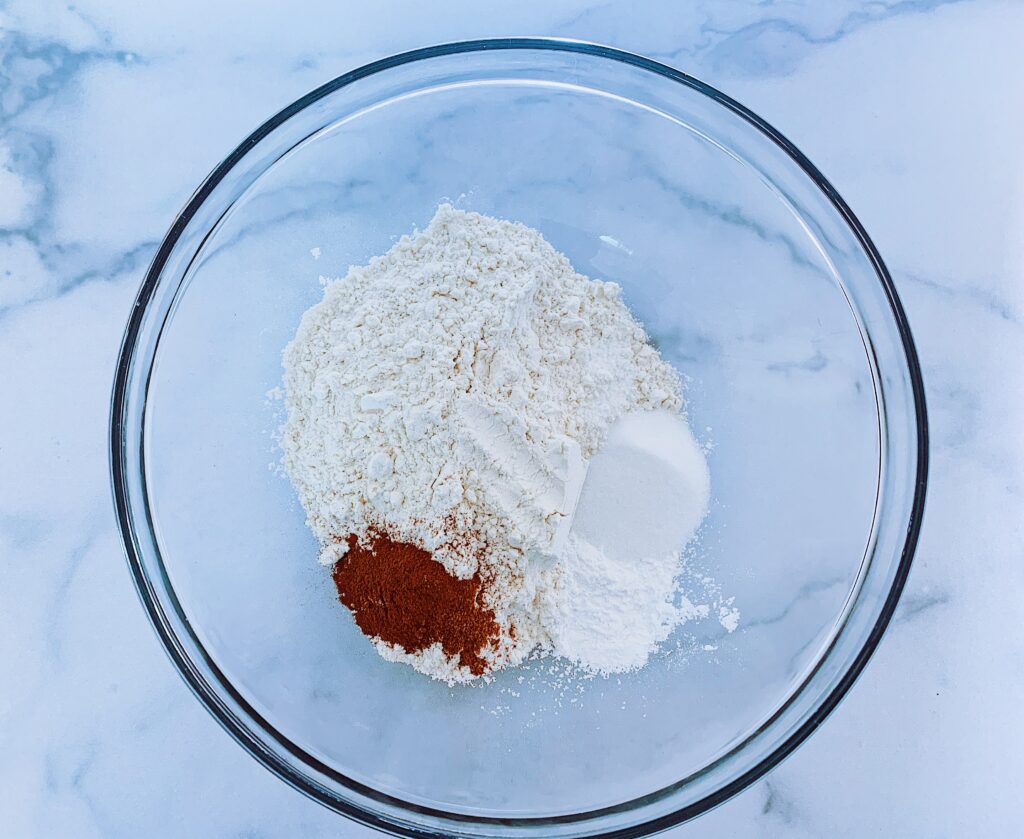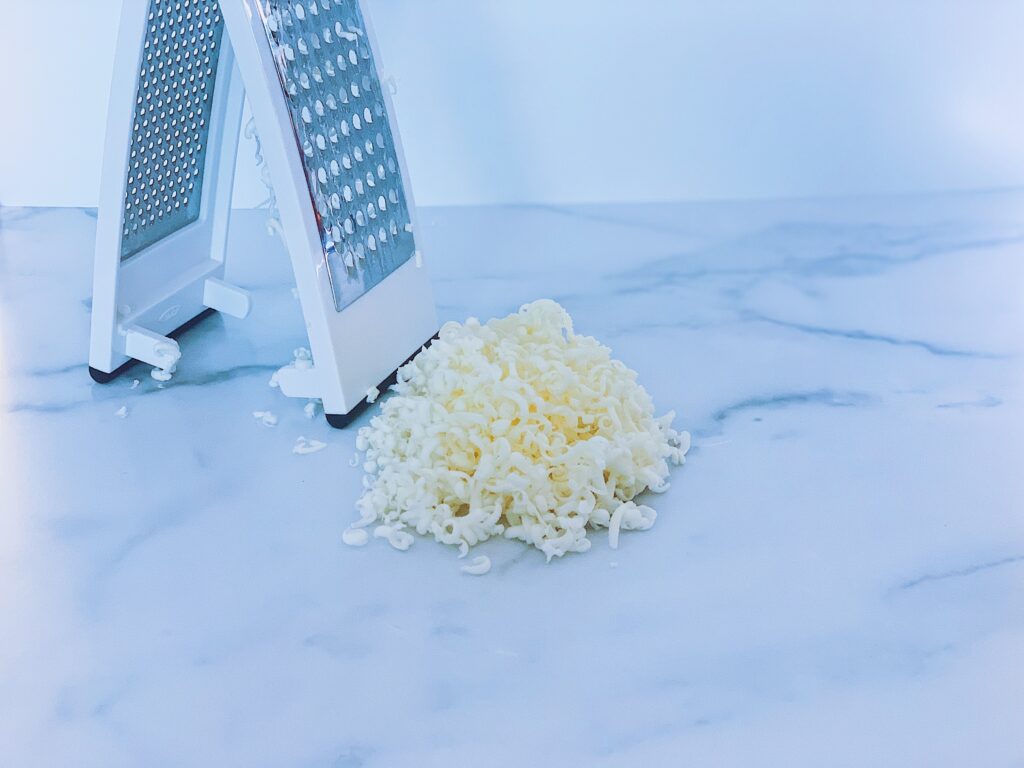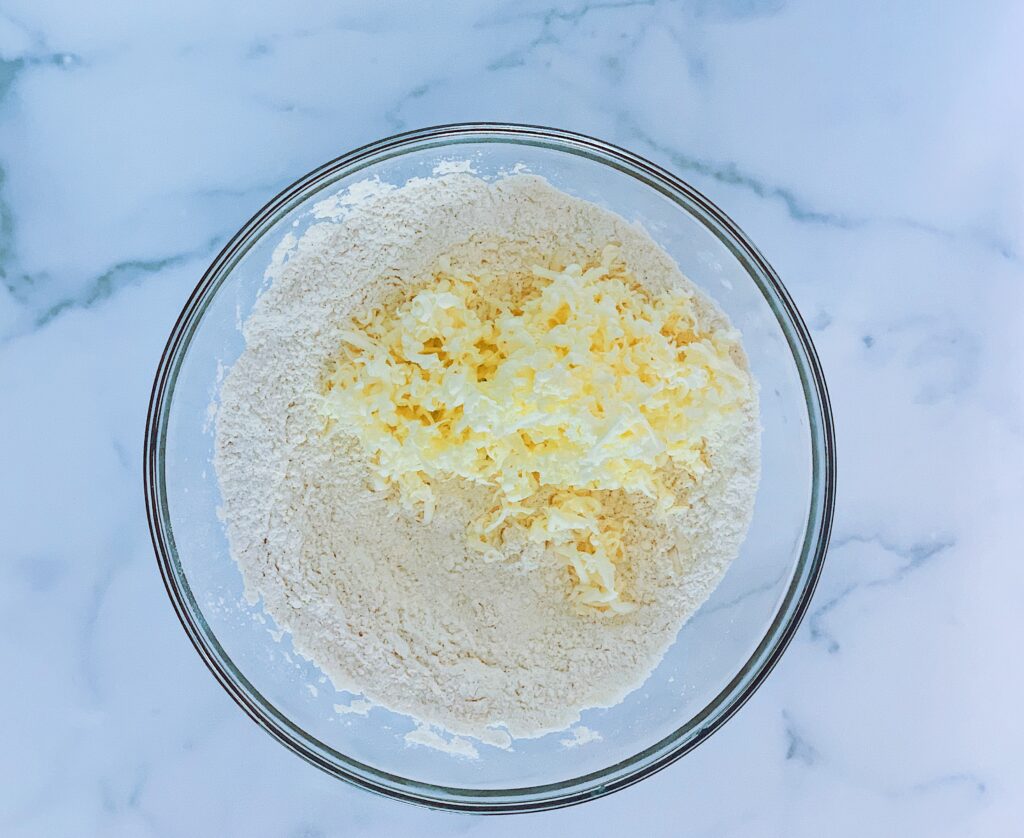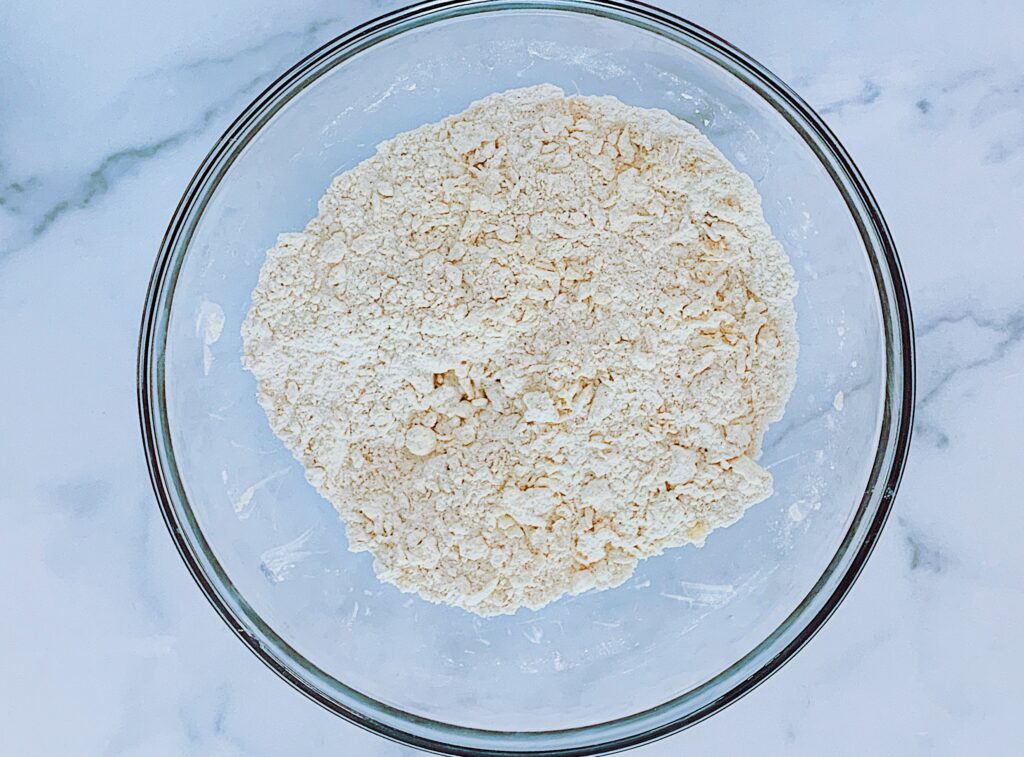 What Do You Need to Make Sweet Potato Scones?
You only need a few simple ingredients for these moist and flaky scones!
Sweet Potatoes: You only need about half of a sweet potato for this recipe. I like to roast my potato to bring out all of those sugars, use half for the scones and then eat the other half with a little pat of butter. Feel free to cube and boil your sweet potato if you don't want to roast it.
Flour: 2 cups of all-purpose flour with a little extra to dust you work area and hands
Sugar: For this recipe I use 1/2 cup of brown sugar plus a tablespoon of granulated sugar. Be sure to mix in your brown sugar with your wet ingredients so you can get all the lumps out.
Baking Powder: Adds lift.
Salt: Adds flavor.
Butter: Cold unsalted butter is one of the key ingredients in ensuring your scones are flaky, full of flavor, and have crispy edges.
Buttermilk: Buttermilk is a staple in my kitchen and adds some tang and moisture to these scones.
Egg: Adds flavor, lift, and structure.
ALL the flavors! Vanilla extract, cinnamon, nutmeg, cardamom, orange zest, and cranberries all level up these sweet scones. adds necessary flavor to sweet scones, but skip it if you're making savory scones.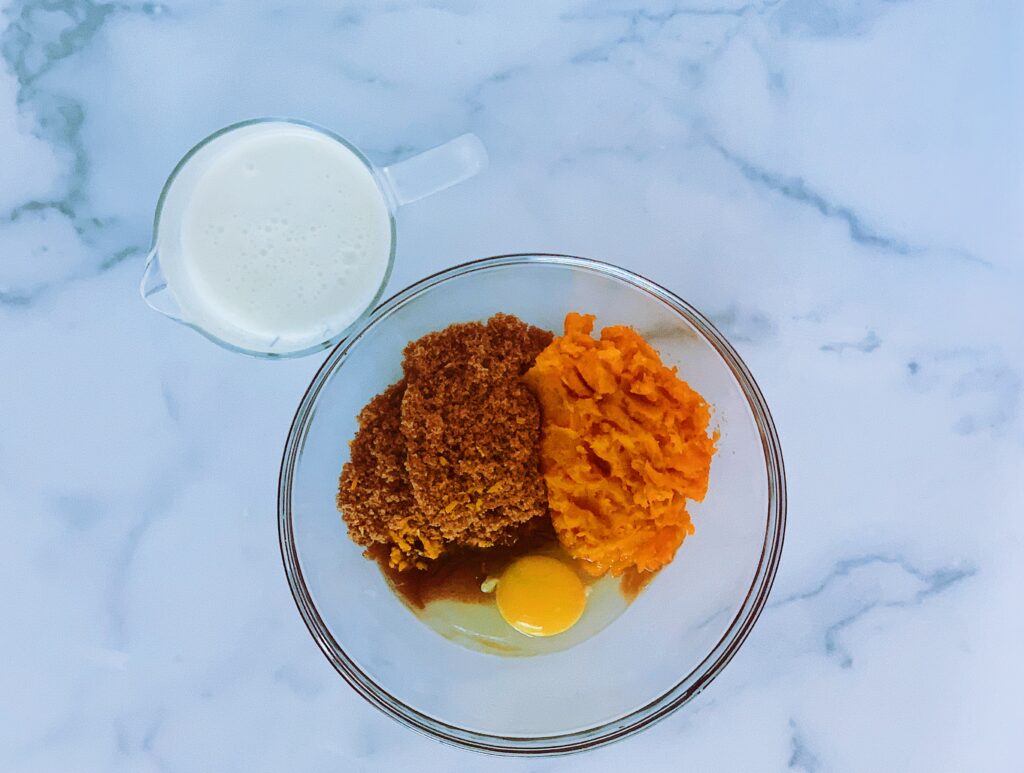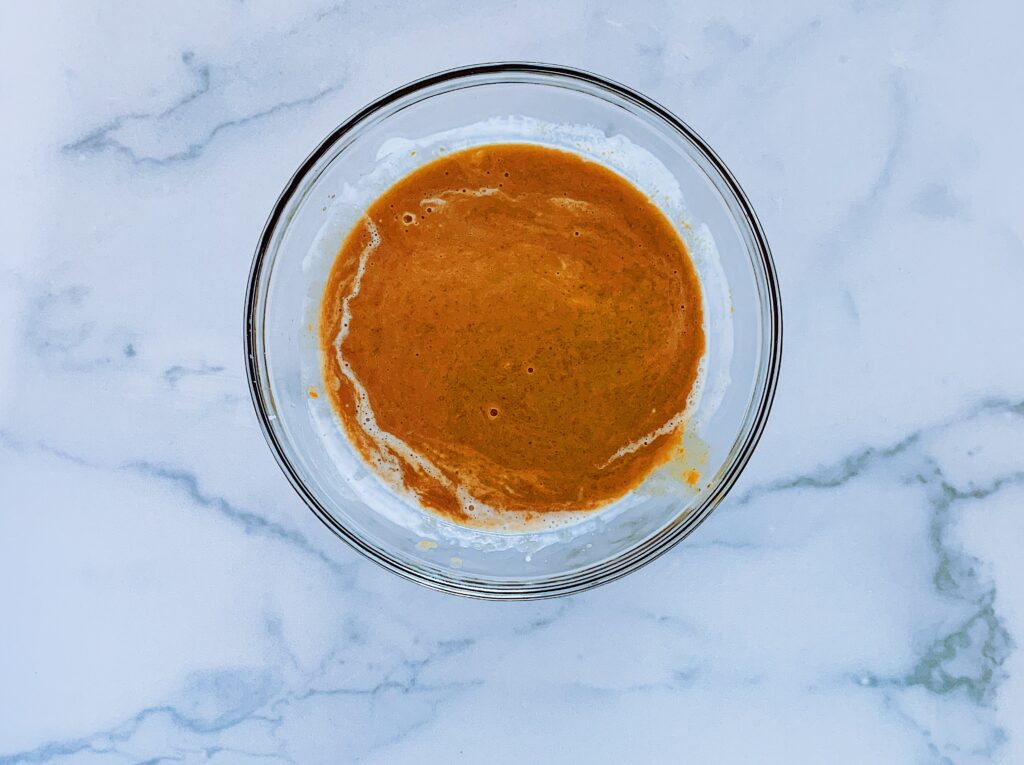 How to Make Sweet Potato Scones: Tips for Perfect Scones
Scones are easy to love and easy to hate. I for one have had some bad experiences with scones. They look beautiful on the outside but end up being dry like sandpaper. Never fear. I've learned a thing or two about a thing or two and can lead you on your path to moist, buttery, flaky scones fit for the gods! Here are some simple tips:
Cold, Cold Baby! I learned this the hard way but keeping everything COLD is a MUST! I like to freeze my butter and then grate it, using a box grater, into my dry ingredients.
Cut It: Use a pastry cutter, 2 forks or butter knives, or your hands to cut in the grated frozen butter into your dry ingredients. Be careful not to overwork. You want your dough to be crumbly and the size of peas.
Whisk the wet ingredients together.
DON'T Werk, Werk, Werk, Werk Werk: I love Rhianna's song but when it comes to your scone dough you do not want to overwork that dough which can make your scones too dense. When it comes time to mix the wet ingredients and dry ingredients, use a light touch. This is so important. Mix until the ingredients just come together. There will likely be a few flour stragglers at the bottom of the bowl and that's ok, you can incorporate them once you turn the dough out onto your work surface.
Form into a disc and cut into wedges. I used to let this intimidate me but this is really simple to do and makes about 8 scones. However, sometimes I will do drop scones, which are similar to drop biscuits [add link] using an ice cream scoop and can get about 10-12 scones.
Cold, Cold Baby! Like I mentioned before, COLD is your friend because helps the scones to not over-spread which I have unfortunately experienced. After you've mixed your dough and formed your disk, chill your dough in the refrigerator. I like to chill my dough 30 minutes or more but if you just can't wait, chill for at least 15 minutes. Keep your scone dough as cold as possible because you don't want those perfect little wedges to spread out too much. FYI, you can even refrigerate overnight and pop them in the oven for breakfast the next day!
How and When Should You Serve Sweet Potato Scones?
Sweet potato scones are great any time of the year but they add a little something extra special to the comfiness and coziness of fall and winter.
Try your scones:
Without frosting and dip in your coffee or tea.
Warmed, split, and spread your favorite jam.
Drizzled with maple-pecan glaze perfect for Thanksgiving breakfast and sure to satisfy your sweet tooth.
What Tools Do You Need?
Mixing bowl.
Box Grater
Pastry cutter. Useful, but if you don't have one you can use 2 forks or butter knives, or your hands.
Baking sheet.
Parchment paper.
What's the Verdict? BEST. SCONES. EVER!
I hope that you enjoy these sweet potato scones and I'm sure that they won't last long! Show me what you're working with, snap a photo of your masterpiece, and tell me how you're eating your scones. Tag me on Instagram using ,,@savorandsage and ,,#savorandsage. Enjoy and eat well!
Print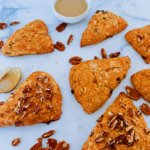 SWEET POTATO SCONES WITH MAPLE-PECAN GLAZE
---
Description
These moist sweet potato scones are spiced with cinnamon & nutmeg, hints of orange and cardamom, studded with cranberries, and topped with a divine maple-pecan glaze making them the perfect holiday, or any day, breakfast treat!
---
1 tablespoon granulated sugar
1 stick unsalted butter/vegan butter grated
1 teaspoon freshly grated orange zest
½ cup roasted or boiled sweet potato
½ cup + 2 tablespoons cold buttermilk/non-dairy milk
1 egg-see below for vegan substitute, beaten
3 tablespoons maple syrup
2 tablespoons unsalted butter, melted
½ teaspoon freshly grated orange zest
---
Instructions
Preheat your oven to 400° F.
Prick the sweet potatoes all over with the tines of a fork and bake on a foil-covered pan 40-45 minutes, or until tender. Remove from the oven and let cool to the touch, about 10 minutes.
Cut the potato in half lengthwise, scoop out the flesh into a medium bowl, and mash with a fork. Cover the bowl and refrigerate until cool, at least 20 minutes.
In a mixing bowl, whisk together the flour, baking powder, salt, cinnamon, nutmeg, cardamom, and sugars until combined. Stir dry ingredients until well combined.
Add grated butter. Using your hand, pastry cutter, 2 forks, or 2 butter knives, cut the butter into the dry ingredients. It should look like a bowl full of small peas. Mix in cranberries and zest. Place this mixture in the fridge,
In a separate bowl, add buttermilk, egg, vanilla, sweet potato and combine.
Fold in your wet ingredients to your dry ingredients until just combined. It's o.k. if there's a little loose flour at the bottom of the bowl. Turn dough out onto parchment paper
On parchment paper, use your hands to shape the dough into a 7-8 inch circle that's 1/2-1 inch thick. Cut the dough into 8 equal triangles and spread out onto the parchment paper. About 2 inches apart.
Using a pastry brush, use a little bit of the buttermilk to brush the tops of the prepared dough.
Bake on the center rack of a preheated oven for 18-20 minutes or until the edges are golden brown.
Make the glaze: While scones are baking grab a small bowl add all ingredients, except the pecans, and stir until combined and there are no lumps. Mix in pecans. and add all ingredients for your glaze.
Allow scones to cool slightly, drizzle glaze over warm scones, and serve. Enjoy!
Prep Time: 50
Cook Time: 20
Category: Breakfast
---