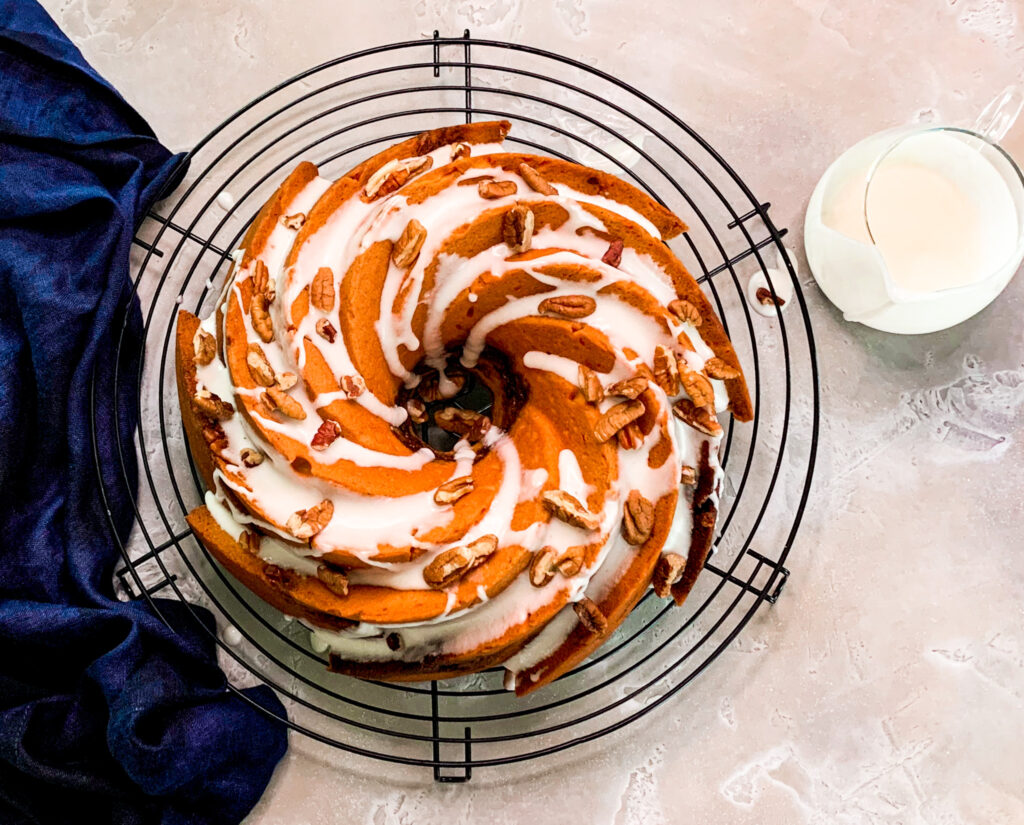 Need an easy dessert for Thanksgiving? I got you! This Sock It To Me cake will have you screaming for more. Swirled with cinnamon, pecans,  brown sugar, and nutmeg this sour cream pound cake is super simple to make and will have you craving dessert first!
Pound cakes of many varieties always make an appearance on my family's Thanksgiving table and this Southern Sock It To Me Cake is one of the stars so when Natasha invited me to participate in her Thanksgiving Dinner Must-Haves I had to share this sweet treat.
This cake is from scratch but don't let that scare you. Trust me, it's super simple to make and comes out moist. It keeps well in an airtight container in the fridge for up to one week or at room temperature for up to four days. And don't fret if you want to save some for after the holidays. Slice the cake up, double wrap them, and store them in the freezer for up to three months. When you're ready to eat them, thaw them in the fridge overnight or pop one in the toaster oven to warm it up.
Are you ready to get your bake o? Let's Go!
Print
3 sticks of butter, room temperature
2 ½  cups sugar
6 eggs, room temperature
1 tablespoon of vanilla extract
3 cups flour (all-purpose or cake), spooned and leveled
½ teaspoon baking powder
½  teaspoon salt
1 cup (8 oz) of sour cream, room temperature
Pecan Streusel
1 cup pecans, chopped
⅓ cup light brown sugar, packed
1 teaspoon cinnamon
¼ teaspoon nutmeg
Vanilla Icing
1 ½  cups confectioners' sugar
2–3 tablespoons milk
1 tablespoon butter, melted
1 teaspoon vanilla extract
---
Instructions
Preheat oven to 325. Coat a 10-12 cup bundt pan or tube pan—without the removable bottom)—with baking spray or butter and flour it. Sift flour, baking soda, and salt in a large bowl then whisk together and set aside.
In a small bowl add all ingredients for pecan streusel, mix until well combined then set to the side.
In a stand mixer  fitted with a paddle attachment, or using a handheld mixer, beat butter on low speed for 2 minutes then add sugar. Cream butter and sugar together on high speed until light and fluffy, about at least 5 minutes. 
On medium speed, add eggs, one at a time until just incorporated. Egg should be incorporated before adding next egg. Scrape down the sides as needed. Don't over mix. Add vanilla and mix for about 30 seconds. On low speed, add dry ingredients to the butter mixture and mix until just combined. Fold in the sour cream until combined.
Pour half of the batter into the bundt pan, add pecan streusel, then top with the remaining batter. Bake for 60-70 minutes. Check at the hour mark. The cake is done when a toothpick inserted in the middle comes out clean. Let cake sit for about 10 minutes then invert  onto a cooling rack
Glaze: Combine all ingredients and whisk until there are no clumps.
Once cake is completely cooled, drizzle with icing and top with pecans
Notes
Using all-purpose flour makes for a denser crumb while cake flour will give a lighter crumb.

Make sure your eggs, butter, and sour cream are at room temperature.
Prep Time: 15
Cook Time: 75
Category: Sweets
Cuisine: American
Keywords: Southern, Dessert, Cake