---
Bathed in an herby marinade and nestled between caramelized cabbage and onions, these juicy roasted chicken thighs are the perfect spring fling.
---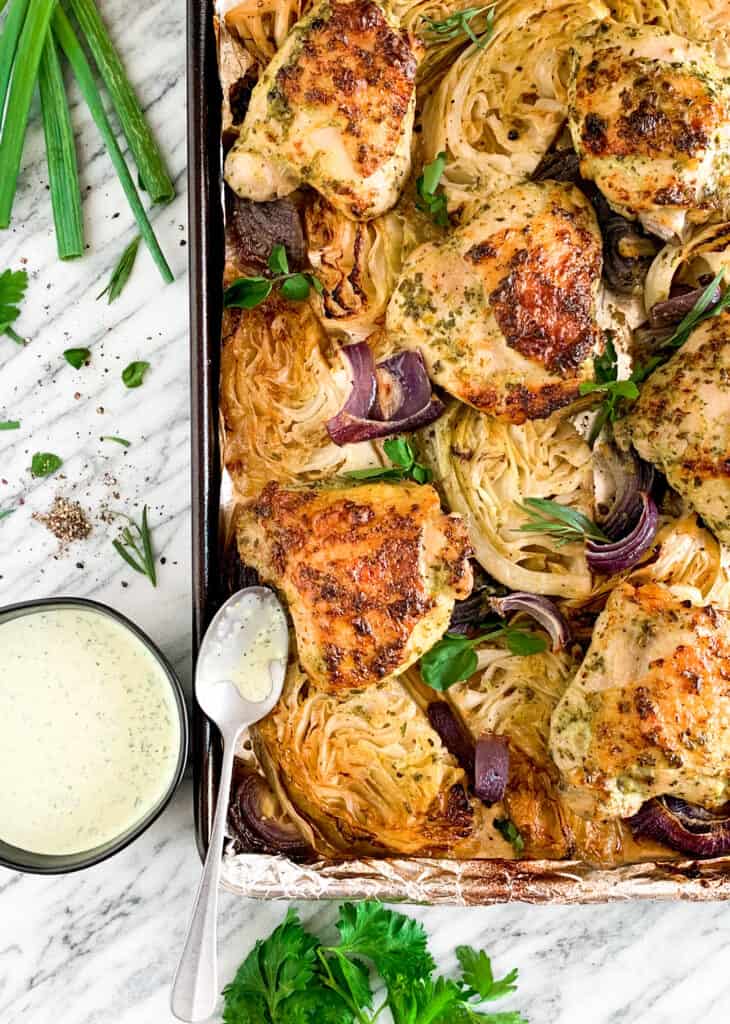 ---
the inspiration
Just like me, green goddess dressing is a Bay Area baby! Green goddess dressing first showed her emerald beauty at the Palace Hotel in San Francisco in the 1920's. As the story goes, the dressing was created to honor George Arliss after the opening of the hit play "The Green Goddess." Not only was the play a hit but the dressing was as well. Since its debut, green goddess dressing remains a fan favorite. Now I love a sheet pan dinner and I love a good remix and this recipe is just the right mix of both!
---
what's in this green goddess sheet pan dinner?
The Green Goddess Chicken Sheet Pan Dinner is easy to make and perfect for busy weeknights. This recipe features tender and juicy chicken thighs, caramelized cabbage wedges, and sweet and savory red onions, all seasoned with a flavorful green goddess marinade. Here's what you'll need:
5-6 chicken thighs pieces,
1 small head of cabbage
1 large red onion
Olive oil
Marinade: buttermilk, mayonnaise, watercress, parsley, green onions, tarragon & garlic
---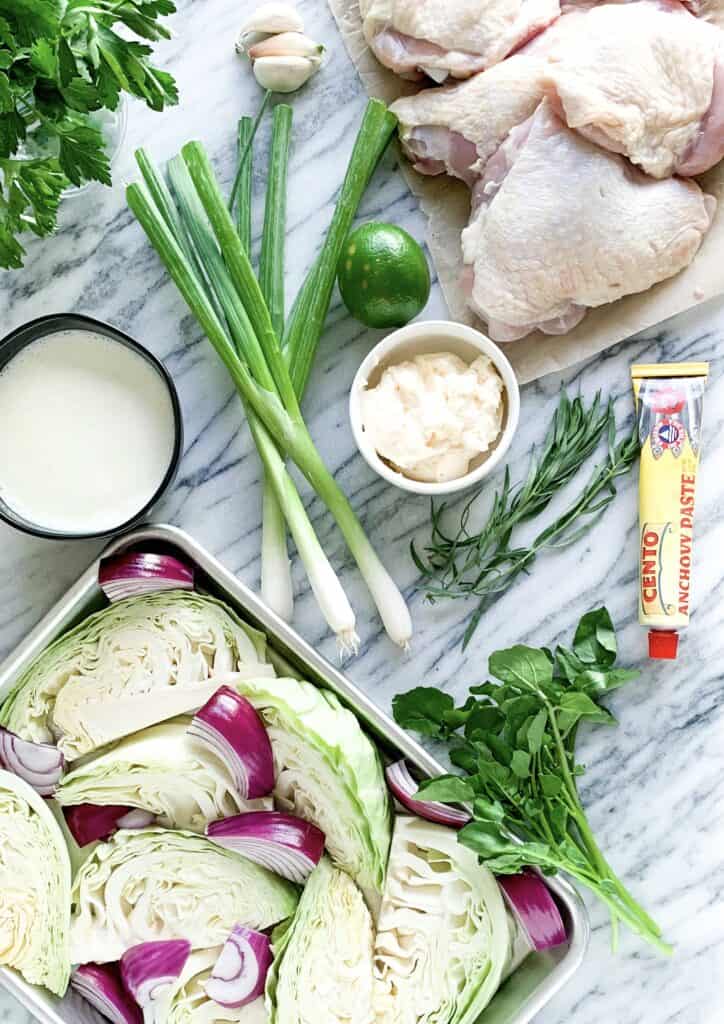 ---
lets make this easy sheet pan dinner!
Remove any excess fat or skin from the chicken thighs and pat them dry with paper towels.
Cut the cabbage and red onion into wedges and set aside.
In a small bowl, mix together all the ingredients for the green goddess marinade.
Place the chicken thighs in a large zip-top bag and pour the green goddess marinade over them. Close the bag tightly and massage the marinade into the chicken, making sure that it is evenly coated. Refrigerate the chicken for at least 30 minutes. I like to marinate mine for 2 hours and sometimes up to 2 days to allow the flavors to develop.
Line a half sheet pan with parchment paper or foil to make cleanup easier. Arrange the cabbage and onion on the pan, drizzle with olive oil and season with salt and pepper. Drizzle chicken with remaining oil and arrange on top of the cabbage and onions, skin-side up.
Preheat your oven to 425°F. Bake the sheet pan dinner for 30 to 35 minutes, or until the chicken is cooked through and the vegetables are tender and slightly browned. Use a meat thermometer to check the internal temperature of the chicken, which should be at least 165°F.
---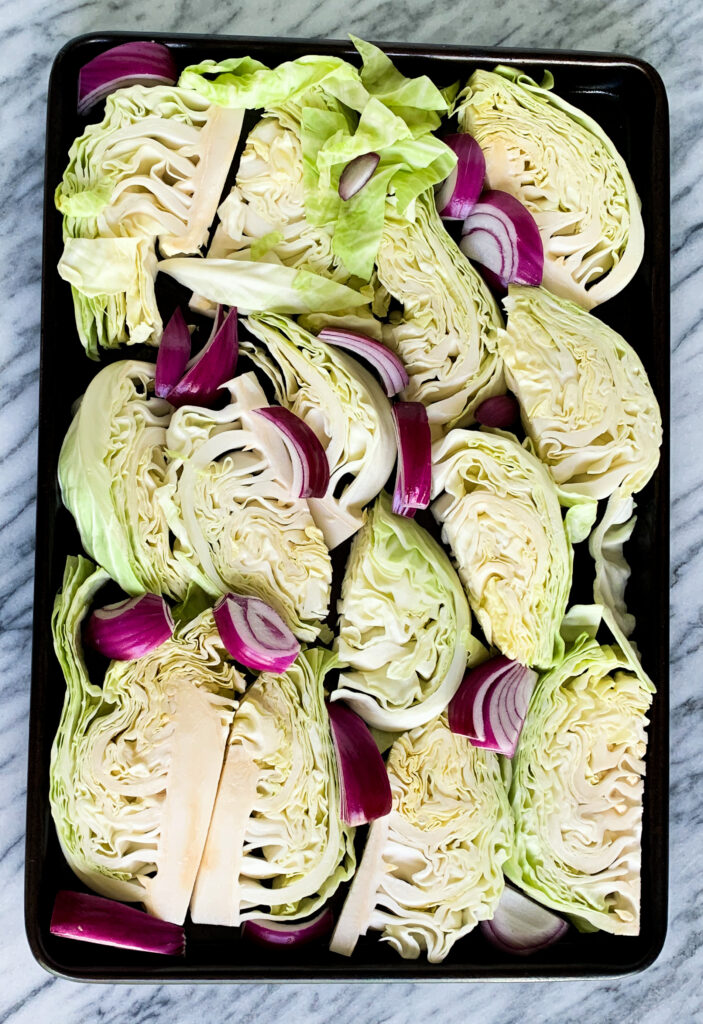 ---
serving the green goddess chicken sheet pan dinner
Once the Green Goddess Chicken Sheet Pan Dinner is cooked, remove it from the oven and let it rest for a few minutes. Garnish with chopped fresh parsley and serve hot. This dish can be served as is or with a side dish such as quinoa, rice, or roasted sweet potatoes. You can also sprinkle a bit of feta cheese for extra flavor.
If you have any leftovers, store them in an airtight container in the refrigerator for up to 3 days. To reheat, place the dish in the oven at 350°F for 10-15 minutes, or until heated through.
---
tips
Make sure to pat the chicken thighs dry with a paper towel before seasoning them to help the spices stick better.
If you're not into chicken thighs you can use chicken breasts. Just keep in mind that chicken breasts tend to dry out faster than chicken thighs, so you may need to adjust the cooking time accordingly.
If you don't want to use buttermilk, you can use whole milk Greek yogurt.
For an extra kick of flavor, you can add some grated ginger to the Green Goddess marinade.
If you want to add some more color and nutrition to this dish, you can toss in some cherry tomatoes or sliced bell peppers before roasting.
---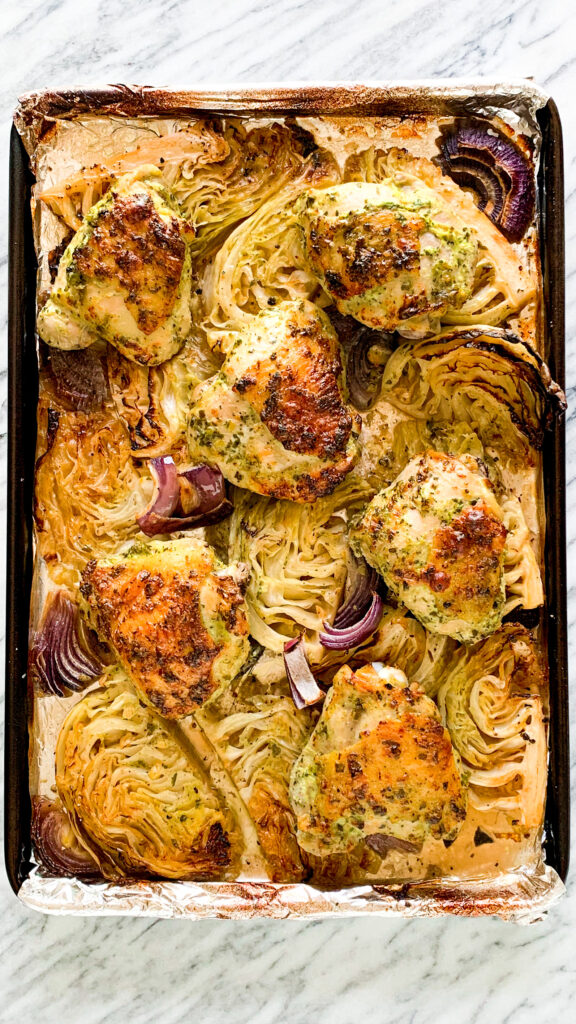 ---
more one pan, one pot meals
Are you looking for more easy recipes that only use one pan or one pot? Here's a few more of my favorites:
---
are you ready to let your green goddess shine?
Juicy chicken with a little buttermilk tang, roasted till it's golden, with little flecks of green from all the herbs and nestled in one pan with cabbage and onions. Oh, and don't forget to set some of this green goddess mixture to the side to use as a sauce! This is a flavorful dish that your whole family will love.. After you make this Green Goddess Chicken, let me know how you like it and show me what you're working with! Share a photo and tag me on Instagram using @savorandsage and #savorandsage so I can see all your good stuff! Eat well, friends!
Print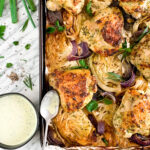 Green Goddess Sheet Pan Dinner
---
Description
Bathed in an herby marinade and nestled between caramelized cabbage and onions, these juicy roasted chicken thighs are the perfect spring fling.
---
1 1/2 lbs bone/skin-on chicken thighs (5-6 pieces, wash & trim visible fat)
1 large head of cabbage, cut into 1″ wedges
1 large red onion, cut in half then in thirds
2 1/2 teaspoons of salt, divided
1 teaspoon pepper, divided
1/4 cup of olive oil, divided
Green Goddess Marinade:
3 green onions, whites, and greens chopped
3 cloves of garlic
1-2 teaspoons of anchovy paste (optional)
1 teaspoon of fresh lime juice
---
Instructions
Add all ingredients for the marinade into a blender or bowl of a food processor. Process until smooth. Reserve about a cup of the marinade. Taste and add salt and pepper as desired and cover and refrigerate. Add 1 ½ teaspoon salt and ½ teaspoon pepper to the remaining marinade. Place chicken in a freezer bag, pour marinade into the freezer bag and squish around to coat the chicken. Seal bag and let marinate in the refrigerator for at least 2 hours and up to 2 days (preferred for best flavor).

Once the chicken has marinated, take it out of the refrigerator, shake off the marinade, put it on a wire rack so the excess marinade can drip off. Let sit for 30 minutes-1 hour to get the chicken to room temperature.

Preheat oven to 425 degrees F.

On a large rimmed sheet pan arrange cabbage and onion and drizzle with 2 tbsp olive oil and 1 teaspoon of salt and ½ a teaspoon of pepper.

Drizzle chicken with remaining oil and arrange on top of the cabbage and onions, skin-side up.

Roast for 30-37 minutes or until the internal temperature of the chicken is 165 degrees.

After thirty minutes, check for doneness. Timing for roasting chicken thighs can vary a bit since every chicken thigh is a slightly different size and thickness. Once the chicken is done, Remove the chicken from the sheet pan and let rest for at least 10 minutes.

For crispier cabbage with a little char, pop back in the oven for 10 minutes
Notes
Make sure to pat the chicken thighs dry with a paper towel before seasoning them to help the spices stick better.
If you're not into chicken thighs  you can use chicken breasts. Just keep in mind that chicken breasts tend to dry out faster than chicken thighs, so you may need to adjust the cooking time accordingly
If you don't want to use buttermilk, you can use  whole milk Greek yogurt.
For an extra kick of flavor, you can add some grated ginger to the Green Goddess marinade.If you want to add some more color and nutrition to this dish, you can toss in some cherry tomatoes or sliced bell peppers before roasting.
For my original green goddess dressing recipe click here
Prep Time: 30
Cook Time: 35
Category: Dinner
Method: Bake
Cuisine: North American
Keywords: Sheet Pan Dinner
Tools Needed: