---
Classic Pot Roast is a comforting dish and it's surprisingly easy to make. All you need is time, heat, and quality chuck meat to create the perfect pot roast. Pull apart meat, silky brown gravy, tender vegetables and flavor that is out of this world. This will be your new favorite pot roast.
---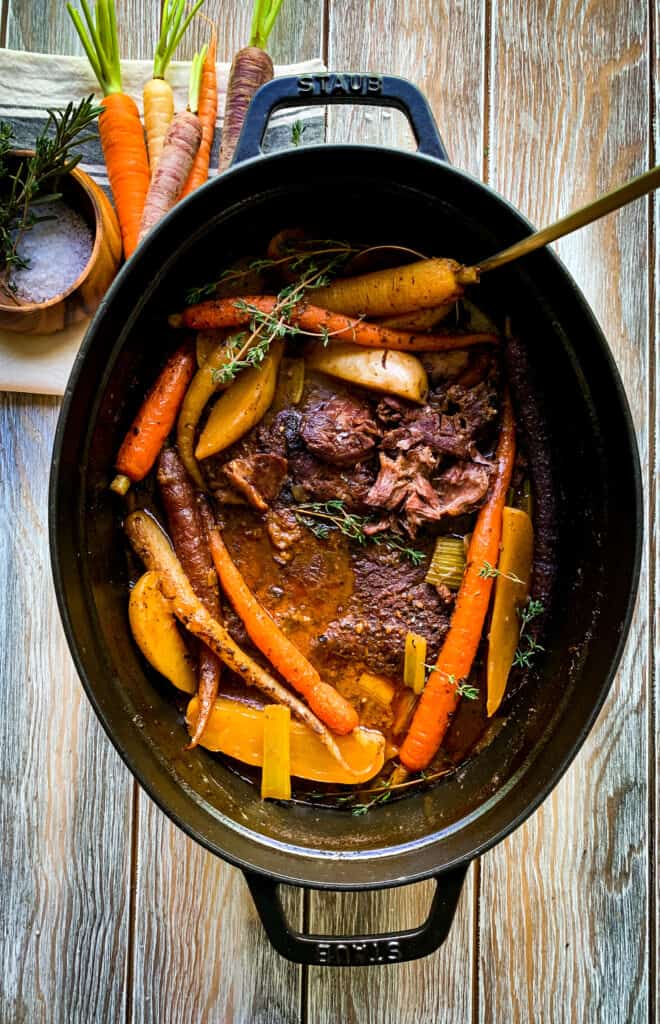 ---
the inspiration
Pot roast is one of those meals that I could eat a lot of when I was a kid. I think it was the gravy and potatoes; I'm a sucker for potatoes and gravy. My mommy's pot roast—yes I still call her mommy— used Lipton's onion soup to add some flavor EVER. The other pot roast I loved was Sister Young who marinated hers on in cola. Both roasts were GOODT!
My version which Big P says is "the best roast I've ever made" calls on some of those flavors I remember with my own little twist on it to make the perfect pot roast.
---
best cuts of beef for classic pot roast
Alright, let's dive into the world of pot roast secrets and it's leading star: the beef! Tough, marbled beef cuts are the name of the game here. That marbled fat? It works its magic, making the meat super tender. Now there are three cuts generally used for pot roast so let's do a quick overview.
Chuck: Wallet-friendly and perfect for braising. Look for chuck roast, shoulder steak, boneless chuck roast, chuck shoulder pot roast, chuck seven-bone pot roast, or beef chuck arm.You'll end up with meat so juicy, you can practically pull it apart effortlessly.
Brisket: A flatter leaner cut than chick, braised brisket is where it's at – tender and still easy to slice, it's a flavor-packed winner.
Round (Rump roast or bottom round): Now, round's a bit leaner compared to chuck and brisket. But fear not, with precise cooking, you can unlock its juicy, flavorful potential and avoid any dryness.
So what do you use, Stef? In my opinion, the best cut of meat to use is the chuck roast which is ideal for braising which is what we're doing with this recipe. While chuck roast is a tougher cut, it tends to have more marbling than the other cuts—you know that white fat that looks like marble and is full of flavor.n That marbling plus the slow cooking process ensures that you're going to have a juicy tender roast.
---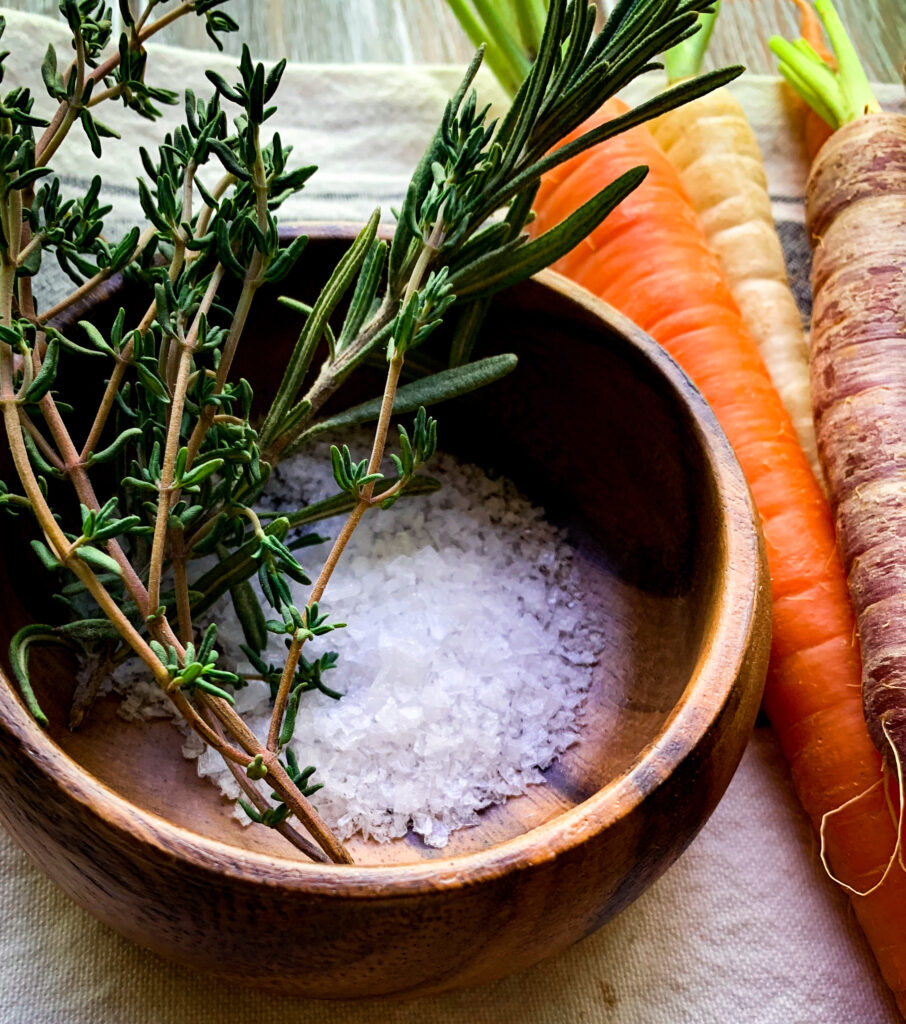 ---
layers of flavor: classic pot roast ingredients
Creating a perfect slow cooking pot roast starts with the right ingredients. Here's what you need to make this deliciousness:
Olive oil
All-purpose flour
Butter
Onion- yellow or white, you choose
Bell Pepper
Beef broth
Worcestershire Sauce
Brown Sugar- I know it sounds weird but trust me this adds a little sumthin' sumthin'
Carrots- you can do a rough chop on your carrots or if you can find some small-ish rainbow carrots like in my pics, scrub them good and throw them in whole.
Celery- we just don't give celery enough love and I think it's wonderful
Green Onions- Because why not?
Potatoes- I like using Yukon Gold potatoes—scrub them good and leave the skin on—because they hold their shape and hsve a butteriness to them. You can also use baby potatoes or red potatoes. If you use russet, I suggest peeling them first.
---
slow dance: how to cook a pot roast
This big hunk of meat seems intimidating but trust, nothing about making a homemade Yankee pot roast is hard. You can do this boo! The right equipment is important for an old-style pot roast so grab a heavy bottomed pot. I use a cast iron Dutch oven because it cooks meat evenly. Now here's how to make this slow cook perfection:
Season & Sear: Season your meat and dust with flour. In a heavy bottomed pan or Dutch oven heat oil and sear the meat on all sides. This step locks in the juices and creates a beautiful crust.
Aromatics Galore: Remove meat from the pan and set aside. In the same pan, sauté your onions and bell pepper until they're caramelized and aromatic. Toss in those garlic cloves and fresh herbs. Your kitchen will smell like a gourmet haven.
Slow Dance Magic: Deglaze the pan with your beef broth and place your seared meat on top of the veggies, place in oven, and let it all simmer together. After the roast has been cooking for a couple hours add carrots and potatoes and place back in oven for at least another hour to 1.5 to 2 hours until the flavors will meld into perfection.
---
tools needed
Dutch oven with a lid
Sharp knife
Tongs are great for when you're browning your roast.
---
other meat and gravy recipes you'll love
---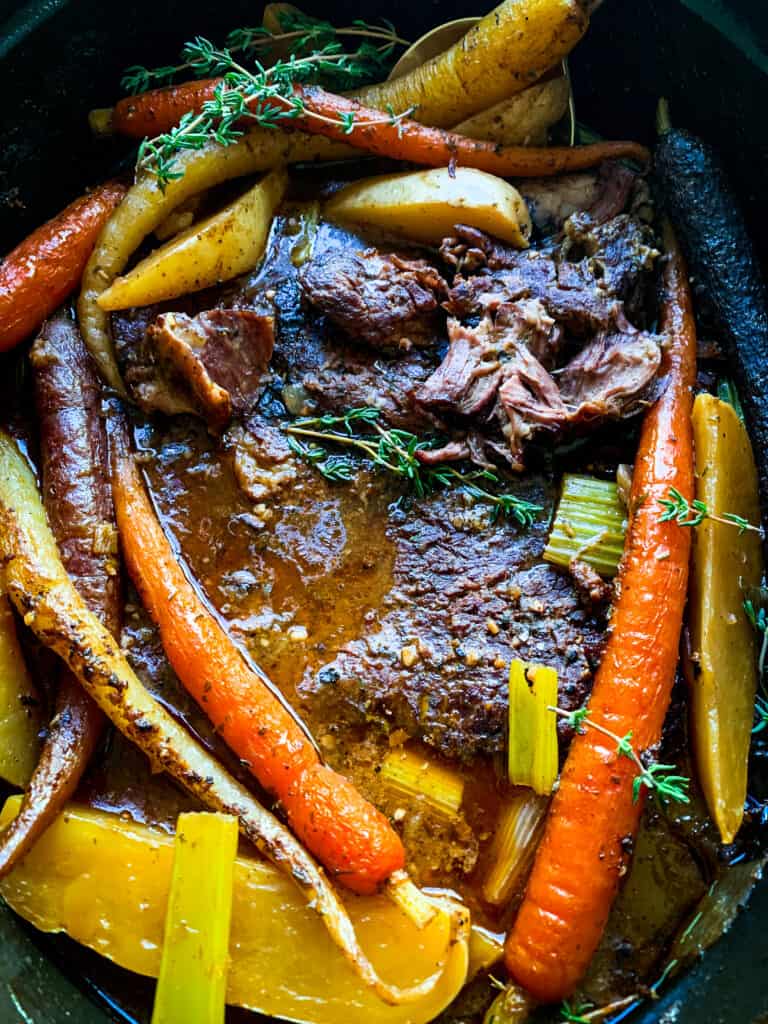 ---
craving the ultimate comfort food? look no further!
This classic slow cook pot roast recipe embodies warmth and satisfaction. It's not just easy; it's a celebration waiting to happen. Gather your loved ones and dig in.! When you try this perfect pot roast be sure to let me know how you like it. Share a photo and tag me on Instagram using @savorandsage and #savorandsage so that we can see your stuff! Happy eating!
Print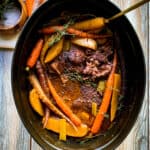 Classic Pot Roast
---
Description
Pull apart meat, silky brown gravy, tender vegetables and flavor that is out of this world. This will be your new favorite pot roast.
---
1 4-5 pound chuck roast
3 tablespoons of olive oil
4 tablespoons all-purpose flour, divided
2 tablespoons of kosher salt or seasoning salt
1 tablespoon garlic powder
1 tablespoon onion powder
1 tablespoon black pepper
1 tablespoon paprika
2 teaspoons dried parsley
1/2 teaspoon celery seed
2 tablespoons of butter
2 yellow onions, chopped
1 green bell pepper, chopped
3 cloves garlic, smashed
3-4 cups of beef broth
2 tablespoons Worcestershire
1 tablespoon brown sugar
3 sprigs fresh thyme
1 sprig fresh rosemary
3-4 large carrots large rough chopped
3 stalks celery, rough chopped
2 cups green onions, white and green parts rough chopped (3-4 onions)
4-5 medium Yukon Gold potatoes, cut into 1 1/2-inch pieces
---
Instructions
Arrange a rack in the middle of the oven and heat to 325°F
In a small bowl combine all seasonings.
Season the roast with 2 tablespoons of the seasoning mixture. Sprinkle the flour over the entire roast until evenly coated. There should be a little excess flour. Save and put to the side.
Heat the oil in a 7-quart Dutch oven over medium-high heat until shimmering. Add the roast and brown on all sides, including the ends, for about 4-5 minutes per side. Once browned, transfer the roast to a large plate and set aside.
Reduce the heat to medium and add the yellow onions and bell pepper. Add the remaining seasoning mixture when the vegetables begin to soften.  Sauté until edges start to brown, about 3-4 minutes.
Deglaze the Dutch oven with the broth and scrape up the browned bits from the bottom. Add the Worcestershire 
Add the garlic, thyme, rosemary, and Worcestershire sauce. Return the meat and any juices to the Ditch oven or pan.
Cover and place in the oven. Braise for  2 hours. The meat should appear tender, but will not be falling apart yet.
Remove the roast from the oven, uncover, and skim off as much fat as possible from the sauce. Take a few tablespoons of the sauce and combine it with the reserved flour from earlier. Mix until smooth and add back into the pot. Nestle the carrots, potatoes, and green onions into the braising liquid around the roast. Cover again, return to the oven and braise until the roast pulls apart easily and the vegetables are tender but not mushy, 1 1/2 to 2 hours more.
Transfer the roast to a large bowl and shred it into large pieces with 2 forks, if desired. Set aside.  Remove and discard the herb stems.
Transfer a cup of the sauce and 3-4 pieces of potato to a blender or a food processor and puree until smooth. Pour the puree back into the pot. Taste for seasonings.
Add the shredded pieces of meat to the pot and gently stir to coat in the gravy.
Serve the pot roast. Serve the pot roast over steamed rice or buttered egg noodles.
Notes
Storing and freezing
Store: Let any leftover pot roast cool completely before storing it in an airtight container in the fridge for 2 to 3 days. 
Freeze: Leftovers can also be kept in a freezer-safe container for 2 to 3 months. Allow the roast to thaw in the fridge before reheating. If it appears dry, pour beef broth over the top and reheat in a 350ºF oven until the meat is hot and juicy.
Prep Time: 20
Cook Time: 4 hours
Category: Dinner
Method: Oven
Cuisine: American
Keywords: Beef Chuck Roast, Chuck Roast in Oven, Yankee Pot Roast with Potatoes and Carrots, Pot Roast,