Jammy, juicy, and crowned with sweet buttermilk cornbread biscuits this strawberry rhubarb cobbler is the dessert you've been waiting for.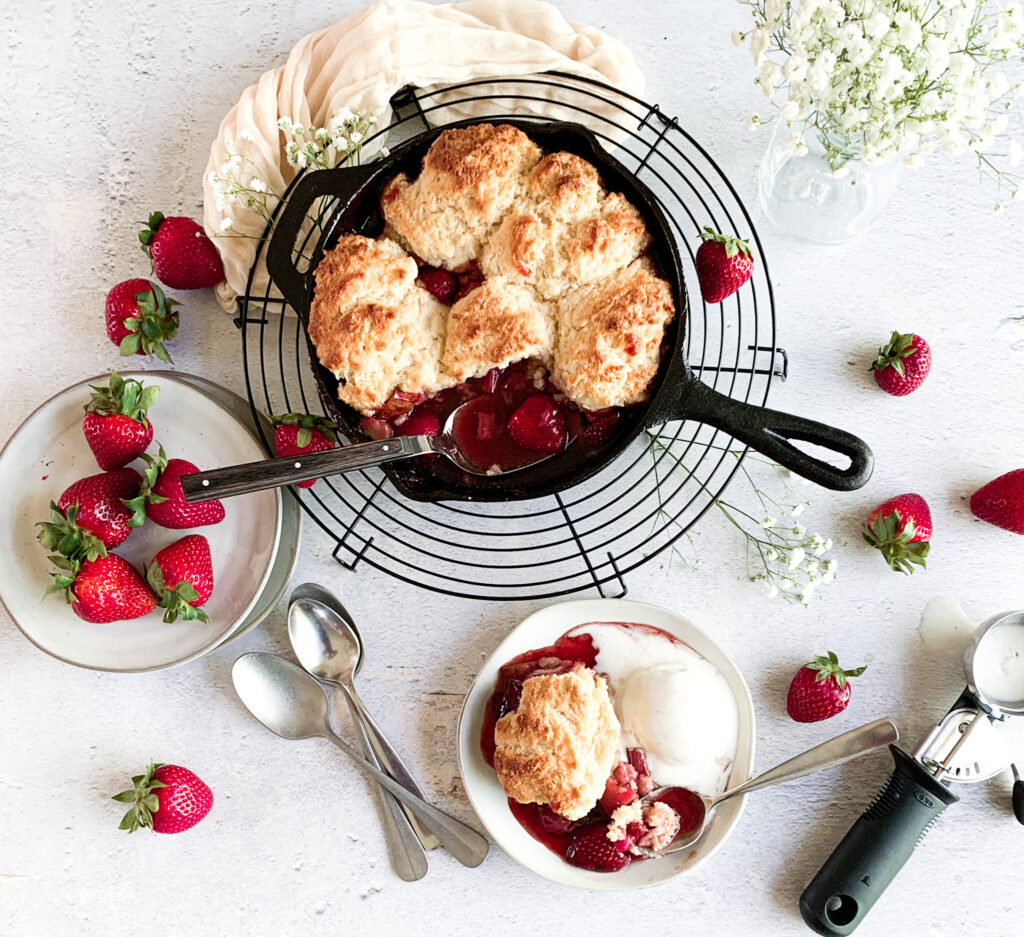 Have a cast iron skillet? Must bake cobbler!
Of course, cast iron skillets are great for frying an egg or two, roasting chicken, and creating the perfect one-skillet meal, but lemme tell you, cast iron skillets are perfect for a skillet cobbler like this baked ruby beauty right here! Now the motivation for this small and mighty cobbler is Karibe's high-quality 8-inch cast-iron skillet. It has a seasoned non-stick surface, you can use it in the oven, and heat is evenly distributed from the bottom through the sidewalls. It makes for the perfect compact vehicle for this delicious small bake.
What's a Cobbler?
They're called cobblers because they look like pretty golden brown cobblestones on top of a sweetened fruit mixture. Just thinking about it makes my little heart jump! Cobblers are topped with biscuit topping that is usually dropped on top of the sweetened fruit in little mounds that bake up looking a bit like a cobbled road. Cute AND delicious.
What's in this Strawberry Rhubarb Cornbread Cobbler?
You only need a few things to cobble this deliciousness together. Get it? Here's what you need:
Strawberries
Rhubarb
Lemon
Brown & white sugar
Flour
Baking soda
Buttermilk
Vanilla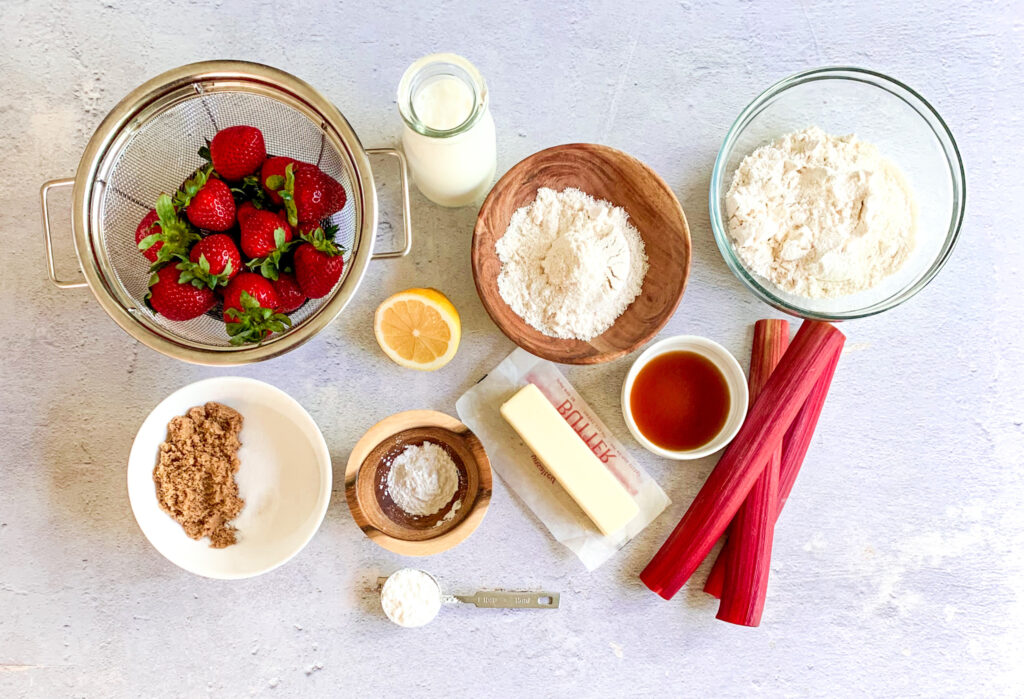 How to Make Strawberry Rhubarb Cobbler
Making cobbler is super simple and I'm here to guide you through the process:
Sweet Fruit. Fresh or frozen fruit works for this recipe. Toss the strawberries and rhubarb with sugar, vanilla extract, lemon juice, and cornstarch. Depending on the natural sweetness of your fruit, you may need more or less sugar.
Cold, Cold Baby! I learned this the hard way but keeping all the ingredients for your biscuit topping COLD is a MUST! I like to freeze my butter and then grate it, using a box grater, into my dry ingredients.
Cut It: Use a pastry cutter, 2 forks or butter knives, or your hands to cut in the grated frozen butter into your dry ingredients. Be careful not to overwork. You want your biscuit dough to be crumbly and the size of peas. Keep a light hand.
Baked Bubbly & Brown: For a great cobbler, you want tender cooked fruit, not mushy, and a topping that is cooked through. Timing is EVERYTHNG! A good visual cue that your cobbler is done is when you see pockets of fruit bubbling through a golden-brown top.
Tools You'll Need:
Cast iron skillet. Y'all know how I feel about cast iron skillets. This is one of the most utilitarian kitchen tools you need. Trust!
Mixing bowls.
Ice cream & scoop. Ummm…because you need some vanilla ice cream in your life to go with this cobbler. Obvi.
A Crimson Edible Masterpiece!
Ok, so are we eating this for breakfast, brunch, or dinner? Promise, I won't judge if you eat this for breakfast. After you make this Strawberry Rhubarb Cornbread Cobbler, let me know how you like it and show me what you're working with! Share a photo and tag me on Instagram using @savorandsage and #savorandsage so I can see all your stuff! Eat well friends!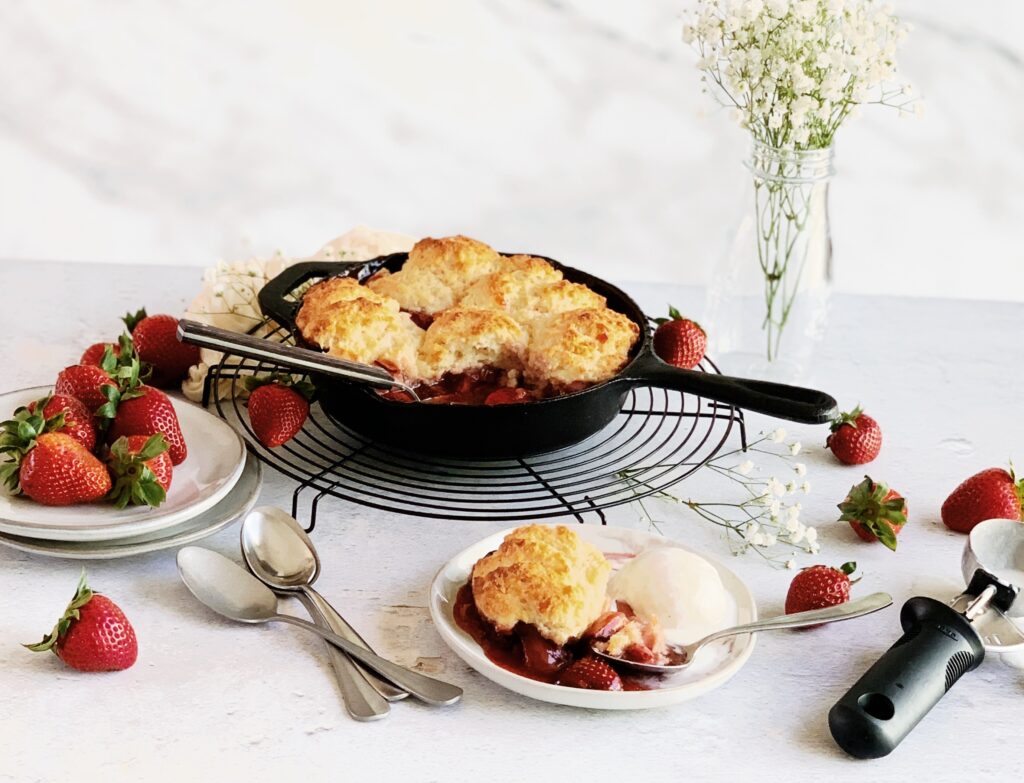 Print
Strawberry-Rhubarb Cobbler
---
Description
Jammy, juicy, and crowned with sweet buttermilk cornbread biscuits this strawberry rhubarb cobbler is the dessert you've been waiting for.
---
1 ½ cups strawberries, stem removed and sliced in half (quarter larger berries)
2 stalks of rhubarb, cut in 1-inch slices
¼ cup brown sugar, packed
1 tablespoon of cornstarch
3 tablespoons of unsalted butter
½ cups of all-purpose flour
2 teaspoons of baking powder
¼ cup of cold unsalted butter*, grated (pop in the freezer to keep cold)
½ cup of buttermilk* (dairy or unsweetened non-dairy milk)
---
Instructions
Heat oven to 350°F.

In a medium mixing bowl, combine strawberries, rhubarb, sugars, cornstarch, lemon juice, and vanilla. Place in an 8-inch or 10-inch cast-iron skillet or pie plate. Dot with three tablespoons of butter and set to the side.

Combine meal, flour, sugar, baking powder, and salt in a cold large mixing bowl and stir with a whisk or fork. Add grated butter. Using your hands, a pastry cutter, two forks, or a small knife, cut the butter into the dry ingredients. It should look like a bowl full of small peas. Combine buttermilk and sugar. Add buttermilk mixture and stir 3-4 times until dough comes together. It should be slightly sticky. Add just a bit more buttermilk if needed.

Use two spoons or a ¼ cup to drop the batter onto the fruit mixture. Place your skillet or pie plate on a line bake pan just in case some of your filling bubbles over and escapes. Bake for 40-45 minutes, or until golden brown and bubbly. Serve warm with vanilla ice cream or fresh whipped cream.
Prep Time: 15
Cook Time: 45
Category: Dessert
Keywords: Dessert, Vegetarian, Fruit, Pie, Cobbler