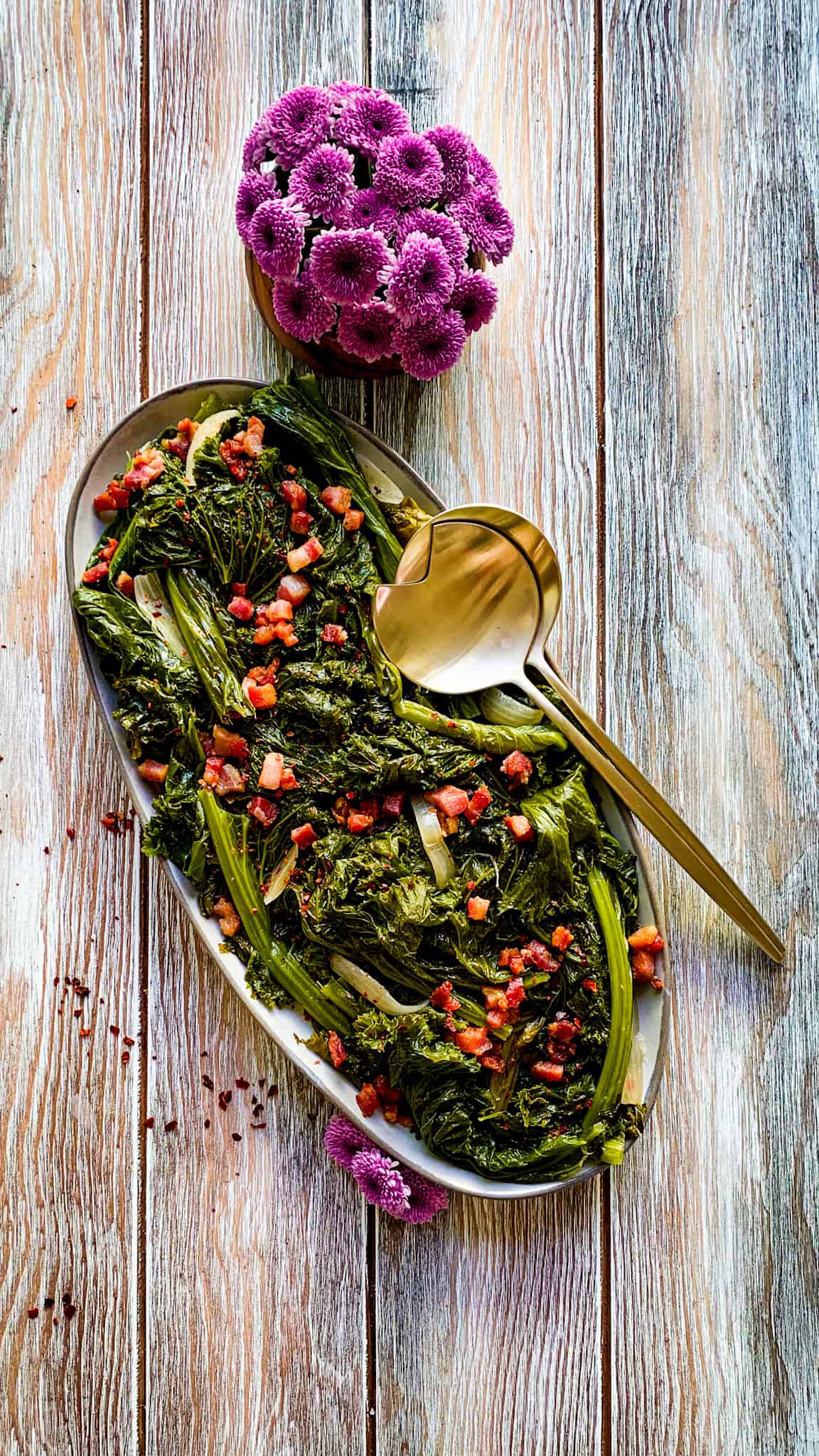 ---
Savory mustard greens braised in white wine and topped with crispy pancetta make for a beautiful side dish or eat a bowl full for your main course!
Print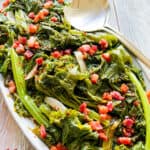 Wine Braised Mustard Greens with Crispy Pancetta
---
4 ounces of pancetta, diced (optional) If not using pancetta, use 3 tablespoons of grapeseed or canola oil.
1 tablespoon butter
1 yellow onion, quartered (if your onion is on the larger side, cut the quartered pieces in half) 
2 cloves of garlic, pressed or minced
2 bunches of mustard greens  (about 1 ½ pound), washed, tough part of stem removed and roughly chopped or torn (I usually use curly mustard)
1/2 cup white wine, such as Gewurztraminer (it's a little on the sweeter side but not too sweet)
1/2  cup chicken or vegetable broth
1 ½ teaspoon Aleppo pepper
Kosher salt and freshly ground black pepper, to taste
Juice half a lemon or 1 tablespoon of rice vinegar
---
Instructions
Heat a large skillet over medium heat. Add pancetta and cook until browned and crispy. Transfer pancetta to a paper-towel-lined plate with a slotted spoon and set to the side. Reserve rendered fat.
Add butter and onions to the skillet. Cook until they begin to soften, 5 minutes. Add garlic and cook until the garlic becomes fragrant, about 1minute.
Add the mustard greens to the skillet. Cook until the mustard greens  are slightly wilted, about 5-7 minutes. Add the wine, broth, and aleppo peppers. Season lightly with salt and pepper. Let mustard greens simmer on medium low for 25-30 minutes.
Stir in lemon juice or vinegar and adjust seasoning if needed. Top with the crispy pancetta and serve.
Notes
Use a slightly sweet wine like Gewurztraminer, Riesling or you can even try Sherry
If you want to go vegan just leave out the pancetta, use oil to sautée the onions, and use vegetable broth
If you don't have lemon, no worries! Sub in a tablespoon of rice vinegar or apple cider vinegar
Prep Time: 20
Cook Time: 43
Category: Sides
Method: Braise
Cuisine: Southern American