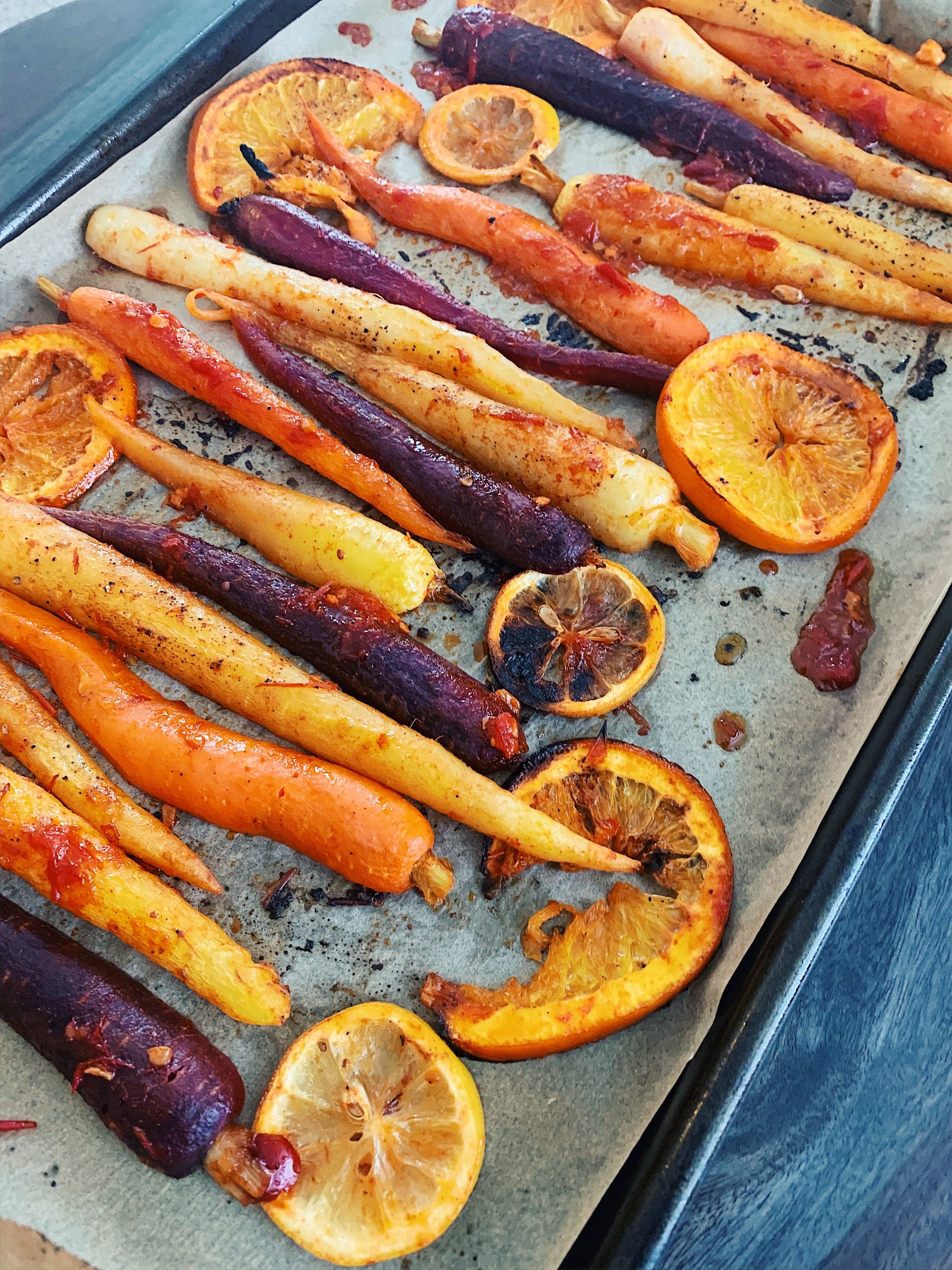 I didn't get a chance to fully get to everything I had planned for the Know Your Roots series once the Corona quarantine hit, but that's ok because we still had some winners from the series. Here's a recap of the recipes:
To finish up the series, I wanted to share a recipe for probably my favorite root vegetable, the carrot. I LOVE CARROTS!!! I like carrots raw, roasted, steamed, glazed, pureed, rainbow, juiced, you name it! This is my recipe for roasted carrots with harissa-maple glaze. I add bit of orange juice to the glaze and toss in a few slices of orange and lemon to give this side a hint of citrus. Hope you enjoy and tell me how you like it. Eat well!
Print
Roasted Carrots with Harissa-Maple Glaze
---
2 pounds of carrots, halved lengthwise
1/4 cup of prepared harissa or homemade
2–3 tablespoons of maple syrup
2 tablespoons of olive oil
Juice from half an orange
1 teaspoon paprika
1/2 teaspoon cumin
salt and cracked pepper to taste
4–5 slices each of orange and lemon (optional)
---
Instructions
Preheat oven to 425° F.
Peel or scrub your carrots extra well and slice them lengthwise. I like to leave a little of the green top on. 
Add harissa, maple syrup, olive oil, orange juice, paprika, and cumin in a bowl and whisk until combined.
Pour the glaze mixture over the carrots, orange, and lemon slices. Toss until well coated.
Arrange the carrots, orange and lemon slices in a single layer on a lined sheet pan or baking sheet. Be sure not to crowd.
Bake for 18-20 minutes or until tender when pierced with a fork. I like mine with a little bite.
Salt and pepper to taste
Serve the carrots warm, straight from the sheet/baking pan. Leftover carrots will keep well, covered and refrigerated, for 3 to 4 days. Gently reheat before serving.