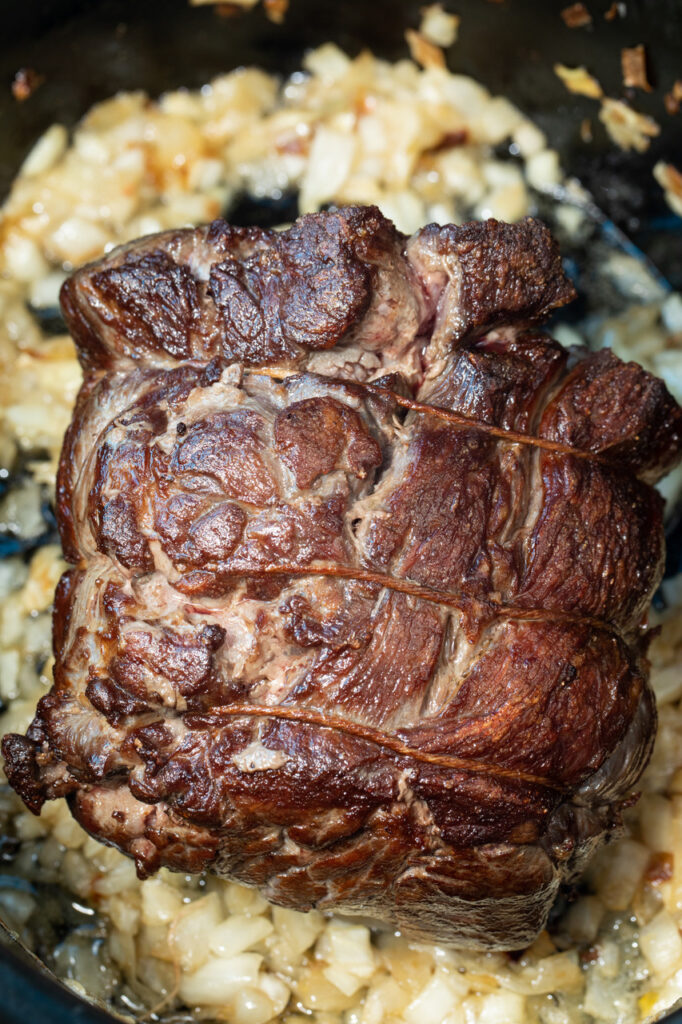 Print
Description
French Onion Roast Beef – so-called because I first made it with leftover French Onion Soup Broth. It's not exactly quick, but it's pretty easy and delicious~ Clay
---
1 Beef Chuck Roast 
1.5 – 2 cups Onions, sliced (White, Yellow, Vidalia, shallots, if you want, mix it up)
3–6 Garlic Cloves, smashed with the flat of a knife (or palm or whatever)
1–2 Tablespoons Olive Oil
2 Tablespoons neutral oil
2–3 Tablespoons Butter
1 Tablespoon Flour
1 quart Beef Stock or leftover soup broth – ideally super beefy
Kosher salt
Black Pepper
---
Instructions
Season the roast: Pat dry the beef roast. Season all over with freshly ground black pepper and salt. Let sit overnight or at least while onions caramelize, preferably elevated on a rack.
Caramelize onions: In a dutch oven (or slow cooker) big enough to fit the roast, on medium heat, warm 1 Tb olive oil. When it shimmers, add onions and smashed garlic cloves. Sprinkle with salt, toss in a pat of butter for good measure. Stir so salt, butter and oil cover the onions. Lower heat as far as it can go without blowing out. Let cook for at least 30 minutes, up to 90 minutes until onions are soft and sweet. If onions start to dry out, stir and add a little more butter or oil. Add neutral oil to a skillet, heat to high, and swish around until oil coats the bottom. Pat beef roast dry again. Add to hot pan, searing all sides. 
While beef sears, pour stock over onion/garlic mixture, bring to a simmer, stir, scraping up any crispy onion bits on the bottom. Once beef is seared, add to dutch pot. Ladle about half a cup of stock from the dutch pot to the skillet, scrape up beef bits, pour back into the dutch pot. The liquid should nearly cover the beef. If it doesn't add water or more stock.
Cover, roast in low oven (250-300) for 3 hours. Check tenderness, if it doesn't melt, give it another hour or so. Or 24 hours on simmer in a slow cooker.
Once tender, remove roast to a skillet. Surround with what's left of the onions and a ladle or two of the cooking broth (up to a cup). Put the skillet in the broiler for 5 minutes until beef crisps up again on the edges.
Remove roast to platter. Simmer sauce with 1 TB butter and 1 TB flour. Stir to thicken. Pour over roast and serve.
Notes
Strain and freeze the remaining cooking liquid for your next roast. Keep the fat on top for searing beef and caramelizing the onions