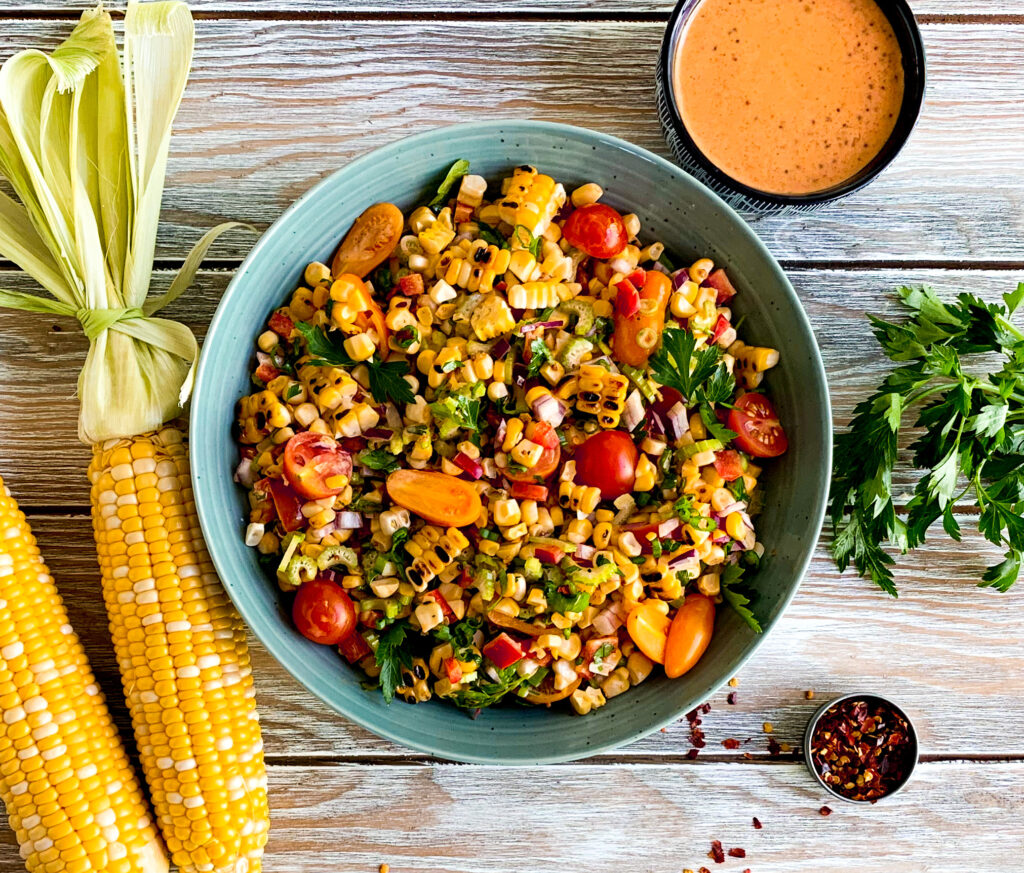 This grilled corn maque choux salad takes the flavors of the maque choux I grew up eating— sweet corn, tomatoes, the trinity, and a little heat— and spins them into the perfect salad for your summer cookout.
Juneteenth Virtual Cookout!
I'm excited to participate in the Juneteenth Virtual Cookout! If you're looking to create the ultimate Juneteenth celebration menu, check out the 40+ amazing Black culinary creatives showcasing their unique and innovative recipes to pay tribute to this Freedom Day. I'll have all the goodies listed below and you can follow each participant by using the hashtag #JuneteenthCookout2021 on Instagram.
My offering for this celebration is a spin on traditional corn maque choux turning it into the perfect cookout dish dressed in a creamy hot sauce dressing and filled with all the vibrant tastes and colors of summer. Are you ready for this edible celebration of Black joy, resilience, resistance, and summertime? Before we get started, let's talk a little about Juneteenth.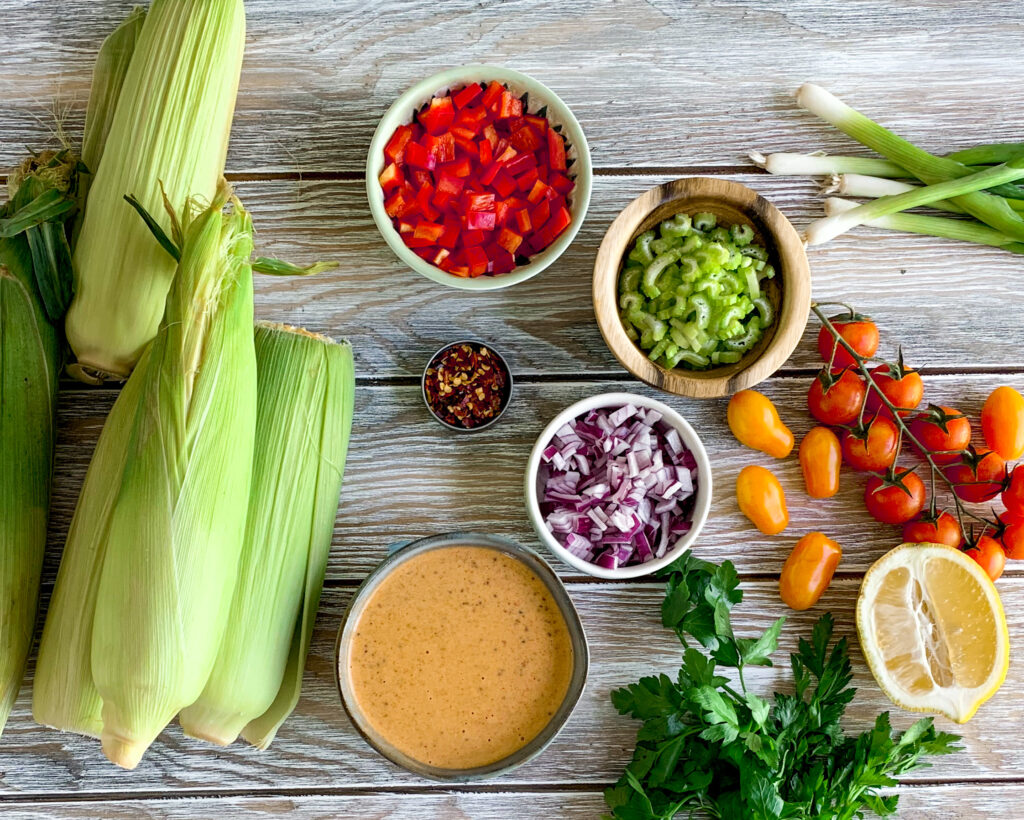 What is Juneteenth?
Juneteenth is a merge of the words/date June Nineteenth which marks the date in 1865 that the last enslaved people learned of their freedom. Now, for 150 years, Black Americans have commemorated the summer holiday with outdoor activities, music, reflection, and food traditions inspired by innovation, resilience, and joy.
While Juneteenth commemorates the last enslaved people learning of their freedom, the movement for racial equity, respect, and dignity for Black lives still continues. Please take a moment to look at these educational resources:
Podcast with Ibram X. Kendi on how to be an anti-racist
White Fragility by Robin Diangelo
The Case for Reparations by Ta-Nehisi Coates
Reports from the Equal Justice Initiative about the history of structural racism in America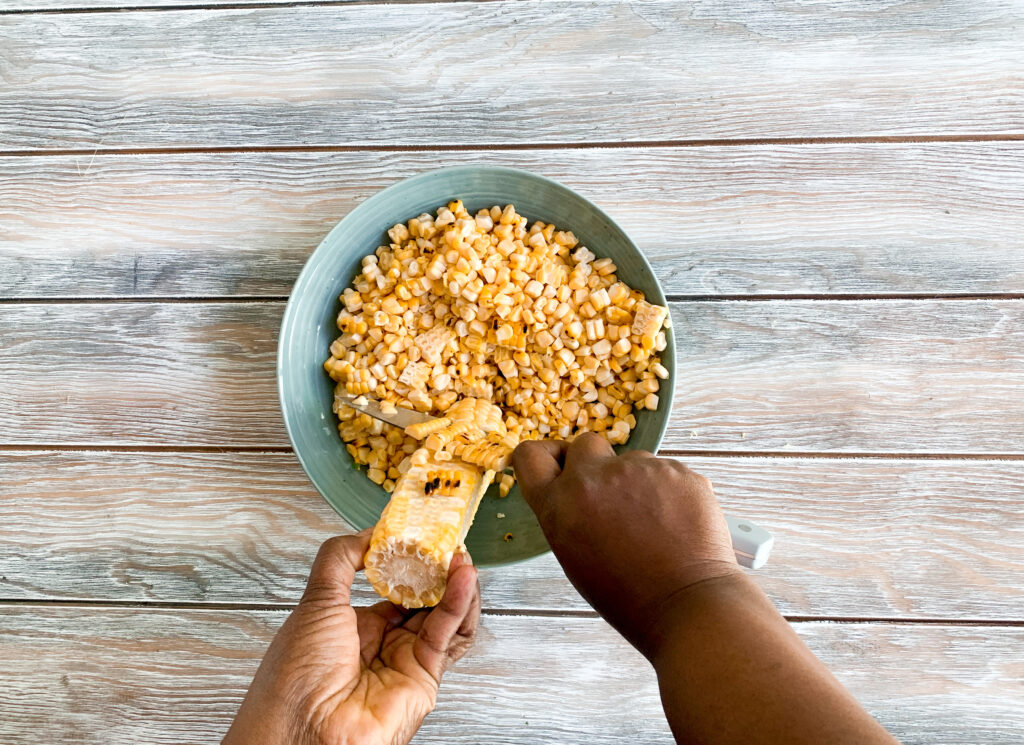 The Inspiration
Enslaved Africans ate some form of corn at almost every meal and eating corn-based dishes has carried through the generations. Learning and drawing inspiration from our Native American brothers and sisters they also created numerous and delicious ways to prepare corn. One of the dishes believed to be born from this mingling of cultures is maque choux which is fried corn with a medley of different vegetables.
I grew up eating maque choux and wanted to pay homage but make it cookout ready. This is the perfect side dish for your cookout because it doesn't need to be hot and can be eaten cold or at room temperature. This salad has all the yumminess of traditional maque choux with a twist of crunchy veggies and the beautiful char from the grill.
What's Grilled Corn Maque Choux Salad?
This is salad has all the best of summer in one bowl. All you need are a few simple ingredients:
Fresh corn
Red onion
Red bell pepper
Celery
Tomatoes
Scallions
Parsley
Dressing: Mayo, lemon, vinegar, creole mustard, Louisiana-style hot sauce, paprika, garlic, honey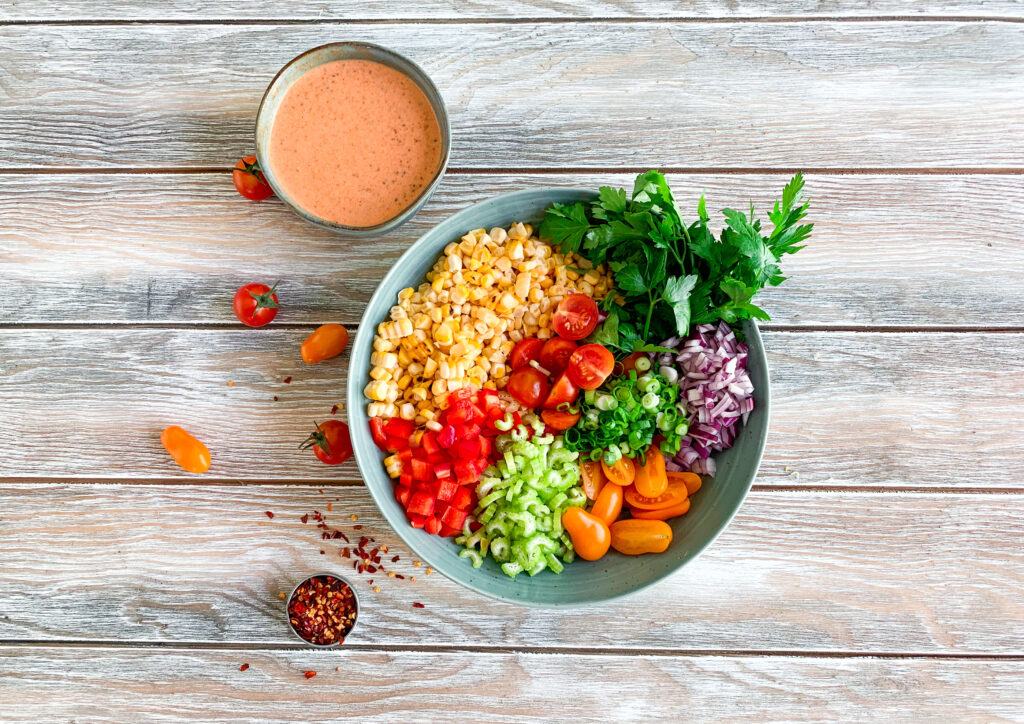 Are You Ready To Cook?
Food is a huge component in celebrating Juneteenth which was the premise for this virtual cookout so don't forget to check out my amazing foodie friends to round out your Juneteenth meal. And after you make my Grilled Maque Choux Salad, let me know how you like it and show me what you're working with! Share a photo and tag me on Instagram using @savorandsage and #savorandsage so I can see all your stuff! Eat well friends!
2021 Juneteenth Cookout Lineup
Click here for the full list of all the soulful culinary creatives so you can make your Juneteenth feast!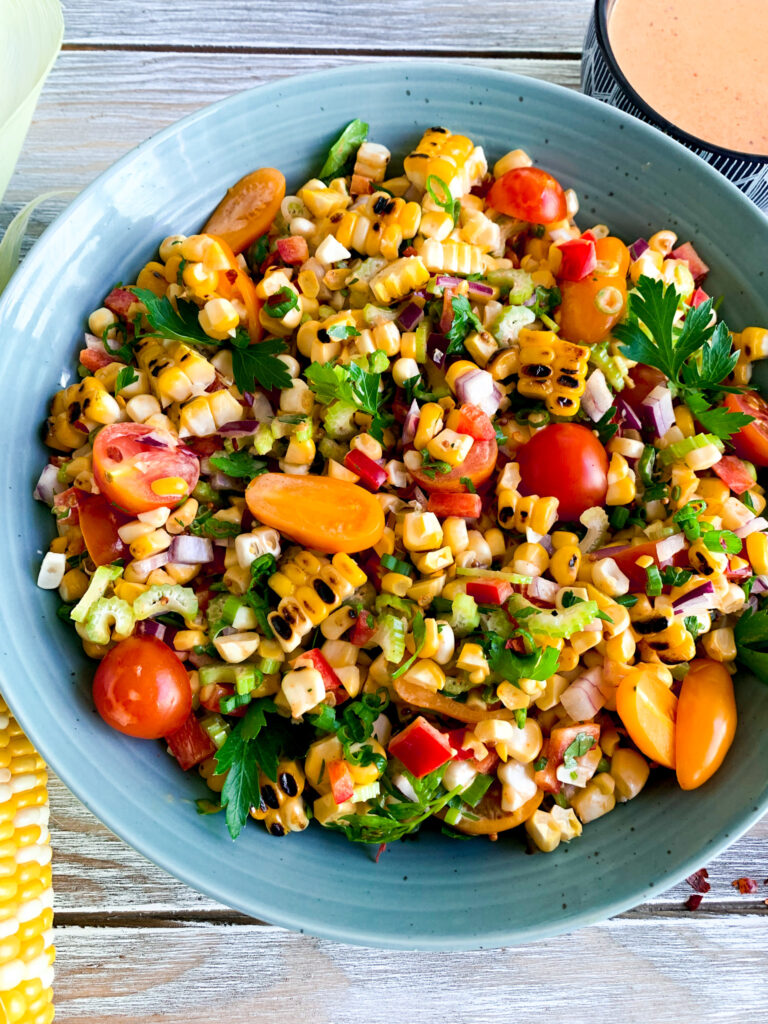 Print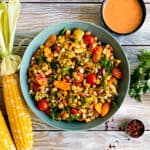 Grilled Corn Maque Choux Salad
---
Author: Stefani Renée
Total Time: 30 minutes
Yield: 4-6 1x
Diet: Vegetarian
Description
This grilled corn maque choux salad takes the flavors of the maque choux I grew up eating— sweet corn, tomatoes, the trinity, and a little heat— and spins them into the perfect salad for your summer cookout.
---
Salad
4–5 ears of corn, husked
½ red onion finely diced
½ red bell pepper finely diced
1 celery rib, sliced
2 scallions thinly sliced
a handful of cherry tomatoes halved or ½ tomato chopped
2 tablespoons flat-leaf parsley, chopped
¼ red pepper flake (add more if you like a little heat)
Salt & pepper to taste
Dressing
2 tablespoons mayonnaise (optional)
Juice from half lemon + zest
2 tablespoons of rice or apple cider vinegar
1 tablespoon of creole mustard (can also use stone ground or dijon mustard)
1–2 tablespoon Louisiana-style hot sauce (another chili sauce like sriracha can be used)
1 teaspoon sweet or smoked paprika
1 clove of garlic, minced
1–2 teaspoons of honey, maple syrup, or sugar (optional)
---
Instructions
Grill the corn for about 10 minutes continuously turning until slightly charred. Let the corn on the cob cool before slicing it off. If you're not grilling, slice off corn kernels, add butter or oil in a heavy-bottomed medium-sized skillet over medium-high to high heat, add the corn, toss and let it sit cooking until charred, 6-10 minutes. Set to the side once the corn is to your liking.
Prep your red onion, bell pepper, celery, scallions, and parsley then combine with corn in a large bowl.
In a small bowl, combine all ingredients for the salad dressing. Whisk until smooth. Taste and add more honey if needed.
Pour dressing over corn mixture and toss well. Taste and add more salt or pepper, if needed. Refrigerate at least 1 hour for flavors to meld. Garnish with remaining parsley just before serving.
Serve chilled or at room temperature.
Prep Time: 20
Cook Time: 10
Category: Sides
Cuisine: North American